Have you ever thought of taking that asparagus and turning it into a savory side dish? Whether you are eating healthier or just want to try something new, cheesy baked asparagus is just what you need to help make your dinners easy.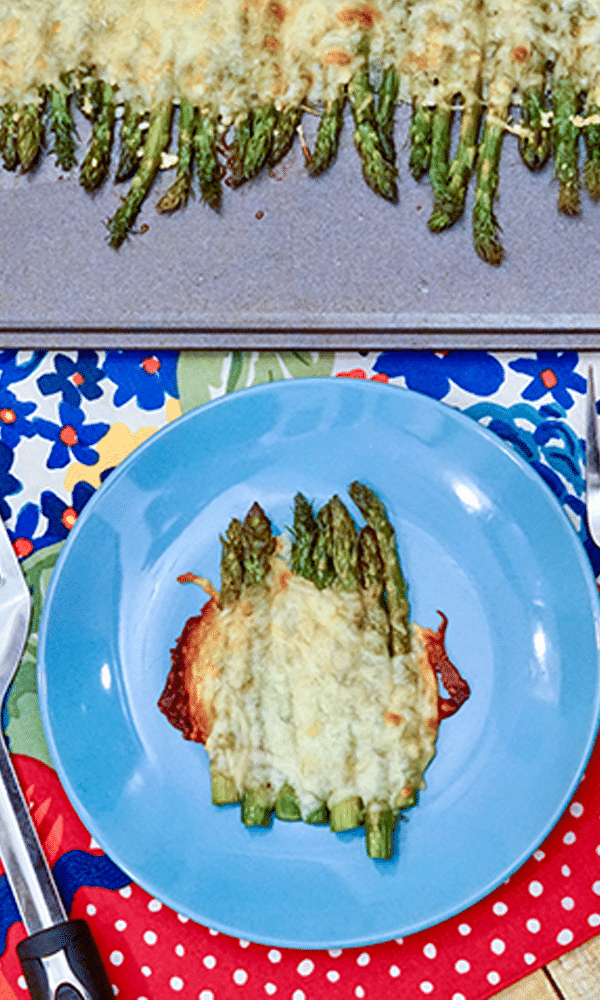 Last week you went to the store, picked up some asparagus. Now it's staring at you from the fridge wondering what's next. Well, you don't have to throw that asparagus away. In fact, you can make a delicious meal out of it. Baked asparagus is delicious and something your family will ask for more and more!
This cheesy baked asparagus reminds me of something you'd have as a side with a steak at a restaurant. Except, you can make this right at home and enjoy it for much cheaper! Learning how to take a regular vegetable and fancy it up a little bit is a good way to get your family to eat more veggies.
Cheesy baked asparagus
Sometimes asparagus is one of those veggies that kids don't like. After serving this dish a few times, you have a good shot at making this a favorite in your household. While I was never a fan of asparagus growing up, it's something I'll eat every single day now!
With only a few main ingredients, there is no doubt that you can make this recipe right from your own kitchen. And the cheese? Everything is better with cheese!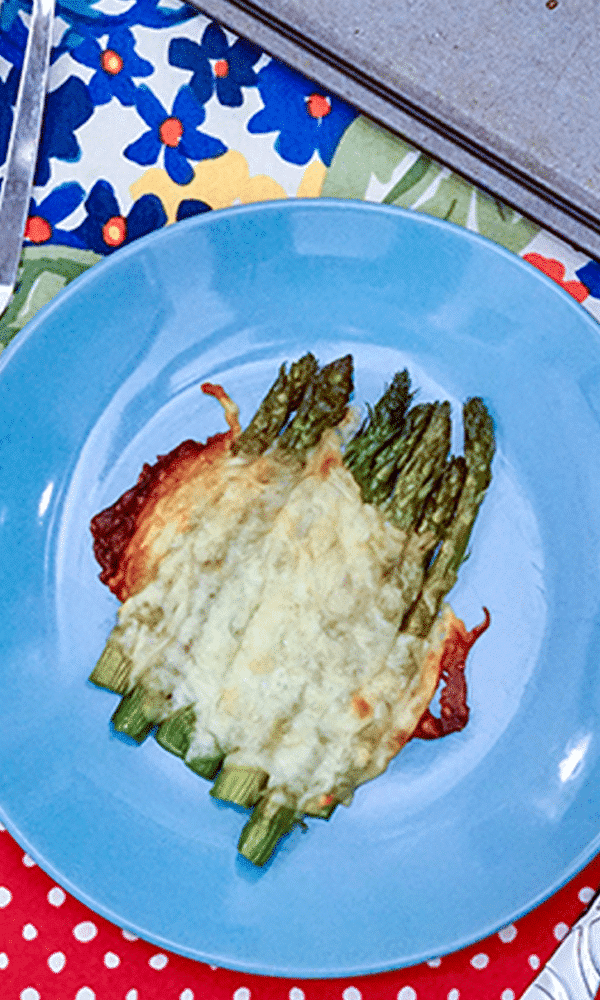 What is cheesy baked asparagus?
Easy baked asparagus is simply asparagus roasted in the oven with cheese, butter, and a few spices. It's amazing how something that only takes a little bit of time can be so delicious. If you aren't a huge fan of raw veggies, you will most likely love asparagus this way.
Baked or roasted veggies are always more tender and flavorful. When they have time to bake slowly in juices, they turn out so yummy!
Is baked asparagus healthy?
Many of us are adapting our every day eating to include foods that have fewer carbs. While I would enjoy french fries at every meal, my body doesn't always think that's a good idea. If you are looking for a low carb option, you'll be glad to know that baked asparagus is an option on the keto diet and the low carb diet.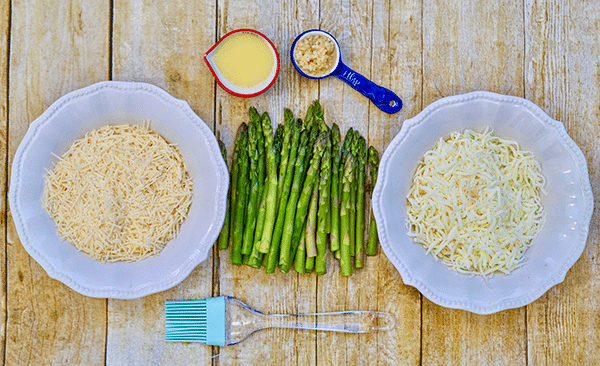 Cheesy baked asparagus ingredients
Cheesy baked asparagus ingredients are simple, so don't worry! To make this recipe you will need:
butter
garlic
mozzarella cheese
Parmesan cheese
asparagus
Butter – Whatever butter you have on hand works great for this recipe. I normally use salted butter when cooking but unsalted is just fine.
Garlic – Cheesy baked asparagus needs flavor and garlic will help to give it the ideal taste. You can use fresh garlic and mince it, canned garlic or if you are out – garlic powder will work in a pinch.
Mozzarella cheese – When it comes to mozzarella cheese, I can never get enough. You'll also find that mozzarella cheese is perfect for baking veggies. Shredded or block mozzarella work great here. Fresh mozzarella is not recommended for this dish.
Parmesan cheese – Making something that is baked or roasted is always a little better when you had Parmesan. You can used shaved, shredded and even powdered Parmesan flakes.
Asparagus – In this recipe you will want to use fresh asparagus. Frozen asparagus will not give them same texture as fresh. If you don't have time to make this fresh, you can freeze asparagus and use it another time.
How to make easy baked asparagus with cheese
If you are tired of boring sides and want to make dinners a little more exciting, then baked asparagus is a great idea. Follow along as I show you how easy this dish is to make.
Once you have grabbed all your ingredients you will also need:
cookie sheet
measuring cup and spoons
bowl
spoon
pastry brush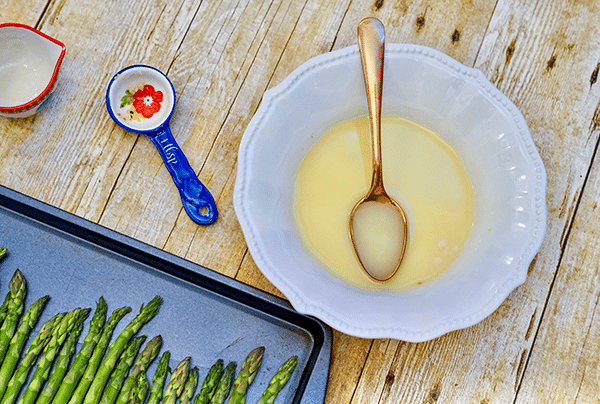 Pre-heat the oven to 425 degrees F.
To start – wash and dry your fresh asparagus. Trim off the ends and place them on a greased cookie sheet.
Melt the butter in a bowl and mix in the garlic. Brush it over the asparagus.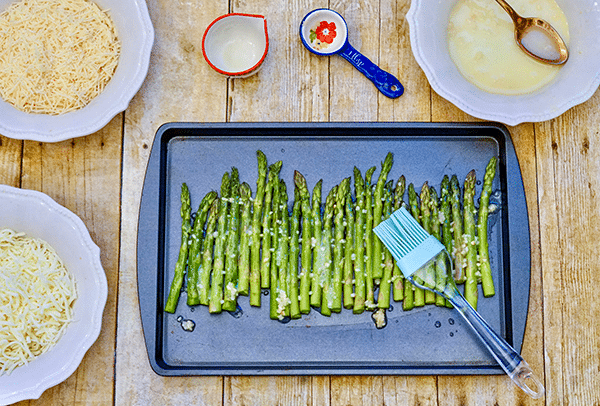 Combine the two cheeses and spread it over the asparagus.
Place in the oven and bake for 15 minutes. Remove, allow to cool and enjoy.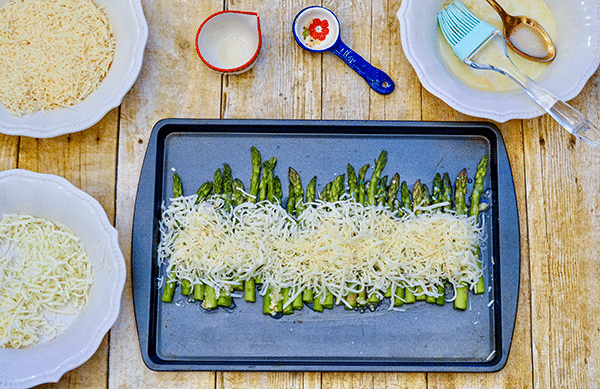 What to pair with your baked asparagus?
While this sheet pan asparagus makes for a great side, you may want to consider what you'll make with it. Here are a few options for what to pair with your baked asparagus!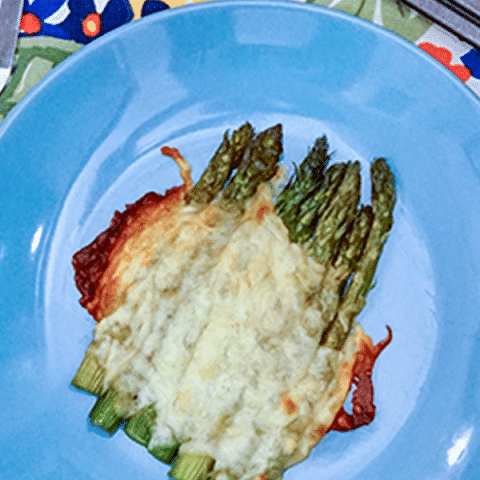 Cheesy baked asparagus
An easy side dish that everyone will love.
Ingredients
1 pound asparagus, washed and trimmed
1/4 cup butter, melted
1 tbsp garlic, minced
1 cup mozzarella, shredded
1/4 cup Parmesan cheese, shredded
Instructions
Pre-heat the oven to 425 degrees F.
Lightly spray a cookie sheet with cookie spray.
Place the asparagus on the cookie sheet.
Melt the butter in a small bowl and mix in the garlic.
Brush the garlic over the trimmed asparagus.
Mix together the cheeses and spread them over the asparagus.
Bake for 425 minutes.
Remove, allow to cool and enjoy.
Notes
Store in an airtgiht container in the refrigerator. Re-heat in the oven.
Nutrition Information:
Yield:

8
Serving Size:

1/8
Amount Per Serving:
Calories:

108
Total Fat:

9g
Saturated Fat:

5g
Trans Fat:

0g
Unsaturated Fat:

3g
Cholesterol:

24mg
Sodium:

169mg
Carbohydrates:

4g
Fiber:

1g
Sugar:

1g
Protein:

5g
Can you freeze baked asparagus?
You can – but it will not have the same texture when you re-heat it. It's best eaten within 4 days of making it.
Like this recipe? Be sure to PIN IT!