Citrus + coconut = winning combination!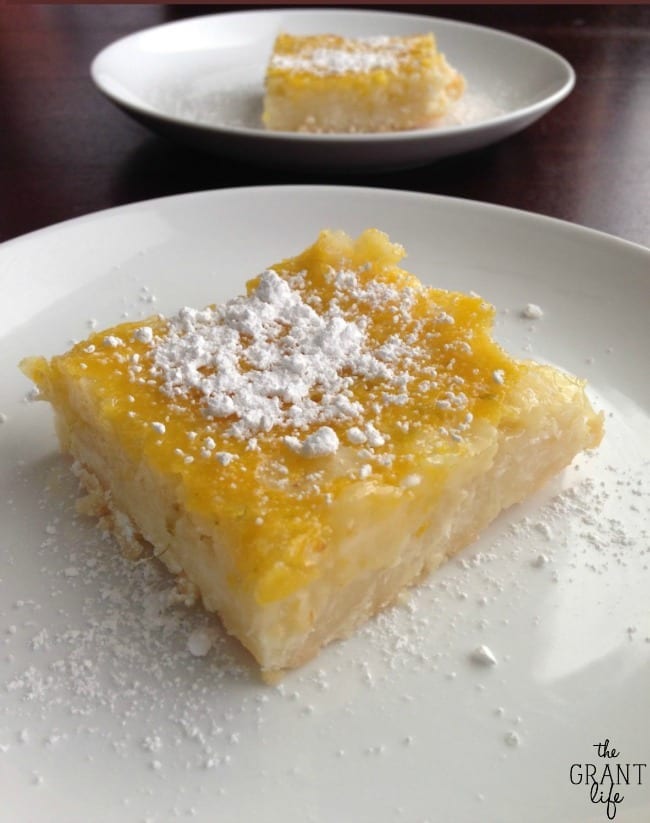 Hey yall! I have Elizabeth here again today to share a perfectly delicious recipe wtih yall. I mean seriously.. lemon AND lime AND coconut? That's like heaven to me! I'm such a big lemon fan it's not even funny. Ok, maybe it's a bit funny. As my kids say. Because they watch too much Peppa Pig. Because they call my dad Papa and the love watching Peppa with Papa. And because my dad spoils them like crazy.
Not sure how we got from lemon lime macaroon bars to that conversation, but just go with it.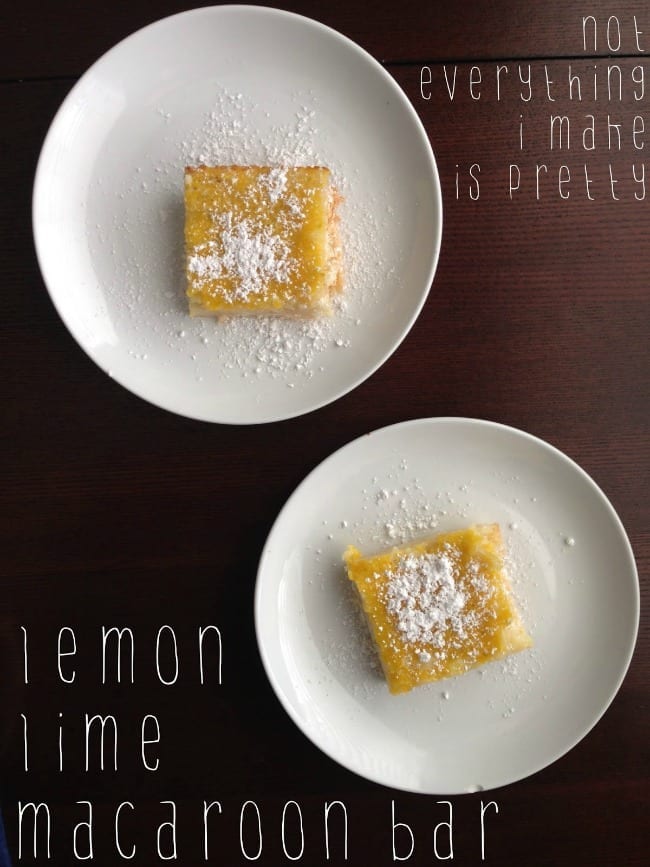 Out of everyone in my family and Ryon's, my dad is the one that spoils the kids the most. By far. He used to work out of town during the week and only came home on the weekends. When the kids saw him, he would give them a piece of candy or a small toy. Well, it started out small. Then he would start giving them big "surprises" or whole candy bars. They now have new Easter baskets, water balloon sling shots, bubble guns, cars, and more pieces of candy then I can count.
And the kids every time they saw him would run up to him and say "Papa, where's our prize?" Not surprise, prize.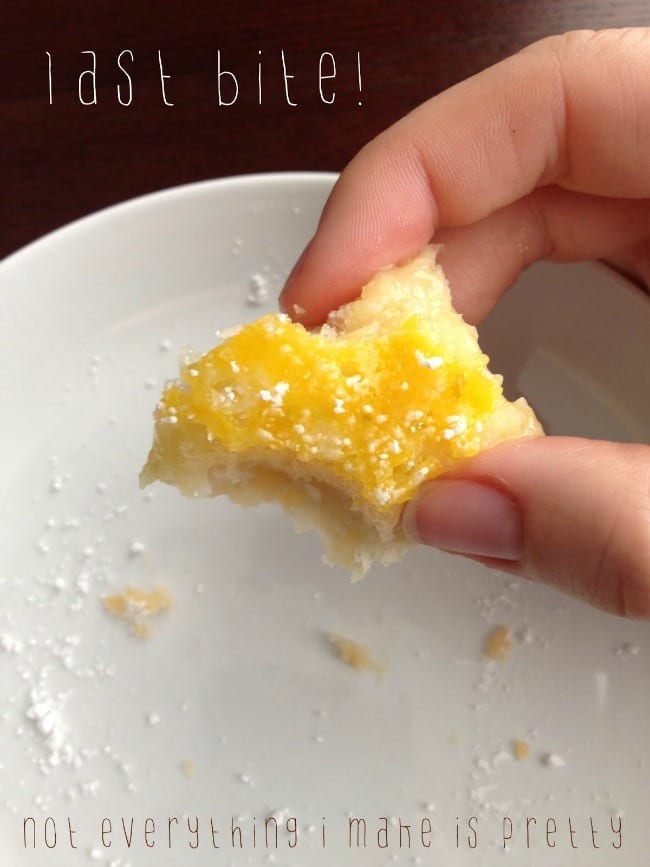 Long story short – my dad doesn't work out of town during the week anymore. He's home all week working in town. But the kids still think they get a "prize" every time they see Papa. We go over to my parents house a lot since they live so close, and every.single.time they ask "Where's our prize?" I'm not sure the rules on the surprise gift giving but I think that it says somewhere in there that you don't get a toy or candy bar every time you see your grandfather.
But I could be wrong, because he always has something to give them when we come over.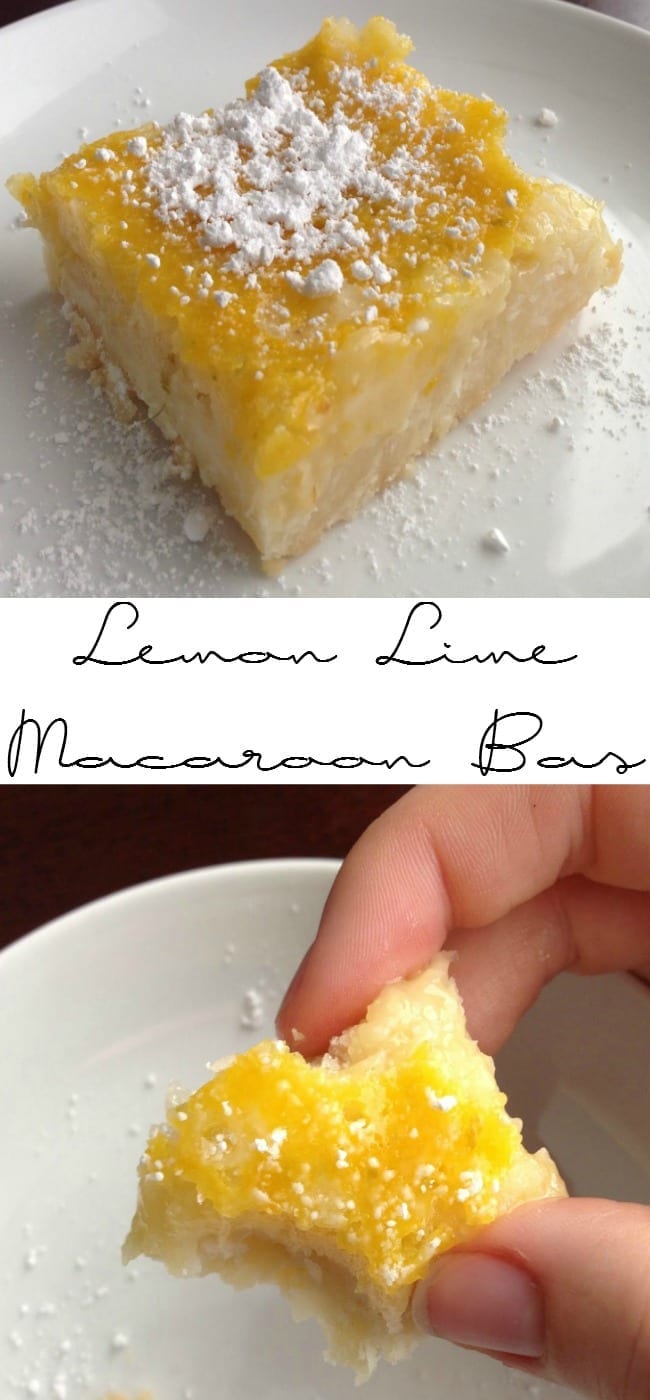 We've had conversations about gift giving. I've told the kids that they don't get something every time we see Papa. That seeing Papa is the "prize". I've told my dad that they don't neeeeeed a toy or candy when we come over. That just visiting is the "prize". But no one seems to listen. Papa keeps on gift giving and the kids keep on asking.
Not sure what to do about the situation, but both parties seem to be happy with the current arrangement. I'll probably just have to give my father and children another stern talking to about it.
Until then, I'll be in the kitchen whipping up these lemon lime macaroon bars. Thanks again Elizabeth for sharing this great recipe with us!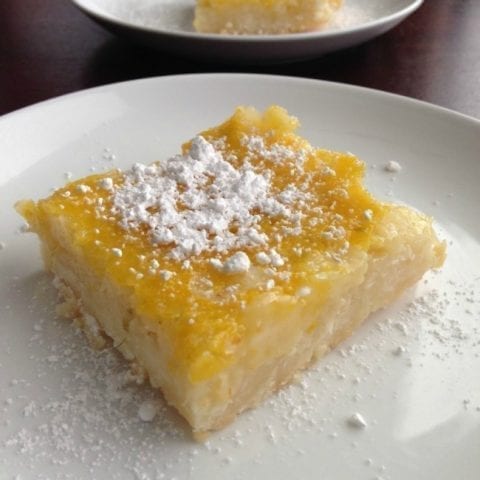 Lemon Lime Macaroon Bars
Ingredients
For the Crust:
2 Cups Sweetened Flaked Coconut
1 1/2 Cups Flour
3/4 cup Powdered Sugar
2 Tbsp Cornstarch
1/4 tsp Salt
1 Cup Cold Butter, Cut
For the Filling:
1/4 Cup Flour
2 Cups Granulated Sugar
4 Eggs
2 tsp Lime Zest
2 tsp Lemon Zest
1/4 Cup Lime Juice
1/4 Cup Lemon Juice
Powdered Sugar
Instructions
Preheat oven to 350°.
Mix Crust ingredients together, except Butter. Cut in Butter.
Grease a 9- by 13-in. baking pan. Press crust into bottom and slightly up sides. Bake until light golden, 25 minutes. Let cool 20 minutes.
Whisk together Flour and Sugar in a medium bowl, then whisk in Eggs and Citrus Zest and Juice just to blend.
Pour over crust and bake until only slightly jiggly in center, about 22 minutes. Let cool, chill several hours or overnight, and cut into bars.
Dust with powdered sugar & enjoy!!
Like this easy recipe? Make sure you check out: