One thing that Ryon loves is key lime pie. I know this because he reminds me of it constantly. He's always asking me to make him a key lime pie. "When are you going to make another key lime pie, honey?" "It would be a great day for a key lime pie." "Know what does great with this lovely meal you just made? Key lime pie." [Seriously he asks a few times a week yall.] So I told him the other day I was going to make key lime pie just to watch his face light up. And I didn't lie. I just made key lime pie granola instead.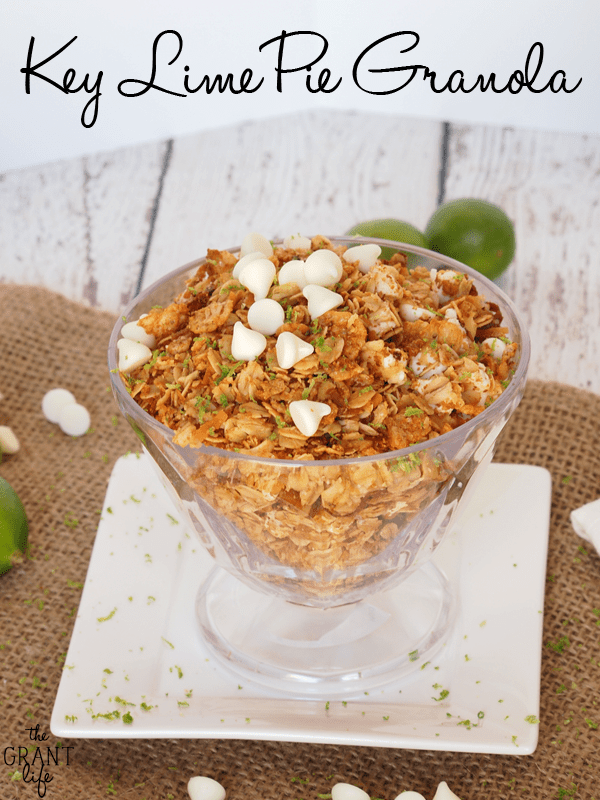 When we were in Michigan I started reading an ebook called "Conquering Your Kitchen: How to plan meals, shop, and cook real food with confidence". (That's an affiliate link because I totally love the book.) Based on the title I was excited to start reading, although I wasn't sure what to expect. I mean, I feel pretty confident in the kitchen most of the time but I love learning new tips and tricks. Once I started reading, I couldn't put it down.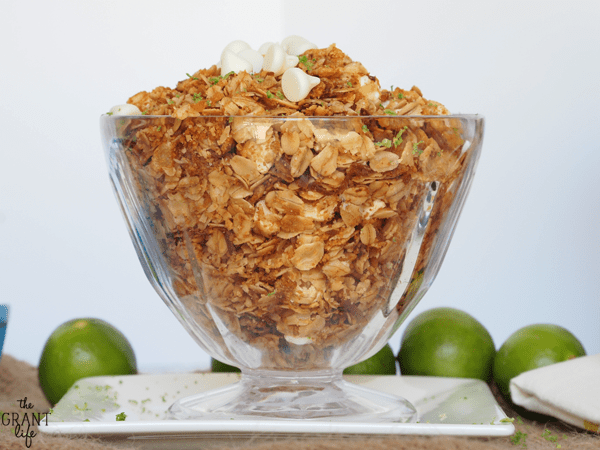 We went to Ryon's grandparents the first weekend we were up there and I would take my iPad with me all through the house. I was hoping to be able to sit long enough to read a few pages before have to chase down a kid. When everyone was in the gazebo chatting, I was reading. I would participate in conversation, but mainly I was focused on my book.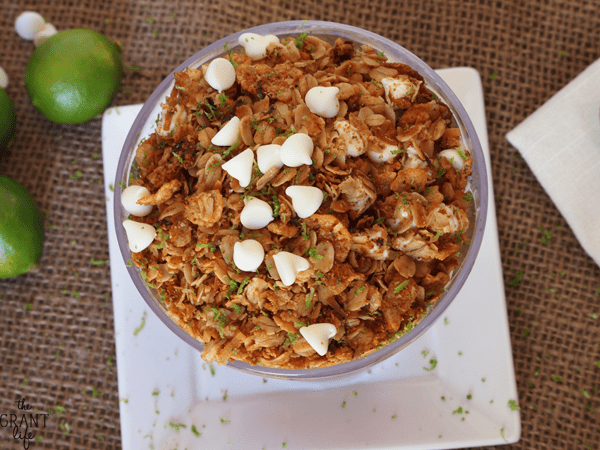 I really loved Annemarie's approach to cooking. She talks about meal planning, using fresh produce, making sure you always have healthy snacks available and so many other great points. I feel like sometimes we get so caught up in social media or TV or anything else that we forget the basics. Like, good food is good for you. Or meal planning saves time and money. Its things we know, but its nice to hear again and realize people still eat real food.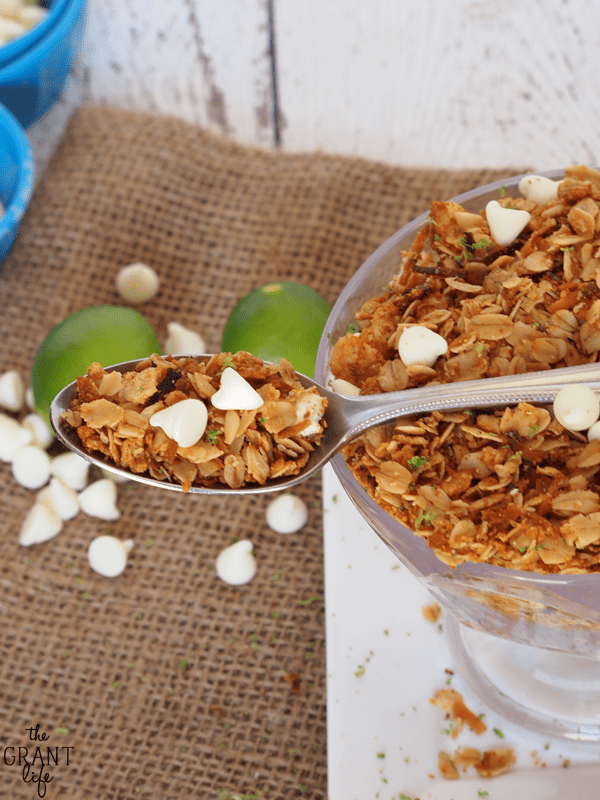 This key lime pie granola is a combination of two things – an adaption of one of the awesome recipes in the Conquering your Kitchen book [there are 80 of them in the book!] and my husbands unnatural love for key lime pie. Its the best of both worlds really.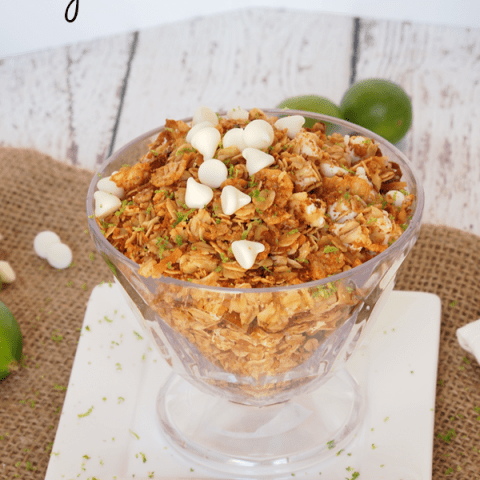 Key Lime Pie Granola
Ingredients
3 cups rolled oats
1 1/2 cups cornflakes
1 cup melted coconut oil
1/3 cup honey
1/2 cup graham cracker crumbs
1/8 cup sugar
1 tsp vanilla extract
4-6 key limes, juiced and zested
1 cup white chocolate chips
Instructions
Preheat oven to 275.
Mix the oats, cornflakes, sugar and graham cracker crumbs together.
In another bowl mix together the honey, coconut oil, the vanilla extract and the juice of 4-6 key limes. (Depending on how juicy they are)
Pour the wet ingredients over the dry ingredients and mix to coat evenly.
Press the mixture down onto a cookie sheet to make one layer.
Bake for about an hour, or until it begins to turn light brown and bind together.
Let cool for a few minutes then add the white chocolate chips and the zest.
Stir, let cool completely and enjoy!
Notes
Store in an airtight container.
Nutrition Information:
Amount Per Serving:
Calories:

4542
Cholesterol:

36mg
Sodium:

557mg
Carbohydrates:

473g
Fiber:

36g
Sugar:

243g
Protein:

49g
Like this breakfast recipe? Be sure to check out: