Ever wondered how to make enchilada sauce? You won't believe how easy it is to make it at home!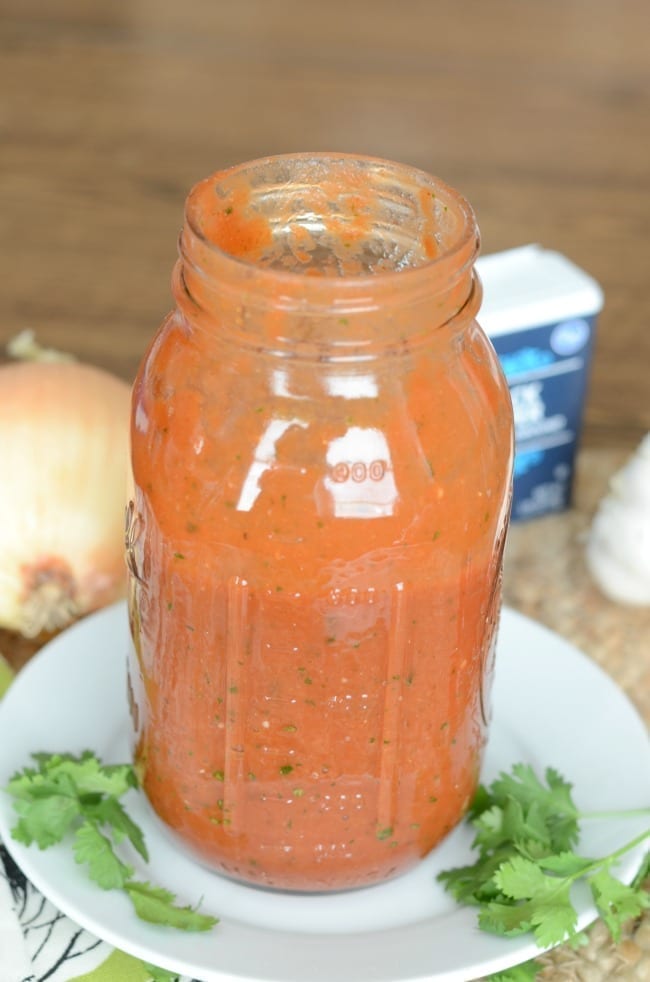 Fun fact about me – I love Mexican food. I grew up in South Texas so I was surrounded by tacos, burritos, nachos, migas, and my favorite – enchiladas! My favorite when I was younger was always cheese enchiladas. I would devour a plate of cheese enchiladas with rice and beans. I say would like I still don't devour my enchiladas. I do. I have just expanded my pallet from cheese to all.the.enchiladas.
Of course if I'm going to make all the enchiladas, I need to have a great enchilada sauce on hand. And yall, is this homemade enchilada sauce great!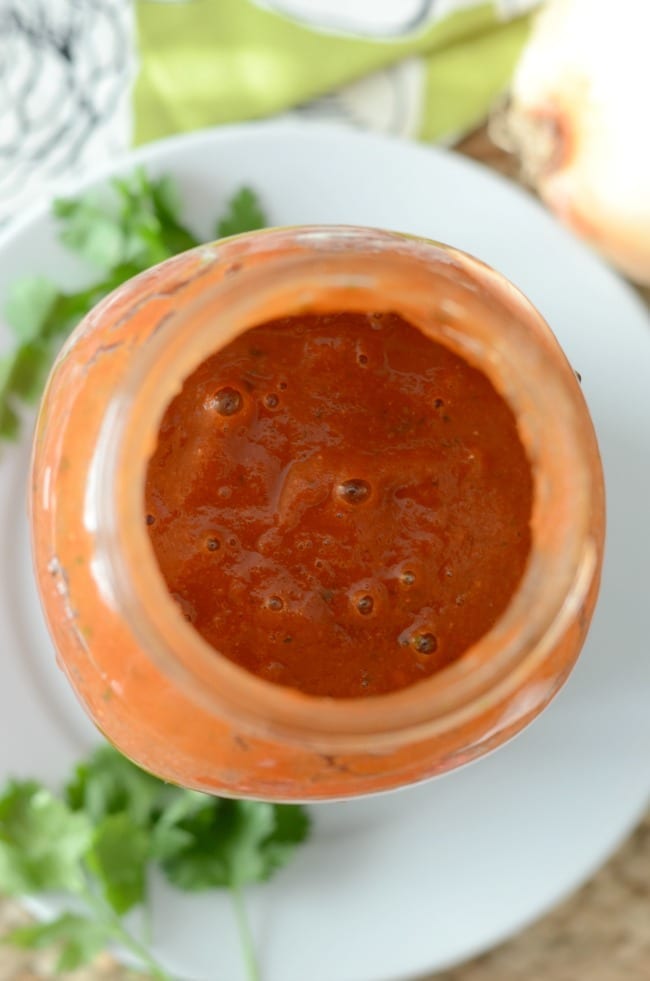 Why make homemade enchilada sauce
When I started making a list of the reasons to make homemade red sauce I was shocked at how many I came up with! I thought I would have one or two reasons but I found six! Yup! Six! Six reasons to make this delicious homemade enchilada sauce.
You know the ingredients going into your sauce.
You can cater to your taste – Want it to be spicier? Add some red pepper flakes. Want a milder enchilada sauce? Don't add any red pepper or cumin. Easy peasy.
You can use fresh produce – Tomatoes on sale or overflowing in the garden? Whip up a batch or two of this enchilada sauce!
It's cheaper to make at home.
You can make more than the standard enchilada sauce in a can.
It's easy to make in a blender or food processor.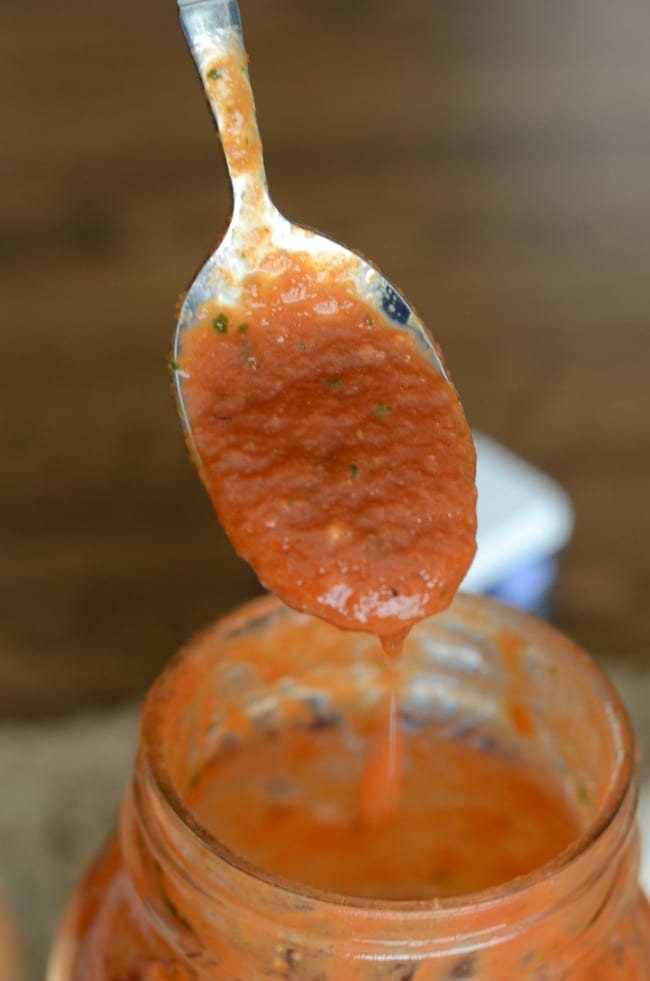 What's in homemade enchilada sauce
Another great thing about this sauce is that the ingredient list is short and totally customizable. You can make it more or less spicy, you can make it thicker or thinner, you can add other fresh herbs besides cilantro. It's a great recipe to take and make your own! The basic ingredients for this red enchilada sauce are:
tomato sauce – store bought or homemade
chicken broth – store bought or homemade
spices – such as onion powder, garlic powder, cumin
cilantro
See? Simple ingredients that make one great enchilada sauce!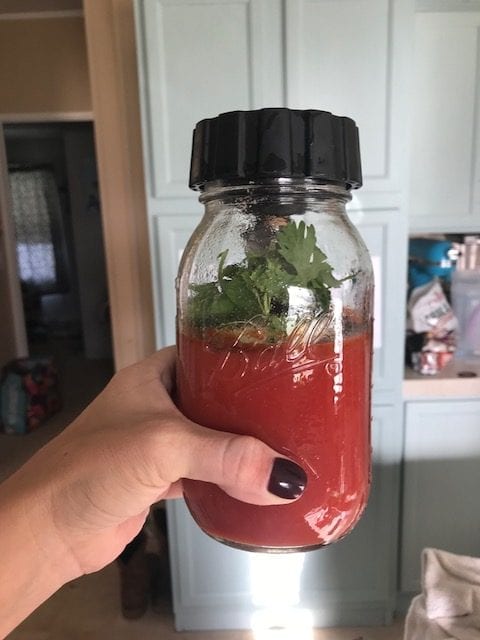 How to make enchilada sauce
This is my favorite part of this enchilada sauce recipe! It is so, so easy to make. There are three ways that you can make this sauce – in a blender, in a food processor or in a mason jar.
My favorite way is in a blender WITH a mason jar! Fun fact – you can attach most blender blades to a regular mason jar. You just toss everything in a mason jar (I used a quart sized mason jar) and screw on the blade. Pop it on your blender base and process away.
I was leery of using a mason jar on my blender, but it worked! I love it because I don't have to use my big blender jar and then pour it into a smaller container. Less dishes to clean is always my favorite!
If you don't want to use the mason jar trick or you want to make a bigger batch of this enchilada sauce, feel free to use your blender jar for this recipe. I just really love the mason jar trick and wanted to share it!
You can also use your food processor or just a mason jar. With the food processor you toss everything in and pulse it until combined. With the mason jar you toss it all together and shake, shake, shake!


Recipes that use red enchilada sauce
The recipe below will make enough enchilada sauce for one meal. If you plan on using it for more then double the recipe and store it for later. You can always use a good enchilada sauce! These are my favorite ways to use my homemade enchilada sauce:
Enchilada chicken skillet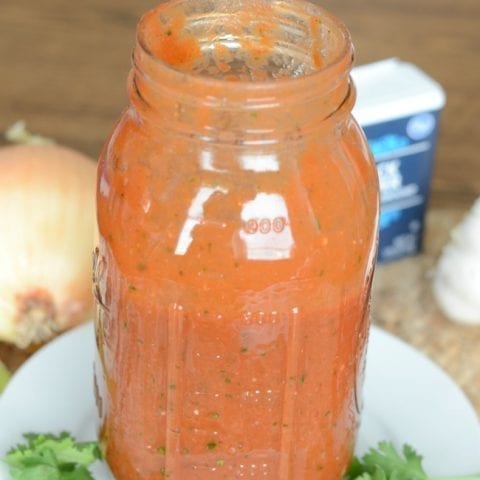 How to make enchilada sauce
An easy and delicious enchilada sauce that is totally customizable.
Ingredients
1 14 ounces can of tomato sauce
1 cup of chicken broth
1 tablespoon chili powder
1 teaspoon salt
1 teaspoon pepper
1/2 tablespoon cumin
2 teaspoons onion powder
3 cloves of garlic (or 2 teaspoons garlic powder)
handful of cilantro
Instructions
If using a blender or food processor - toss everything in and blend together until smooth.
If using a mason jar - Mince the garlic or omit the garlic cloves for garlic powder. Mince the cilantro. Toss everything into the mason jar and shake until combined.
If the sauce is too thick, add a tablespoon of chicken broth at time until desired consistency is reached.
Enjoy!
Nutrition Information:
Amount Per Serving:
Calories:

26
Cholesterol:

0mg
Sodium:

387mg
Carbohydrates:

4.5g
Fiber:

1.2g
Sugar:

2.7g
Protein:

1.7g
Be sure to check out these other
homemade sauces and spices
–