Taco Tuesday just got a whole lot easier with this carnitas recipe! Carnitas is a classic Mexican main course that consists of slow cooked meat simmered Mexicans herbs and spices. Pork carnitas are a great base for tacos, enchiladas, nachos and many other Mexican inspired dishes. Let me show you how to make crock pot pork carnitas today!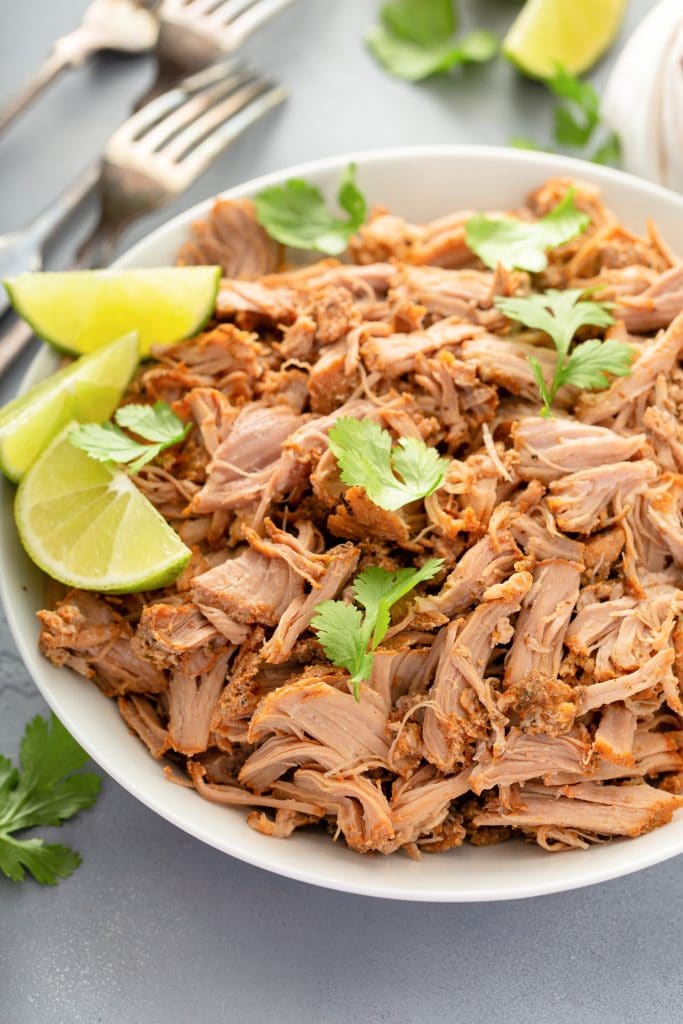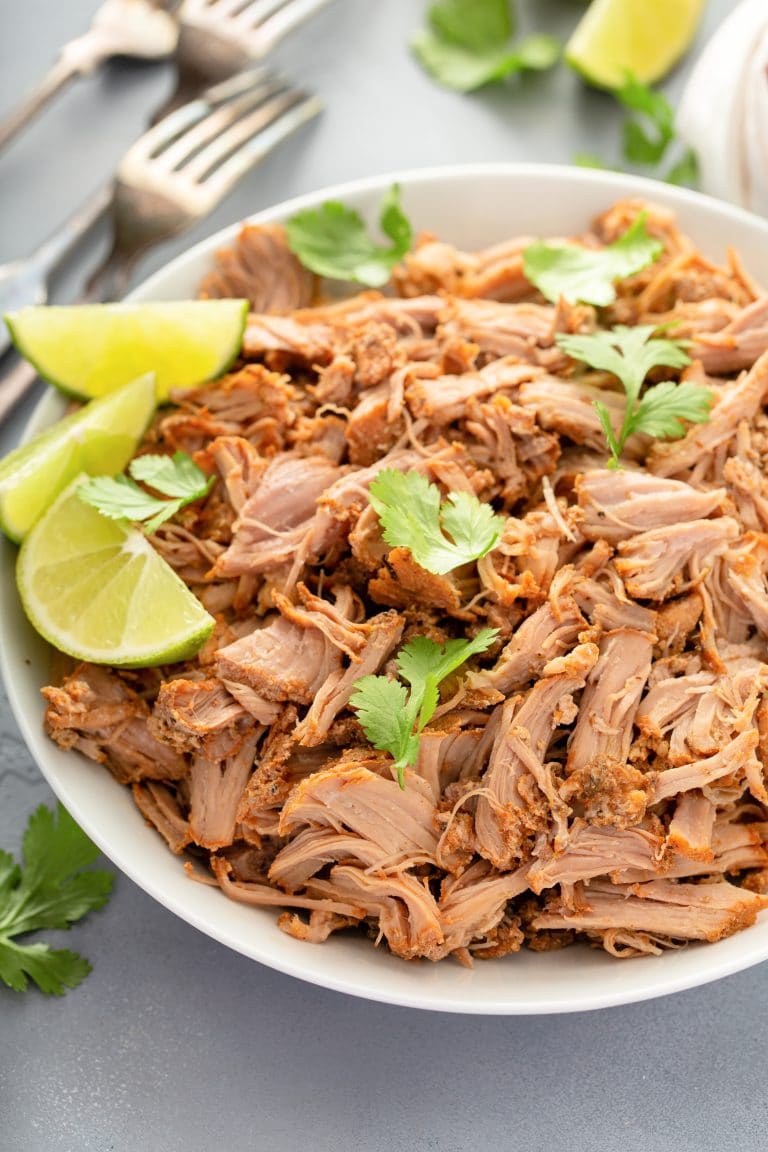 These crockpot pork carnitas are one of my all time favorites. It is super easy to put together and all I have to do is shred the meat and add the toppings when we get home. Carnitas are perfect for busy weeknights and great for meal prep. Make a batch of the shredded pork carnitas and then use them in tacos one night and enchiladas the next. It's a versatile recipe that can easily be customized and stored for later.
Crock pot pork carnitas
Ok.. so what are carnitas? Traditional carnitas are made from pork and simmered in spices along with lard or oil. The meat, most of the time a roast of some sort, is simmer until fork tender. They are then shredded into "little meats" and used in various different Mexican dishes. They are not spicy, but perfectly juicy and delicious. You can use the meat in tacos, nachos, enchiladas or even add them to rolls and enjoy them like pulled pork sandwiches.
Pork carnitas ingredients
I love this easy crock pot dinner because you don't need a bunch of crazy ingredients. While this not an authentic carnitas recipe, it does taste very similar and is simple to make. To make carnitas in the crock pot you will need:
pork roast
onion
garlic
oregano
salt and pepper
cumin
red pepper flakes
juice of two oranges
Juice of 1 lime
Pork roast – You can use your favorite type of pork roast for this recipe. Bone in or boneless works here. I suggest a 1-2 pound roast, but you can always double the recipe if you want leftovers. Make sure you roast is thawed.
Onion – One large onion, diced or sliced.
Garlic – Minced garlic cloves work best for this pork carnitas recipe.
Spices – I keep it fairly mild when it comes to spices for my carnitas. I use oregano, cumin, a bit of red pepper flakes plus salt and pepper. I suggest making the recipe as is and then adjusting the spices to your tastes.
Oranges – You will need the juice of two oranges. It helps break down the meat, adds liquid and gives it a great flavor.
Lime – Same with the lime juice, it adds flavor and helps break down the meat.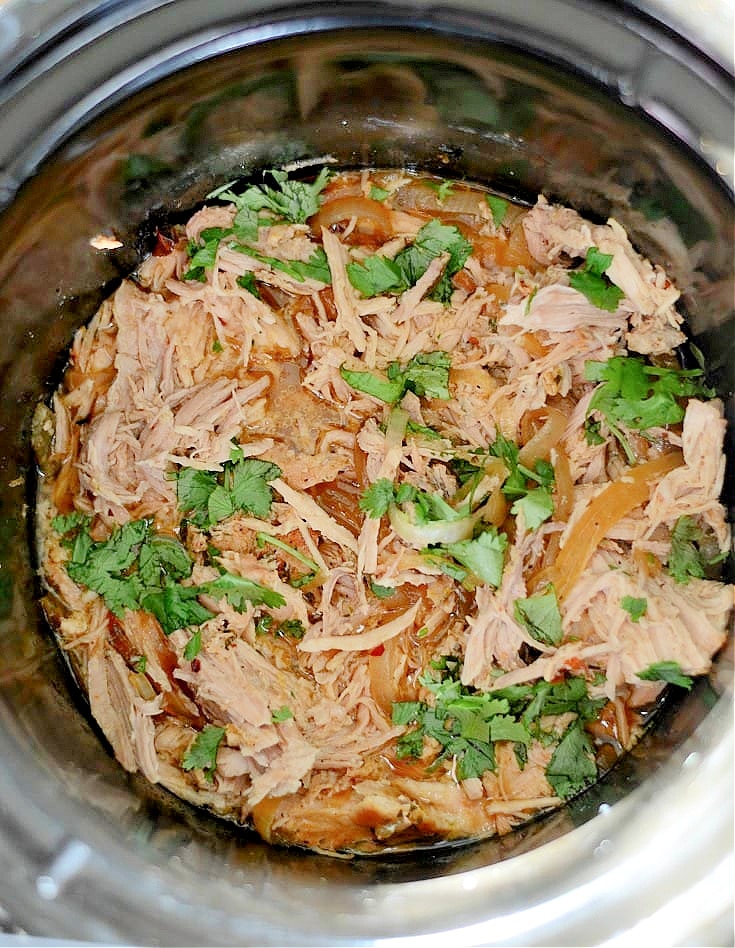 How to make pork carnitas in the crock pot
Besides the simple ingredients, I love how easy this meal is to make. It takes about 5 minutes of prep time to create these tender carnitas perfect for your next dinner.
Step 1 Add the meat Place your roast, sliced onions and garlic in the bottom of the crock pot. Sprinkle your spices on top of the meat.
Step 2 Add the juice Squeeze your oranges and lime juice over the top of the seasoned meat.
Step 3 Cook Place the lid on your crock pot and cook on high for 4 hours or on low for 6-8 hours.
Step 4 Shred and serve Once the meat is done cooking, take 2 forks and shred the roast into small pieces. Drizzle with more lime juice and cilantro and enjoy!
Optional step – If you want to add some crisp to your carnitas, place them on a baking sheet after shredding. Pour a bit of the juice over the meat and place under the broiler for 3-5 minutes to crisp the edges. Watch the meat to make sure it doesn't over cook in the oven.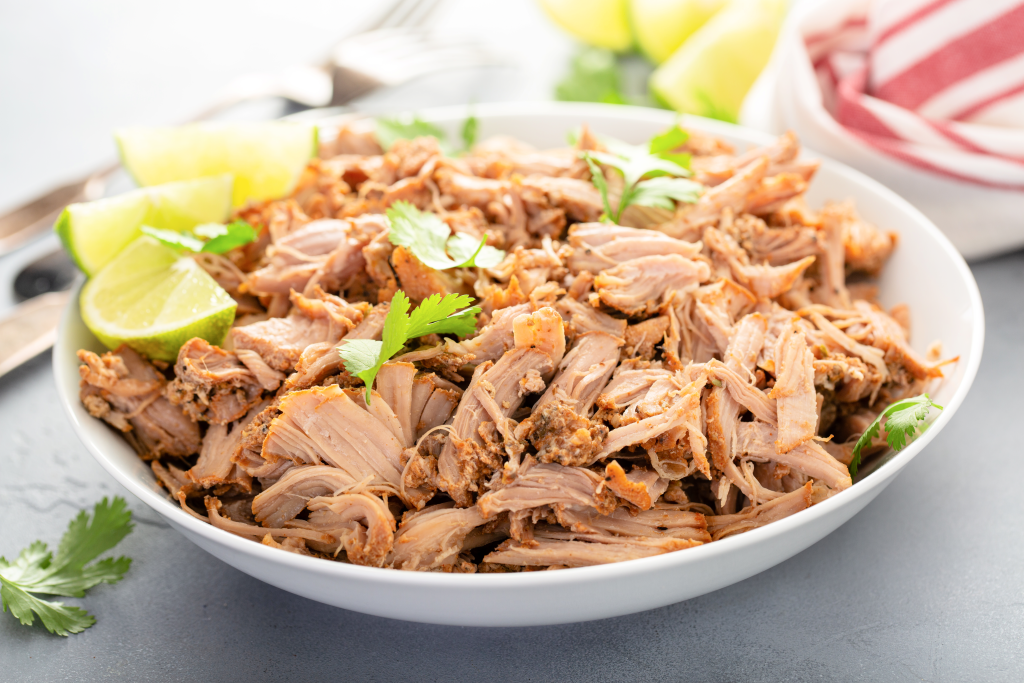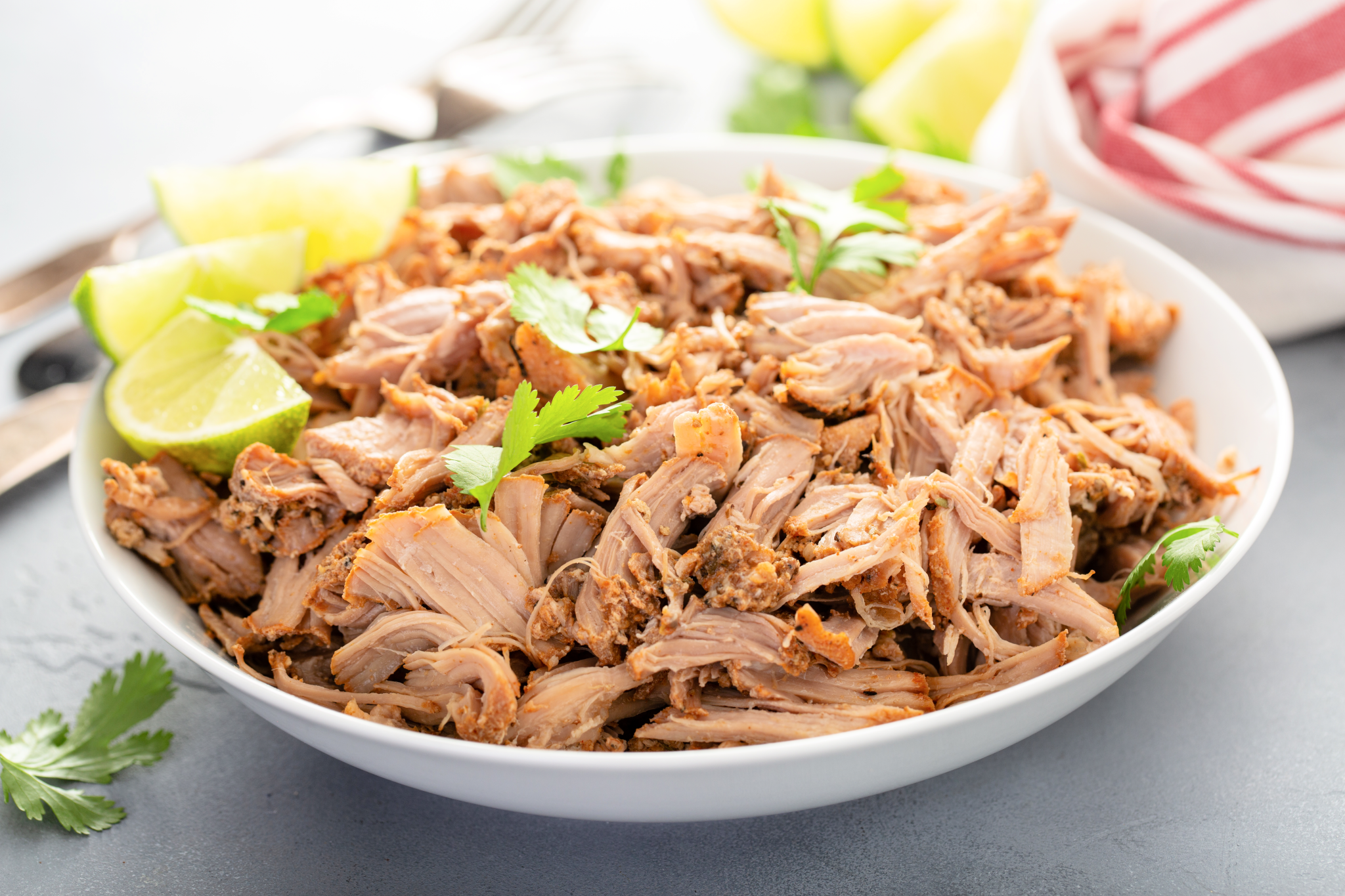 What type of meat do I need for pork carnitas?
You will need a pork roast to make carnitas in the crock pot. I like using a boneless shoulder roast for my carnitas, but you can use a blade roast, rib roast or a pork butt roast. You can also use tenderloin or any other cut of pork. It's a versatile recipe and most cuts of pork work.
Can I make crock pot carnitas without liquid?
While you can make carnitas without liquid, it is not recommended. The only liquid used in this recipe is orange and lime juice which helps break down the meat. The roast will release it's own liquid during cooking, but the juices ensure that the meat is tender and juicy after cooking.
How to make in the Instant Pot
Looking to make carnitas even faster? Use your pressure cooker! The ingredients vary a bit but it's still a simple recipe and ready much quicker. Follow these instructions for easy Instant Pot carnitas:
Sear the roast in the inner pot for a few minutes.
Remove any bits from the pot.
Place the meat back in the pot along with the spices and liquids.
Cook on high pressure for 30 minutes.
Allow the pressure to release naturally.
Shred the meat in the pot.
Place the meat on a baking sheet along with some liquid and put under the broiler for 4-5 minutes, optional.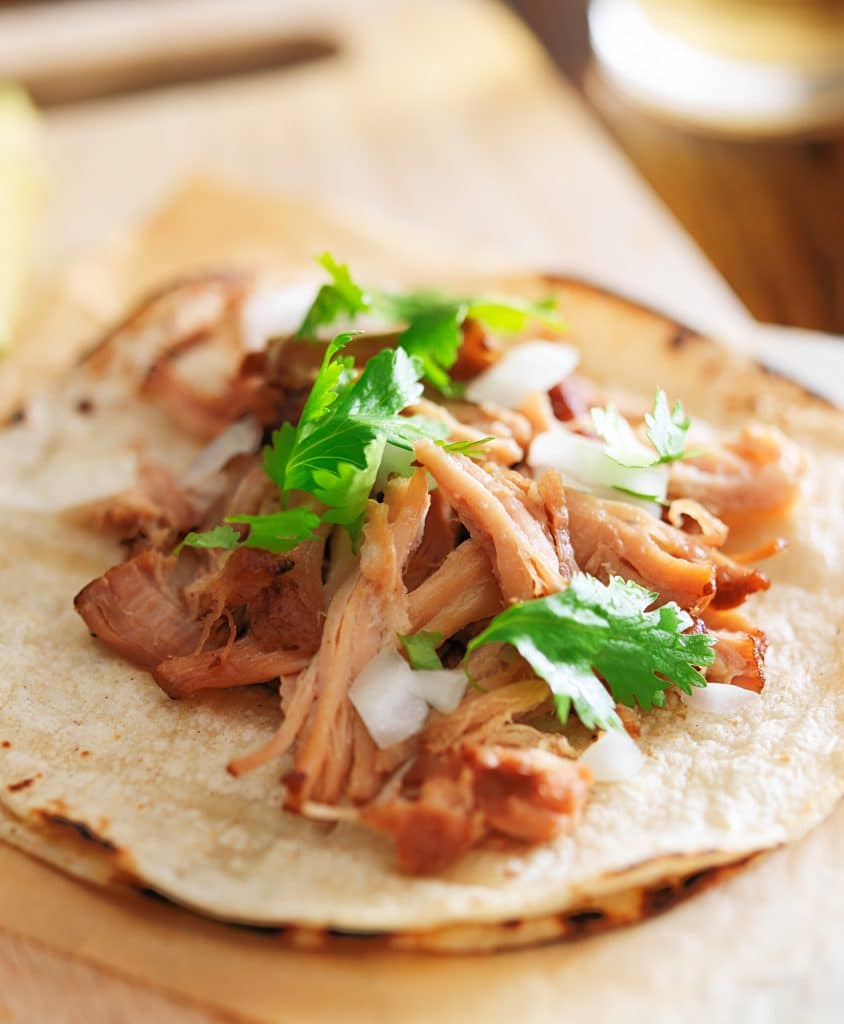 How to store leftovers
Place any leftovers in an airtight container in the fridge. You can reheat in the microwave, on the stove top or in the oven. Add a bit of liquid when reheating.
Can I freeze pork carnitas?
Yes, you can easily freeze these crock pot pork carnitas. Follow the recipes as directed and then place the cooled meat in a Ziplock bag. Remove all the air and place in the freezer. Freeze for up to 3 months.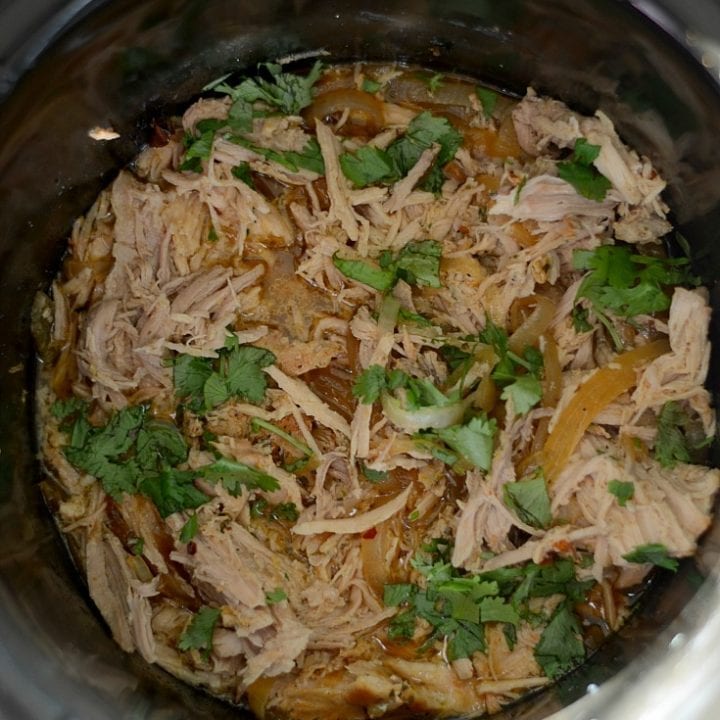 Crock pot pork carnitas
Ingredients
1-2 pound pork roast, thawed
1 onion, diced
3 cloves of garlic, diced or minced
2 tsp oregano
1/2 tsp black pepper
1 tsp salt
2 tsp cumin
1/2 tsp red pepper flakes
juice of two large oranges
juice of 1 medium lime
cilantro, for topping
additional lime juice for topping
Instructions
In a crock pot place the meat in the bottom.
Add the onion and garlic.
Sprinkle all the spices on top.
Add the orange juice.
Cover and cook on high for 4 hours or low for 6-8.
Remove top and allow to cool slightly.
Using two forks, shred the meat.
Top with cilantro.
Enjoy!
Other Mexican recipes to try
Like this Mexican inspired recipe? Be sure to check out:  
Did you make this recipe? I'd love for you to leave a review in the recipe card above or the comments below. Want to make it later? Pin the image below.