I think fall is just around the corner. The stores are filled with Halloween and Thanksgiving decor and the days are starting to get cooler. Well, most places besides South Texas. We stay in the warm/hot bracket until December then get maybe 2 weeks of 'winter' in January. Regardless, Im ready for 'fall', even if that means cooking, baking and crafting in 90 degree heat. Mostly baking. I love the comfort foods of fall. Soups, roasts, breads, apples, pumpkins. I love it all! [Lets be real here, I love all food, but I love fall food the most.] So in honor of fall food, I've created 3 fall recipe cards to share with yall!

There is a pumpkin, a fall inspired card and an apple card. I can't decide which I love most! Probably the pumpkins, because thats just how I roll. Grab your favorite recipe card below and start baking!
>>Click on the card you want to print. It will show up larger once you do this. Right click and save. Print and enjoy!<<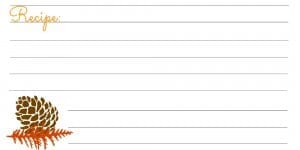 Fall Inspired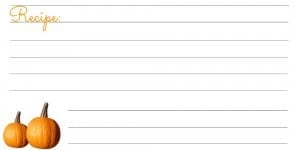 Pumpkins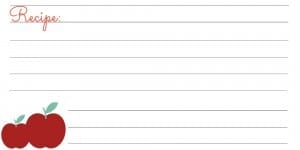 Apples
And if you need some more ideas to help you get in the fall mood check out:
I hope you enjoy your free recipe cards! Here's to a great fall season!