One of the great things about living in south Texas is that our growing season is longer then most places. We have mild winters that allows for some seasonal vegetation when most places are covered in snow. Our farmers market is open year round so we always have fresh produce to buy. I have started going to our farmers market every weekend with the kids. I just love love love having farm fresh produce to cook with. Plus, I get so many great recipe ideas just browsing the available fruits and veggies for sale. [Hello leek and asparagus pasta.] I have this crazy dream that one day Ill be able to actually sell my veggies at the market. [Say what?! I know, its crazy!] Until then, here are some farmers market tips to help you pick the best fresh produce for your family!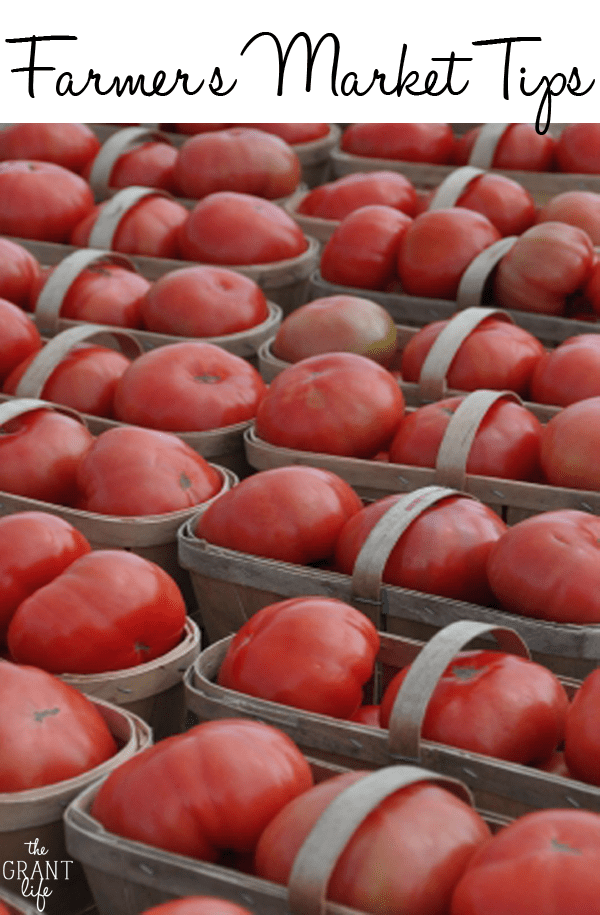 Image source
1. Know prices – I love buying local produce from family farms but I'm not going to pay double if I don't have to. I know that I can get leeks cheaper at the farmers market then my local grocery store but that broccoli is three times the price then the grocery store. Its good to know how much you can get the same produce elsewhere.
2. Come early – the best produce sells out fast so be sure to stop by your local farmers market as soon as it opens.
3. Bring your own bags – if you plan to buy a few things be sure to grab a few reusable bags to carry all your goodies. Some vendors don't have bags and it's just easier to have your own.
4. Bring cash – out of all the vendors at our farmers market, only one has a credit card machine. Yours may be different but cash is easier and always appreciated over credit cards with fees.
5. Shorter shelf life – fresh homegrown produce has a shorter shelf life then fruits and veggies from the grocery store. Buy what you need to use within a week and plan to freeze or can the rest. It's a shame when your farmers markets goodies go bad before you are able to use them
Now that Spring is here local farmers markets should be opening. Find one near you and enjoy the benefits of farm fresh home grown good for the soul produce!
Want more garden fresh posts? Check out:
And be sure to sign up for our emails!