One thing that I have really loved about starting to grow our own food is having an indoor herb garden. It's so easy to start and has made such a huge difference in our cooking. I can't tell you how awesome it is to be able to grab a sprig of fresh basil for a meal. And nothing compares to the taste of fresh cut herbs! Want to start your own indoor herb garden? Here are a few tips on how to start an indoor herb garden!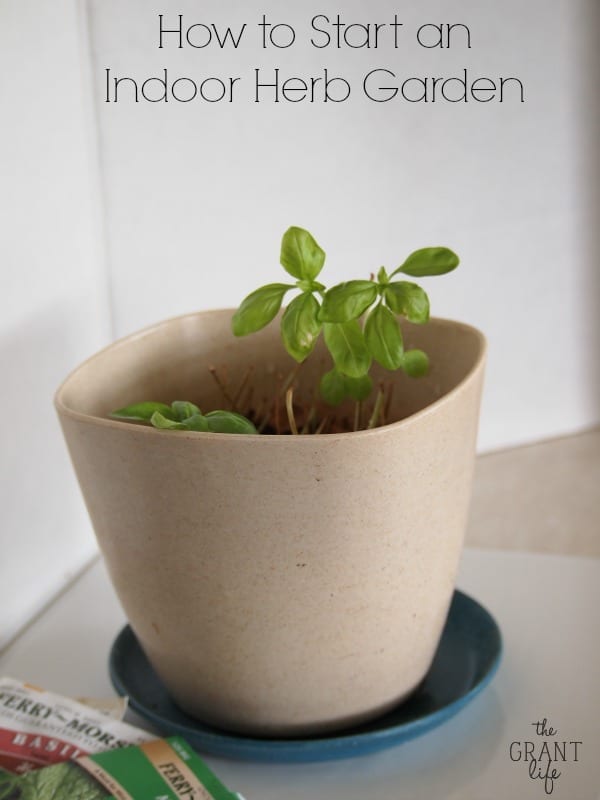 -Pick your herbs – I started small and picked a few that I knew and already used regularly. Parsley, sweet basil, oregano and dill. Not sure where to start? Try whatever you reach for the most often in your spice cabinet! You can find packets of herb seeds at your local garden center or places like Home Depot and Lowes.
-Plant them – Plant your seeds according to their instructions on the packet. I used larger pots so I was able to plant quiet a few and knew they would have enough room to grow. We planted ours the same way we planted our indoor vegetable garden. The kids really love to get involved, which is awesome!
-Find a sunny spot – Find a nice windowsill to set your pots. We have the perfect window above our sink that houses our herbs. It's also out of the way of the cats and kids. Plus, it makes for easy watering!
-Water accordingly – Make sure your little herblings have a good dose of water. I don't water everyday because sometimes they don't need it. A good test to see if they need soil is to scratch the diet and if its moist under the top layer – they should be fine. This fun tip came from one of my favorite books – Backyard Farming on an Acre of Less by Angela England. [I highly recommend this book for any gardener!]
-Prune them – This is the best part! Once your herbs start to grow into nice leafy plants you can start using them! If your herbs start to take over, prune then down and save the leaves. [I had pruned my basil two weeks ago in the picture above!] You can dry them or freeze them for later use.
And there ya go! Easy, right? If you start today you should be able to use fresh herbs in a few weeks. [Woohoo!]
Want more posts like this? Check out:
How to transplant seedlings
Or sign up for our emails!