Breakfast is my favorite meal of the day followed by dinner. Some days, its hard to eat lunch with everything going on. [Kids mainly.] But the kids need to eat. And when they are heading to mother's day out, they need a lunch packed. And I like easy and healthy lunches. [The kids do too, don't let them fool you.] So here is a list of our favorite [to date] easy lunch recipes. Some are for adults and some for kids; all are delicious!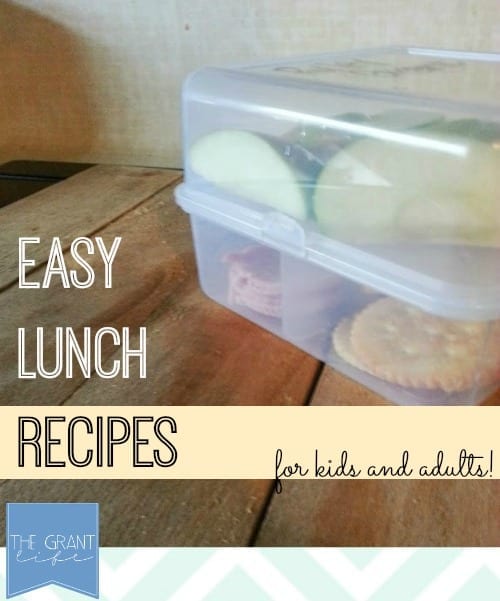 Mini Pizzas // My kids gobble these up! I get real fancy and use ketchup as the sauce for these mini pizzas.
Mac 'n Cheese Muffins // Two ingredients make these delicious muffins. Easy to pack in a lunch or snack on at home. We love em!
Fiesta Ranch Salad // This is one of my all time favorite lunch recipes, mainly because its full of avocado.
Copy Cat Lunchable // You'll won't believe how much junk is in a normal lunchable. We make our own and they are so easy and the kids love them.
Chicken Pesto Panini// Another easy recipe that combines leftover chicken with some big flavor. [Aka pesto and cheese.]
Healthy PB&J // A few substitutions and these sandwiches are healthier [and tastier] for your little ones.
Pulled Pork Sliders // Great for dinner or lunch.
Be sure to also check out these recipes that would make a great addition to any lunch.
Homemade Beer Bread // Seriously, so good.
Roasted Red Pepper and Artichoke Hummus // Its like a dish of yum.
Crockpot Mashed Potatoes // Make the day before and enjoy at lunch time.
Homemade French Bread // Good plain or with butter and jelly. Or lunch meat.
Reese's Popcorn // Because.. why not?
And if you want more recipes delivered to your inbox, be sure to sign up for our emails!