I think this may be one of my kids favorite lunches.  Heck, its one of my favorite lunches.  It has all the makings of an easy homemade recipe; ranch – check, cheese puffs – check, mac n cheese – check!  Its my go to lunch when my kids are being picky eaters.  Plus, its super easy to pack into a lunch box and send off to school with them.  Ill show you what you need to make it and why its so easy to pack.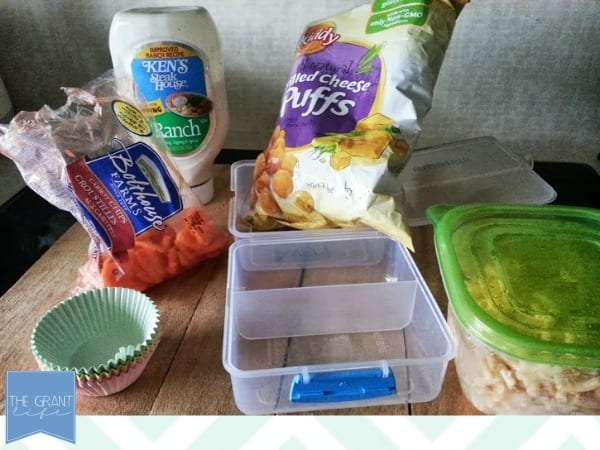 To make your mac 'n cheese bento box you will need:
Mac 'n Cheese (duh, right?  I made mine the night before and had it the fridge.  Nothing like leftovers!)
Carrot sticks
Ranch dressing
Cheese puffs (I like the Snikiddy Brand)
Cupcake liner
Fruit snack
I have started to buy more organic and non-GMO foods for the family.  Its tough to find food that the kids like, that we like and that isn't over the top expensive.  Right now I mix about half organic and half regular food in their meals.  Its a slow process to switch over to a whole new set of food, but its something we are passionate about doing.  [Ill save the GMO talk for another day, yall.]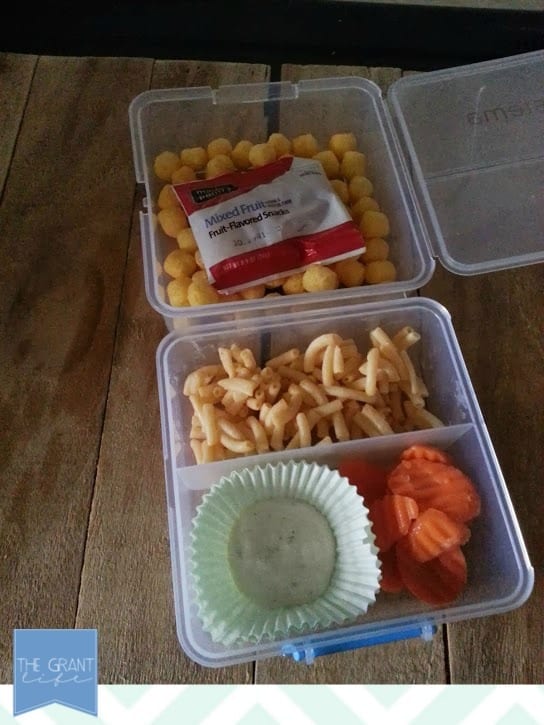 Again, everything fits perfectly into the faux bento box.  I doubled up the cupcake liners and added the ranch dressing for dipping.  It all fits neatly in the bottom compartment.  [Later in the week I found condiment containers that work even better, but the cupcake liners did their job.]  Plus, its something the kids can help me put together, which they love!
Here are some more ideas for back to school recipes as well!
What is your kiddos favorite lunch?  And how often do they eat it?