Looking for menu inspiration? Our December menu plan is full of hearty recipes and a few sweet treats.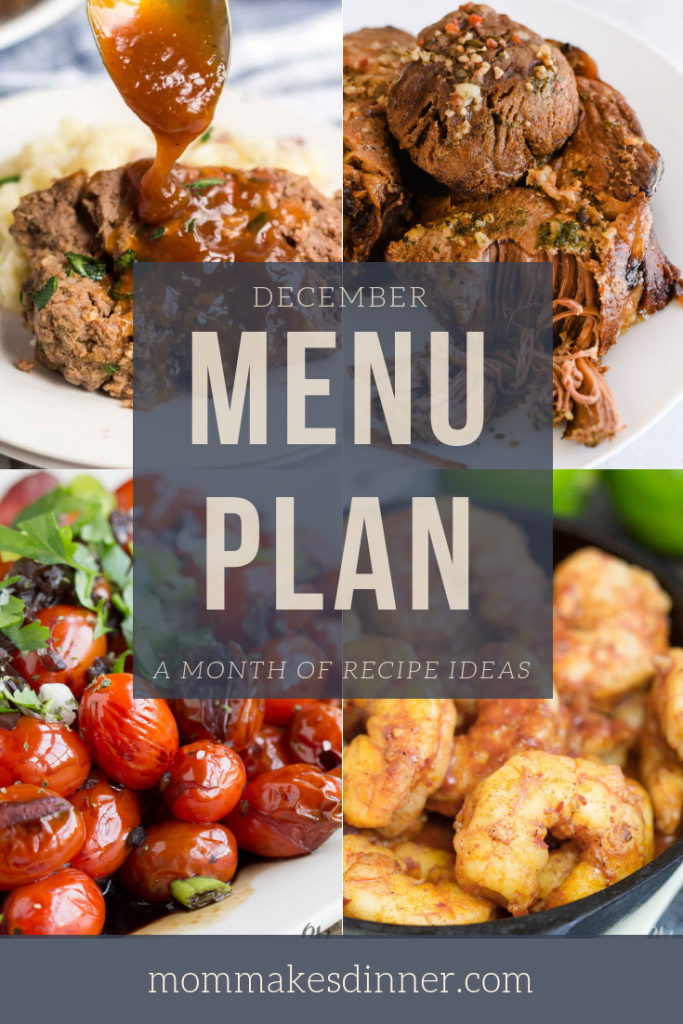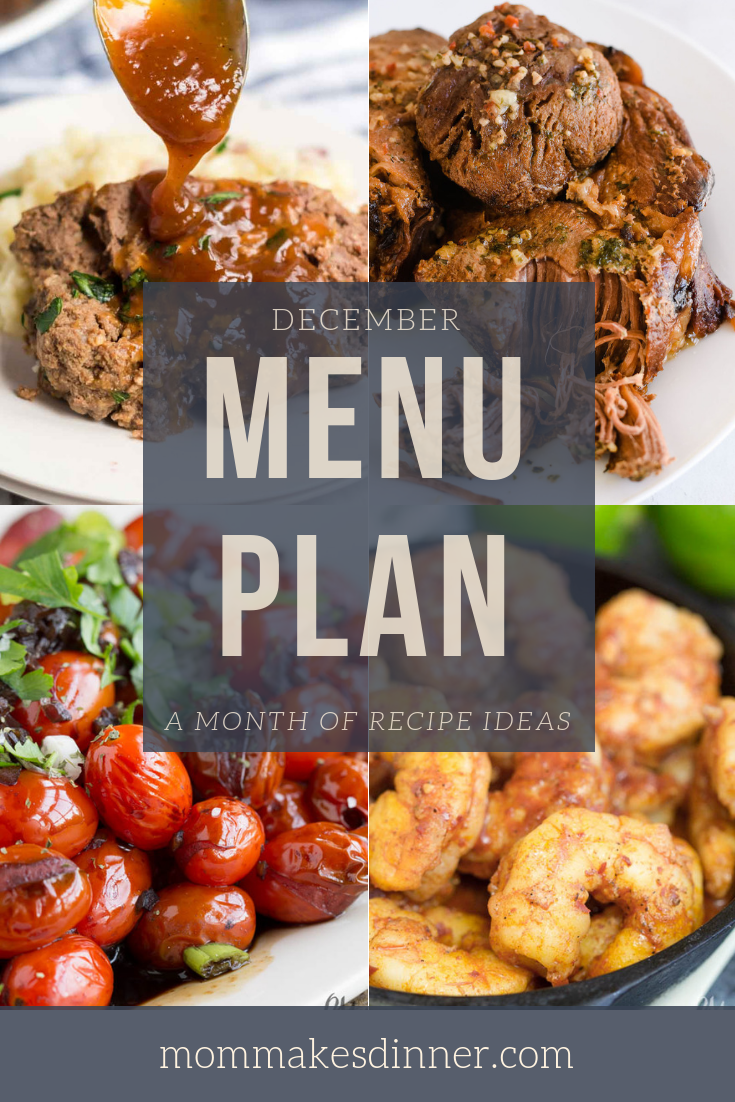 Hey there! Welcome to our December menu plan! I had this crazy idea to create a menu for the whole month and y'all seemed to like it too! I rounded up some of my food blogging friends and together we create a monthly menu plan.
I am huge believer in menu planning and I love being able to share my tips and tricks with y'all. If you need help getting started menu planning, check out THIS POST. I break it down and make it easy to get started. No need to fear the menu plan!
A few things to note –
There are 4 weeks of menus below. Each week has 7 main dishes, 2 sides and 1 dessert. Feel free to take recipes from any week and create your own menu plan. These recipes are for here to inspire your own menu plan.
I check all the ingredients and recipes that are gluten free, Keto, Paleo, or Whole30 are marked. I have also marked recipes that use a crock pot or Instant pot or are made using only one pot/pan.
You can also grab a free grocery list and menu planner printable below. Let's get eating!


Week 1
Main dish – Sheet pan salmon and asparagus – Keto/Whole30/GF/ Paleo
Main dish – Molasses short ribs
Main dish – Slow cooker salsa verde chicken tacos – GF/Crock pot
Main dish – Chinese sweet and sour pork meatballs
Main dish – Easy steak fajitas – Keto/Whole30/GF/Sheet pan dinner
Main dish – One pot coconut noodle soup – GF/Dairy free
Main dish – Instant pot pot roast – Instant pot/GF
Side dish – Southern corn bread
Side dish – Blistered grape tomatoes
Side dish – Brown butter twice baked sweet potatoes
Dessert – Chocolate turtle cupcakes
Dessert – Slow cooker cinnamon sugar candied almonds

Week 2
Main dish – Pierogi lasagna
Main dish – Meatloaf with brown gravy
Main dish – Turkey noodle casserole – Instant pot recipe
Main dish – Herb rubbed prime rib – GF recipe
Main dish – Spaghetti squash boats – Keto/GF
Main dish – Chili recipe – GF recipe
Main dish – Skillet shepherds pie – GF recipe
Side dish – Garlic herb rolls
Side dish – Crispy edamame
Side dish – Spicy cheddar sausage balls
Dessert – Mint chip sugar cookies
Dessert – Holiday peppermint cake

Week 3
Main dish – Easy chicken stir fry
Main dish – Easy Swedish meatballs
Main dish – Green bean casserole soup – GF recipe
Main dish – Pork fajita bowl – Keto/Whole30/GF/ Paleo
Main dish – Crock pot lemon chicken – Crock pot recipe
Main dish – White Castle casserole
Main dish – Tequila lime shrimp – GF/Keto
Side dish – Ham and cheese baked rice
Side dish – Spicy zucchini noodles
Side dish – Mashed potatoes
Dessert – 3 ingredient chocolate fudge
Dessert

Week 4
Main dish – Pasta bake
Main dish – Easy baked chicken recipe – Keto/Whole30/GF/ Paleo
Main dish – One dish baked salsa chicken casserole – GF recipe
Main dish – Ham mac and cheese – Instant pot recipe
Main dish – Loaded potato baked soup
Main dish – Italian stuffed peppers – GF recipe
Main dish – Instant pot turkey recipe – Instant pot/Keto/Whole30/GF/ Paleo
Side dish – Creamy slow cooker scalloped potatoes
Side dish – Garlic roasted broccoli
Side dish – Baked mac and cheese
Dessert – Chocolate chip cookie bars
Dessert – Caramel stuffed sugar cookies