If you are looking for an extra cheesy broccoli potato cheese soup, you've found it!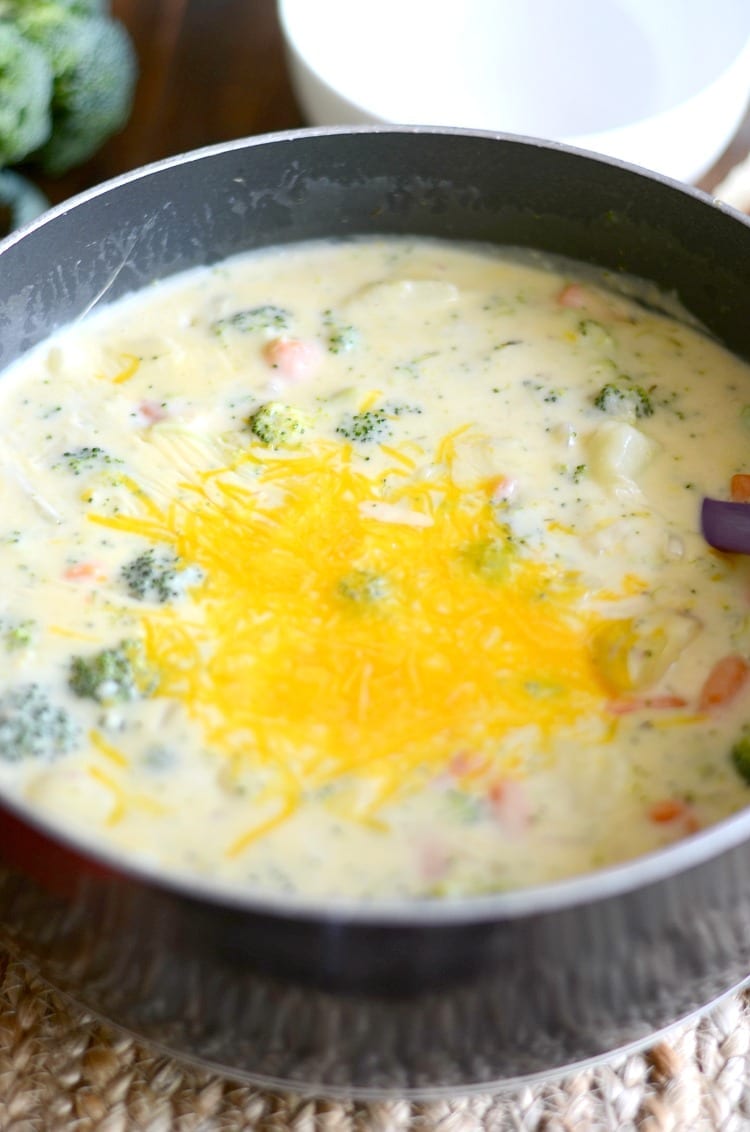 Hey yall! Oh my goodness am I excited! Two reasons. First, the baby is sleeping sweetly right next to me in bed. Which is cause enough for celebration, am I right?! But the second reason I am SO EXCITED is that it is starting to feel like fall! (I wish I had emijos on my laptop because I would put a leaf one, a pumpkin one, another leaf one and the little guy with his hands in the air. Just imagine they are there. Thank you!)
The past two days it has been in the 70s in the morning! Let's not talk about the fact that it warms up to 90 in the afternoon. Focus on the beautiful crisp fall-like mornings! (That's what I do.)
I had a little extra energy the first day it was nice out. I told myself "Self, you should take the kids to the park after school. Because it's sooooo nice out right now." So after school we headed to the park and after 15 minutes the kids were red faced and sweaty from the 90 degree heat that had crept in. (Not to mention the humidity.)
But since it's fall (-like in the mornings) I am pumped to start making fall comfort foods. (See – skillet shepherd's pie.) Like casseroles! And crock pot roasts! And soups!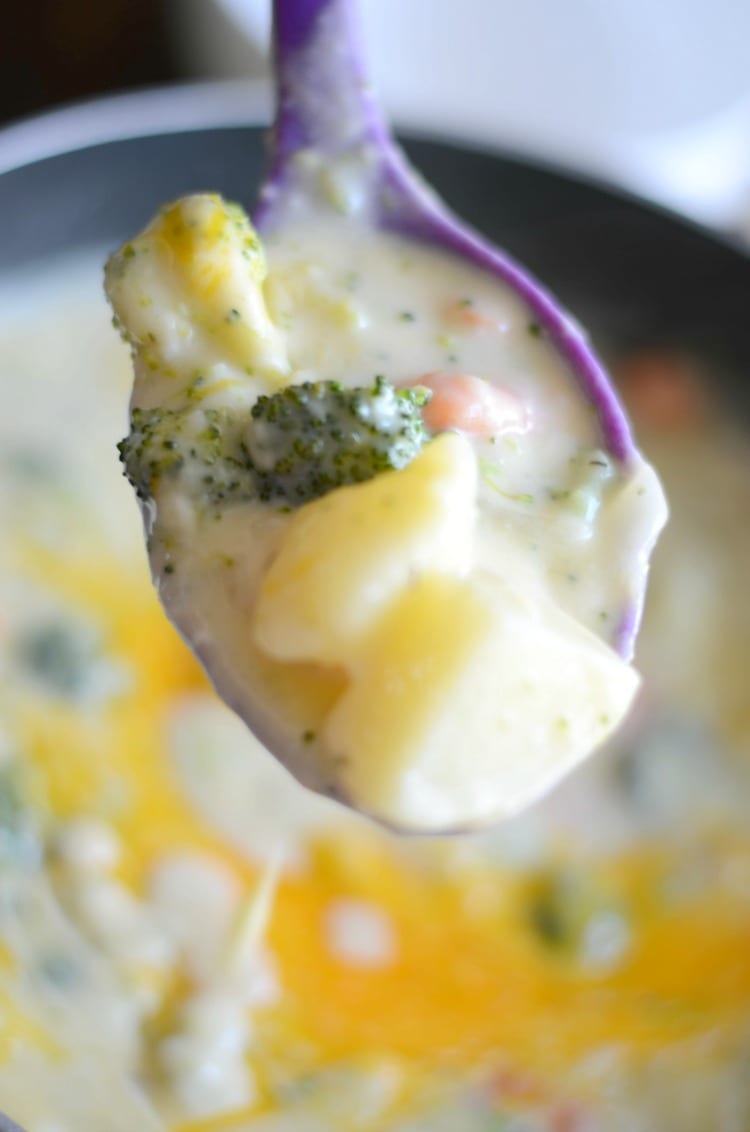 What is broccoli potato cheese soup
I feel like there are two camps when it comes to soups – either broth-y or super creamy and extra delicious. This cheesy vegetable soup falls into the second camp. Cheesy and delicious and perfect for fall weather! (Or fall-ish weather if you live in South Texas like we do.)
And to be honest – this soup is really broccoli cheese soup with extra veggies. (Which I'm thinking means it's better for you, no?) Extra broccoli first and then some taters, carrots and celery. All topped with over 2 cups of cheese! If you were looking for fall comfort food, you've found it!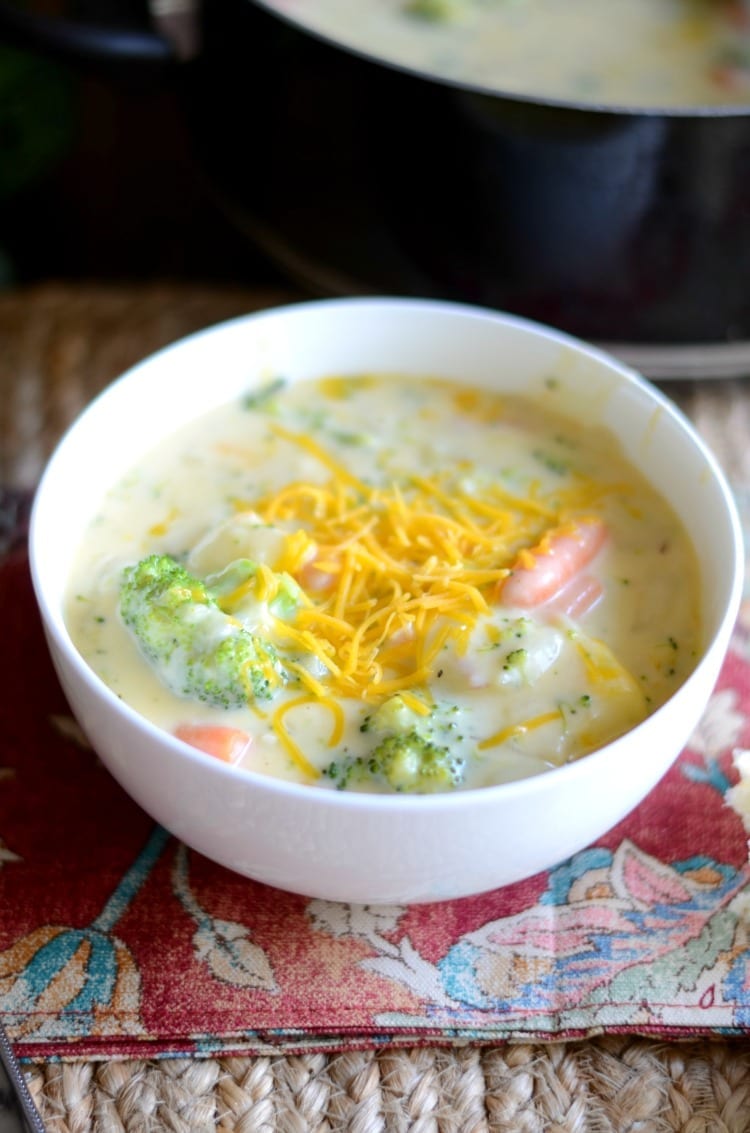 Broccoli cheddar potato soup ingredients
The ingredient list for this soup may seem a little long, but they are all pretty common and can be found at even the smallest grocery store. (I know, our grocery store is teeny tiny and I was able to grab everything I needed.)
There are three main ingredients in this quick and easy dinner recipe –
You can use any kind of potatoes that you would like. I prefer red or gold taters so that is what I normally use for this soup. Russets are always a good choice as well. I haven't tried this potato soup with sweet potatoes, but they should work just fine.
You need 4 cups of broccoli for this broccoli potato soup. Yup. FOUR CUPS. It seems like a lot, but it's totally worth it. It makes for one delicious soup.
And the last main ingredient and maybe the most important – the cheeeeese. Cheddar cheese is the best option for this recipe, but feel free to experiment or use your favorite cheese.
Tips for making broccoli potato cheese soup at home
You need two dishes to make this soup – a large stock pot and a skillet. The stock pot is used for most of the cooking and the skillet is used to make a cheesy roux that is added to the soup.
In the stock pot you will cook the onions, carrots, celery, potatoes and broccoli. You will add the four cups of chicken broth to cook the potatoes and broccoli before adding in the cheesy roux that you make in the skillet.
A roux is a sauce made with flour that thickens upon cooking. You start the roux with butter and flour and then add in the milk, heavy cream and cheese. This will create a thick sauce that makes the broccoli potato cheese soup extra creamy.
Add in the roux to the stock pot and stir to combine with the vegetable mixture. Add in extra cheese and fresh parsley upon serving.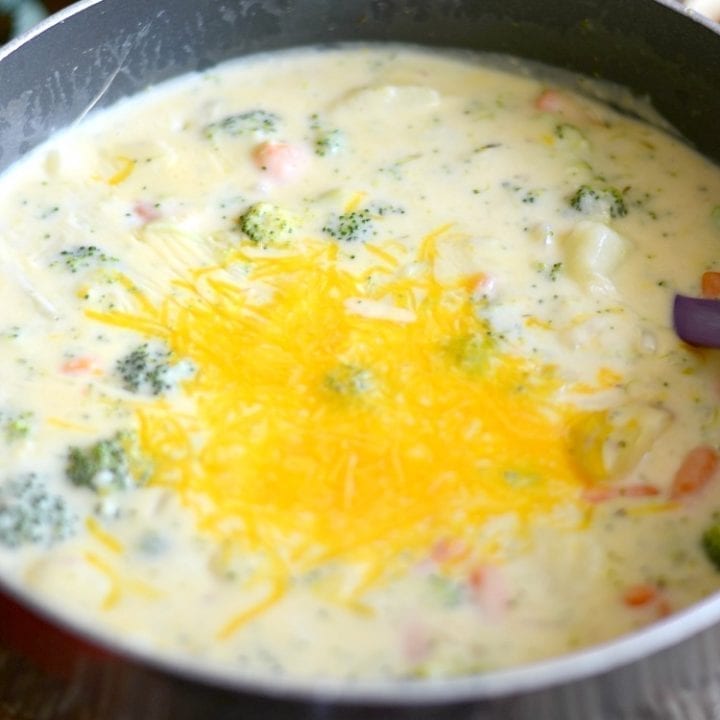 Cheesy vegetable soup
Ingredients
5 tablespoons butter, divided
1 large onion, diced
1 cup carrots, diced
1 cup celery, diced
3-4 cloves of garlic, minced
4 cups chicken broth
3 cups potatoes, cut into cubes
4 cups broccoli heads
1/2 teaspoon thyme
salt and pepper to taste
1/2 teaspoon garlic powder
5 tablespoons of flour
3 cups of milk
1 cup of heavy cream
2 cups of sharp cheddar cheese, shredded
1/2 cup of Parmesan cheese, shredded
parsley and extra cheese for topping
Instructions
In a large stock pot melt 1 tablespoon of butter over medium heat. Add in the onion, carrots, celery and garlic. Cook 3-4 minutes or until onions are translucent and soft.
Add in the chicken broth, potatoes, and spices (thyme, salt, pepper and garlic powder). Stir together and bring to a boil. Reduce heat to a simmer and allow to cook for 15 minutes, or until the potatoes are almost softened. Add in the broccoli and continue to cook for 5 more minutes.
While the potatoes and broccoli are cooking, melt the 5 tablespoons of butter in a separate pan. Mix in the flour and allow to cook for up to a minute. Slowly whisk in the heavy cream and allow to thicken. Pour in the milk, allow to cook for 1-2 minutes and then remove from heat.
Add in the cheeses in and stir until combined. Pour into the vegetables in the stock pot and mix well.
Sprinkle with additional cheese and parsley.
Enjoy!
Notes
If your soup needs to be a little thicker, add in 1 tablespoon of cornstarch mixed with 1/4 cup of cold water.
Like this post? Be sure to check out: