Fire up your crock pot for this easy pot roast dinner. You can quickly prep this meal and have it ready for dinner. This slow cooker pot roast is easy to prepare, comes out super tender, and everyone will love it! Let me show you how to make this quick and easy dinner recipe today.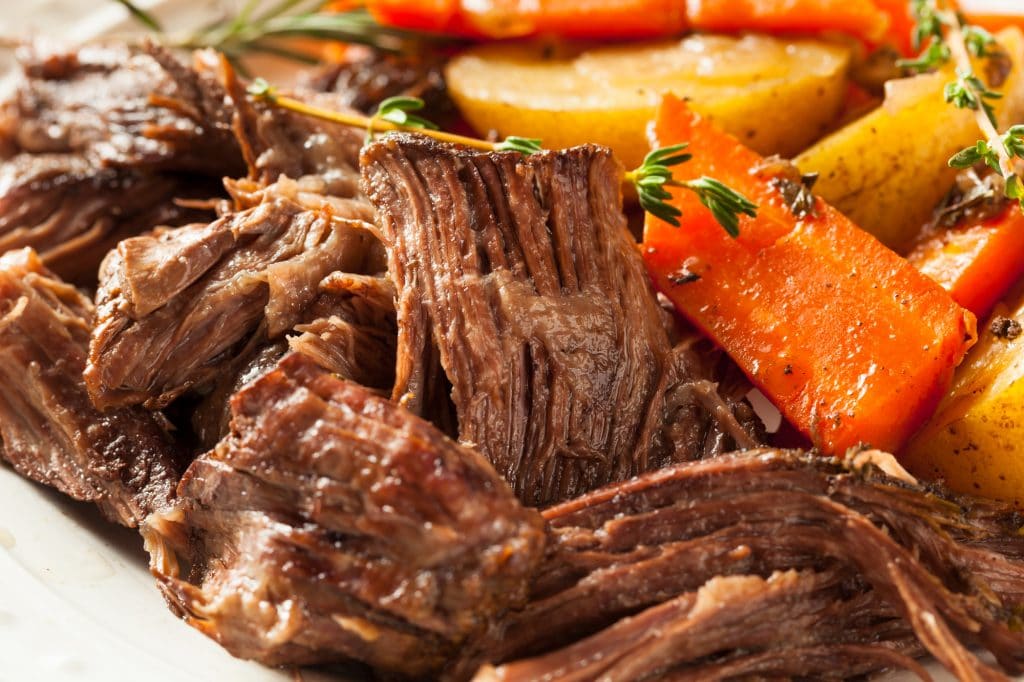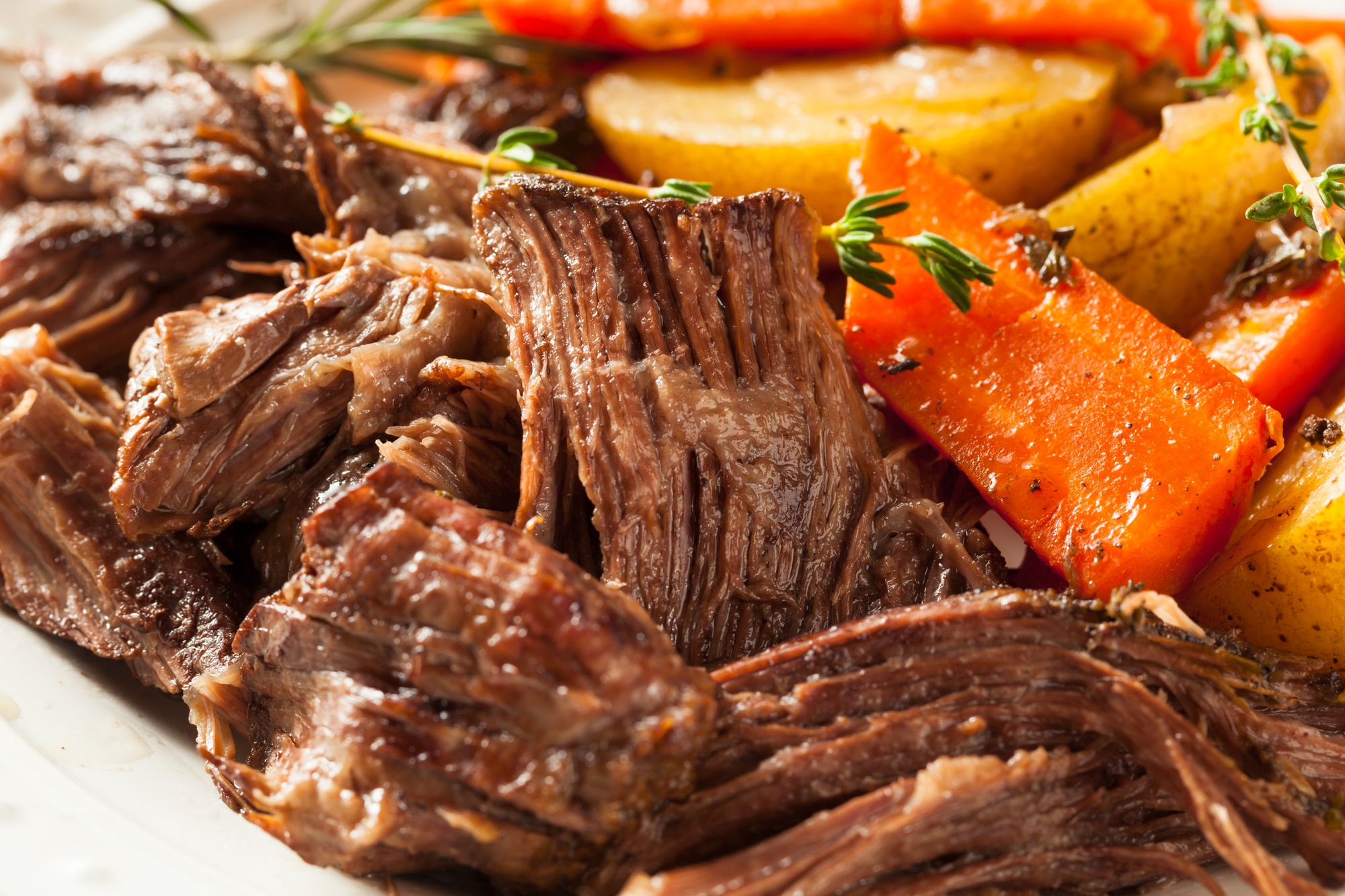 I absolutely love using my slow cooker to make dinner, especially on super busy days. And if I'm being totally honest, roasts are my favorite dinner. They are so versatile and yet so flavorful! My Mississippi pot roast and Italian beef are just 2 family favorites that everyone loves. And this easy slow cooker pot roast too, of course!
Slow cooker pot roast
This pot roast starts with a nice chunk of beef that is seasoned to perfection and then slow cooked until fork tender. I love that this is a one pot meal with the addition of the potatoes and carrots. Everything can be tossed into a crock pot and cooked until tender and full of flavor.
Best cut of meat for pot roast dinners
The beauty of this recipe is that you can use a variety of different cuts. You want to make sure that your roast has a good amount of marbling, as that will help keep the meat moist. The best cuts for this would be chuck roast, arm roast, blade roast, shoulder roast or even a thicker brisket cut.
Slow cooker pot roast ingredients
I've mentioned this recipe is super versatile because you can make it simple or you can jazz it up and add extra ingredients for more flavor. I like to add a few spices and fresh herbs that keep the roast mild, but delicious. You will need:
beef roast
potatoes
onion
carrots
beef broth
garlic
fresh thyme and rosemary
spices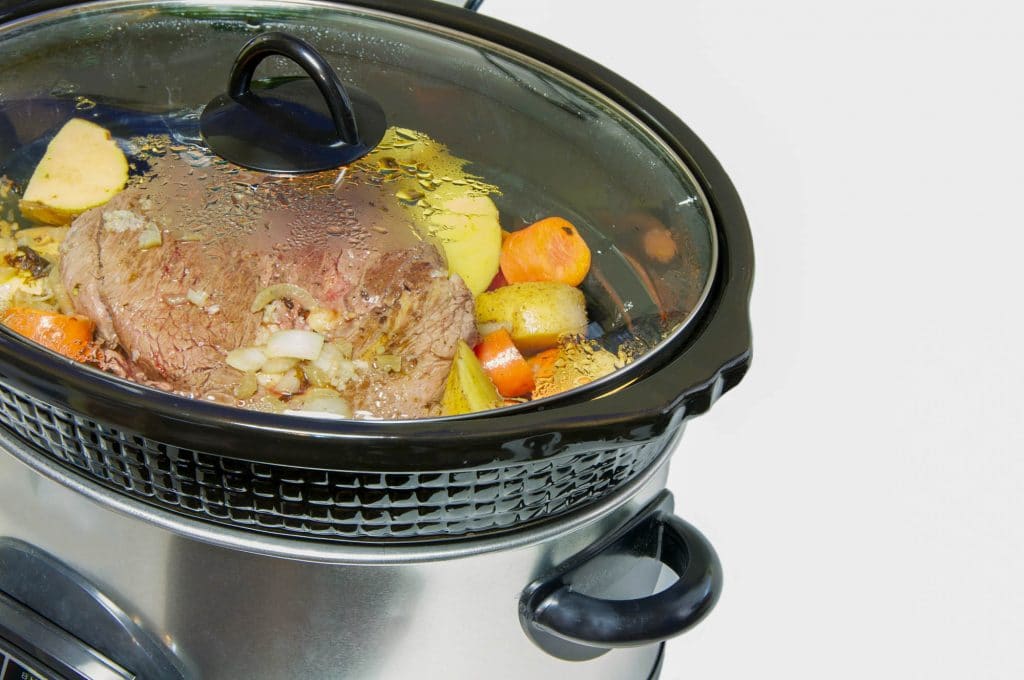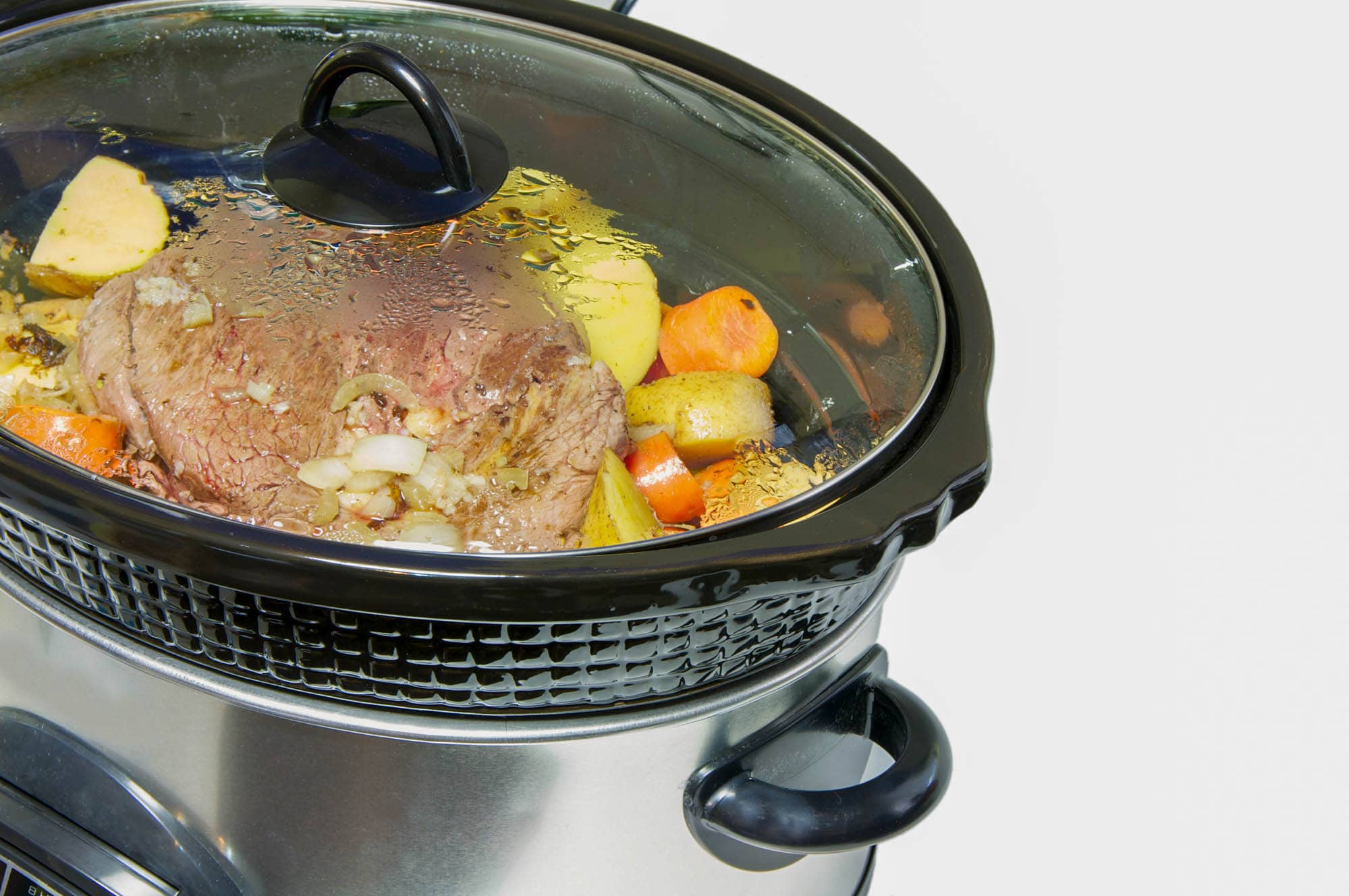 Beef roast – You will want to grab a 6-7 pound beef roast. What kind of roast? You can use any type of beef roast that you prefer. I suggest one with a decent amount of marbling such as a blade roast, arm roast, shoulder roast or a chuck roast. Make sure you defrost your roast before cooking for the best result.
Potatoes – I love using Yukon gold or yellow potatoes. They cook well in the crock pot and don't get overly mushy.
Onion – Grab your favorite onion for this easy slow cooker pot roast recipe.
Carrots – You can use baby carrots or whole carrots. I like to switch it up and use both.
How to make pot roast in the crock pot
Once you have gathered all your ingredients, you will also need to grab:
cutting board and knife
measuring cup
slow cooker
Step 1 Prep your vegetables Slice your potatoes into quarters and dice your onions. If you are using whole carrots, slice those into chunks.
Step 2 Sear your roast This step is optional, but it helps create a juicier roast. Place your roast in a hot skillet, cast iron preferred. Sear the top, bottom and the sides until brown. Place your roast in the bottom of your crock pot. 
Step 3 Cook Add in your vegetables, spices, thyme, rosemary and broth. Slow cook on high for 4-5 hours or low for 6-8 hours.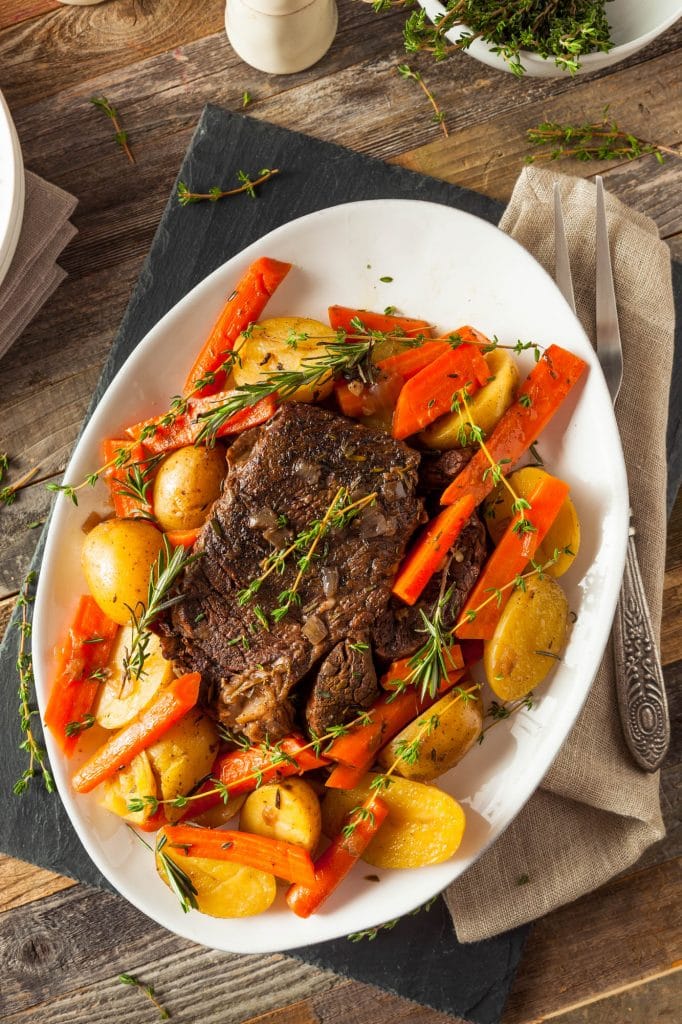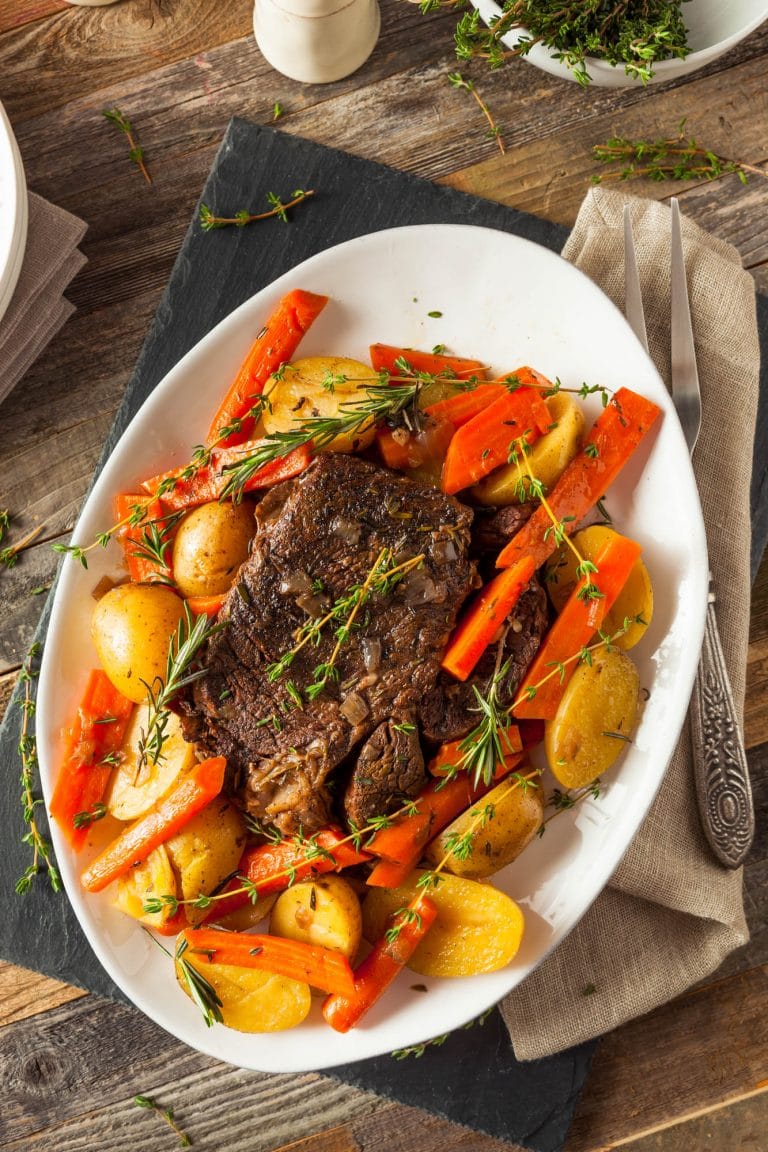 Do I have to brown a roast before putting it into a crock pot?
No, you do not HAVE to sear a roast before adding it to your crock pot. Searing a roast helps retain it's juices and gives it a better texture. It also helps reduce fat or grease in your crock pot when cooking.
Is it better to cook a roast on low or high in a crock pot?
If you want the most tender roast, it is best to cook it on the low setting in your crock pot. When you cook it on low, it breaks down the meat more and is infused with flavor from the spices and herbs. If you are short on time, you can cook it on high with similar results. Your meat may not be as fork tender, but it will still be delicious.
How much water do you put in a slow cooker when cooking a roast?
In this recipe, you will add 4 cups of beef broth to the crock pot before cooking. You can use water, if you prefer, but beef broth gives this roast a better depth of flavor.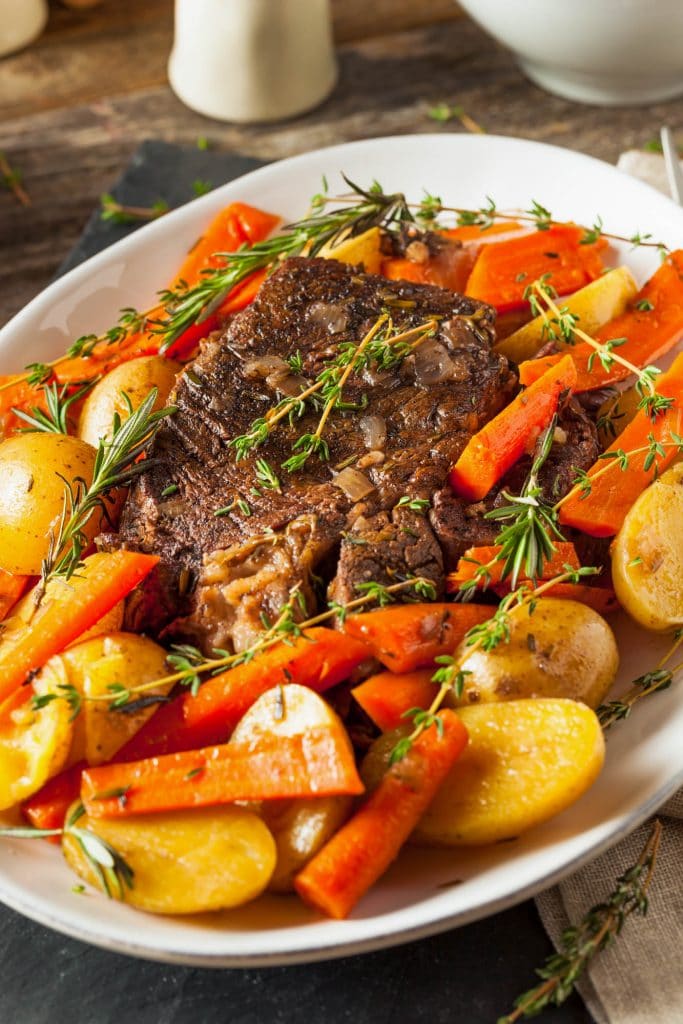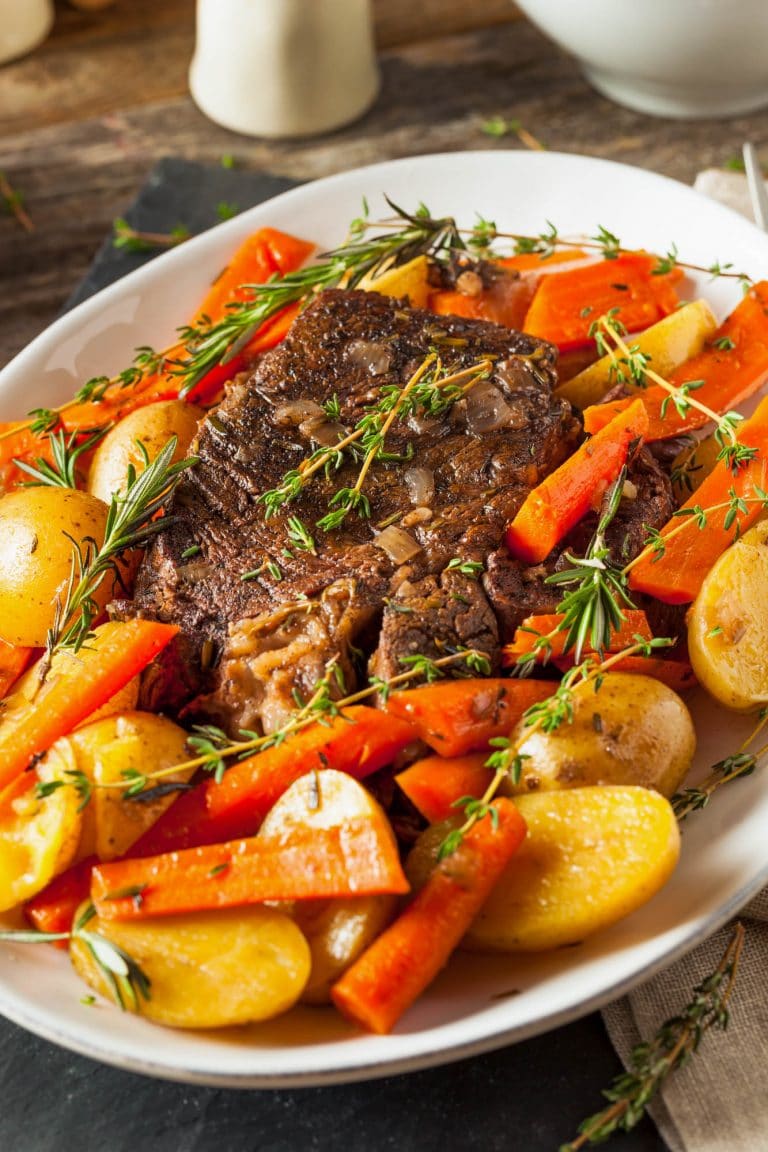 Make a gravy for the pot roast
You can quickly make a gravy for this easy slow cooker pot roast. First, remove all of the vegetables and the roast onto a serving platter. Make sure to scoop out and leftover bits of vegetables so that your gravy is smooth. Turn your slow cooker on high and add a slurry of cornstarch and water to the pot. Stir together and allow to cook until thickened. You can also spoon out some of the broth into a saucepan and do it on the stove top for a faster gravy.
Side dish recommendations
This easy slow cooker pot roast recipe is a one pot meal, but you can always add a side dish to round it out. Some of my favorite side dishes for this meal are:
How to make pot roast in the Instant Pot
I love that you can make pot roast in your Instant Pot. (Yall know how much I love easy Instant Pot dinners!) My friend Ashley has a super simple recipe on how to make pot roast in the Instant Pot. This recipe is much quicker than making it in the slow cooker, but you still get the fork tender roast in the end.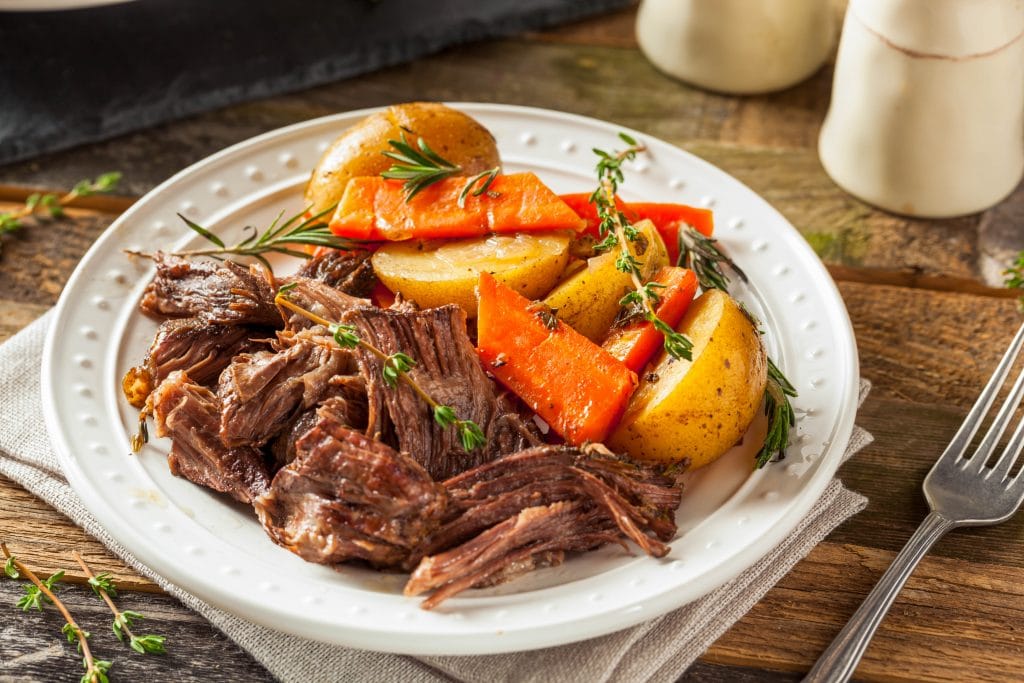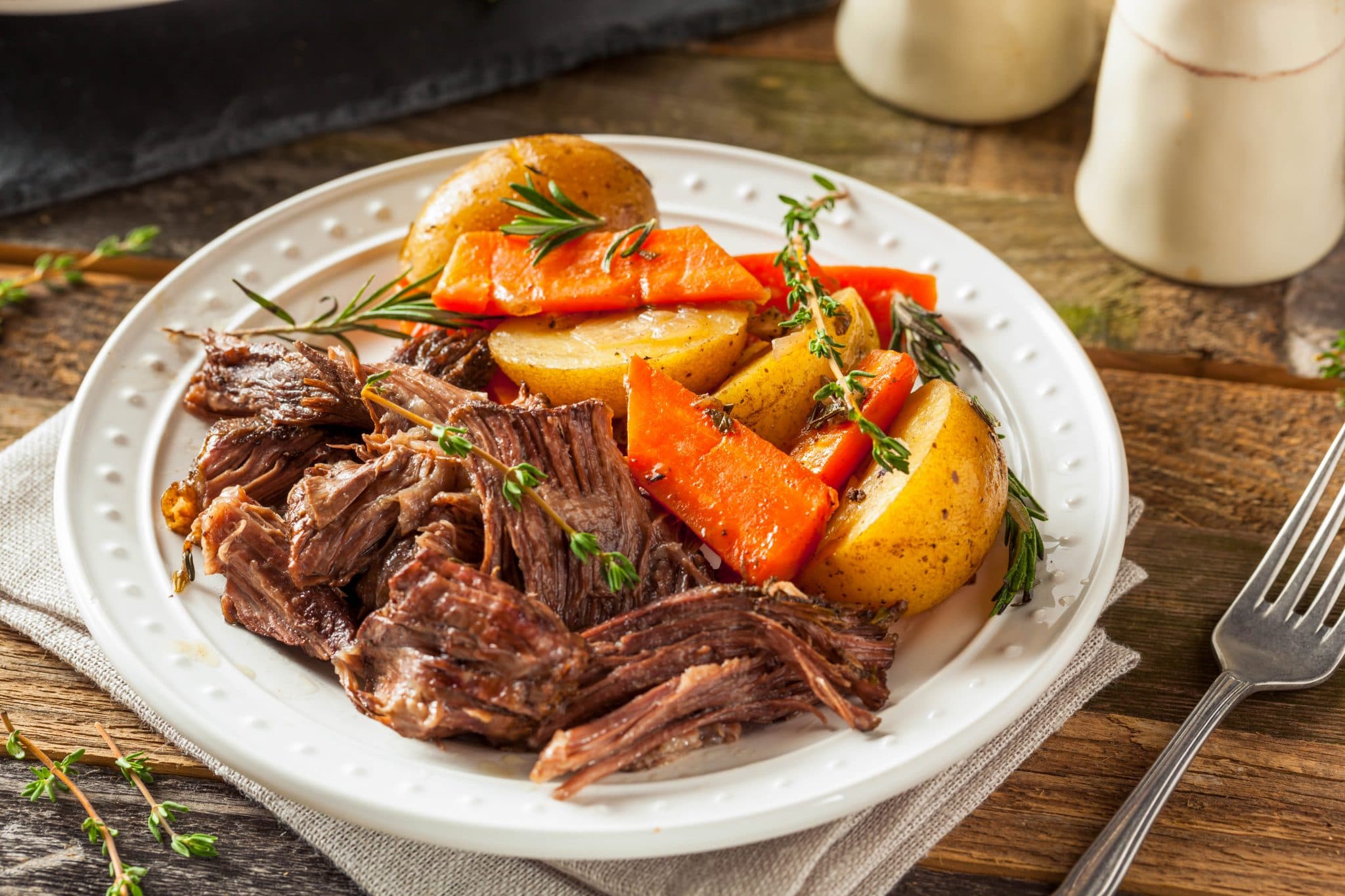 Other crock pot recipes to try
Love using your crock pot for easy dinners? ME TOO! Some of our favorites are:
How to store leftovers
Allow the roast and potatoes to cool before placing them in an airtight container with a lid. Place the leftovers in the fridge for up to 4 days. Reheat in the microwave.
Can I freeze pot roast?
Yes! You can! Allow your roast to cool completely before placing it in a Ziplock bag. Remove all the air so that you can lay the bag flat on a cookie sheet. Flash freeze your pot roast for a few hours and then remove it from the cookie sheet. Place it back in the deep freeze for up to 3 months. Reheat in the microwave when you want to eat it again.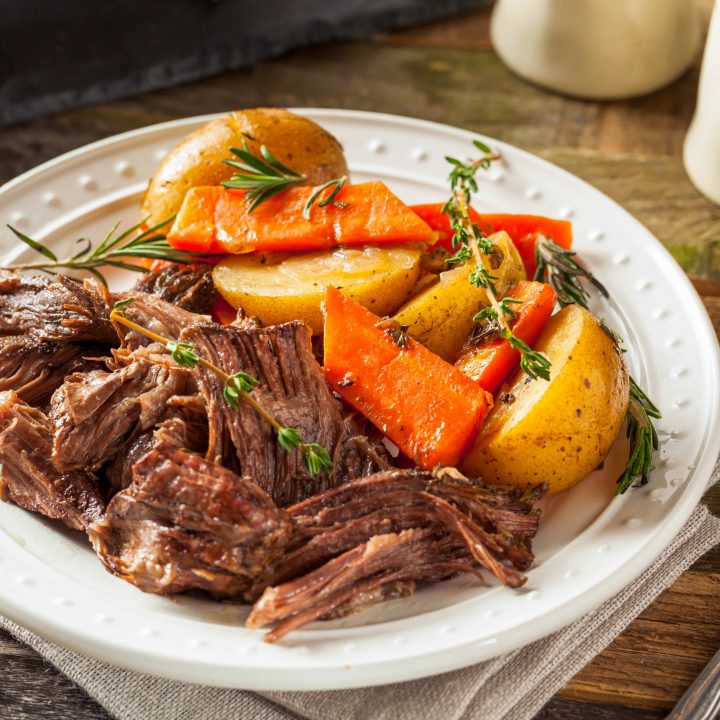 Easy slow cooker pot roast
Total Time:
6 hours
15 minutes
How to make a super tender pot roast in your crock pot.
Ingredients
6-7 pound beef roast
5 potatoes, quartered
1 large onion, diced
1/2 bag baby carrots or 5 regular carrots, chopped
4 cups beef broth
3 garlic cloves, minced
3 sprigs thyme
3 sprigs rosemary
1 teaspoon onion powder
1 teaspoon garlic powder
1 teaspoon oregano
1/2 teaspoon salt
1/2 teaspoon pepper
For a gravy -
1 tablespoon cornstarch + 1/4 cup cold water
Instructions
Sear your roast in a hot skillet, on all sides. Sear until browned all over. This step is optional.
Place your roast in the bottom of the crock pot.
Add in your vegetables, spices and broth followed by the rosemary and thyme.
Cook on high for 4-5 hours or on low for 6-8 hours.
When done, use 2 forks to shred the meat.
Optional gravy - spoon 2-3 cups of the broth into a sauce pan over medium heat. Create a slurry with the cornstarch and the cold water. Add to the broth and stir constantly until thickened.
Pour the gravy over the plated meat and vegetables.
Enjoy!
Have you tried this recipe before? I'd love for you to leave a review in the comments below. Want to try it later? Pin the image below for later.