I think I am slowly starting to overcome my fear of making bread. I make our homemade white bread once a week and I have even started venturing into other bread recipes. It's fun to try new bread recipes with a little more confidence. One recipe that still had me scared? Pizza dough! I feel like if I mess up bread, no biggie I can run to the store later. If I mess up pizza, what the heck are we going to eat for dinner now?! Messing up a loaf of bread is one thing, but telling a 4 year old we are having pizza for dinner and that NOT happening is another. [Don't mess with preschoolers and their pizza yall.] But I'm here to tell you my fears were totally unfounded. I giant puffy heart love making homemade pizza now because its super easy. And delicious.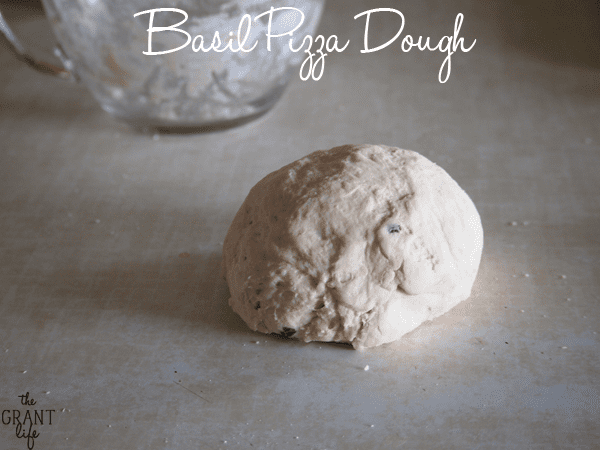 Also, I should tell you that I'm slightly obsessed with using fresh herbs in everything. I have an indoor herb garden above the kitchen sink and I just added some herbs outside. So after I had tried a basic pizza dough recipe, I decided to spice it up a notch. Or should I say, herb it up a notch. [Oh I'm so puny with my pizza dough!] I grabbed a few leaves of fresh basil and added them to the dough. Oh my word. It gave our pizza so much flavor!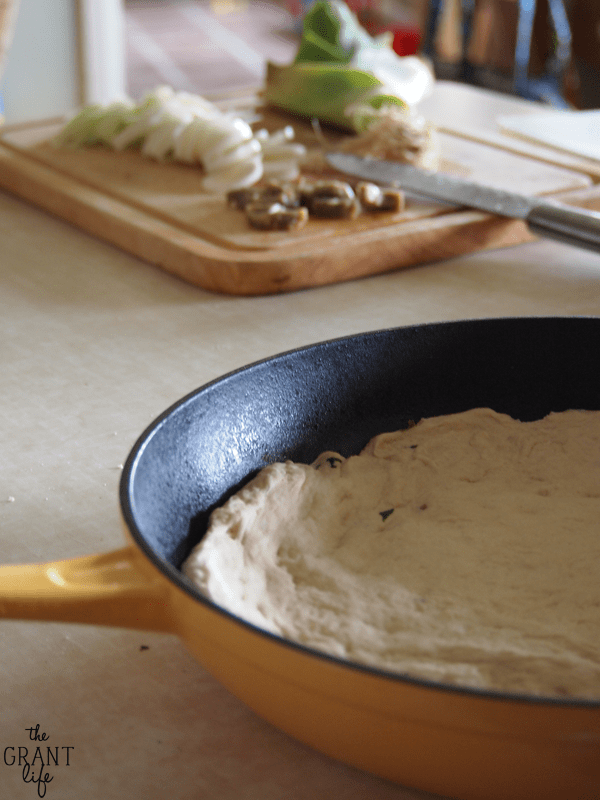 And if you don't like basil, then you can add other fresh or dried herb to this pizza dough recipe. Its simple and totally changeable. And delicious. Did I mention that? I have made this pizza dough probably once a week since I figured out this recipe. The picture above is from a pizza we made recently and I am dying to share the recipe! My name is Kelley and I have a slight obsession with herbs and my cast iron skillet. [Hi Kelley!] But thats normal right?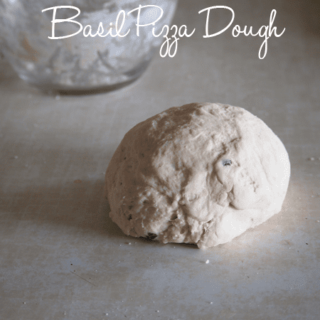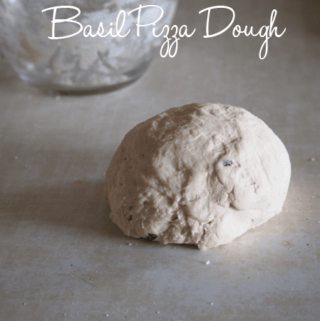 Basil Pizza Dough
Ingredients
1 package yeast
1 cup warm water
1 teaspoon salt
1 tablespoon sugar
3 cups flour
5-6 leaves of fresh basil
Instructions
Add your yeast to the warm water and let sit for about 10 minutes.
In another bowl, mix your salt, sugar and flour together.
Add the yeast to the flour mixture and mix with a wooden spoon.
Chop the basil and add that to the dough mixture. Dough may be slightly tacky.
Set aside and let rise for 30 minutes.
Punch down and roll out onto your pizza stone or baking sheet. (Spray if using a baking sheet)
Add your toppings.
Cook for 10-15 minutes at 450.
Enjoy!
Want more recipes like this one?