Don't let the thought of making homemade white bread scare you! Homemade bread is easy to make, inexpensive and oh so delicious. Let me walk you through how to make this easy white bread with yeast recipe.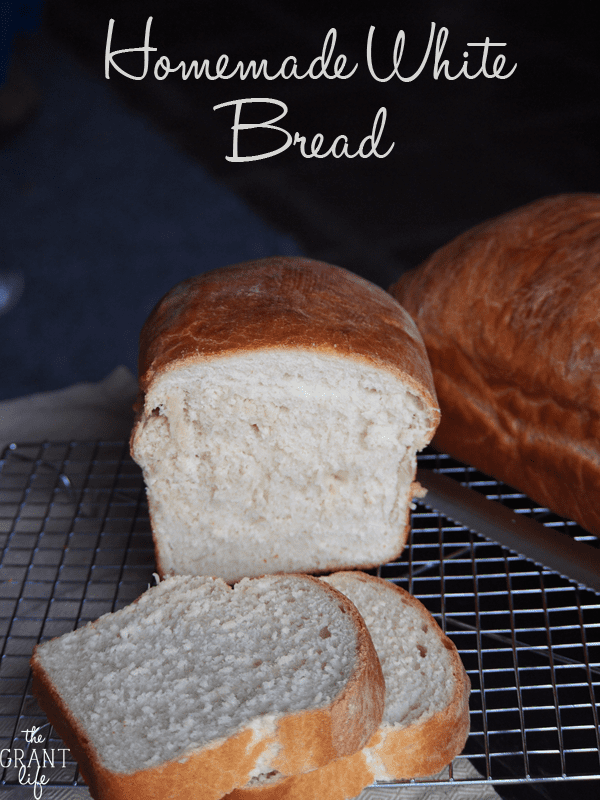 For the past few weeks I haven't bought bread at the grocery store – I have been making this instead.  Its weird to go down the bread aisle and not grab a loaf though.  It sort of became habit.  Meat, check.  Cheese, check.  Bread, check. Instead, I make two loaves of bread on Monday and we are good for the week. 
The kids love helping me make the bread and have gotten really good at adding the ingredients in the mixer. This homemade white bread recipe is easy to follow and only uses 6 common ingredients. Matter of fact, I bet you have most of them in your kitchen already!
What is homemade white bread?
Homemade white bread is a yeast bread that is mixed, allowed to rise and then baked. It is the most common type of bread that you find in the store except this homemade version uses less ingredients and tastes better!
This bread is perfect for sandwiches, toast and even just snacking on with a slather of homemade butter.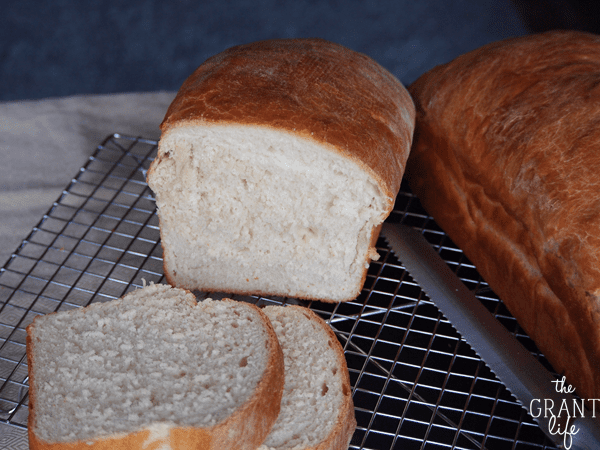 Homemade white bread ingredients
This homemade bread recipe that I am going to show you only uses a few simple ingredients. To make a loaf you will need:
yeast
water
sugar
salt
butter
flour
Yeast – You will need one packet of yeast, which comes to 4 1/2 teaspoons. I use the rapid rise yeast and you can find it in the baking aisle, normally on the top shelf. They come in packets of 3 or you can buy a jar of yeast if you plan to make lots of bread!
Sugar – The yeast feeds off of the sugar to help make the dough rise. You just need a basic white sugar here or any sugar you prefer.
Butter – I incorporate butter into the dough to make it extra soft and also rub it on top to help create a nice crust. Use unsalted butter here. You can also add salt but you can't take it out.
Flour – I use plain white flour for my homemade bread. Do not get self rising flour or flour with any other ingredients listed. Grab a 5 pound bag of plain white flour.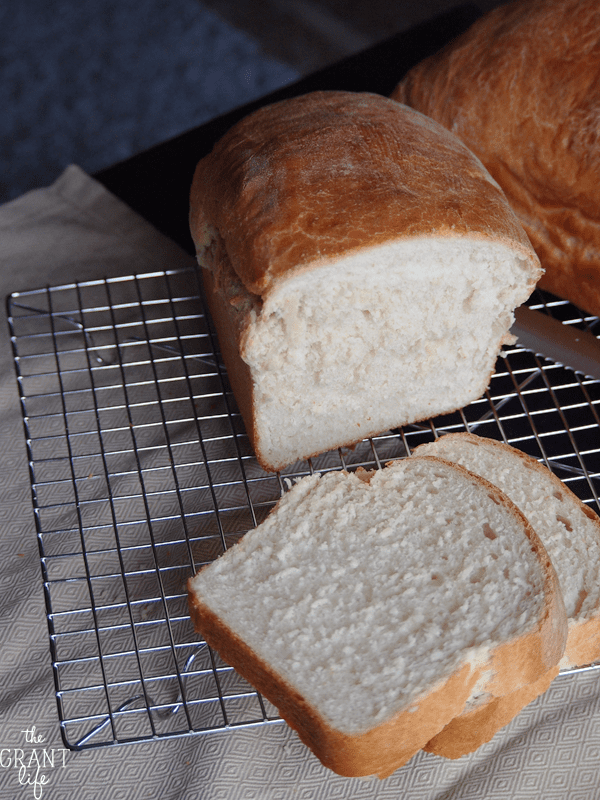 How to make homemade bread
I am going to walk you through how to make this homemade bread recipe. My recipe makes TWO LOAVES of bread so if you only want one, half the ingredients. Once you have gathered your ingredients you will also need to grab:
your stand mixer with dough hook or a large bowl
medium bowl
spatula or wooden spoon
measuring cups
two bread pans
olive oil or non-stick baking spray
Step 1: Proof the yeast – In the bowl of your mixer add your yeast and warm water. Allow the yeast to "bloom" and become fragrant. This will take about 5 minutes and you notice the yeast form on top of the water.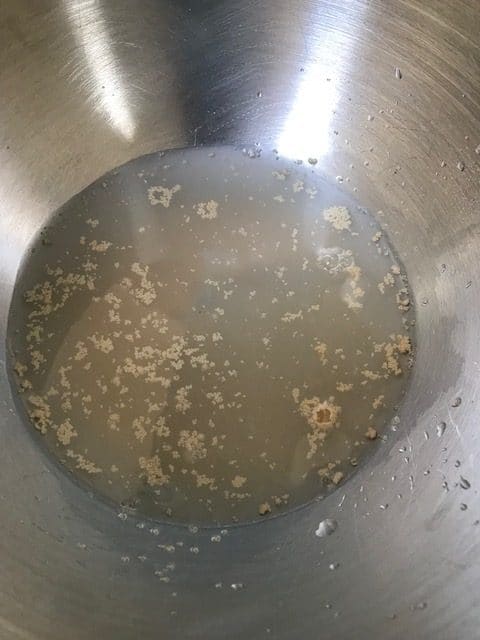 Step 2: Add half your dry ingredients – While the yeast is blooming, mix together the sugar, flour and salt in a medium bowl.
Add half of the dry ingredients to the yeast mixture along with 1 cup of water.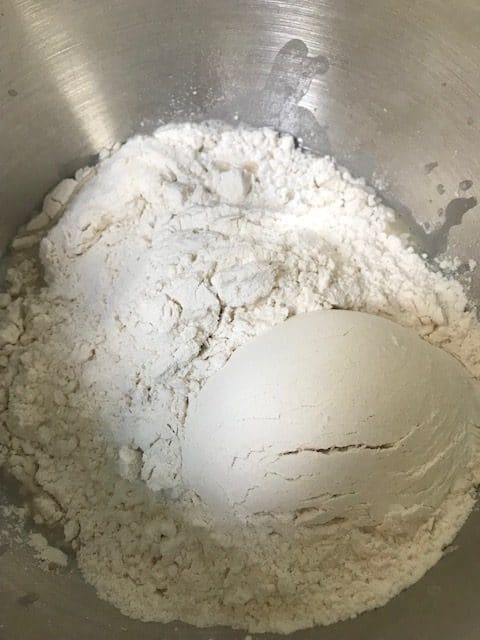 Step 3: Mix and add more flour – Turn on your mixer to low with the dough hook attached and start to mix the ingredients together. Once a dough begins to form, slowly add in the rest of the flour and water – alternating between the two.
The dough should be tacky but not sticky at this point. If it is sticky, add a bit more flour, 1/4 cup at a time. Use the spatula to scrap down the sides of the bowl to make sure all the ingredients get mixed. (Do this with your mixer off.)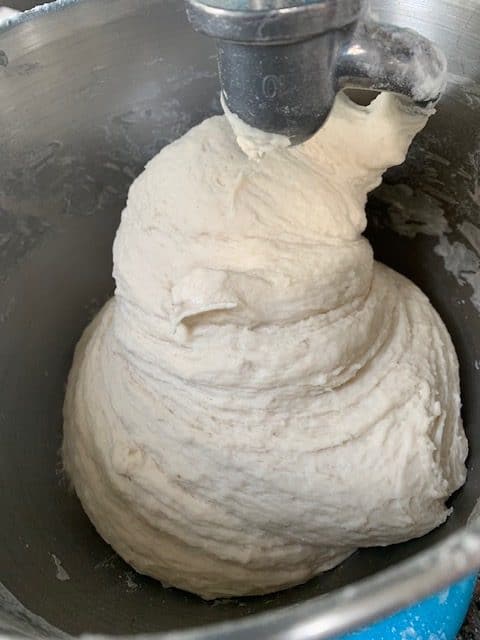 Step 4: Allow the dough to rise – Once your dough comes together, remove it onto a floured surface and knead it into a ball. You don't have to knead it long, just long enough to form a ball with the dough that isn't sticky.
Add olive oil to the bowl and place the ball back in. I like to run my hands over the dough and incorporate the olive oil all over the dough so it doesn't stick.
Place a cloth over the bowl and allow to rise for 1 hour. The dough should double in size in that time.
Step 5: Allow dough to rise a second time – Roll the dough out onto your floured surface and split into two equal portions. Knead them and form two rectangles with the dough, making sure to tuck the seams underneath.
Place each rectangle in a greased bread pan. Place a cloth over top and allow to rise for 30-45 more minutes, or until the dough doubles again.
Step 6: Butter and bake the dough – Preheat the oven. Melt 3-4 tablespoons of butter and brush it over the tops of the risen bread.
Place the dough on the lowest rack of your oven and bake for 15 minutes.
Rotate the bread 180 degrees and bake for an additional 15 minutes, or until the tops are golden brown. Remove and allow to cool on a wire rack.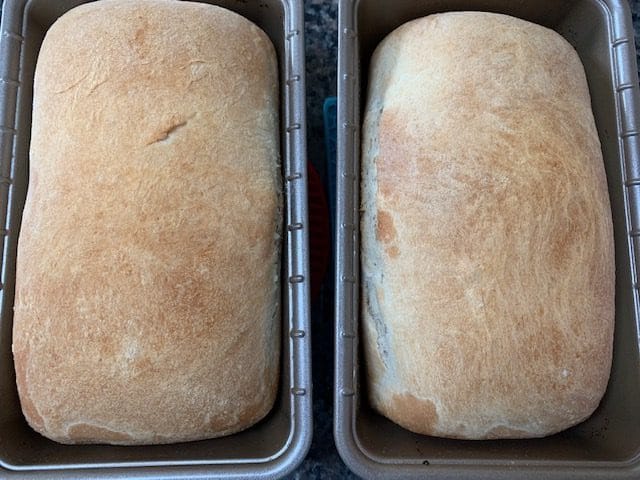 Step 7: Allow to cool and store – Allow your bread to cool on a wire rack. Do not slice your bread right away; only slice when you want to eat your bread. This will prevent the bread from drying out.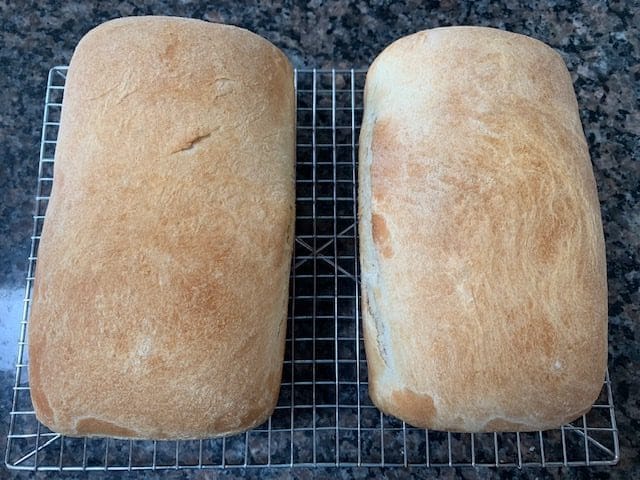 How to store your bread
Keep your bread in an airtight container on the counter. You can also store it in an old store bought bread bag with twist tie. Another option is to purchase a plastic bread box to keep your bread nice and fresh.
Homemade bread will stay fresh for a week in the proper container.
How to freeze your bread
Wrap your bread in parchment paper and then place it in a ziplock bag and remove all the air. Place flat in your freezer and allow to harden before moving.
Homemade bread will keep in the freezer for 6 months or more. To eat your frozen bread, remove from the freezer and allow to thaw on the counter.
Homemade white bread recipe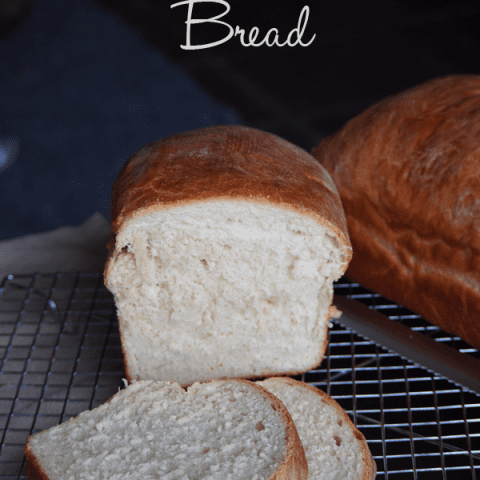 Homemade White Bread
Ingredients
4½ tsp. instant (rapid rise) yeast
¾ cup warm water
2 2/3 cup warm water
¼ cup granulated sugar
1 tbsp. salt
3 tbsp. unsalted butter, at room temperature
9-10 cups all-purpose flour
3-4 tbsp. unsalted butter, melted
Instructions
Dissolve the yeast in the warm water in a mixing bowl.
Mix in the warm, sugar, salt, butter and half of the flour.
In your stand mixer, mix on low with the dough hook until the dough starts to form.
Slowly start to add the remaining flour, 1/2 to a 1 cup at a time.
Dough should be tacky, but not sticky. If sticky, add a little more flour - 1/4 cup at a time.
Continue to mix until a smooth ball forms in the mixer.
Scoop out the ball, spray the bowl with cooking spray and place it back. Turn it over to cover the top of the ball.
Cover with a towel and let rise for 1 hour, or until it doubles in size.
Remove the dough onto a floured top.
Punch down the dough and divide into two portions.
Press out each part to make 9x15 rectangles.
Starting at the short end, roll the dough toward you to form a tight log.
Flip ends underneath and place in a greased bread pan.
Repeat for second loaf.
Cover both pans and let rise for 30-45 minutes, or until it doubles in size.
Preheat oven to 400 and place a rack on the lowest position.
Brush the tops with the melted butter.
Bake for 15 minutes.
Rotate pans 180 degrees and bake for another 15-18 minutes.
Place the pans on wire racks to cool, then remove the bread to the racks.
Store in an airtight container.
Enjoy!
Nutrition Information:
Amount Per Serving:
Calories:

5236
Cholesterol:

198mg
Sodium:

7149mg
Carbohydrates:

964g
Fiber:

37g
Sugar:

53g
Protein:

131g
Be sure to PIN this recipe to your bread board!