I've told you before that making bread sorta, kinda scares me. And I'm not sure why. I'm not an expert, but I've made a few loaves of bread now and they have all turned out fine. I take that back, they have all turned out great. So good that I even stopped buying bread from the store. [Say what?!] Yup. I found this amazing white bread recipe that just rocks our world. Bye, bye store bought bread! Hello delicious homemade white bread!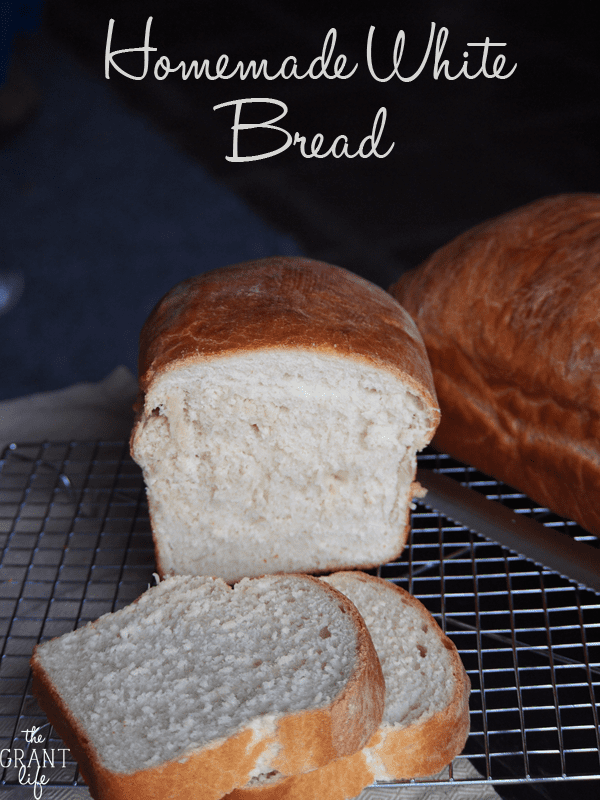 For the past few weeks I haven't bought bread at the grocery store – I have been making this instead. Its weird to go down the bread aisle and not grab a loaf though. It sort of became habit. Meat, check. Cheese, check. Bread, check. I try to turn away from the bread and not make eye contact. Its hard and sometimes the English muffins try to jump in my cart. [Sneaky muffins.] Instead, I make two loaves of bread on Monday and we are good for the week.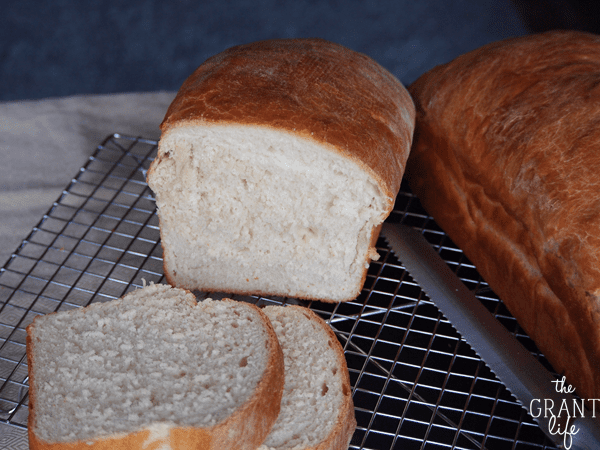 The kids seem to like this homemade white bread better then store bought bread too. Avery hoovers around the kitchen when its done baking and asks for a slice. And then another. The kid loves his carbs like his mama. But I'm ok with that because I know exactly what is going into this homemade white bread. A pinch of sugar and a cup of love. [And a whole lotta flour!]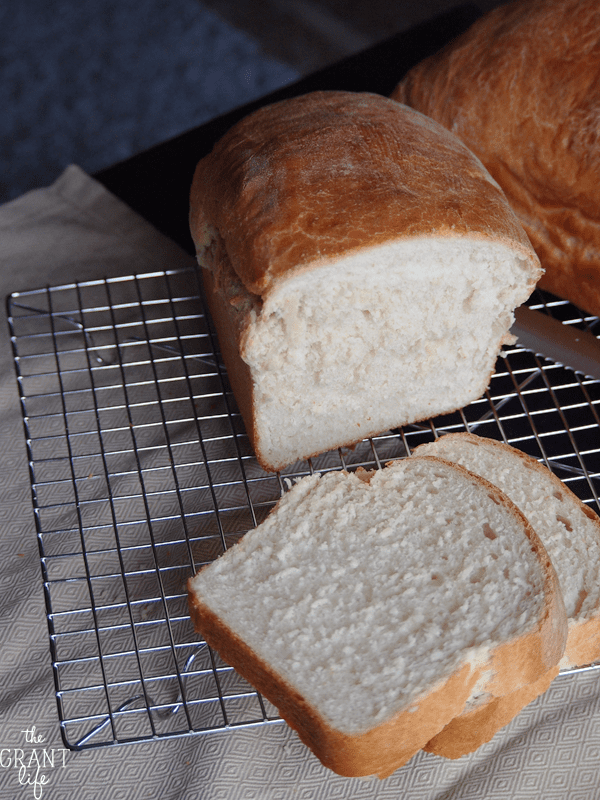 I even bought a little bread box for the bread. I was super excited when I found one and then got even more excited when the bread fit perfectly inside. [I won't even tell you how excited I was to see how soft it kept the bread the next day. Out.of.this.world!] Homemade white bread for the win!
The directions on this recipe are long, but I wanted to make sure it was easy to follow.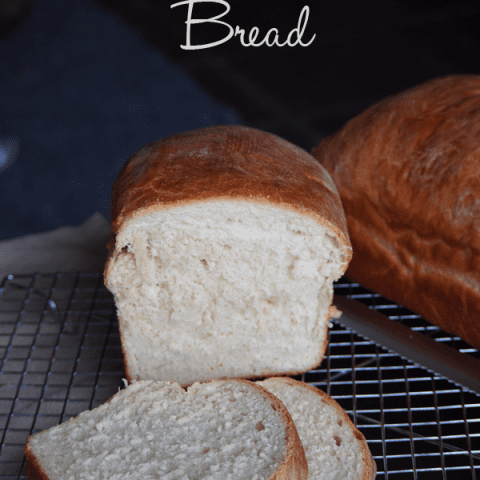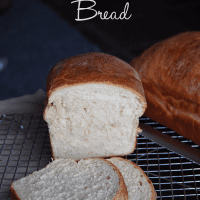 Homemade White Bread
Ingredients
4½ tsp. instant (rapid rise) yeast
¾ cup warm water
2 2/3 cup warm water
¼ cup granulated sugar
1 tbsp. salt
3 tbsp. unsalted butter, at room temperature
9-10 cups all-purpose flour
3-4 tbsp. unsalted butter, melted
Instructions
Dissolve the yeast in the warm water in a mixing bowl.
Mix in the warm, sugar, salt, butter and half of the flour.
In your stand mixer, mix on low with the dough hook until the dough starts to form.
Slowly start to add the remaining flour, 1/2 to a 1 cup at a time.
Dough should be tacky, but not sticky. If sticky, add a little more flour - 1/4 cup at a time.
Continue to mix until a smooth ball forms in the mixer.
Scoop out the ball, spray the bowl with cooking spray and place it back. Turn it over to cover the top of the ball.
Cover with a towel and let rise for 1 hour, or until it doubles in size.
Remove the dough onto a floured top.
Punch down the dough and divide into two portions.
Press out each part to make 9x15 rectangles.
Starting at the short end, roll the dough toward you to form a tight log.
Flip ends underneath and place in a greased bread pan.
Repeat for second loaf.
Cover both pans and let rise for 30-45 minutes, or until it doubles in size.
Preheat oven to 400 and place a rack on the lowest position.
Brush the tops with the melted butter.
Bake for 15 minutes.
Rotate pans 180 degrees and bake for another 15-18 minutes.
Place the pans on wire racks to cool, then remove the bread to the racks.
Store in an airtight container.
Enjoy!
Nutrition Information:

Amount Per Serving: Calories: 5236 Cholesterol: 198mg Sodium: 7149mg Carbohydrates: 964g Fiber: 37g Sugar: 53g Protein: 131g



Want more bread goodness? Check out: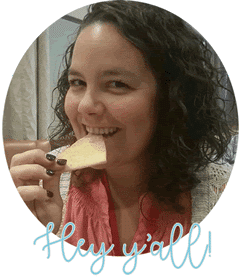 Hey y'all!I'm Kelley. I'm a recipe making, picture taking, coffee drinking momma to 3 crazy kiddos. Join me as I share our family favorite dinners and my copycat coffee drinks too!