There is just something about homemade ice cream that makes my heart go pitter patter. I remember making it with an old time machine with my dad when I was younger. The ones that used the huge chunks of salt and you had to wait forever for it to churn. It was worth it though. Sitting on the back porch eating a bowl of creamy homemade ice cream, trying to eat it fast before it melted away. That's what summers all about. And if you are looking for some easy recipes to try, here are 25 plus delicious ice cream recipes. [That should get you through the summer!]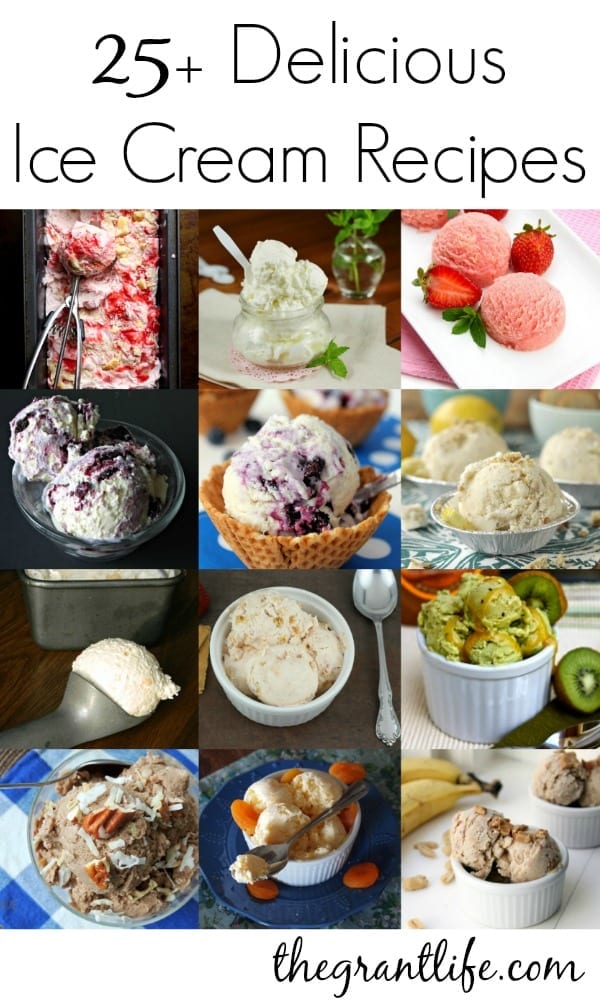 Caramelized Banana Pecan {paleo}
Biscoff Pretzel Crunch Ice Cream
Strawberry Cheesecake Ice Cream
Skinny German Chocolate Ice Cream
Java Chocolate Chunk Ice Cream
Caramel Bacon Cashew Ice Cream
Vanilla Ice Cream with Nutella Chunks
Lemon Ice Cream with Blueberry Swirl
Blueberry Cheesecake Ice Cream
Strawberry Rhubarb Pie Ice Cream
Funfetti Golden Oreo Ice Cream
Ultimate Chocolate Chip Cookie Dough Ice Cream
Popcorn Ice Cream
Now.. what homemade ice cream recipe are you going to try first? I know, its a tough choice with so many great new recipes. I'm confident you will find one [or more!] that you love!
And if you are already thinking of summer activities check out:
Want more posts like this? Be sure to sign up for our emails!