Want to learn how to make a coffee that tastes as good as Starbucks? This vanilla coffee creamer recipe is what you need! It is simple to prepare and tastes great with any hot cup of coffee. Let me show you this easy vanilla coffee creamer recipe today!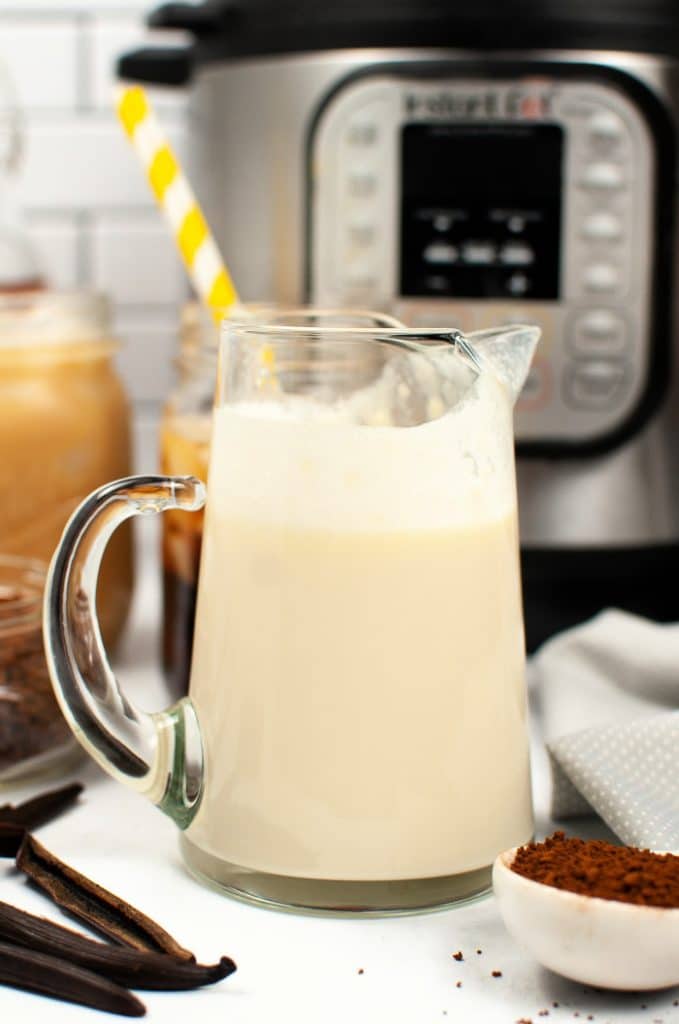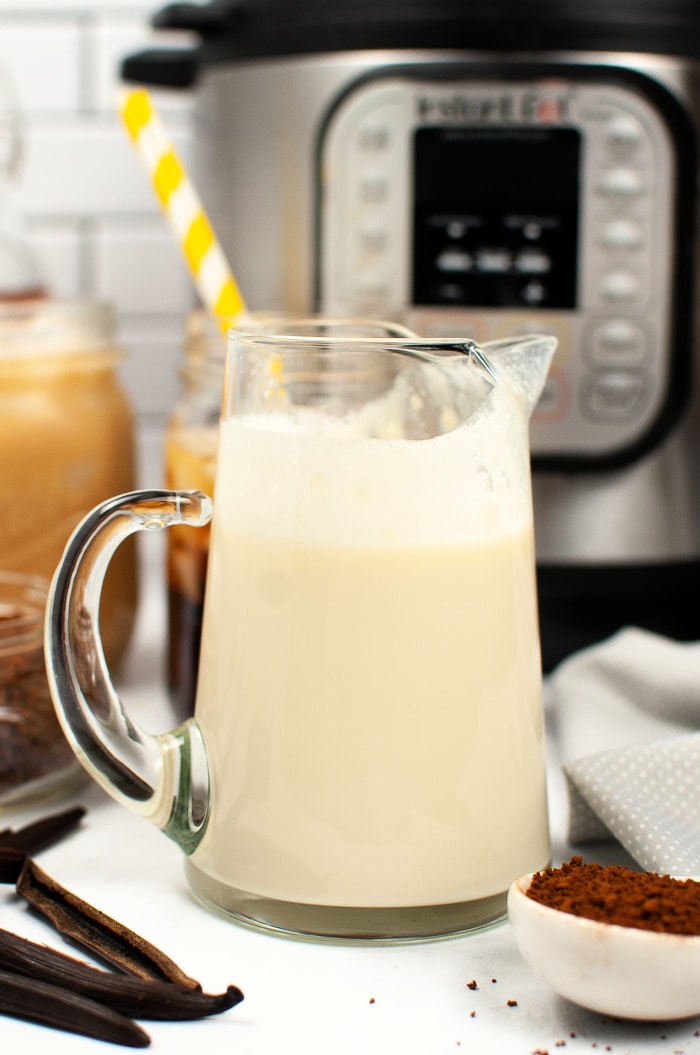 I've joked before that I like a little coffee with my creamer. And sometimes, it's true! I love a sweet coffee in the morning or afternoon to help pick me up. And you know what? It's SO EASY to make your own creamer at home! Like super easy.
This version utilizes the power of your Instant Pot to create a smooth and creamy coffee creamer that you will love.
What Is Vanilla Coffee Creamer?
Vanilla coffee creamer is the perfect addition to coffee for those who do not like to drink black coffee. It adds sweetness to the beverage to make it more enjoyable. The homemade coffee creamer consists of several simple ingredients, including heavy cream and vanilla extract. You can use it in your hot beverage instead of traditional milk or store-bought creamers that contain tons of preservatives.
Vanilla Coffee Creamer Ingredients
When making the Instant Pot Vanilla Coffee Creamer, you need to have the following ingredients on hand:
Heavy Whipping Cream. Grab a cup of the heavy whipping cream to get started.
Vanilla Extract. Use pure vanilla extract to mix in with your heavy whipping cream to create the perfect flavor.
Sweetened Condensed Milk. You will combine the sweetened condensed milk with the cream and vanilla to create the perfect consistency.
Milk. Use any type of milk you prefer. While whole milk creates a thick consistency, you can use other versions, such as almond, soy, or oat milk.
All you need is four important ingredients to prepare this flavorful vanilla creamer to use with your coffee. These are ingredients that you likely already have at home, making this recipe even more convenient for you!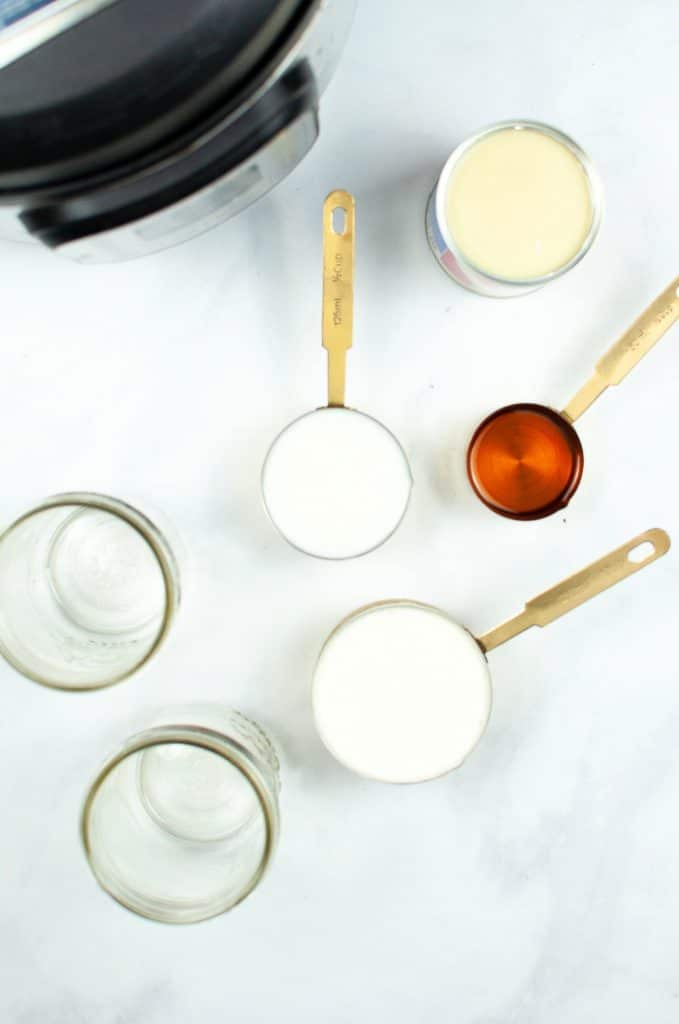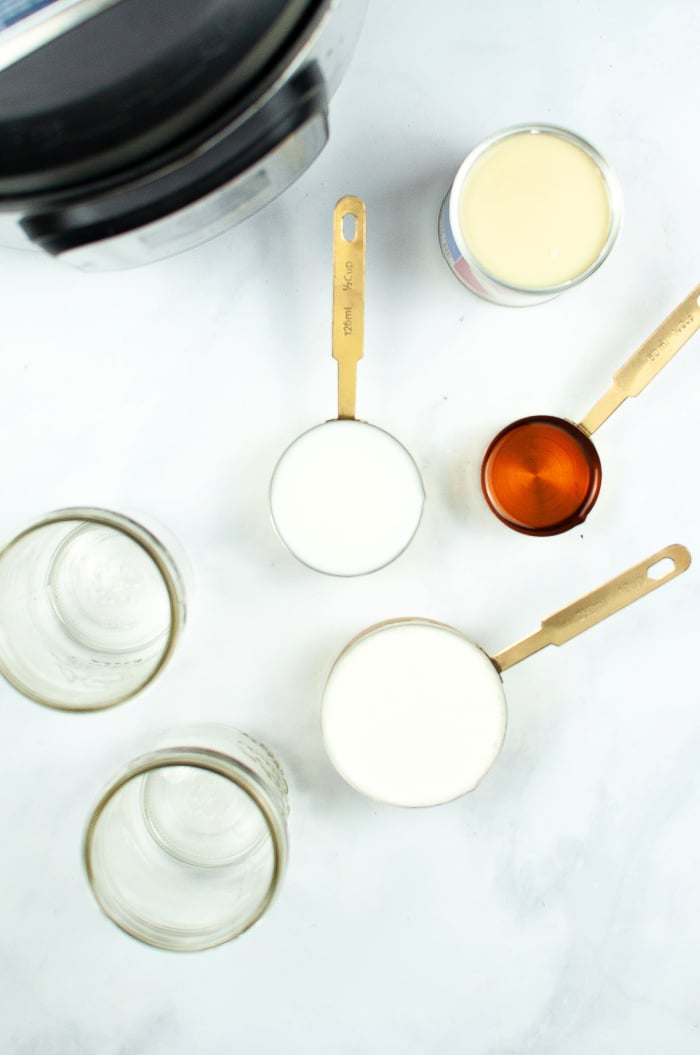 Exact Ingredients
Make sure to get your vanilla coffee creamer just right by using the exact ingredients. Here's what you need:
1 cup of heaving whipping cream
4 ½ TBSP pure vanilla extract
1 14-oz can sweetened condensed milk
½ milk
What Can I Use Instead of Heavy Whipping Cream?
Heavy whipping cream is the best ingredient for this recipe. However, if you do not have any, you can make it yourself. Here are two ways you can make it work:
Mix ? cup of whole milk with ? cup of melted butter.
Or, mix ? cup of butter and ? cup of half and half.
How to Make Vanilla Coffee Creamer in the Instant Pot
The Instant Pot makes the process of preparing the vanilla creamer that much easier.
Step One: Add Your Ingredients to a Blender
The first thing you need to do is add all your ingredients into a blender and mix well. 
Step Two: Add the Creamer to Mason Jars
Pour the cream mixture into two separate mason jars. Place the lids on the jars.
Step Three: Place Your Mason Jars in the Instant Pot
Put the jars inside the Instant Pot on the trivet. Add 1.5 cups of water to your Instant Pot, set it on high pressure for two minutes.
Step 4: Quick Release
Then,  do a quick release when the timer goes off. You will then have the perfect Instant Pot coffee creamer to add to your hot beverage.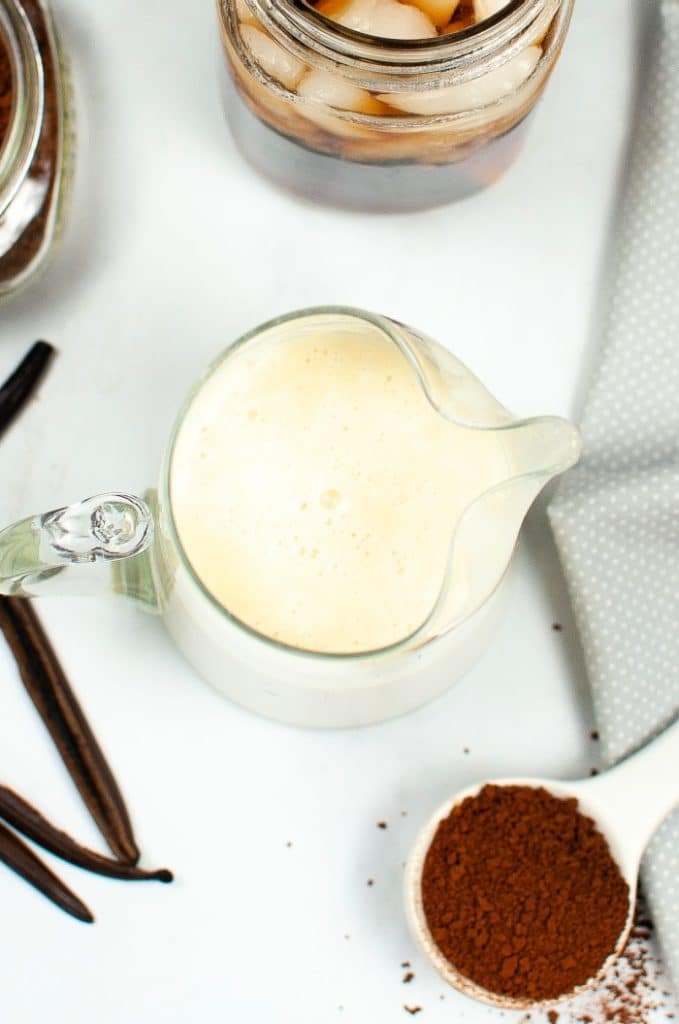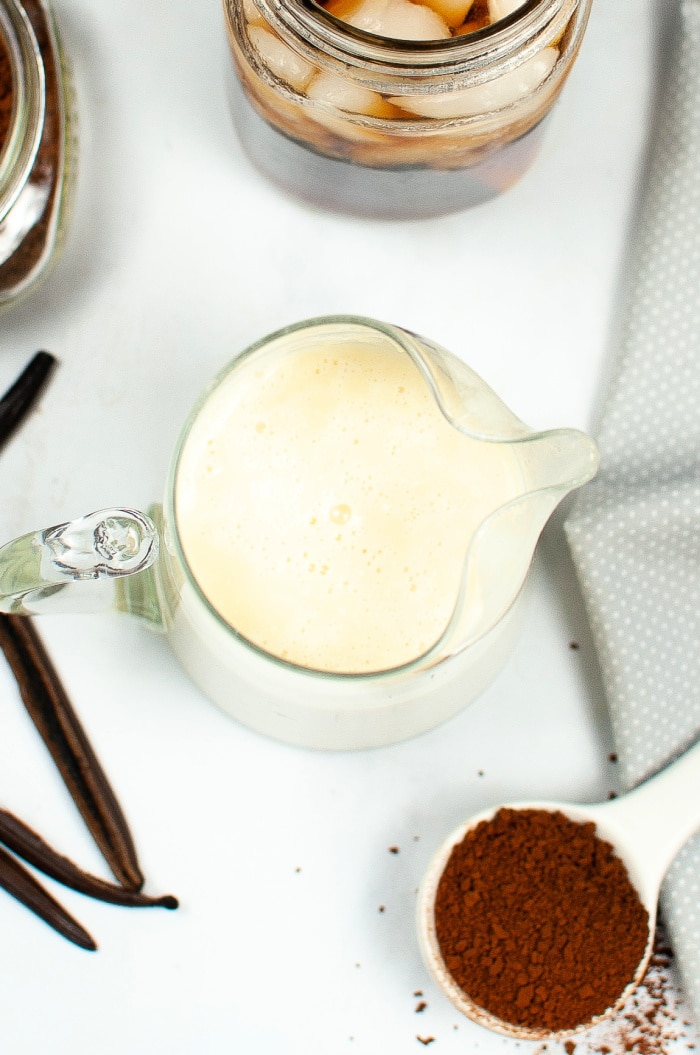 Mason jar instructions
Want to make this without using your Instant Pot? You can totally do that! Follow my sweet cream creamer directions for an even easier version of this vanilla coffee creamer recipe.
How to Store Leftovers
You can keep it stored in the mason jars that you used when preparing the creamer in the Instant Pot if you would like. Or, you can store your Instant Pot Vanilla Coffee Creamer in a large plastic or glass container.
If you have an old plastic creamer container, rinse it out with water and then add your creamer to it. You can remove the old label from the creamer and then create a new label that says "Instant Pot Vanilla Coffee Creamer" on the front. Make sure you keep your creamer in the fridge. It should stay good in the fridge for up to a week.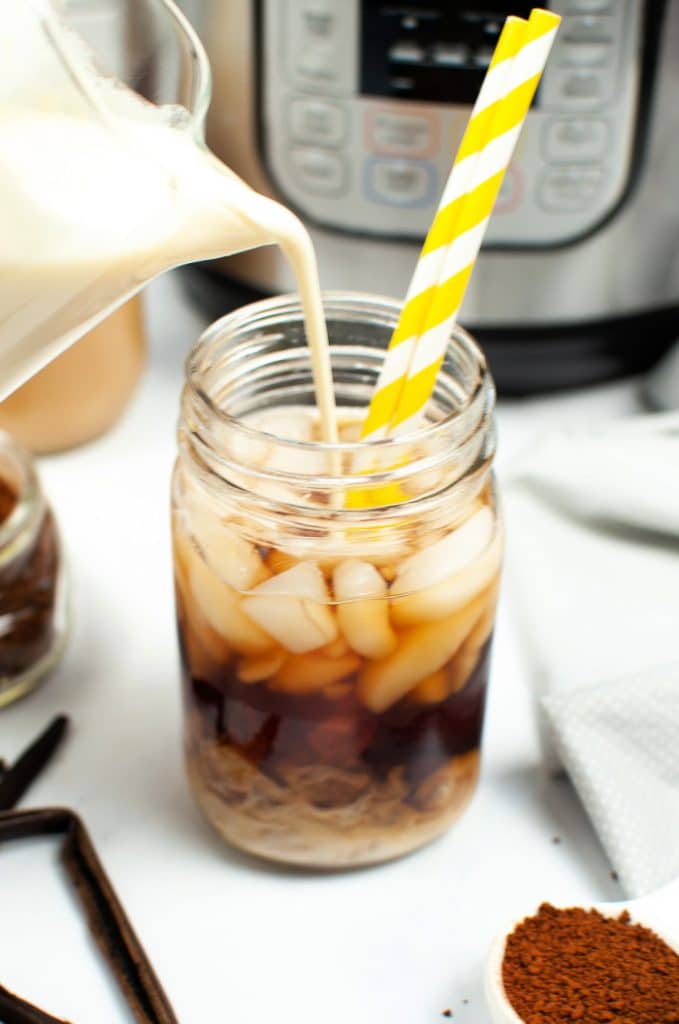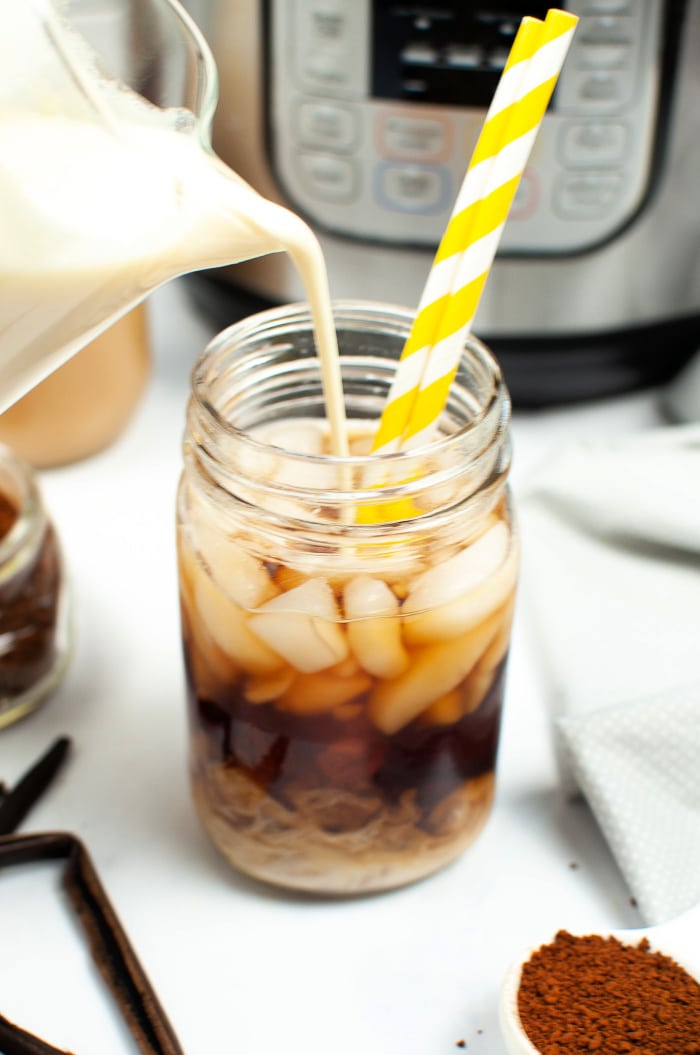 Other Coffee Creamer Recipes to Try
When looking for different types of coffee creamers to make and add to your coffee, check out some of these other impressive coffee creamer recipes that are worth trying!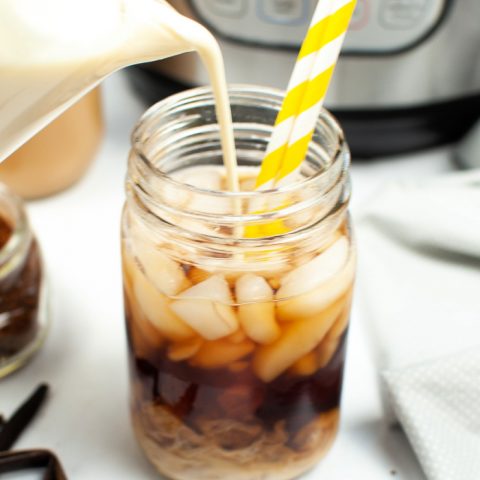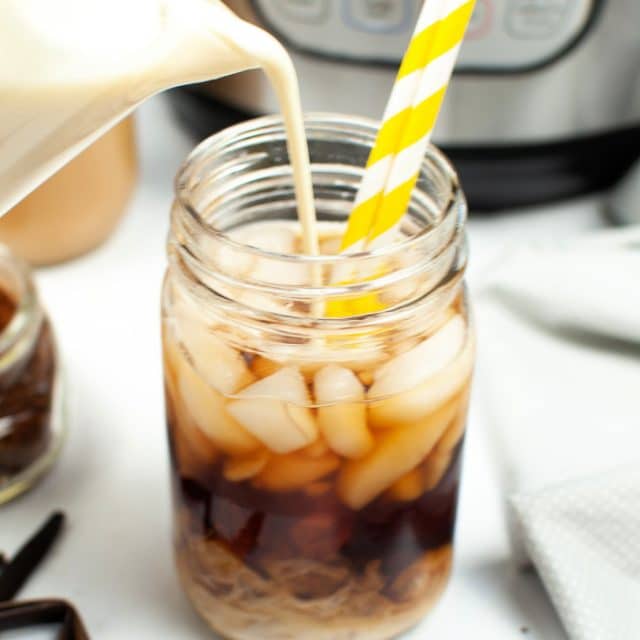 Vanilla Coffee Creamer Recipe
Additional Time:
15 minutes
Ingredients
1 cup of heaving whipping cream
4 ½ TBSP pure vanilla extract
1 14-oz can sweetened condensed milk
½ milk
Instructions
1. In a blender, mix together all of your ingredients.
2. Place your creamer mixture in two pint size mason jars. Close the lids on the jars (use metal canning lids).
3. Set the jars on the trivet inside the Instant Pot. Add 1 ½ cups of water to the Instant Pot.
4. Set your Instant Pot to High Pressure for 2 minutes.
5. Once the timer is done, do a quick release.
6. Enjoy in your hot or iced coffee!
Nutrition Information:
Yield:

10
Serving Size:

1/4 cup
Amount Per Serving:
Calories:

276
Total Fat:

13g
Saturated Fat:

9g
Trans Fat:

0g
Unsaturated Fat:

4g
Cholesterol:

46mg
Sodium:

81mg
Carbohydrates:

31g
Fiber:

0g
Sugar:

31g
Protein:

5g
I love a little flavor goodness to my coffee in the mornings. If you do too, share this post to Pinterest for others to enjoy. Remember, sharing is caring!