These homemade strawberry funfetti cupcakes are bursting with flavor AND sprinkles!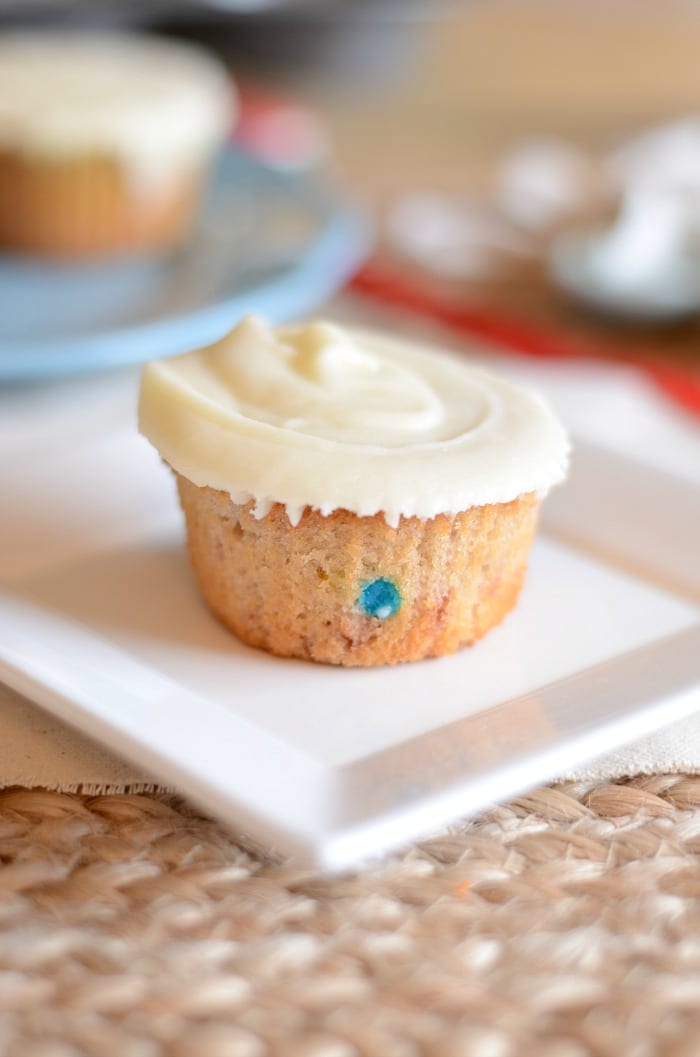 Hey friends! How about some strawberry funfetti cupcakes today?? I think I could eat these cupcakes everyday.. but that's just me! They are homemade and full of strawberry goodness. Once I started making cupcakes from scratch and realized how easy they were, I tossed the box. This homemade version is 9 million times better then anything at the store and so moist because of the fresh strawberries.
Have I sold you them yet? If not – they are filled with sprinkles! Which makes everything better, of course.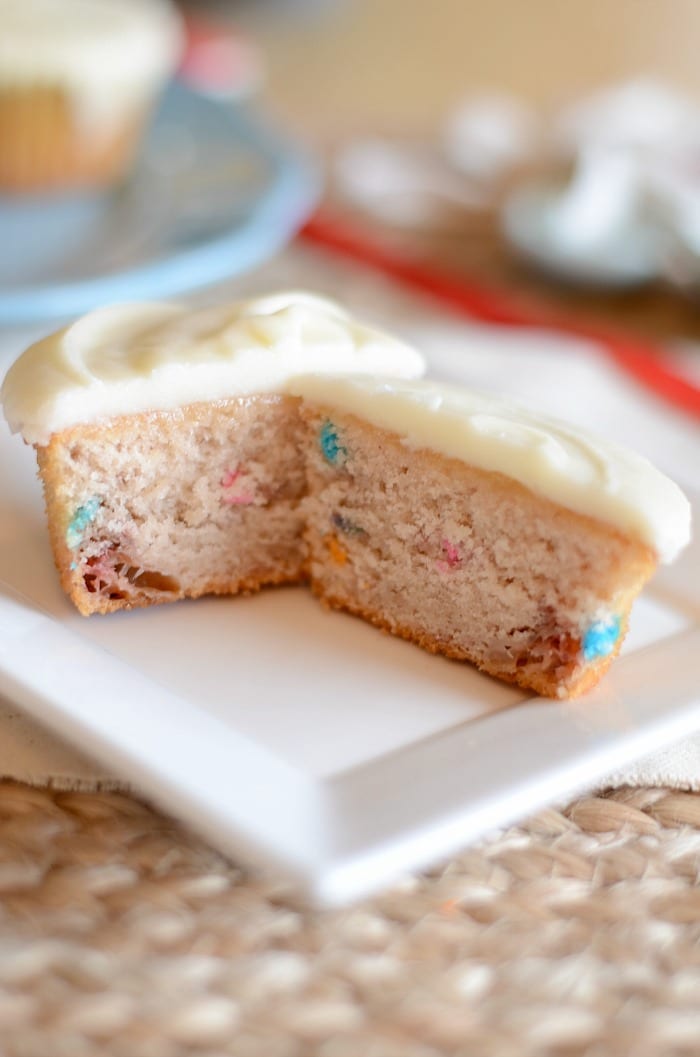 Now these cupcakes are not blazing pink because I didn't add any food coloring to them. The fresh strawberries give them a nice pink tint without having to use artificial dyes. WHICH I LOVE! I'm not anti-food coloring but we try to avoid it when possible. So if I can make a homemade pink cupcake without dye – I'm there!
I've made these cupcakes many times too. We've had them for Ryley's birthday and I've made them for friends parties as well. They always go over well. And by that I mean they DISAPPEAR. People love them. This batch was made as test run for one of my friends little girls birthday party this month. The recipe makes 2 dozen. With 4 kids and 2 parents around at the time we put a nice dent into them but I ended up sending more then a dozen home with her.
So yes. They are tasted tested and approved by my exclusive tasting committe. Aka my kiddos and their friends. Enjoy!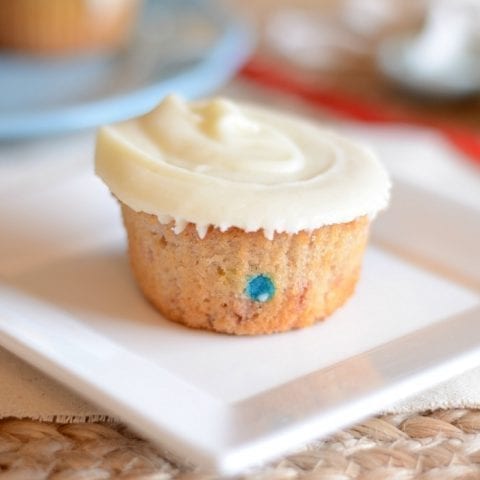 Strawberry funfetti cupcakes
Ingredients
For the cupcake -
2 1/4 cups all-purpose flour
1 stick butter, softened
1 1/2 cups granulated sugar
3 1/2 tsp baking powder
1 tsp salt
3/4 cups milk
2 tablespoons oil
1 tbsp vanilla extract
3 large eggs
2 cups of washed, cut strawberries
1 cup of sprinkles
For the frosting:
2 sticks of butter, softened
4 -5 cups of powdered sugar
2 tablespoons milk
Instructions
Preheat oven to 350 and line cupcake liners with paper.
Cream the butter and the sugar.
Add eggs one at a time, beating in between.
Add the vanilla, oil and milk.
Add the flour, baking powder, and salt to the wet ingredients.
Mix until all lumps are gone.
Add the strawberries and mix on the highest speed for 1 minute. Fold in the sprinkles.
Pour mixture into cupcake pan, filling 3/4 of the way with batter.
Bake for 20-25 minutes or until a toothpick comes out clean in the center.
Let cool completely.
Beat the butter until smooth.
Add the powdered sugar slowly to the mix. Add milk slowly until you've reached your desired consistency.
Frost cooled cupcakes. Enjoy!
Like this post? Be sure to check out:
Like it? PIN IT!