Love a little salty/sweet combo? My salted caramel latte is the fix! It's the perfection combination of salty and sweet and oh so delicious. Let me show you how to make this copycat coffee house recipe at home.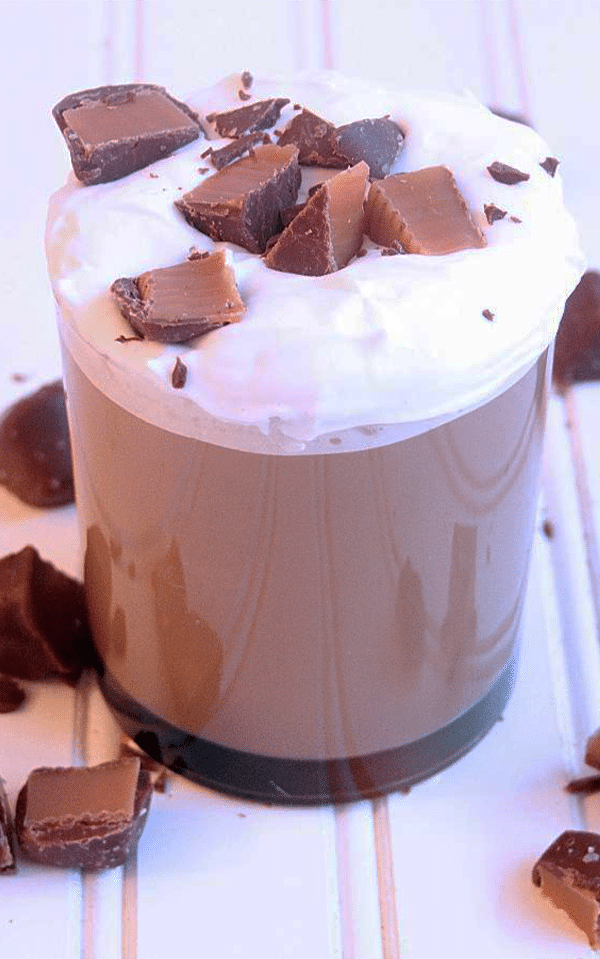 Oh it's no secret that I am a big fan of a good coffee. I have been making and sharing coffee recipes here for yearrrrs. What may be a secret is that I love a good salty/sweet combo. There is just something so enjoyable about being able to satisfy two cravings in one.
Well, make that three cravings in one if you count my love of all things coffee. Coffee + salty + sweet = perfection.
Salted Caramel Latte
Salted caramel seemed to appear out of where a few years ago. I remember trying it and thinking "yup, I love this." You just can't beat the sweet caramel flavor topped with salt. I keep thinking I need to make homemade salted caramel candies, but I'm sure I would end up eating them all.
No, I don't have much self control around sweets.
But I debated calling this homemade coffee drink a salted caramel mocha since I use chocolate sauce in the recipe. It can really be considered a mocha latte since it combines aspects of both drinks. (You can check out my white chocolate mocha for a true mocha drink recipe.)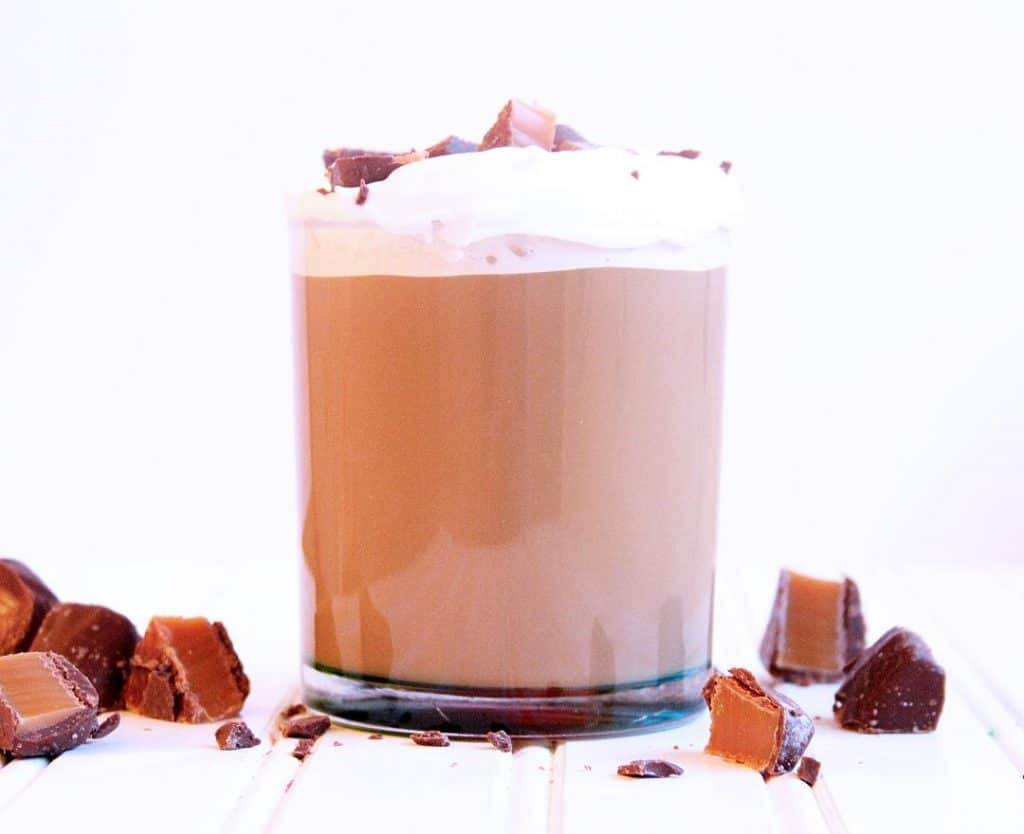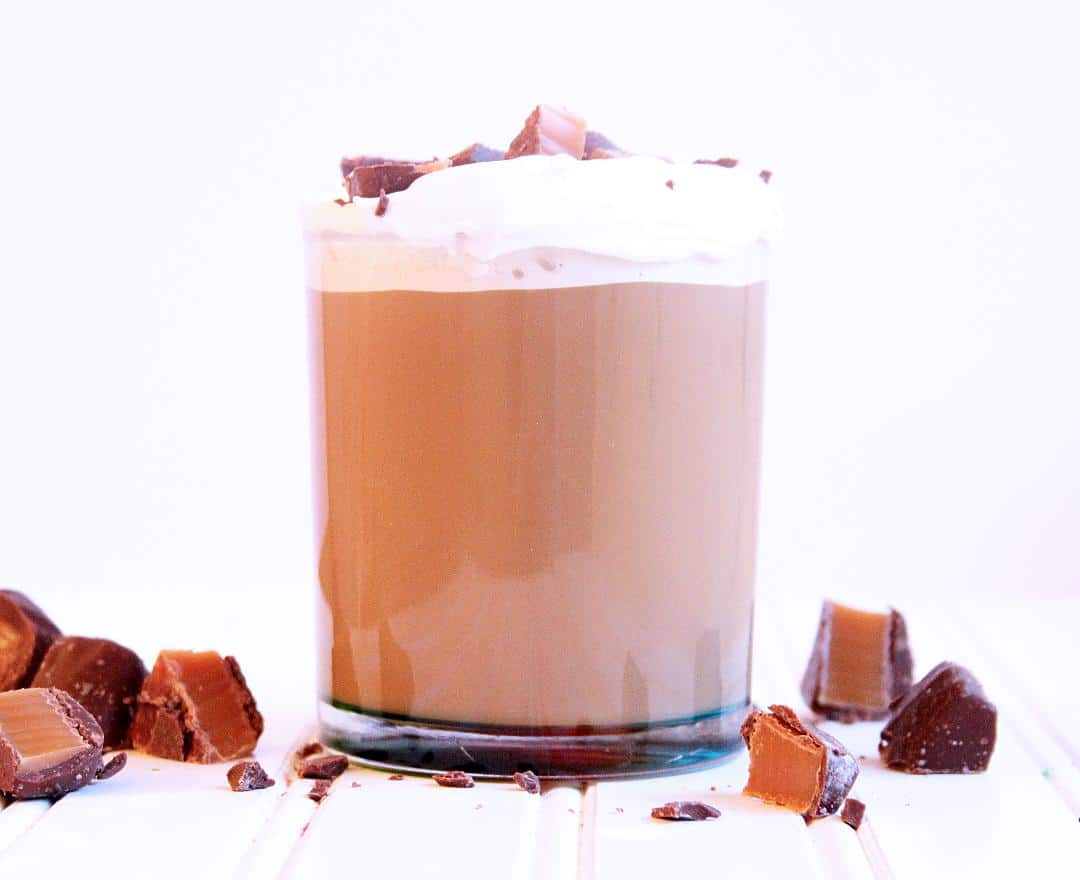 Easy Salted Caramel Latte Ingredients
To make this salted caramel latte at home you will need:
coffee
milk
salted caramel sauce
chocolate syrup
whipped cream
caramel candy
I always suggest using a good quality coffee for any homemade coffee drinks. You will end up with a better tasting drink if you use a better quality coffee. A medium or a medium-dark roast would be great here. You can check out the different roasts of coffee in this post.
You can use any type of milk that you prefer for this recipe. If you are dairy-free, you can sub almond or coconut milk here.
You will need two types of syrups – salted caramel and chocolate. I love the Torani brand salted caramel syrup and always seem to have a bottle in my cabinet. You can also use regular caramel syrup (or even sugar free) and add a sprinkle salt to the whipped cream.
Any kind of chocolate sauce or syrup work. I love homemade chocolate sauce, but Hershey's or Ghiradelli are good too.
Last, but not least, you may want to grab a caramel candy to top your coffee. This is optional and not something I would do every time I make this salted caramel latte, but it's fun to add every once in a while. I love these Sanders salted caramel chocolates.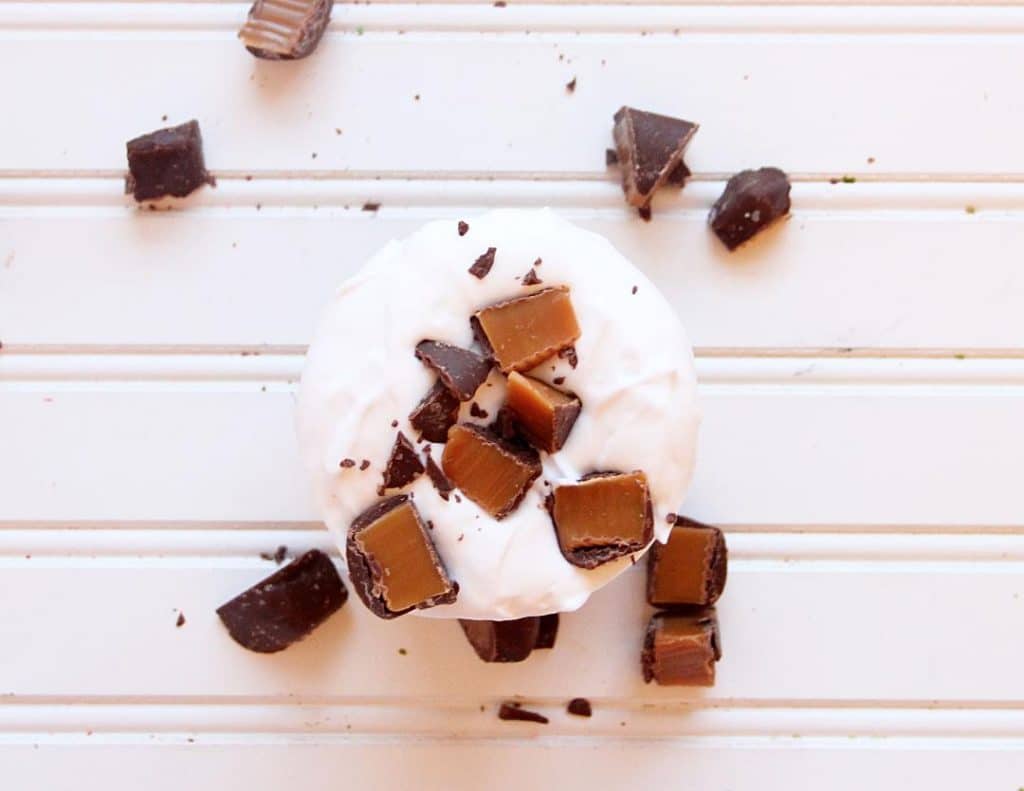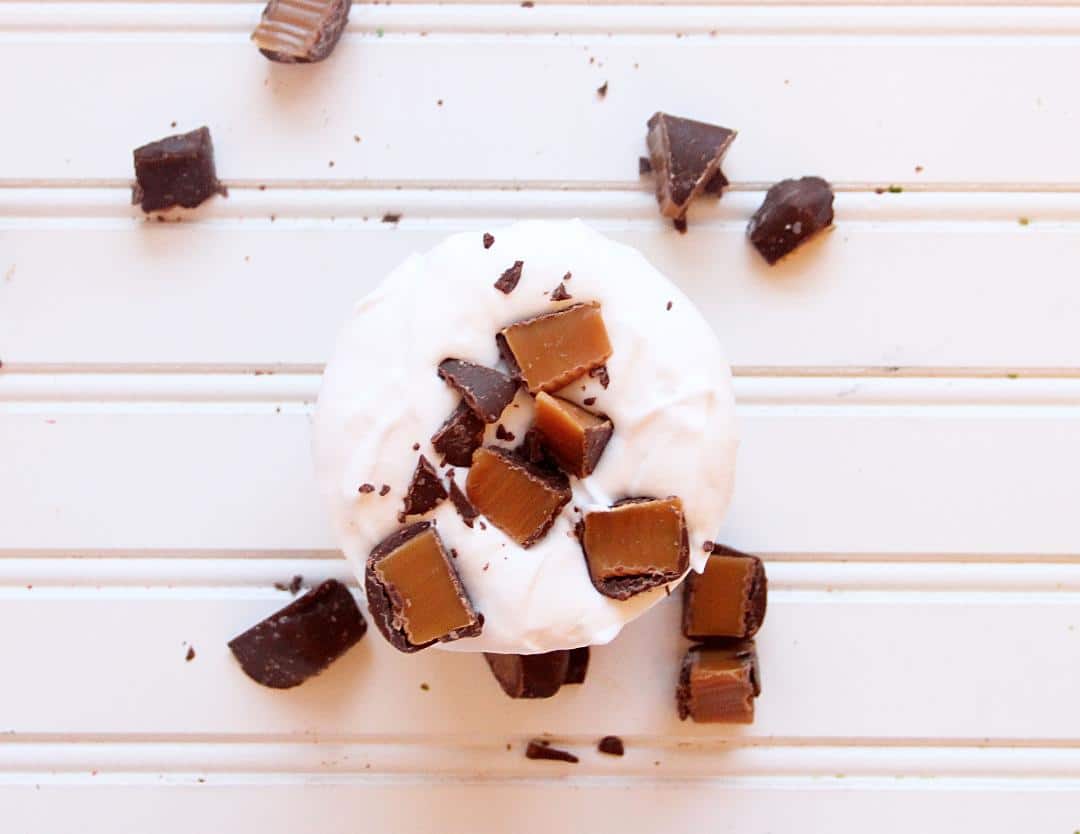 How to Make a Salted Caramel Latte
The best part of this easy latte is that once you have all your ingredients, it's super fast to put together.
Start by placing your salted caramel syrup and chocolate sauce in a mug or cup. Then pour your hot coffee (or espresso) over the syrups and stir to combine.
Add in your milk, top with whipped cream and your candy bar if you are using them. This recipe makes one salted caramel latte but feel free to double or triple it.
Iced Salted Caramel Latte
This recipe is for a hot salted caramel latte but you can easily make this an iced version. Instead of hot coffee, use either cold coffee or cold brew coffee. The other steps remain the same. You can add ice in your iced salted caramel latte too.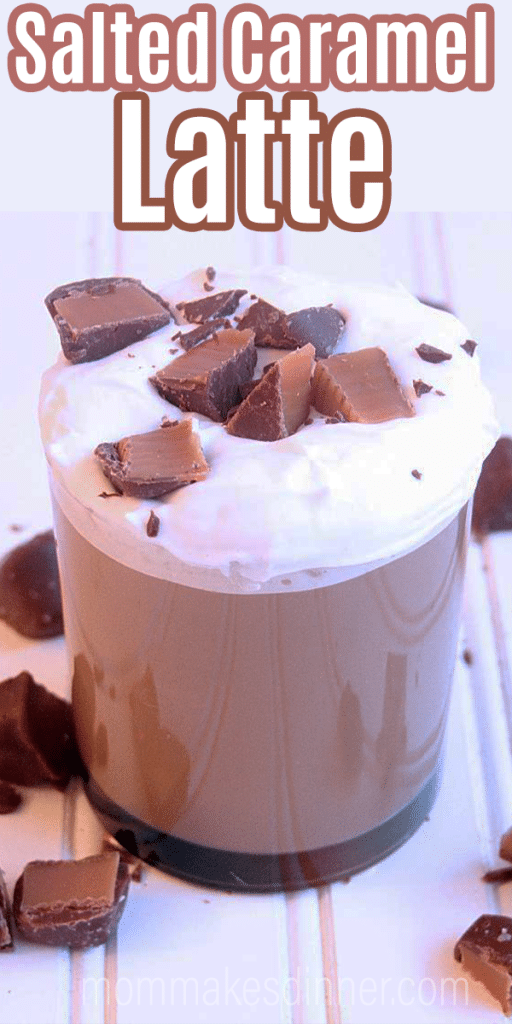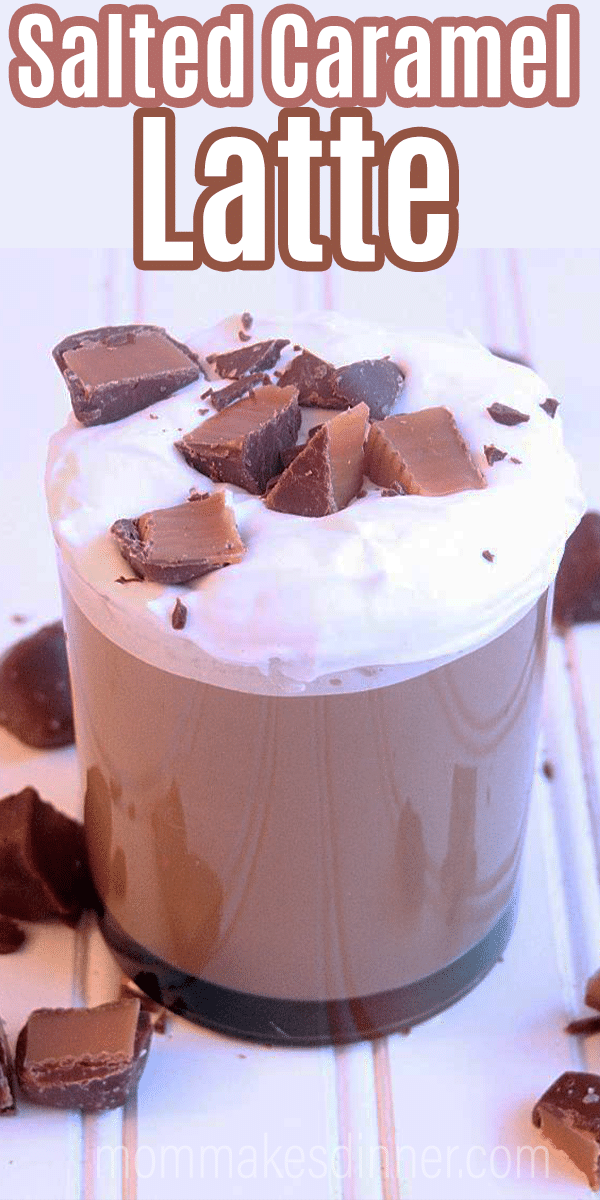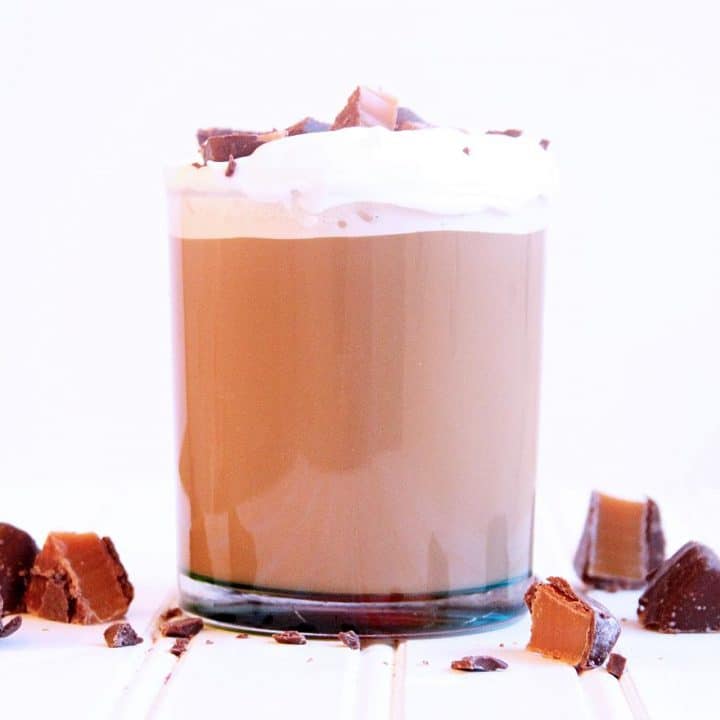 Salted Caramel Latte
A perfectly sweet and salty combo turned into coffee.
Ingredients
2 Tablespoons of salted caramel sauce
1 Tablespoons of chocolate syrup
1 cup of coffee
1/2 cup of milk
Whipped cream
Salted caramel candy bar (cut into small wedges)
Instructions
Place the two syrups in the bottom of a mug or cup.
Add in the hot coffee and stir to combine the syrups.
Pour in the milk and stir.
Add your whipped cream and candy bar pieces, optional.
Recommended Products
As an Amazon Associate and member of other affiliate programs, I earn from qualifying purchases.
Nutrition Information:
Yield:

1
Serving Size:

1
Amount Per Serving:
Calories:

260
Total Fat:

5g
Saturated Fat:

3g
Trans Fat:

0g
Unsaturated Fat:

2g
Cholesterol:

15mg
Sodium:

247mg
Carbohydrates:

50g
Fiber:

0g
Sugar:

40g
Protein:

6g
You may want to also check out these other easy coffee recipes: