Take your breakfast to the next level with this chunky salted caramel granola!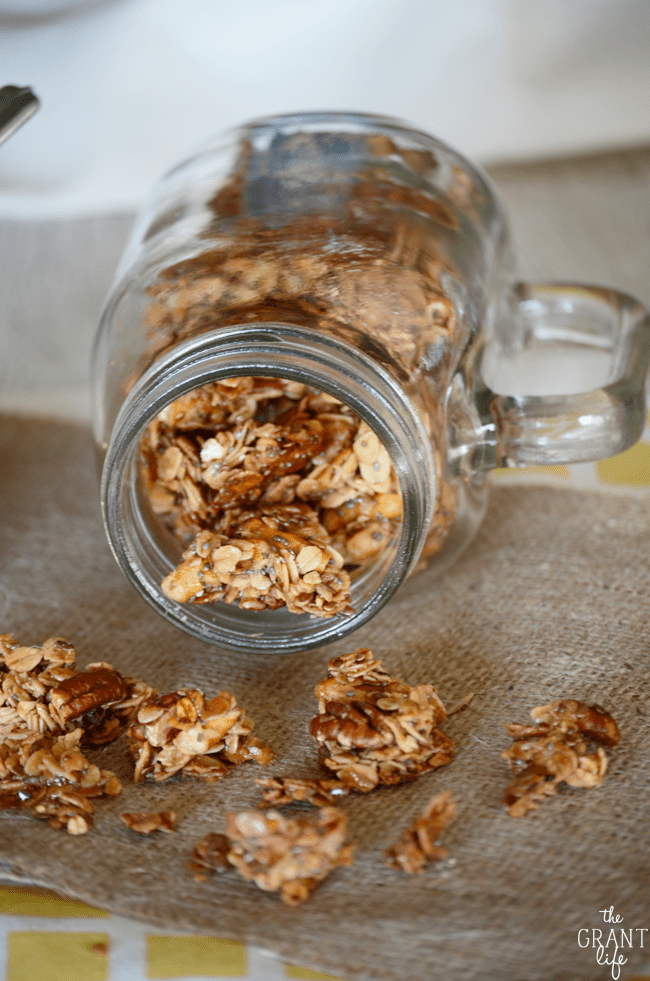 I'm going to take a deep breath real quick, k? Woooooo. We had a crazy busy weekend and I just needed a second to recover. Or maybe a whole day. Maybe I'm not getting out of my pajamas today. And since the kids school is closed for "Easter Monday" they are having a pj day as well. And we just might watch our new movies that the Easter bunny brought this year.
And by maybe, I mean totally and absolutely going to happen.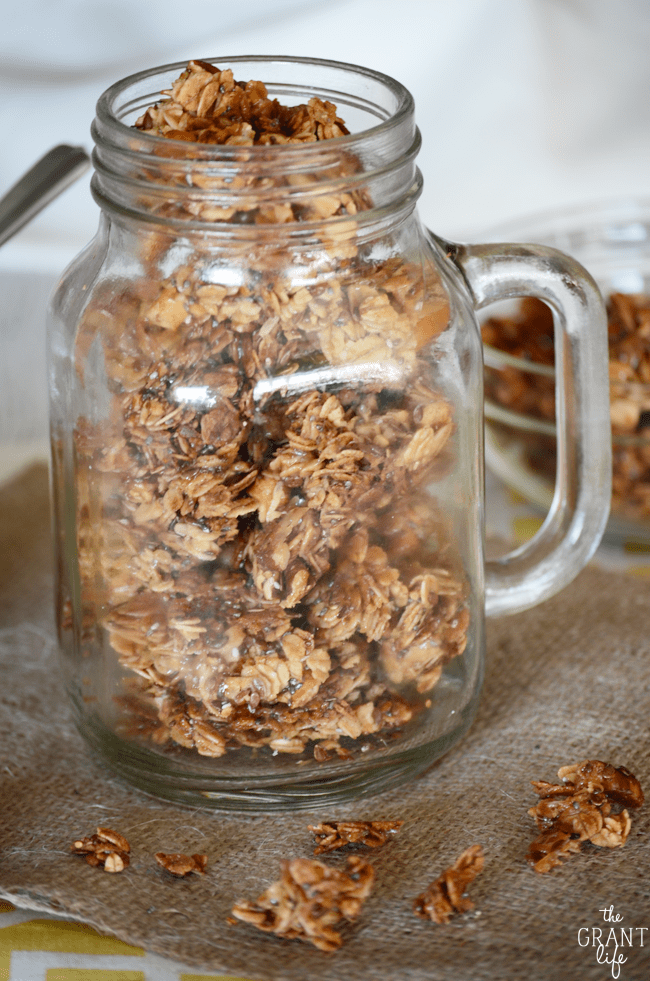 I spent most of the week deep cleaning our house. I mean, I moved stuff to clean behind, under and on top of, kind of deep cleaning. Our church was hosting a group of choir students from out of state and we were going to have a few kids stay with us. And then this week, Ryon's brother is coming down from Michigan with his family to stay with us for 2 weeks. So the deep cleaning was needed. I told Ryon "I bet we can keep the house clean for your brother!"
Nope. No we can't. Not even a little bit.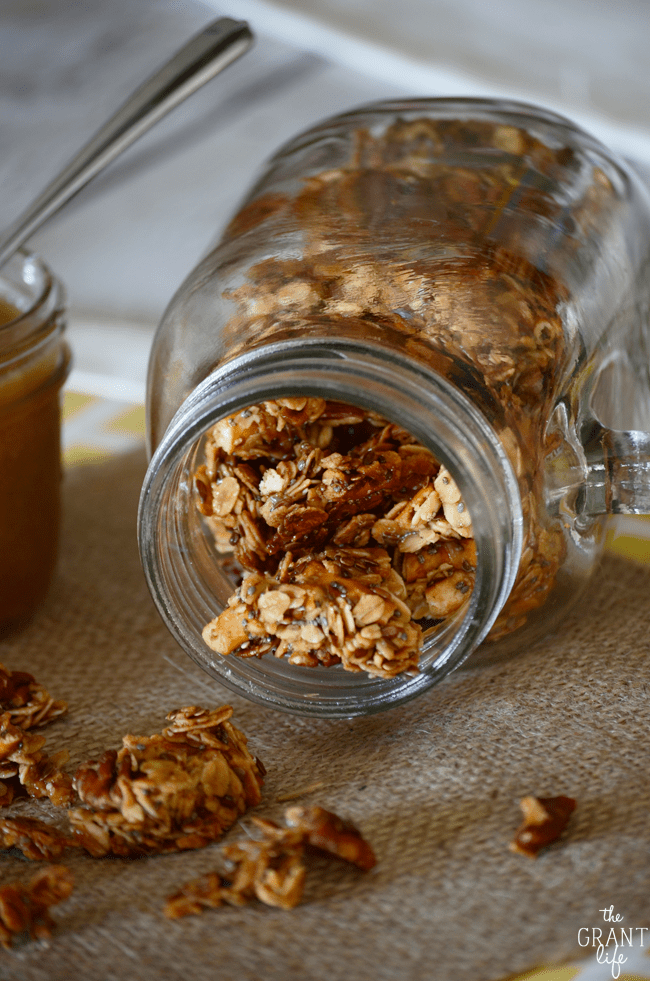 The choir was down to sing at our good Friday service and were on a very tight schedule. We volunteered to cook dinner for the whole crew plus the host families, which we estimated to be about 80 people. Ryon grabbed hamburger meat and someone donated hot dogs and he started cooking at 1 or 2. I was still cleaning at this point plus making potato salad for an army and trying to entertain the kids with things that didn't involve them trashing their rooms we had just cleaned.
After I changed Avery's sheets on his bed, he promptly pulled back the covers and rolled around on them. Thanks son.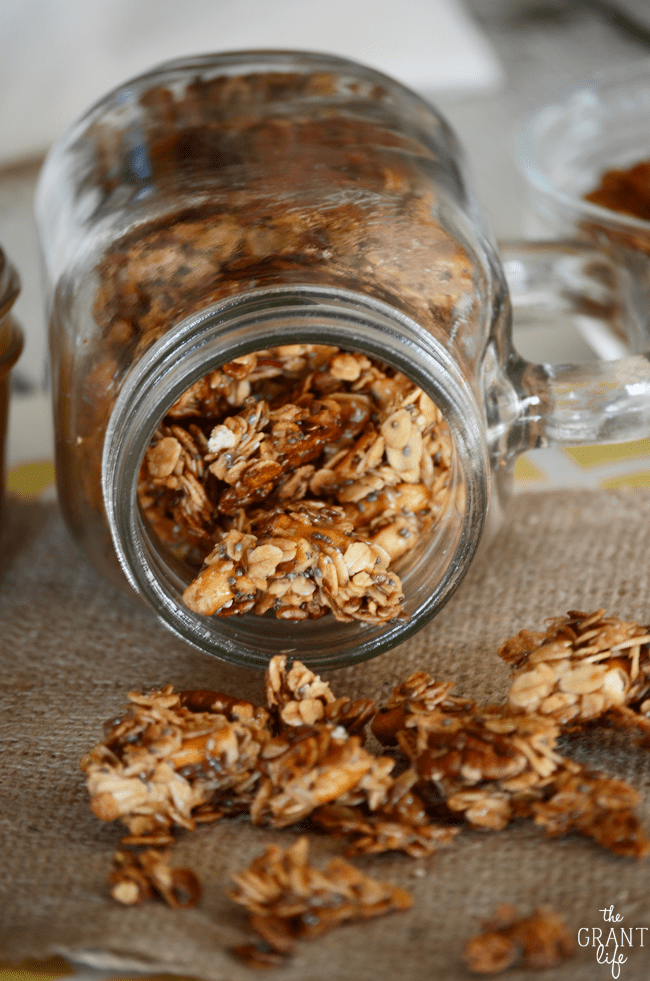 But Friday was great. We had more then enough food, the choir sang beautifully at Good Friday Service and we ended up only housing 2 boys. Avery called them "daddy's new friends" even though they were closer in age to him then Ryon.
On Saturday, my younger brother was confirmed and we went to a special Easter vigil service for him. A four hour Easter service. That started at 7. At night. I was hungry, tired and slightly scared for my life since some parents were letting their kids hold the candles during the service. Little kids. And kids who couldn't stand still. With fire.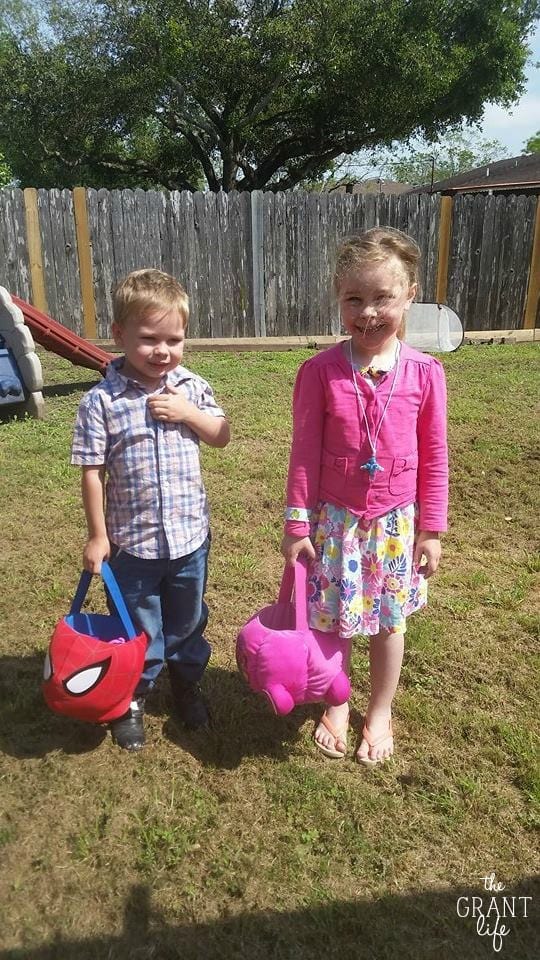 And of course Sunday was Easter. We had an egg hunt at church that morning and then another at my parents house that afternoon. Plus, momma and I spent a good amount of time in the kitchen cooking dinner together. And maybe a delicious chocolate coconut cream cheese cake. That I may eat for lunch today.
So yea. I am just a wee bit tired. Super fun weekend filled with family and eggs and Jesus. But I'm totally taking "Easter Monday" to recover. And re-clean my house.
Oh and if you like chunky granola.. this salted caramel granola is where its at! I have tried a bunch of granola recipes and have realized, I love a good chunky granola. It's the best. The second time the granola is baked really helps make it chunky. And the caramel sauce doesn't hurt either. And if you don't like flax or chia seeds, you don't have to add them. Your choice!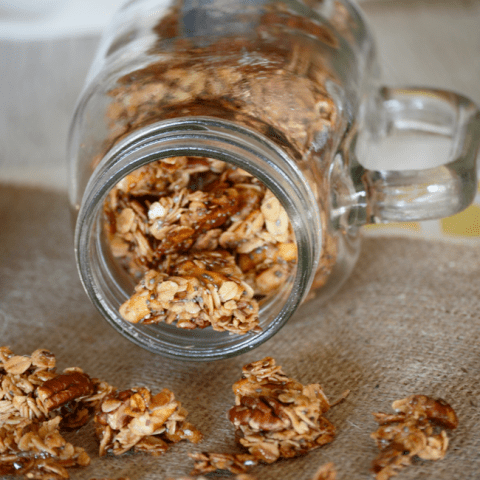 Salted Caramel Granola
Ingredients
4 cups oats
1/2 cup flax seeds (optional)
1/8 cup chia seeds (optional)
1 cup pecans
1 cup of pretzels
1/2 cup honey
1/2 cup of coconut oil
1/2 cup brown sugar
1 teaspoon vanilla
1/2 stick of butter
1/2 cup of brown sugar, packed
2 tablespoons milk or heavy cream
Instructions
Preheat oven to 350. Spray a cookie sheet or use a silicone baking sheet.
Mix together the oats, flax seeds, chia seeds, pecans, and pretzels.
In a saucepan, bring the honey, coconut oil, brown sugar and vanilla to a boil.
Allow to cool then mix together with the dry ingredients.
Press the mixture onto your cookie sheet and bake for about 20 minutes, or until it starts to turn golden brown.
Remove and allow to cool for a few minutes.
While its cooling, bring the brown sugar, butter and milk or cream to a boil on the stove stop. Whisk constantly.
Allow to boil for 3 minutes then remove from heat.
Pour over the granola and place it back in the oven for another 10 minutes.
Remove, let cool and break into pieces!
Enjoy!
Like this easy recipe? Be sure to check out:
And sign up for our recipe updates! We will send new recipes right to your inbox!