All your favorite flavors of fall in one delicious cake!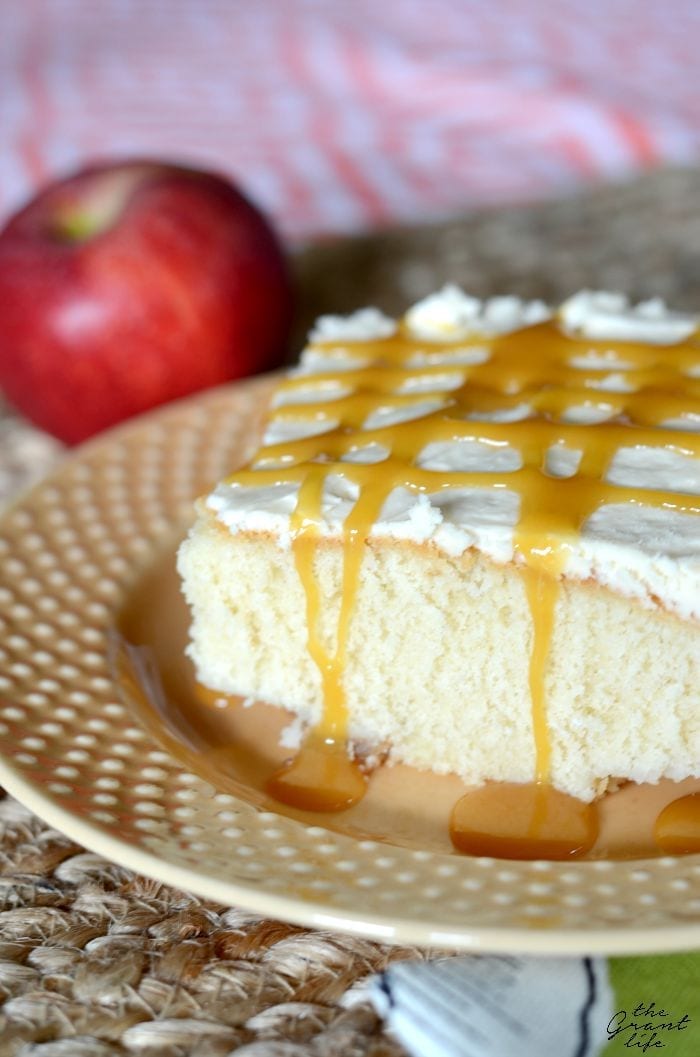 I'm not one to toot my own horn but yall. Do you see that cake right there? Oh my gosh. That cake was so amazing. Was. That cake is no more because everyone ate it right up. Let me tell you a little more about said cake. It starts with sauteed cinnamon apples then a butter cake and topped with a delicious salted caramel frosting.
SALTED CARAMEL FROSTING. As in a buttercream icing but with salted caramel mixed in for good measure.
Remember when I made that pizza casserole for the puppy open house? Well this is the dessert that went along with it. I invited my friends over with the intention of fattening them up with damn good food.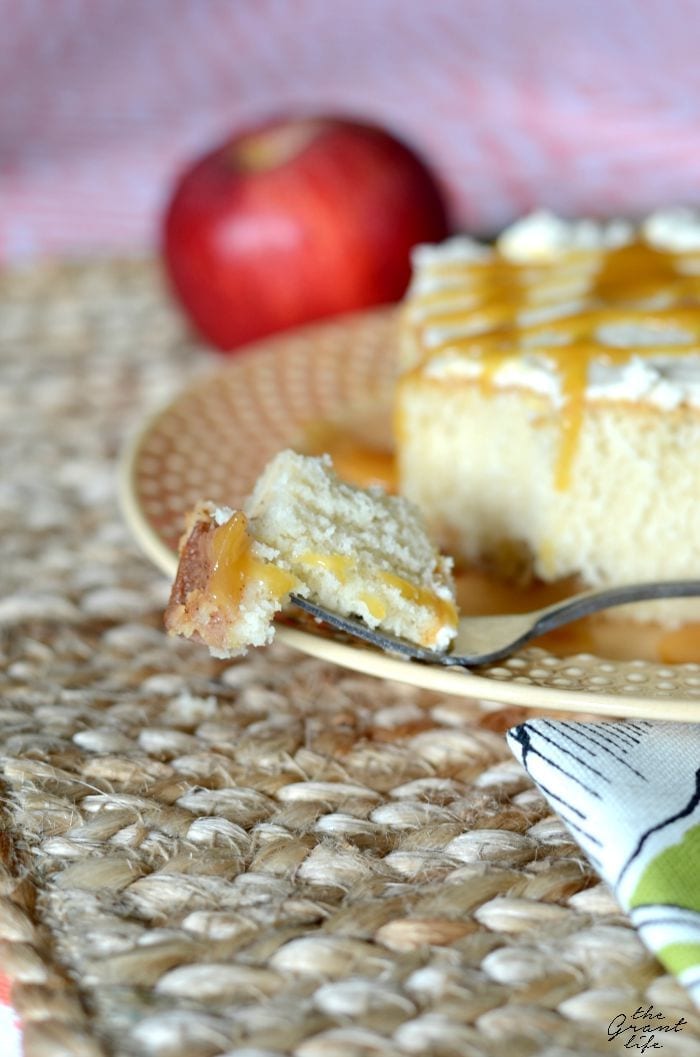 That's just what I do. I love love love cooking for family and friends. I think it's the Italian part of me that enjoys it so much. Take an Italian girl and mix in a good amount of Texas comfort food and it's just bound to happen that I love to cook.
And talk using my hands but that's a different story.
Even when we lived in Michigan I was one proud Texan. I worked at Enterprise when I first moved up and I was the only person from Texas. We would go around the table and say where we graduated college and when I said "Texas A&M Corpus Christi" everyone would immediately start asking me questions.
"Do you own a horse?"
"Do you drive a big truck?"
"But you're not wearing cowboy boots?"
"You must love president Bush!"

Which were all weird questions to me. I grew up in a beach town. The only wide open spaces I knew were covered in sand. Yes, there were horses but I didn't own one. I drove a Tahoe and just recently bought my second pair of boots.
I know, I know. I don't really fit many of the Texas stereotypes.
That should not be mistaken for not being Texas proud though. I love all things Texas. Including horses and cowboy boots. I like to think that my friendly Texas nature is one of the reasons I love cooking for people. Which may be one of the reasons I love Lone Star Eggs. Their slogan is "Laid by Texans, for Texans." I mean, how can a Texas girl not love that?

Salted caramel apple cake
Ingredients
Cake:
3 cups all-purpose flour
2 teaspoons baking powder
1/2 teaspoon salt
2 cups sugar
1 cup butter, softened
4 large Lone Star eggs
2 teaspoons vanilla
1 cup milk
Cinnamon apples:
2 large apples, diced
3 tablespoons butter
1 tablespoon cinnamon
Salted caramel frosting:
1 cup butter, melted
4-5 cups powdered sugar
3-4 tablespoons of salted caramel sauce or syrup
2 tablespoons milk
Instructions
Preheat the oven to 350 and grease a 9x13 cake pan.
Place the butter, apples and cinnamon in a pan over medium heat. Saute for 3-5 minutes, stirring occasionally.
Mix together the flour, baking powder and salt. Set aside.
Cream the butter and sugar until fluffy.
Add the eggs, one at a time, mixing in between.
Mix in the vanilla.
Add in the flour mixture to the batter, alternating between flour and milk. Mix until smooth.
Layer the apples on the bottom of the cake pan and cover with the batter.
Bake for 45-50 minutes, or until a toothpick comes out clean and the edges are slightly browned.
While the cake is cooking, pour 2 cups of powdered sugar in a bowl and add the butter. Mix together and continue to add powdered sugar until thick and fluffy.
Add in the salted caramel sauce and continue to mix.
Slowly add the milk until your frosting reaches your desired consistency.
Remove the cake from the oven and allow to cool completely.
Frost, add extra caramel on top if desired, and enjoy!
Like this recipe? Be sure to check out: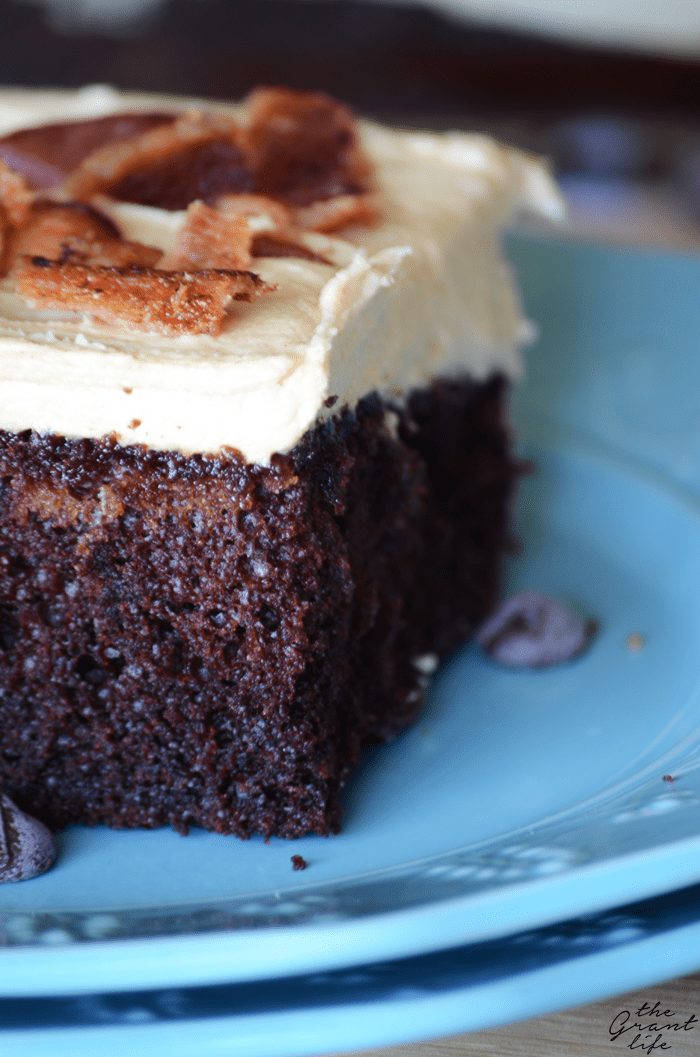 Chocolate peanut butter bacon cake