Crispy bacon is the perfect addition to this chocolate peanut butter bacon cake.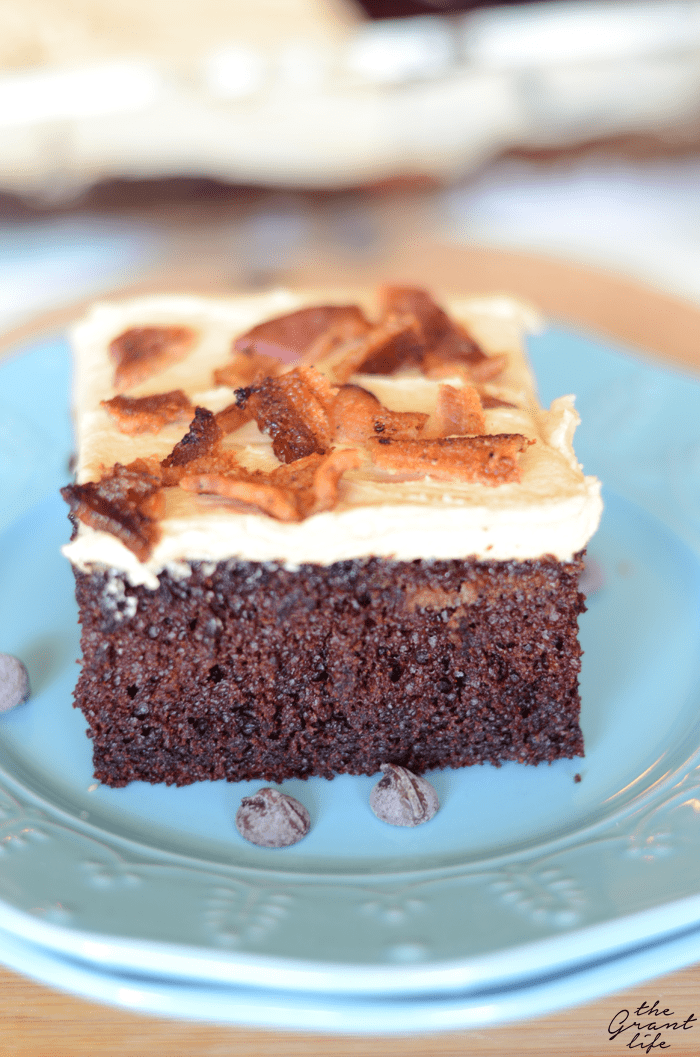 The one hard thing about being a food blogger is all your friends expect delicious food every time they come over.  The good news is I think I have a pretty good track record.  So far, no one has walked out of our house hungry or angry.  
But sometimes I am stumped on what to make.  When I can't figure it out – I turn to Pinterest.  Oh Pinterest.  You always save the day.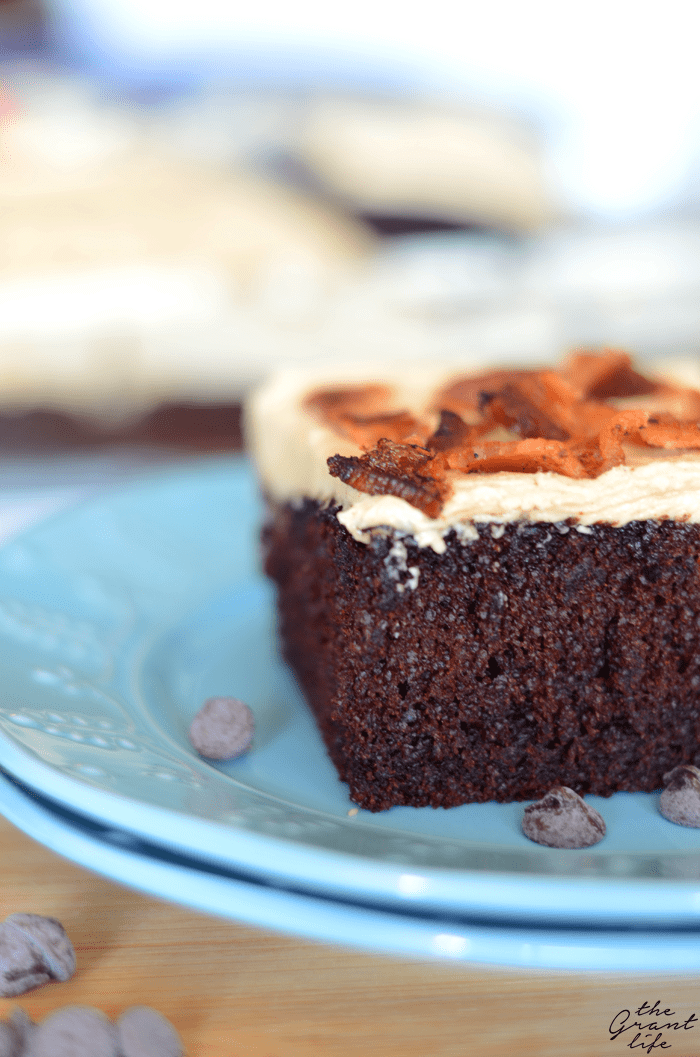 I'm honest and tell my friends that whatever I made wasn't an original recipe of mine.  I think they think I have an endless supply of amazing recipes in my head.  I mean I have a lot, but none of them are as good as this chocolate sour cream cake.  
It literally has to be the best chocolate cake I have ever made.  Hands down best chocolate cake ever.  And everyone else thought so too!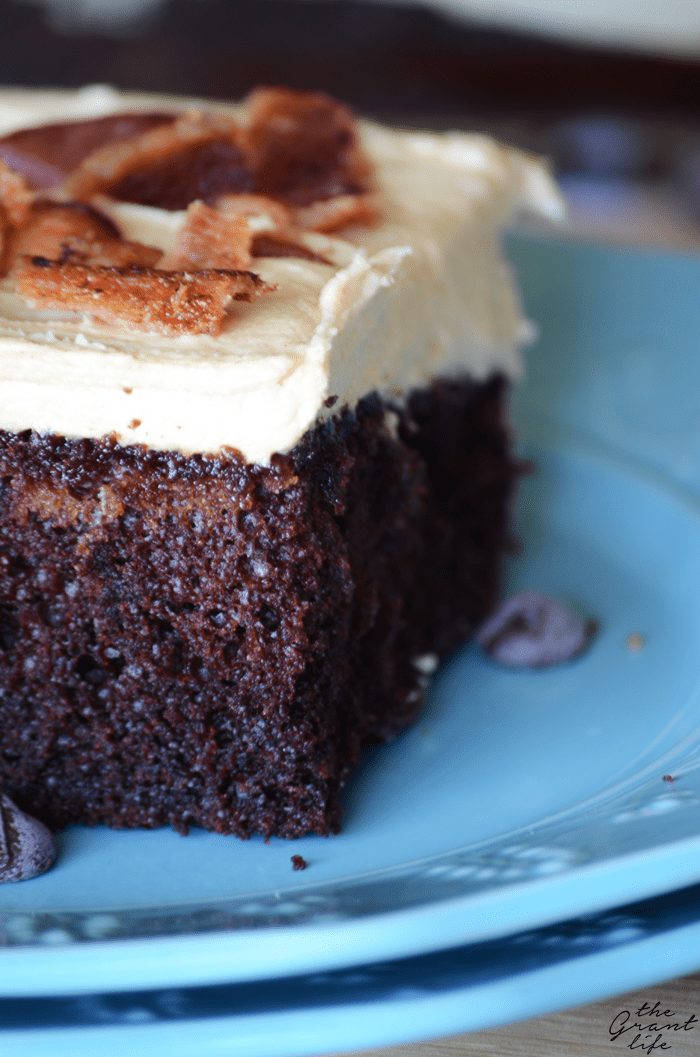 Then I added homemade peanut butter frosting and things got crazy.  Like everyone was moaning over their cake because it was so good crazy.  They kept asking about the frosting but I said – "It's the cake that's so delicious!  It's making the simple frosting look good."  
And the frosting is good.  Don't get me wrong there.  One of my friends made sure to literally lick my mixing bowl clean when I was done making it.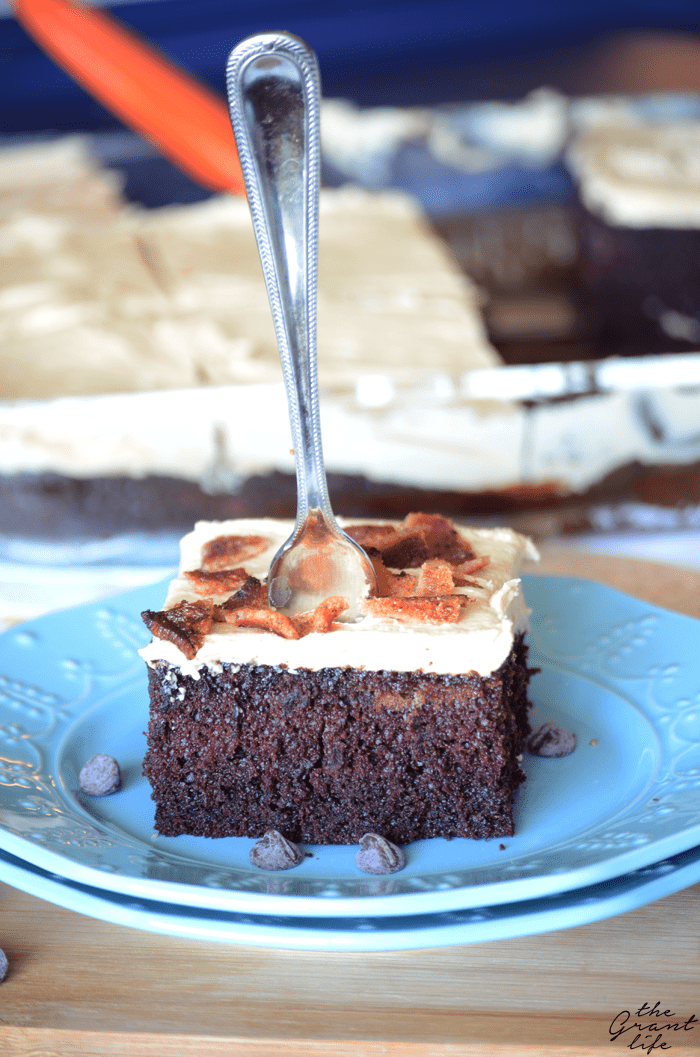 And after I made the cake and my friends started eating it, I said "I bet this would be great with bacon on it."  And everyone mumbled their agreement because they busy eating as fast as possible.  
So the next day, I fried up some bacon and added it top of the perfect chocolate cake and the most magical peanut butter frosting and just smiled.  It was great with bacon on top.  

Chocolate peanut butter bacon cake
Recipe adapted from - http://www.completelydelicious.com/2012/07/chocolate-sour-cream-cake.html
Ingredients
For the cake:
1¼ cup of hot coffee
¾ cup of cocoa powder
2½ cup flour
1 teaspoon salt
2½ teaspoon baking soda
2 cups sugar
3 large eggs
1 cup sour cream
1 cup vegetable oil
For the frosting:
1 stick of butter, softened
1 cup of peanut butter
2 cups of powdered sugar
3 tablespoons of milk
5-6 slices of thick bacon, cooked
Instructions
Preheat the oven to 350 and grease a 9x13 baking dish.
While the coffee is still hot, mix in the cocoa powder.
Mix together the flour, salt and baking soda in a separate bowl.
In a stand mixer or with a handheld, beat the sugar and eggs until pale yellow. Add the sour cream and then the vegetable oil.
Add the flour mixture and mix until combined.
Mix in the coffee/cocoa mixture and whip until smooth.
Spread the batter in your baking dish and bake for 30 minutes or until a toothpick comes out clean in the center.
Allow to cool completely before frosting.
To make the frosting cream the butter in your mixer. Add the peanut butter and combine.
Slowly add the powdered sugar to the mixer. Mix until everything is combine.
Add the milk a little at a time until you reach the desired consistency
Spread over cooled cake and top with crumbled bacon.
Enjoy!
Like this recipe?  Be sure to check out: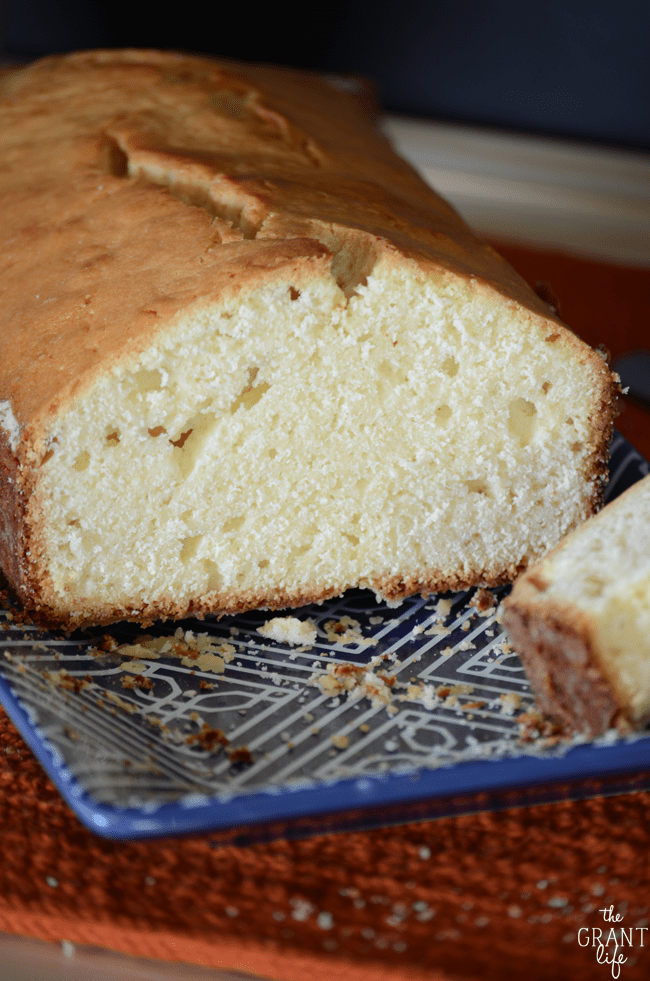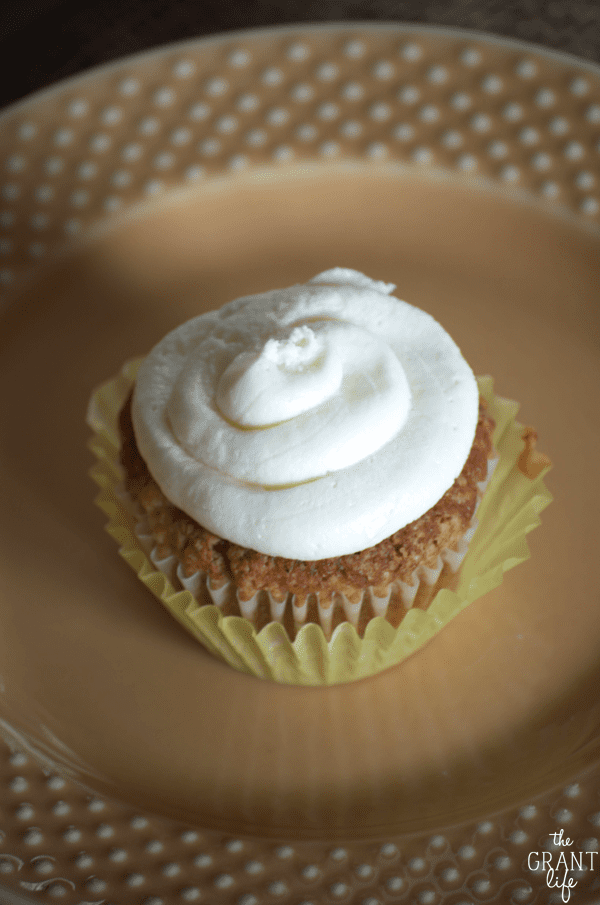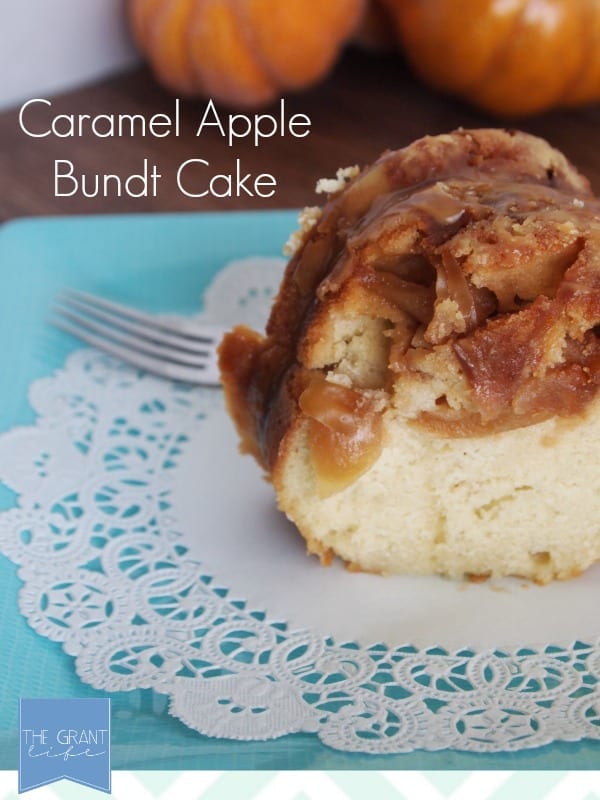 And sign up for our recipe updates!