You are absolutely going to love how easy this chocolate cake with peanut butter frosting is to make! It's simple and straightforward and perfect for sharing. Oh, and it's topped with crispy bacon, because, BACON! Let me show you how to make this easy chocolate cake.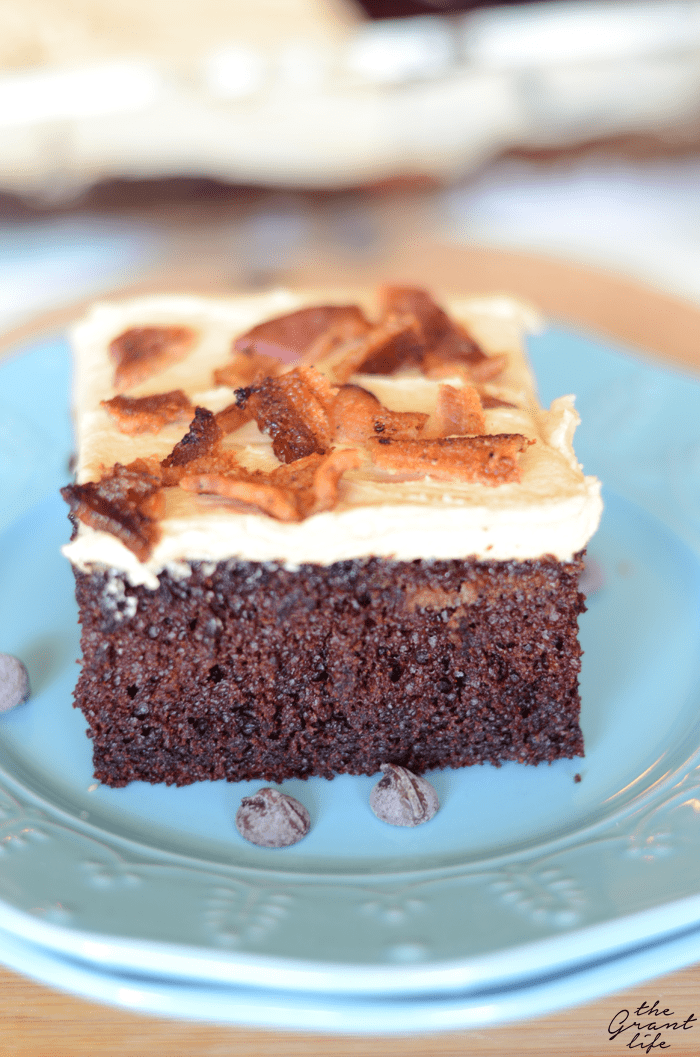 The one hard thing about being a food blogger is all your friends expect delicious food every time they come over. The good news is I think I have a pretty good track record. So far, no one has walked out of our house hungry or angry.
But sometimes I am stumped on what to make. When I can't figure it out – I turn to Pinterest. Oh Pinterest. You always save the day.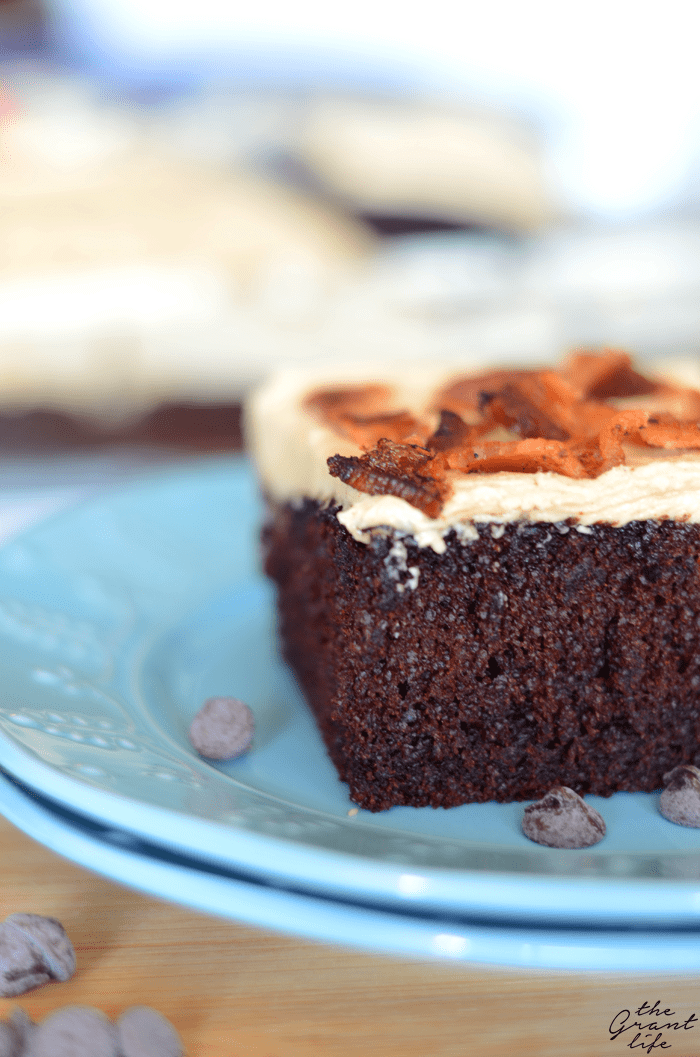 Chocolate cake with peanut butter frosting
This cake starts out with chocolate sour cream cake base and is topped with creamy peanut butter frosting. The result is like a Reese's peanut butter cup in cake form. The cake is super moist and the frosting is thick and creamy.
Oh and for extra goodness, I topped the cake with BACON.
It literally has to be the best chocolate cake I have ever made.  Hands down best chocolate cake ever.  I mean, who can resist the chocolate/peanut butter/bacon combo?!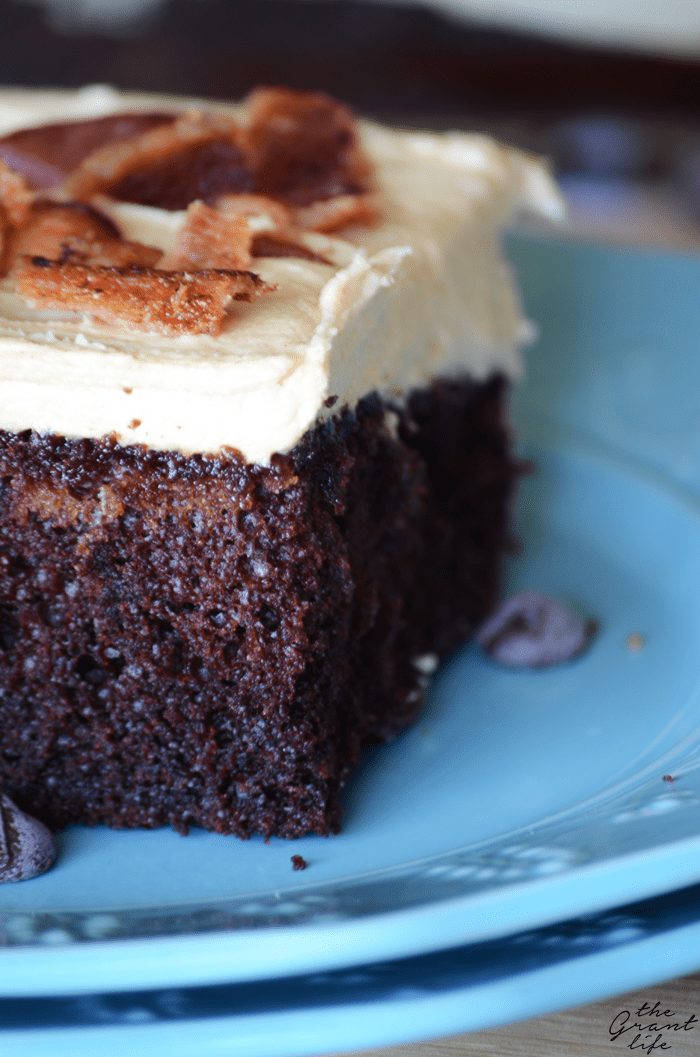 Chocolate cake ingredients
The good news is that this cake is super easy to make and the frosting is even easier. For the cake you will need:
hot coffee
cocoa powder
flour
salt, baking soda, sugar
eggs
sour cream
oil
You can use any type of hot coffee for this cake. I suggest a strong, hot coffee here. It will intensify the flavor of the cake. If you need help picking out a type of coffee, check out my coffee guide here.
The higher the quality of the cocoa powder, the better the quality the cake. I suggest using a cocoa powder like Ghiradelli or Guittard brand cocoa powder for this chocolate cake recipe. (You can also check out how to make chocolate sauce with cocoa powder here.)
Any type of flour will work in this recipe. If you want to keep the recipe gluten free, use a gluten free flour blend. I don't suggest using coconut or almond flour here if you are trying to make it gluten free.
The rest of the ingredient for the cake are pretty straightforward. I have made this cake using vegetable oil and a mild canola oil and it bakes the same. Just use caution if you are trying a different oil here.
Peanut butter frosting ingredients
The frosting ingredients are even less than what you need to make the cake and it comes together super quick. To make the peanut butter frosting you will need:
butter
peanut butter
powdered sugar
milk
You can use any type of butter for this frosting. I love using a salted sweet cream, but if you are watching your sodium intake, use unsalted.
You need a smooth peanut butter here. A chunky peanut butter will not give you the smooth consistency that you need.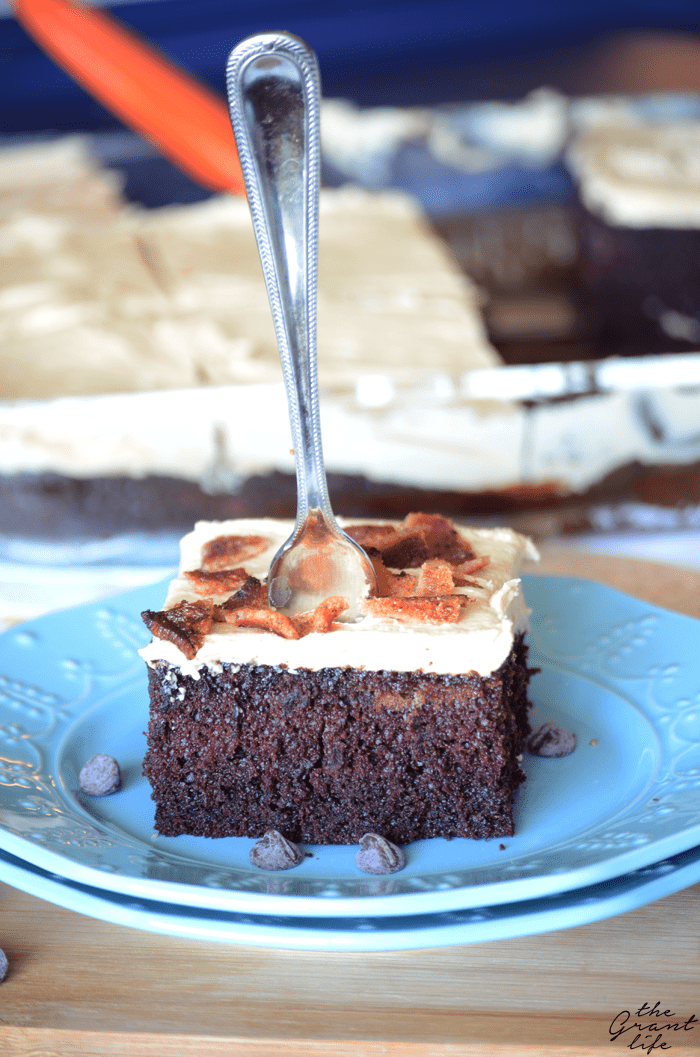 How to make a chocolate peanut butter cake
Once you have all your ingredients gathered, you are going to also want to grab:
mixing bowls
spatula
9×13 baking dish
handheld or stand mixer
Start by pre-heating your oven to 350 and spraying your baking dish with cooking spray. You can also rub the dish with butter or oil.
You want to mix the hot coffee with the cocoa powder until it dissolves. This is were most of the flavor of the cake comes from. Like I suggested, use a good quality coffee and cocoa powder here.
Sift your flour, salt and baking soda in a separate dish and set aside.
Using your handheld or stand mixer, beat the eggs and sugar until the become pale yellow. You will then add in your sour cream and oil. Continue to mix until combined. Do not over mix the batter.
Slowly pour the dry ingredients in with the wet ingredients. You can use your spatula here or your mixer. Once everything is just combined, add in the coffee/cocoa powder mixture. Blend until smooth.
Pour the batter into your baking dish and bake for 30 minutes, or until a toothpick comes out clean from the center. Wait until it cools to frost the cake.
To make the frosting, you want to cream the butter and then add in the peanut butter. Carefully add in the powdered sugar and blend until smooth. You are going to use the milk to bring the frosting to your desired consistency.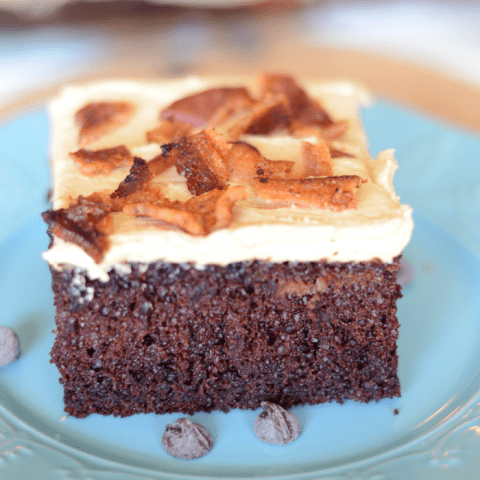 Chocolate peanut butter bacon cake
Recipe adapted from - http://www.completelydelicious.com/2012/07/chocolate-sour-cream-cake.html
Ingredients
For the cake:
1 1/4 cup of hot coffee
3/4 cup of cocoa powder
2 1/2 cup flour
1 teaspoon salt
2 1/2 teaspoon baking soda
2 cups sugar
3 large eggs
1 cup sour cream
1 cup vegetable oil
For the frosting:
1 stick of butter, softened
1 cup of peanut butter
2 cups of powdered sugar
3 tablespoons of milk
5-6 slices of thick bacon, cooked
Instructions
Preheat the oven to 350 and grease a 9x13 baking dish.
While the coffee is still hot, mix in the cocoa powder.
Mix together the flour, salt and baking soda in a separate bowl.
In a stand mixer or with a handheld, beat the sugar and eggs until pale yellow. Add the sour cream and then the vegetable oil.
Add the flour mixture and mix until combined.
Mix in the coffee/cocoa mixture and whip until smooth.
Spread the batter in your baking dish and bake for 30 minutes or until a toothpick comes out clean in the center.
Allow to cool completely before frosting.
To make the frosting cream the butter in your mixer. Add the peanut butter and combine.
Slowly add the powdered sugar to the mixer. Mix until everything is combine.
Add the milk a little at a time until you reach the desired consistency
Spread over cooled cake and top with crumbled bacon.
Enjoy!
Like this recipe?  Be sure to check out: