A few weeks ago I made a bunch of cookies for a church bake sale. And by a bunch of cookies I mean at least 10 dozen. I had cookies coming out my ears yall. [Not really but you know what I mean.] The most popular cookie? The snickerdoodles. People just can't resist the chewy goodness of a snickerdoodle. Now add a ooey gooey Rolo into the mix and you have pure heaven.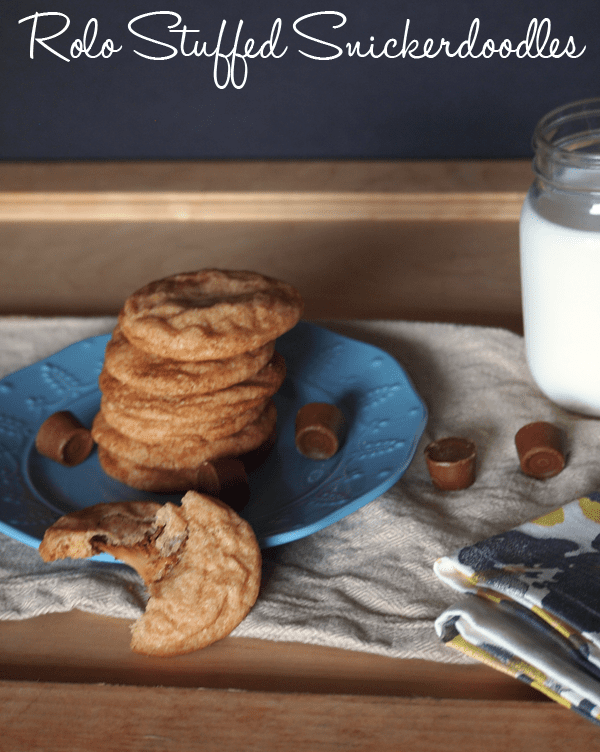 I didn't make these rolo stuffed snickerdoodles for the bake sale, I made them a week later because I had a severe snickerdoodle craving. I also had a bag of rolos from a recent trip to Target sitting on the counter. [Thanks Target clearance!] I put two and two together [literally] and the rolo stuffed snickerdoodle was born.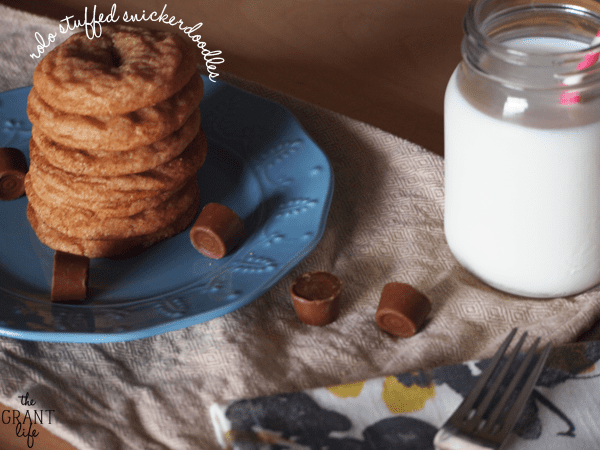 I love a good snickerdoodle cookie, but the chocolate and caramel of the rolo was just amazing. I had Ryon taste them and he even agreed they were great. And he's not a big caramel fan. So I knew they were a winner. Plus, I might have eaten about 6 or so of them myself. [Ooops.]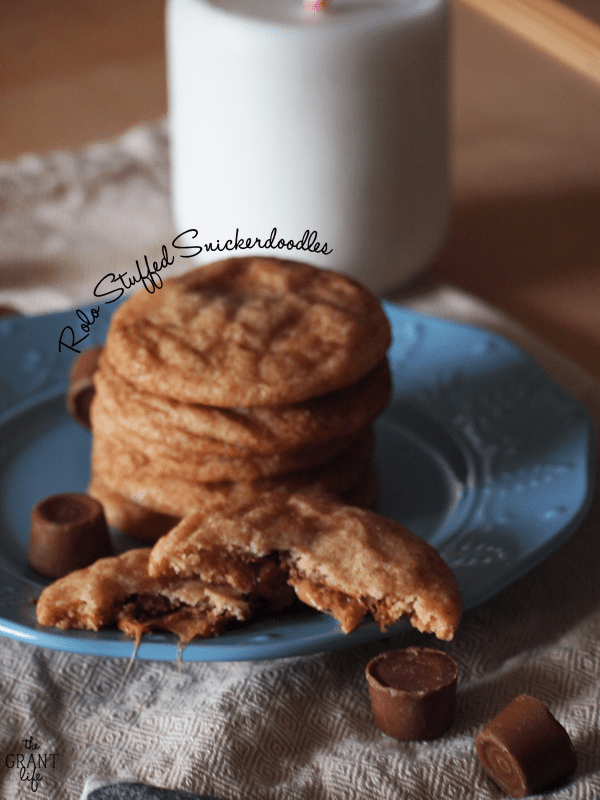 I had to get them out of the house. I put them in a ziplock baggie and took them to church for Sunday service. If you look at the cookies you can't really tell there is a rolo in them. So, I felt like I needed to explain to my friends at church that these cookies were extra awesome because they had a rolo stuffed inside. I'm not sure why I needed to tell them. People were able to figure out on their own how awesome these cookies are. The disappeared from the plate faster then I could explain the rolo part. I may have even snagged one more before they were totally gone. Because I won't be making these anytime soon. They are too dangerous!
Rolo stuffed snickerdoodles
Ingredients
1 cup unsalted butter, softened
1 and 1/3 cup sugar
1 egg
2 teaspoons vanilla extract
3 cups flour
2 teaspoons cream of tartar
1 teaspoon baking soda
2 and 1/2 teaspoons ground cinnamon
1/2 teaspoon salt
Rolos
Sugar and cinnamon to roll the cookies in
Instructions
Preheat oven to 350.
Cream the butter and sugar in a mixing bowl.
Add in the vanilla and egg. Mix until smooth.
Mix together the flour, cream of tartar, baking soda, cinnamon and salt.
Add the dry ingredients to the wet and mix well. The dough will be thick.
Scoop out a 2 tablespoon size ball of dough and make a ball around the rolo.
Roll the dough in the cinnamon sugar mix and place on the cookie sheet.
Bake for about 10 minutes or until the edges are golden brown.
Remove and let cool on a wire rack.
Enjoy!
Like this cookie post? Be sure to check out:
Or sign up for our emails and never miss another tasty recipe!