Love the combination of chocolate and peanut butter? These Reese's brownies are for you then!
Ryon isn't much of a sweets eater, which is polar opposite of myself.  A few things he does indulge in are Reese's peanut butter cups, ice cream and brownies.  He had requested brownies a few weeks ago, so when I made the brownie brittle I whipped up a double batch and made him a dessert trifecta.  Reese's brownies.  And we ate them warm with vanilla ice cream on top.  And then I won wife of the year for this easy homemade recipe.  [Not really, but I should have.]
Reese's brownie recipe
For this recipe I modified these basic brownies from Jamie over at Love Bakes Good Cakes.  I changed a few things up so my ingredient list looked like this:
1 1/3 cup flour
2 cups sugar
3/4 cup cocoa
1 tsp baking powder
3 eggs
2 tsp vanilla
3 tbs PB2 Peanut Butter
1/2 cup water
6-7 Mini Reese's Peanut Butter Cups, chopped
Have you heard of PB2 Peanut Butter?  Its a super healthy version of regular peanut butter because they press out all the oils from the peanuts.  Its sold as a powder and you mix it with water to make your own peanut butter.  Its really kinda cool and its very good!  So after I poured the brownie batter into the pan I mixed some PB2 and added it on top.  I swirled it around and then put the chopped Reese's on top, just for good peanut buttery, chocolatey goodness. 
It was hard to wait for these to cool completely, so we didn't.  I cut them into squares and we added vanilla ice cream on top.  I watched my husband's eyes light up when he took the first bite.  He said they tasted just like a giant Reese's.  These bad boys were so moist too!  I didn't use any oil in the brownies so I was slightly worried but the PB2 Peanut Butter must of helped because they were amazing.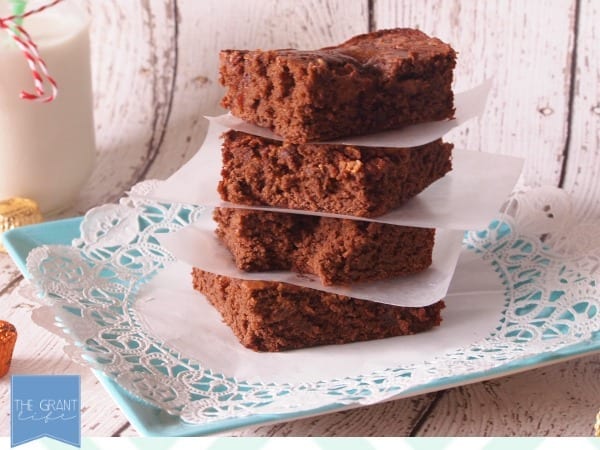 These would also be a great as a gift during the holidays.  Wrap them up or put them in a pretty jar and send them off.  I sent about half of this batch to my moms house because I knew we would eat the entire pan of them.  They are that good! 

Reese's Brownies
Ingredients
1⅓ cup flour
2 cups sugar
¾ cup cocoa
1 tsp baking powder
3 eggs
2 tsp vanilla
3 tbs PB2 Peanut Butter
½ cup water
6-7 Mini Reese's Peanut Butter Cups, chopped
Instructions
Preheat oven to 350.
Spray baking pan with cooking spray.
Combine dry ingredients in one bowl. (Except the PB2 Peanut Butter)
Combine all the water ingredients in a separate bowl. (Minus the water)
Add the wet ingredients to the dry ingredients and mix gently.
Pour brownie mix into your baking pan.
Mix the PB2 Peanut Butter and water together to form your peanut butter.
Add it to the top of the brownie mix and swirl it.
Top with chopped Reese's.
Bake for 20 - 30 minutes, or until a toothpick comes out clean.
Let cool and enjoy!
Notes
Serve with vanilla ice cream!
Nutrition Information
Calories:
3065
Fat:
63g
Saturated fat:
19g
Unsaturated fat:
39g
Carbohydrates:
605g
Sugar:
428g
Sodium:
641mg
Fiber:
32g
Protein:
65g
Cholesterol:
561mg
Want more holiday recipe ideas?  Check out: