Woohoo!  Its popsicle week, yall!  I have teamed up with A Popsicle Blog to bring you a week of nothing but ice cold sweet treats.  Are you excited?  I know I am!  I am the officially popsicle taste tester at the Grant house, ya know, for quality control purposes.  I wouldn't want to give my kiddos a popsicle that I wouldn't eat myself.  [Supermom, yall.]
So every day this week we both will be sharing a new popsicle recipe with yall.  We know summer is almost over but think these are perfect after school snacks.  Or lunch snacks.  Or breakfast snacks.  Popsicles are the perfect anytime snack.  Today Im sharing the easiest popsicle ever.  Also – one of the most delicious.  All I can really say is boom!  Chocolate covered banana popsicle.
I realized awhile ago that whenever I share a recipe I always say 'Its so easy' and thats because they truly are easy homemade recipes.  I don't make things that are complicated because really, who has time for that?  Not this mama.  So know that when I say they are easy, its the truth.  And if I can make it, so can you.  Cool?  Cool.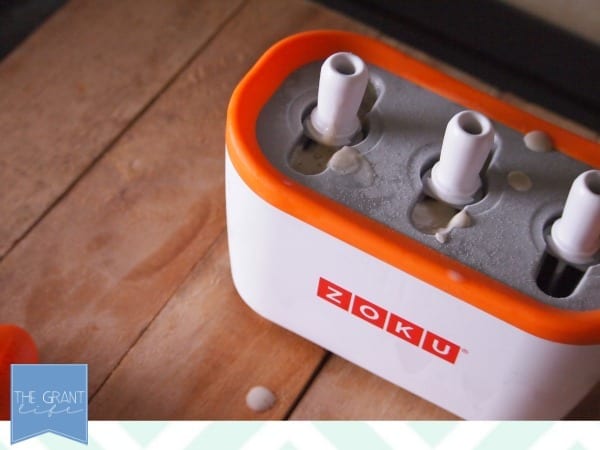 And this is half the reason that making these popsicles was so easy.  I was sent a Zoku QuickPop maker to review and man does it rock!  It goes in the freezer overnight and the next day you are ready to make some popsicles.  It takes 7-9 minutes to freeze and less then that to eat them.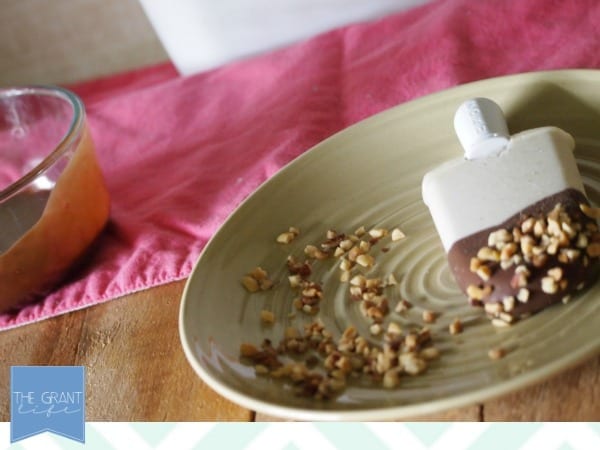 Now to make your own chocolate covered banana popsicles you will need:
1 Banana
1 Cup Almond Milk
Hershey's Hard Shell Chocolate
Chopped Nuts (optional, but delicious)
I blended the banana and almond milk to make it smooth for about a minute before adding it to the Zoku maker.  After it froze I pulled it out (which was a little tricky to learn at first, but now Im a pro) and dipped it in the chocolate.  I added the nuts before the chocolate was hard so they would stick.  Easy.  And less then 10 minutes to create a delicious popsicle.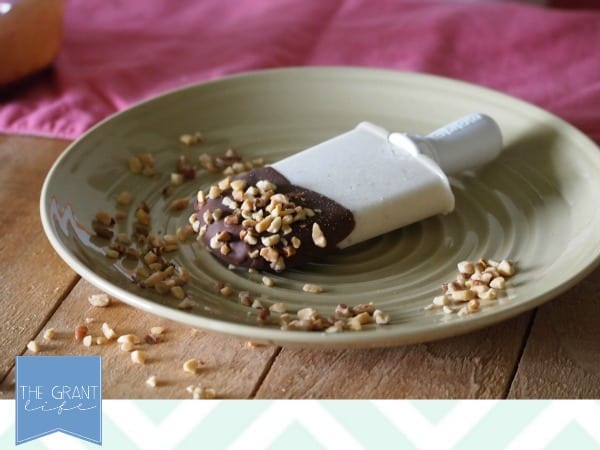 And now you have a healthy afternoon snack.  I made 3 chocolate covered banana popsicles and still had a little of the mix leftover.  I used it to make another delicious popsicle.  Ill share it tomorrow!  [Oh the suspense!]  And check back Friday for a sweet giveaway and a popsicle only link up!
Check out these popsicles too!
What is your favorite popsicle flavor combo?