Have peaches? Make peach jam!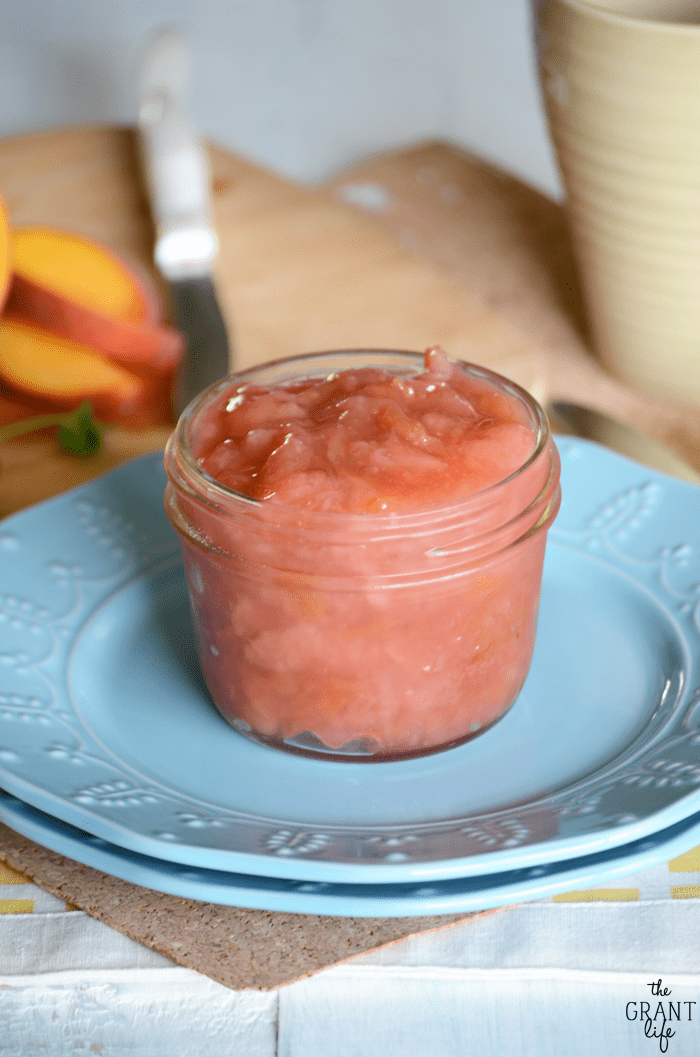 Have I mentioned before that I love gardening but that I'm pretty bad at it? I'm pretty sure I have. But just in case – I love to garden and have fresh fruits and veggies to eat but I'm pretty sure I have a black thumb. Not a green one. A black one. The only thing I have been able to successfully grow are herbs in my window above the sink. Other then that, nothing.
I've read books, I've researched my soil, I've talked to local gardeners. I'm not sure what my gardening malfunction is really.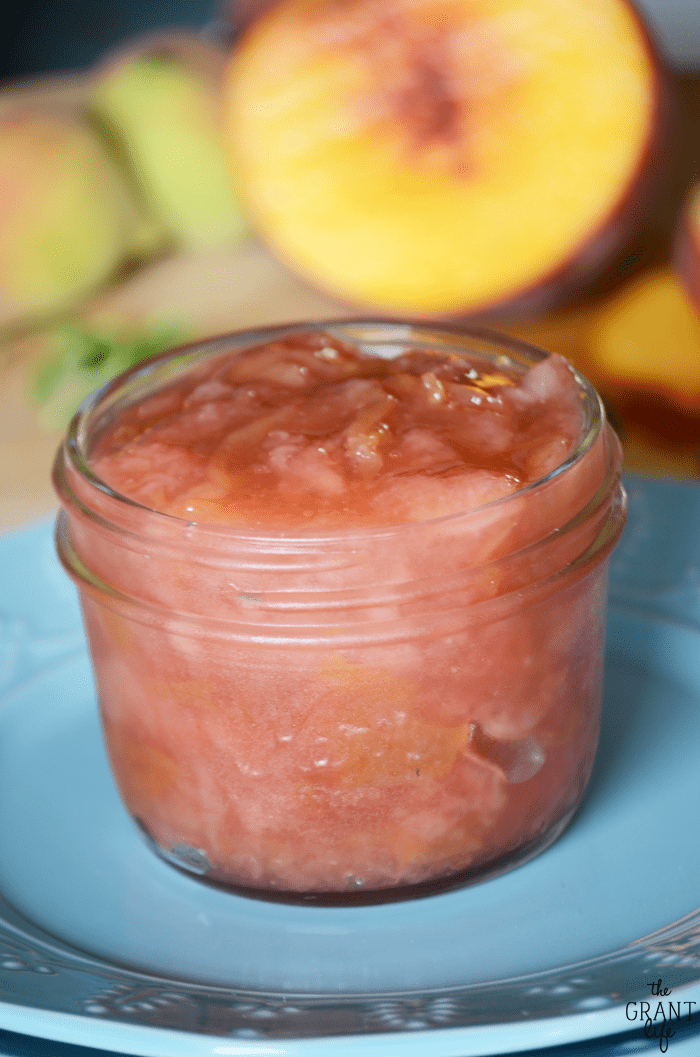 But I can grow herbs. And I am pretty happy about that.
When we went to Michigan, we took one of our dogs with us and my mom took the other to her house. I asked her to stop by while we were gone though to check on my herbs. Yes. I really asked her to check on my herbs. I love those little guys growing all crazy in the window. They give me a sort of hope that I don't really have a black thumb.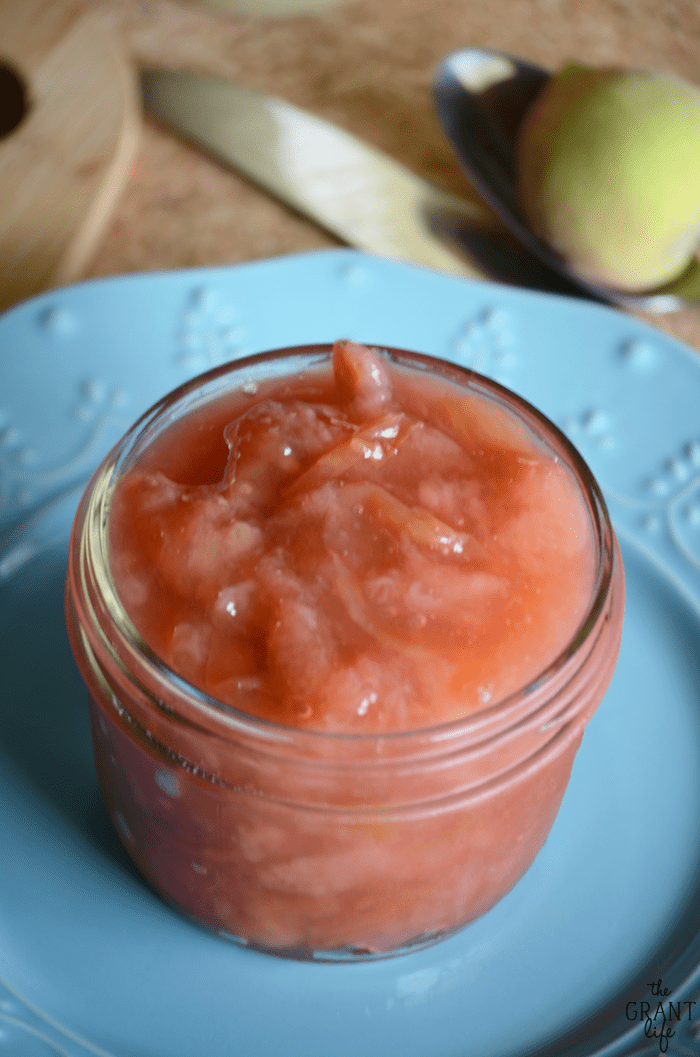 I love my momma, but she forgot about my herbs. They did not get any love or water for a whole week. In her defense though, I asked her to check on them before we left and then didn't remind her. I don't think I conveyed my herb love to her. She apologized and said she would buy me new basil and mint since those were the two that seemed to have died.
I told her it was ok and watered/loved on them after we got home.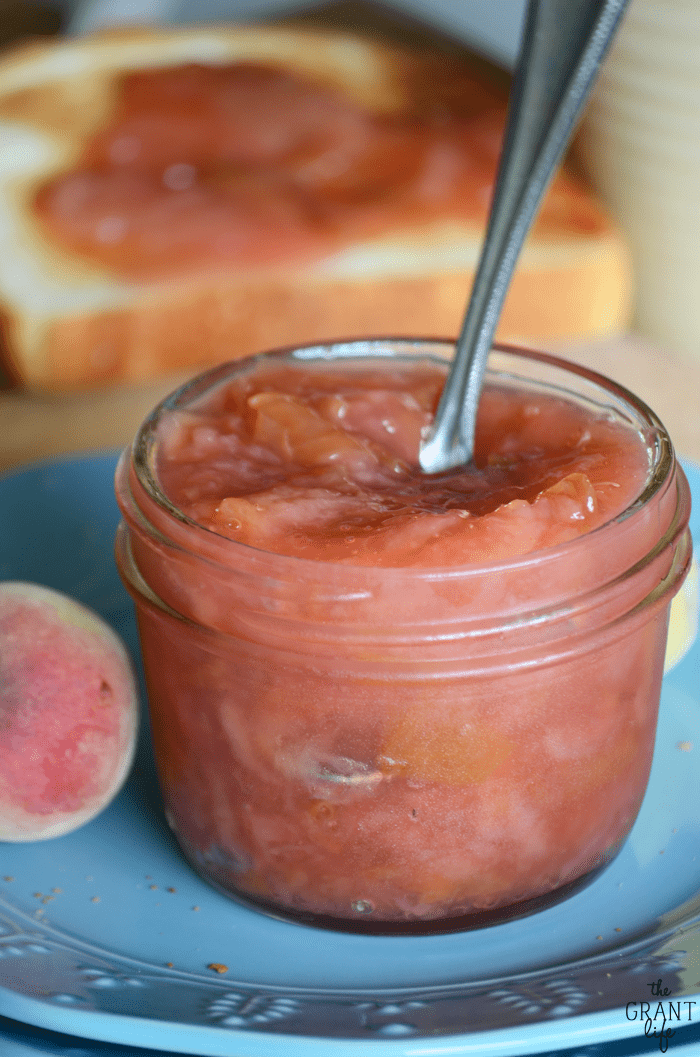 And the crazy thing is they both came back to life! And in full force. I have basil and mint growing all over the windowsill. I used a ton this past weekend to make a layered caprese salad and mint chocolate chip ice cream.
I was so confidant in my herb growing skills that when I was at the store I picked up two cucumber plants. They were on clearance and already had some cucumbers growing so I figured what the heck. I brought them home and did a happy dance when I told Ryon about them.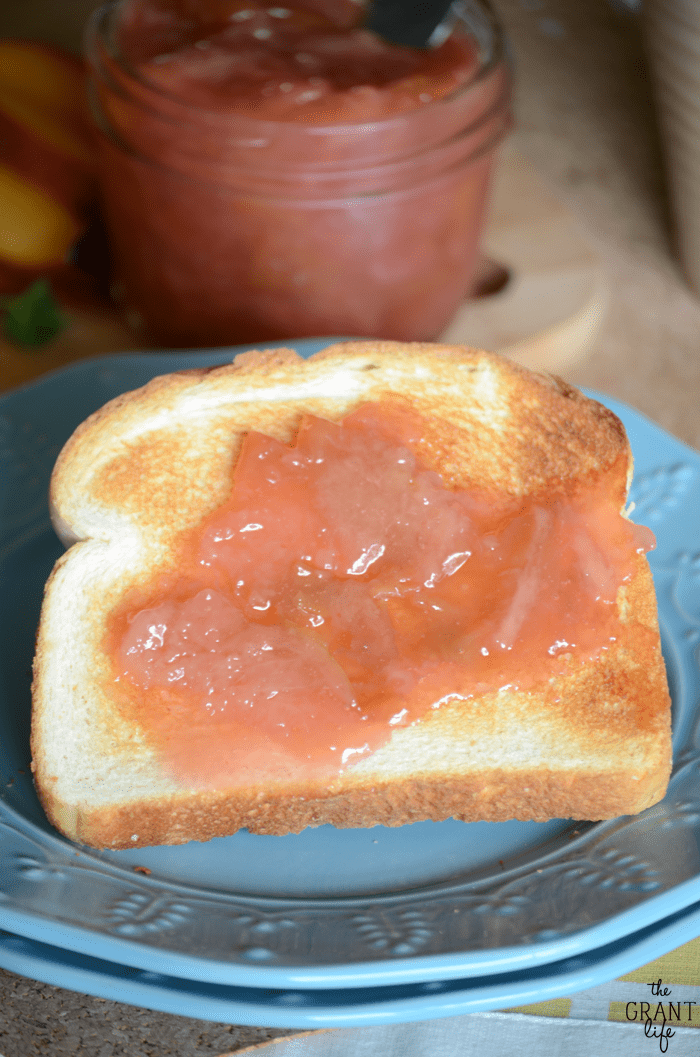 And so far the cucumbers are totally NOT dying! Yessss. I even used 3 of them to make a cucumber and onion salad for the 4th. I totally count that as winning even if I didn't technically grow them totally myself. It still counts in my gardening book.
Now onto the peaches. My moms neighbor planted a peach tree two years ago between their houses. That thing is ginormous now. Huge! And it is just full of little peaches. The kids and I take a basket and pick some every time we go over. I made this small batch peach jam after one of our peach picking sessions. Its perfectly sweet and amazing on toast. Or warm over ice cream. And yes, I have tried both.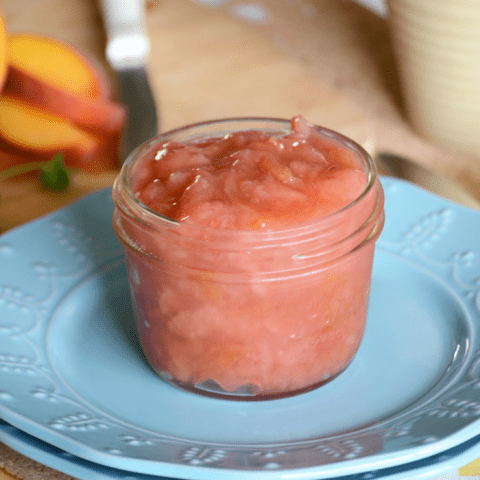 Peach Jam
Ingredients
2 cups of peaches, chopped
1/4 cup of lemon juice
1 cup of sugar
1-2 tablespoons pectin
Instructions
Place the peaches in a saucepan with the lemon juice.
Simmer over medium heat for 15-20 minutes, or until the peaches are really soft.
Add the sugar and allow to dissolve.
Bring to a rolling boil, add the pectin and allow to boil for another minute.
Remove from heat and allow to cool.
Ladle into a mason jar and store in the fridge for up to 3 weeks.
Enjoy!
Like this post? Be sure to check out:
And sign up for our recipe updates! We will send new recipes and family tidbits right to your inbox!