Who is in the mood for something different and delicious? These Mississippi Pork Chops will hit the spot every single time. This is a hands-off recipe that you can place in the crockpot and enjoy later that day. You can't go wrong making a delicious homemade meal for the family like this one!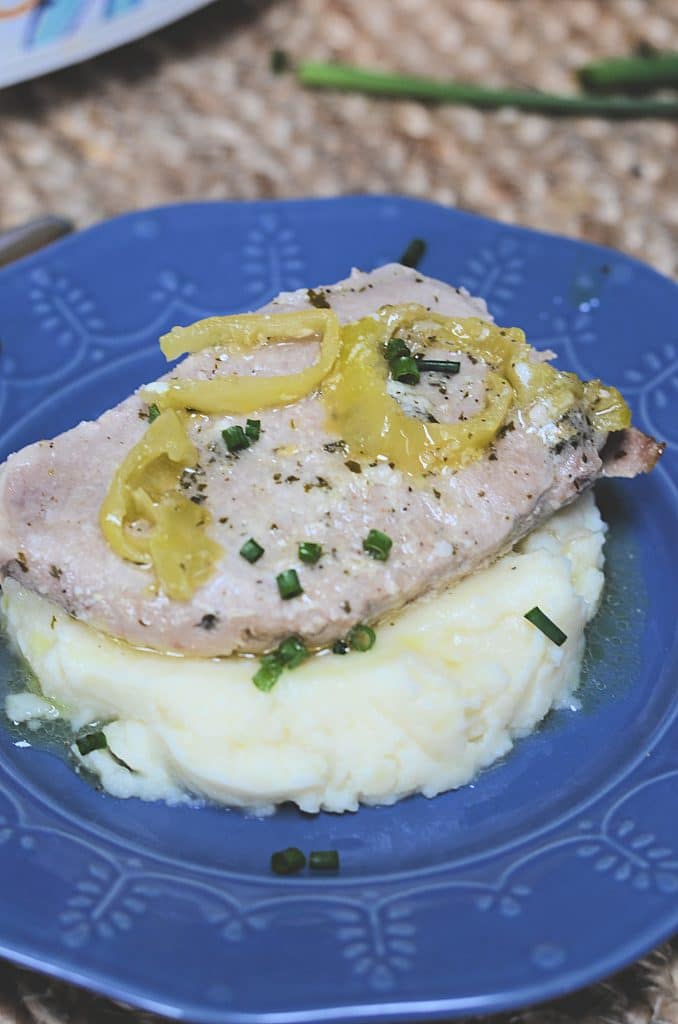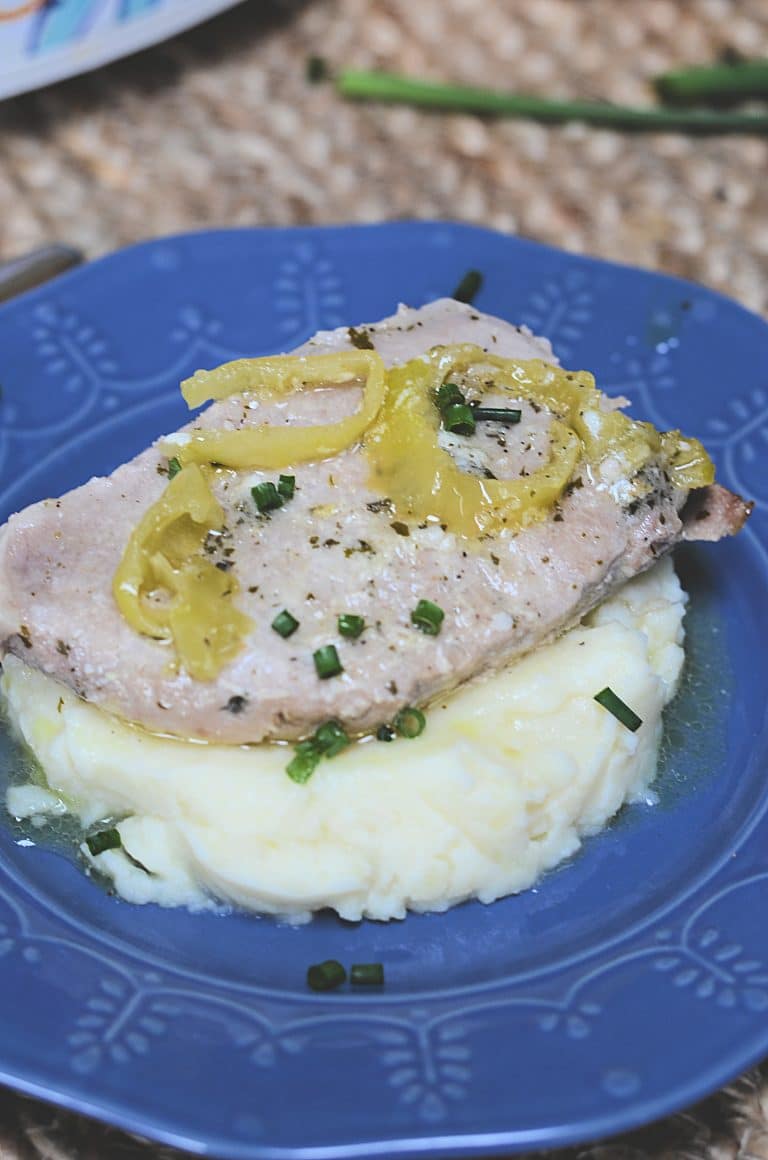 You know when you make a recipe and you just love it so much that it's on repeat at your house? That was my Mississippi roast for the longest time. I would make that roast a few times a month. I just couldn't get enough of the flavor!
Then one of my friends said to try Mississippi chicken. Of course I did and loved it. I had to through that one in the dinner rotation. Then I had a light bulb moment and thought, why not try Mississippi pork chops?!
What is Mississippi pork?
You will be able to take your regular pork chops and turn them into something special with this Mississippi Pork Chop recipe. You'll be using items like ranch, butter, and even pepperoncini peppers. This is all mixed together and placed inside of a crock pot.
You may be wondering where the idea of Mississippi roast type dishes even came from? A lady by the name of Robin Chapman of Ripley, Mississippi started sharing with the world a recipe her aunt had shared with her. This all started back in the late 2,000s and it's been a hit ever since.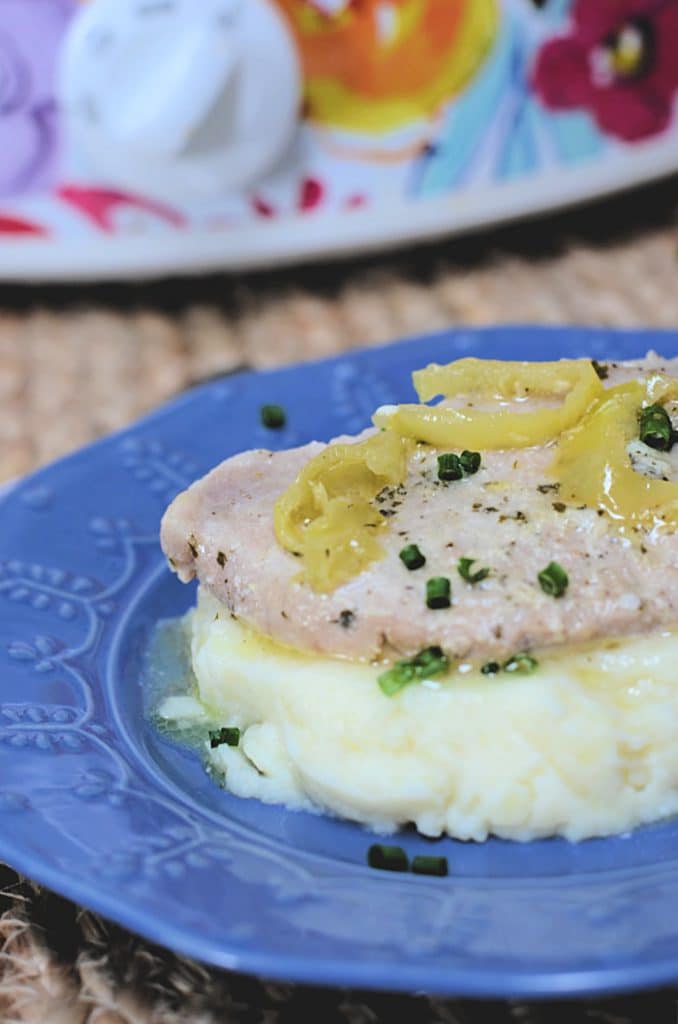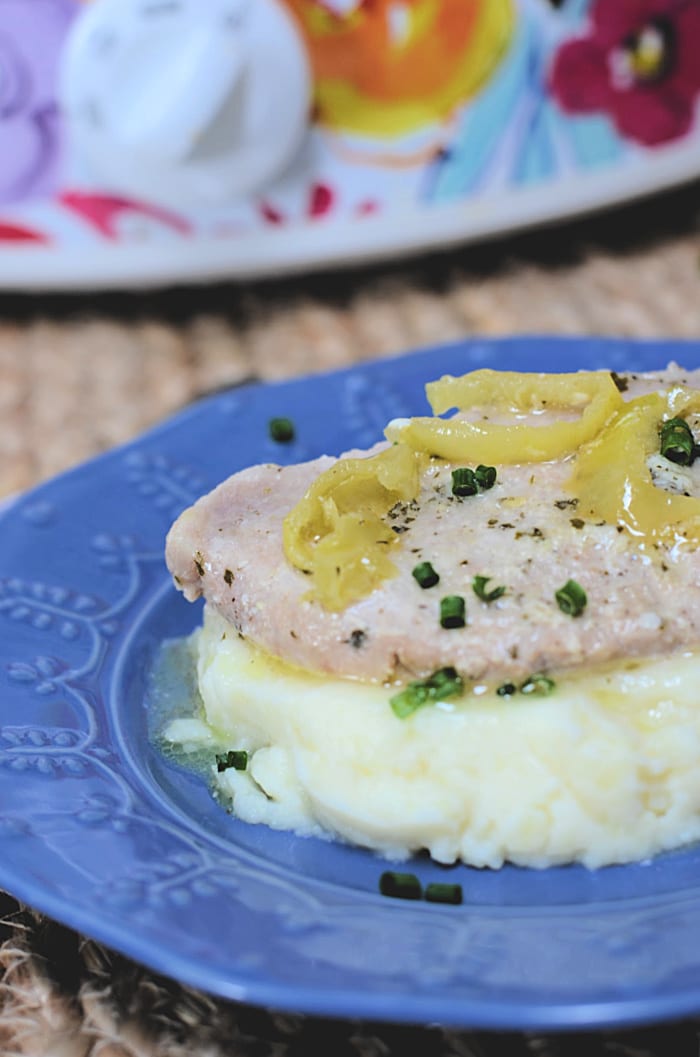 Mississippi pork ingredients
I love that this recipe used fairly basic ingredients and you don't need anything fancy. Here are the ingredients you'll need to get started.
Pork chops
Ranch seasoning packet
Au jus seasoning packet
Pepperoncini
Butter
Pork chops – You want a nice thick cut pork chop for this crock pot dinner. A thin cut chop with dry out during cooking. You can use bone-in pork chops here too.
Ranch seasoning – This dish called for packaged ranch dressing. You can grab a packet or try making homemade ranch seasoning. It's always good to have on hand!
Au jus seasoning packet – Traditional Mississippi dishes call for two packets – ranch and au jus. Au jus works great in Mississippi roast and chicken but I'm not a fan of it on the pork. I didn't use the au jus in my pork chops, but you can if you'd like. You can also use an onion seasoning packet as well!
Pepperoncinis – These are sweet, mild chili peppers that are sold either whole or sliced in a jar. I opt for the sliced variety since they are easier to eat and I can easily add them to other meals.
I also add about a tablespoon of the juice to the crockpot to get even more pepperoncini flavor!
Butter – You need one stick of butter for this recipe. It melts down and creates a super juicy chop. I normally use unsalted butter as there is plenty of salt in the seasoning packets and the pepperoncini juice.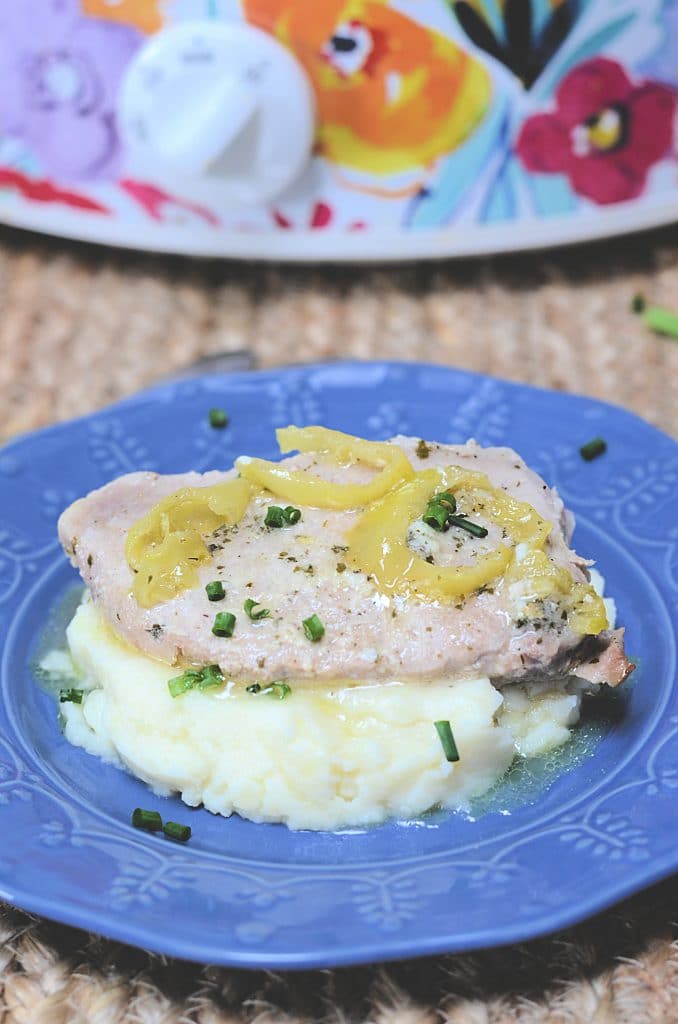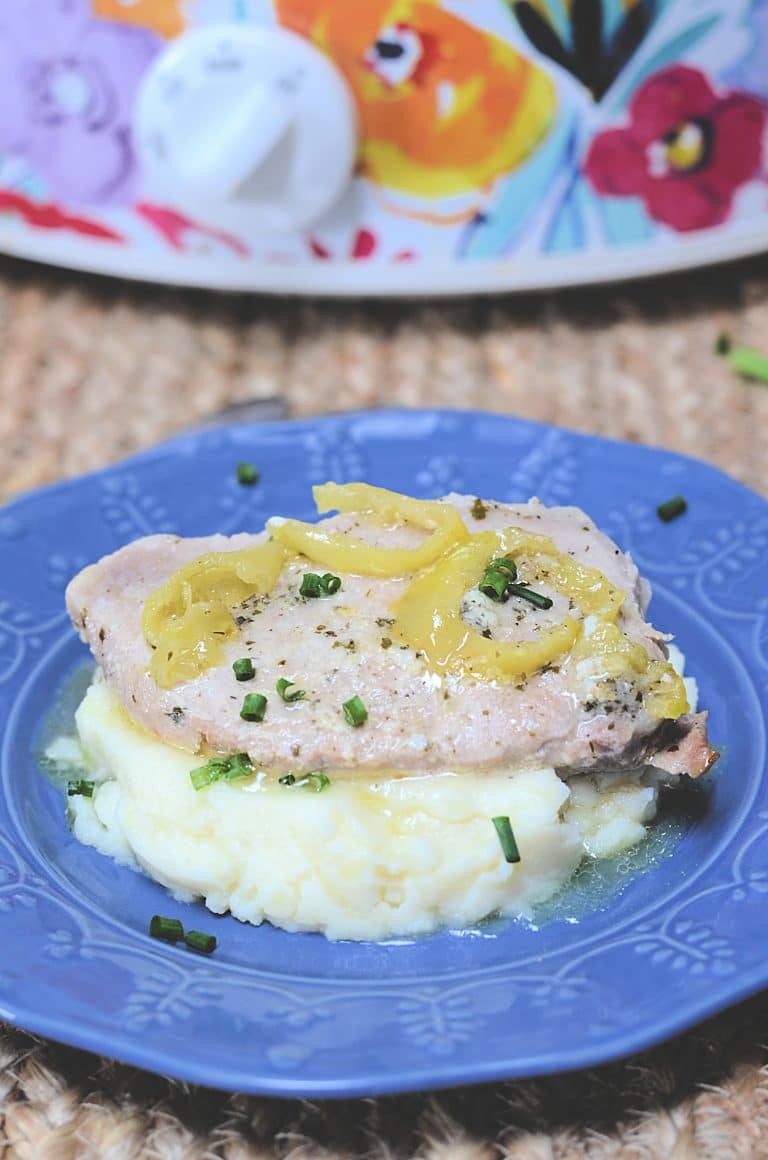 How to Make Crockpot Mississippi Pork Chops
Once you have gathered all your ingredients you will also need to grab your crockpot as well. These are a true ONE POT meal with everything being made right in your crock pot.
Step One: You'll want to take 4-6 of the thick-cut boneless pork chops and place them in the bottom of the crockpot.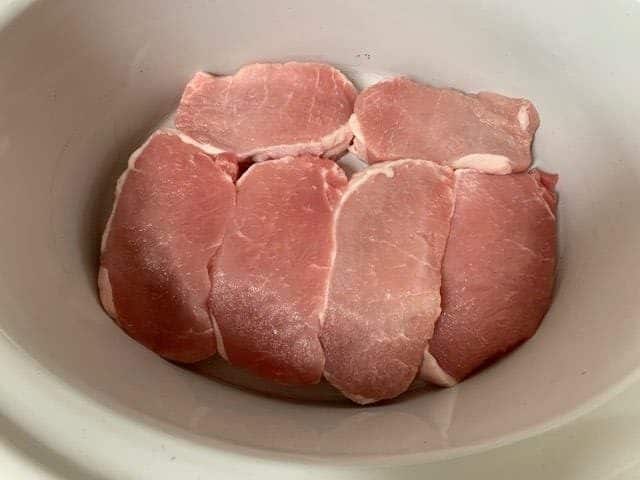 Step Two: You'll want to sprinkle the packet of ranch seasoning and au jus or onion mix right on top of the pork chops.
Step Three: Place that stick of butter right on top of all those spices! Add the pepperoncinos and juice to the mixture.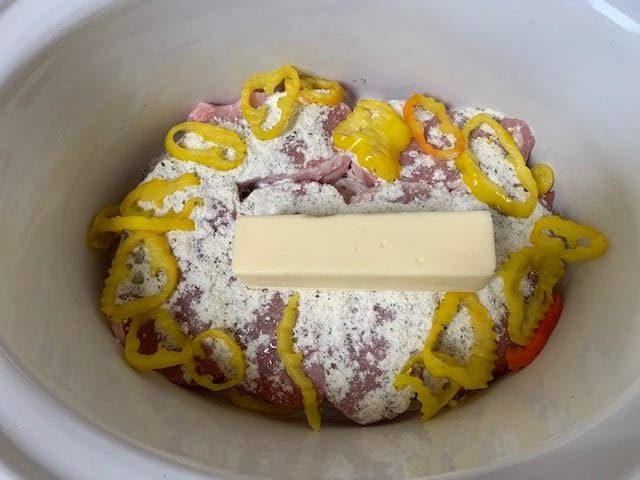 Step Four: Let the delicious meal cook on high for four hours. If you need more time for it to cook, you can cook it on low for 6 hours!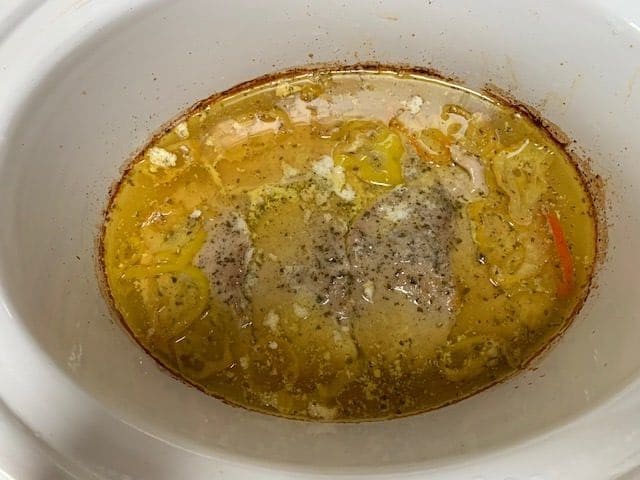 When the pork chops are ready, they will be so tender and juicy. With just the right ingredients you'll have a protein dish that the whole family will love so very much!
How to make Mississippi pork chops in the Instant Pot
These pork chops come out just as tender and juicy when cooked in the Instant Pot! Follow the directions below to make Mississippi pork chops in your pressure cooker.
Place your pork chops in the bottom of the inner pot.
Sprinkle the packets over the chops.
Place the butter on top.
Add the pepperocinis and the juice.
Add 1 cup of chicken broth or water.
Cook on high pressure for 10 minutes.
Naturally release the pressure.
Serve and enjoy!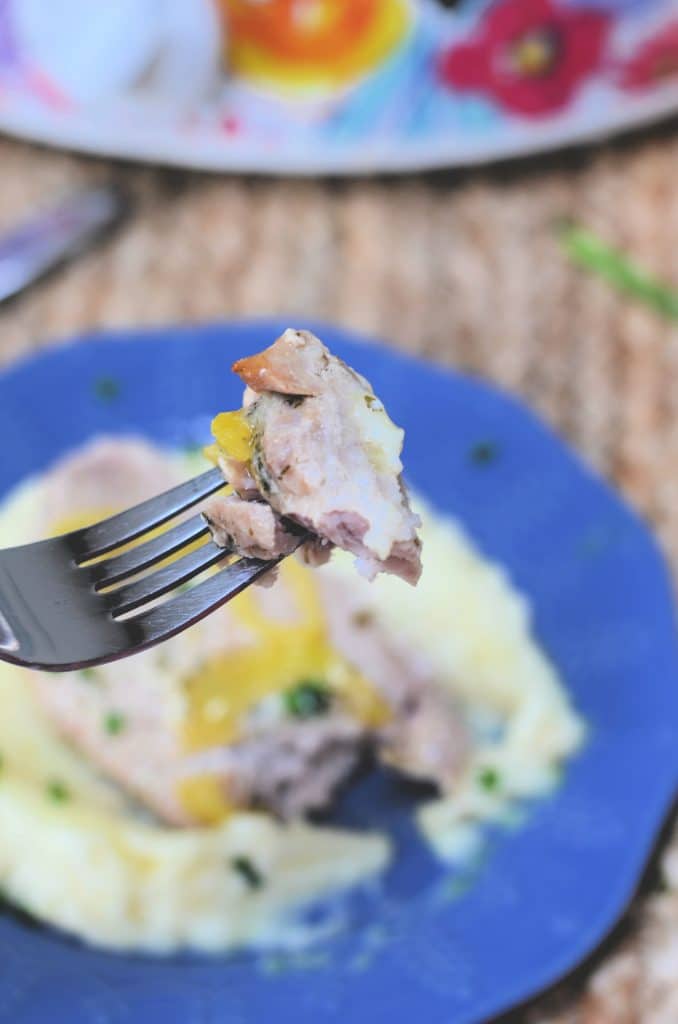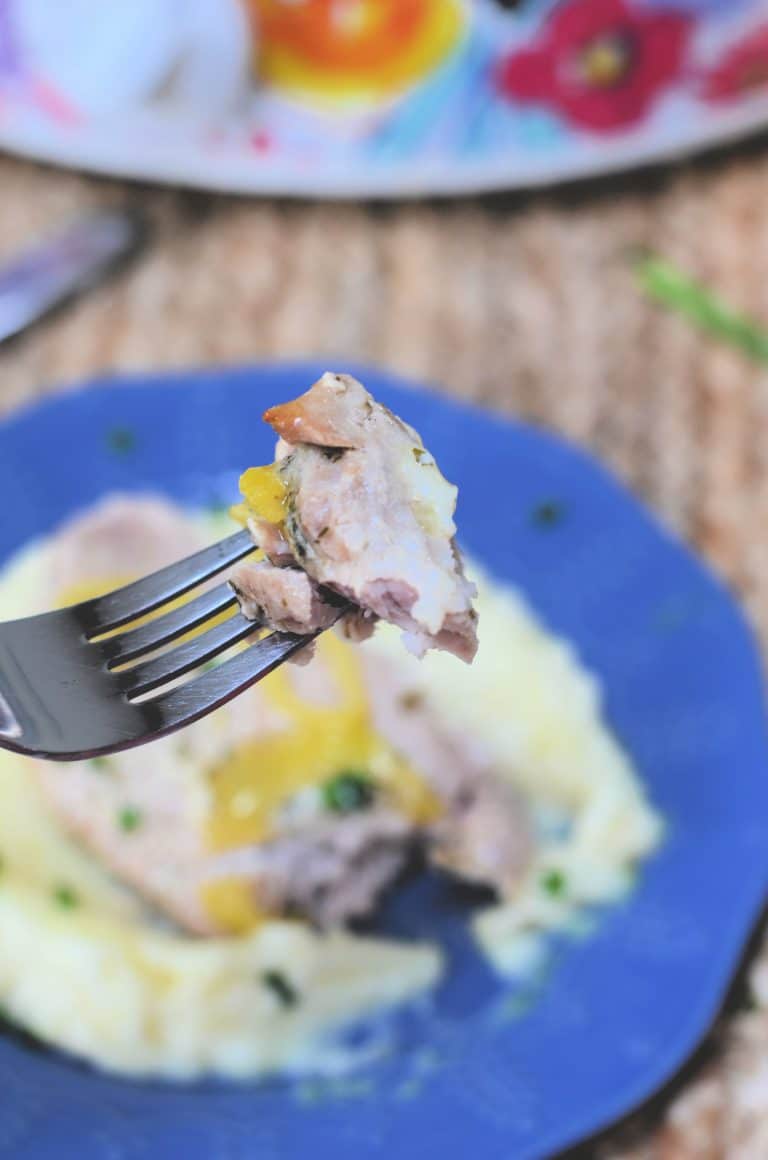 Easy side dishes
When you make this yummy crock pot pork dinner, you'll need to have some side dish options. One of my favorite parts of cooking is creating side dishes to go with my meals. I mean that's the fun part, right? Here are a few sides you can make with this meal:
How to store leftovers
You don't want these Mississippi Pork Chops to go to waste. Grab your favorite airtight container and place the pork chops inside of them. Close the lid and then store for 3-5 days! These pork chops are amazing as leftovers.
Other Mississippi recipes
Like I mentioned, these aren't the first "Mississippi" dinner that I've made. I have also made:
I hope you get to try them all and fall in love with these quick and easy dinners like I have!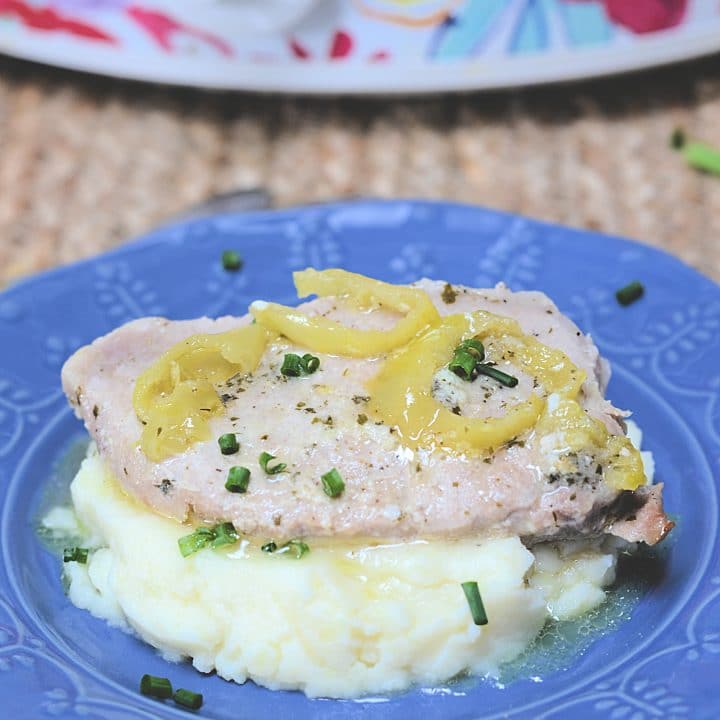 Mississippi Pork Chops
Total Time:
4 hours
2 minutes
An easy slow cooker dinner that is full of flavor with very little prep!
Ingredients
4-5 boneless thick cut pork chops
1 packet ranch seasoning mix
1 packet au jus seasoning or onion mix
1 stick of butter
1/4 cup sliced pepperoncinis or 4-6 whole
2 tablespoons pepperoncini juice
Instructions
Place your pork chops in the bottom of your crock pot.
Sprinkle the seasoning packets over the pork chops.
Add the pepperoncinis around the pork chops.
Place the stick of butter on top of everything.
Pour in the pepperoncini juice.
Cook on HIGH for 4 hours or LOW for 6 hours.
Allow to cool.
Enjoy!
Nutrition Information:
Yield:

6
Serving Size:

1
Amount Per Serving:
Calories:

243
Total Fat:

19g
Saturated Fat:

11g
Trans Fat:

1g
Unsaturated Fat:

6g
Cholesterol:

64mg
Sodium:

771mg
Carbohydrates:

10g
Fiber:

1g
Sugar:

7g
Protein:

8g
Be sure to PIN THIS recipe to your dinner or crock pot board.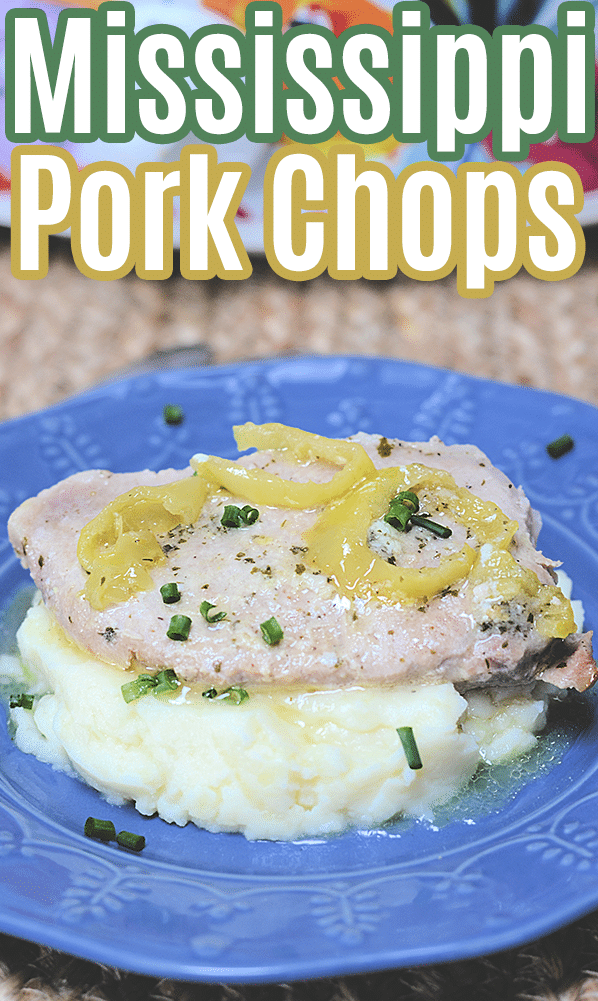 Crock pot dinners
Easy crock pot dinners that the whole family will love!