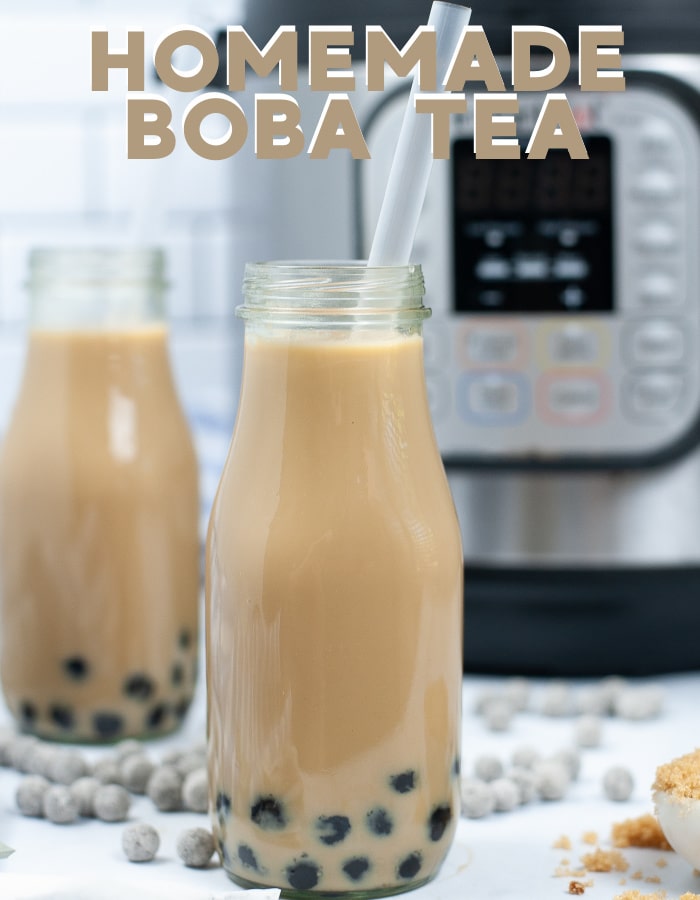 Boba or bubble tea is a super popular drink right now. It's also called milk tea and is so trendy because of the tapioca pearls, or bubbles at the bottom. My daughter is obsessed. Instead of going out to the bubble tea shop every.single.day, we decided to make it at home. This homemade boba tea recipe is the perfect copycat of most store bought bubble teas!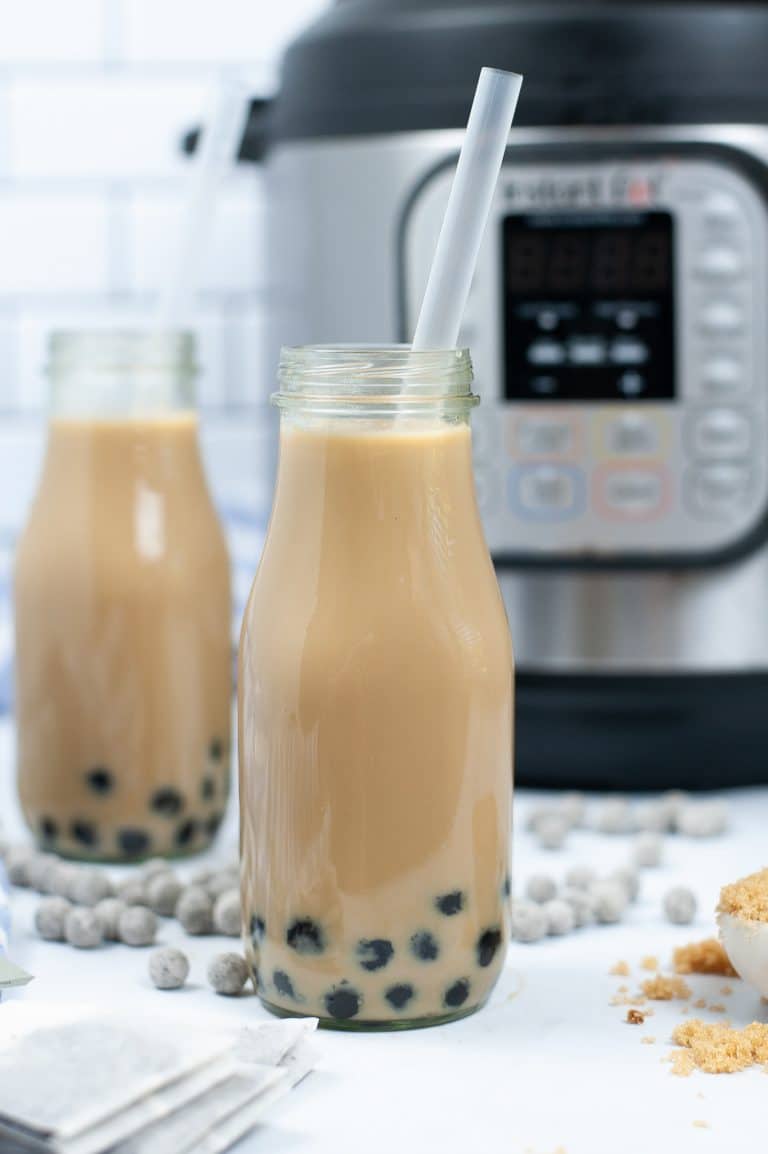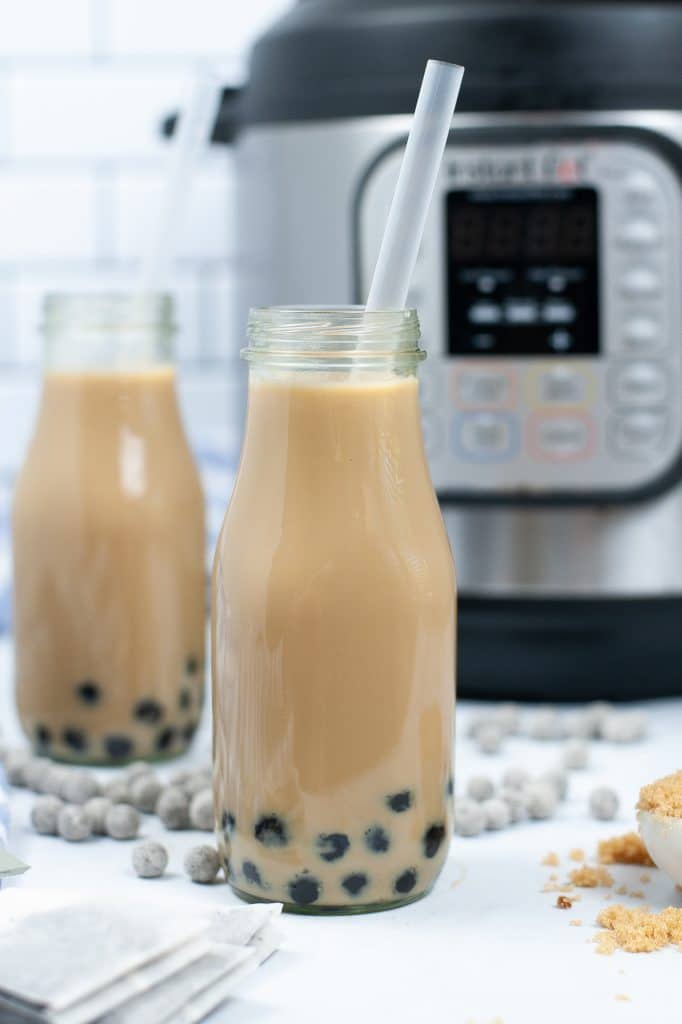 When you're out and about, do you always make sure to stop for Boba? If you love the beverage and the chewy tapioca pearls in it, you'll love knowing that you can make this delicious beverage at home. If you have an Instant Pot, you're in luck because it'll be that much easier for you to make this drink. This Instant Pot Boba recipe is just what you need.
My daughter is very much boba tea obsessed. Every day when I pick her up from school I get the question "Can we stop for bubble tea?!" As much as I love the drink, my wallet can not afford bubble tea every day. So we made a copycat version at home!
What Is Boba?
Boba is a type of bubble tea that was first introduced in the 80s. It has since become a popular beverage served in Asian restaurants around the world and across the country. The beverage is known for its chewy balls at the bottom that are typically made from tapioca. It comes in different flavors, and it's a refreshing beverage to have. It can also be called bubble tea, pearl tea or tapioca tea. We call it delicious!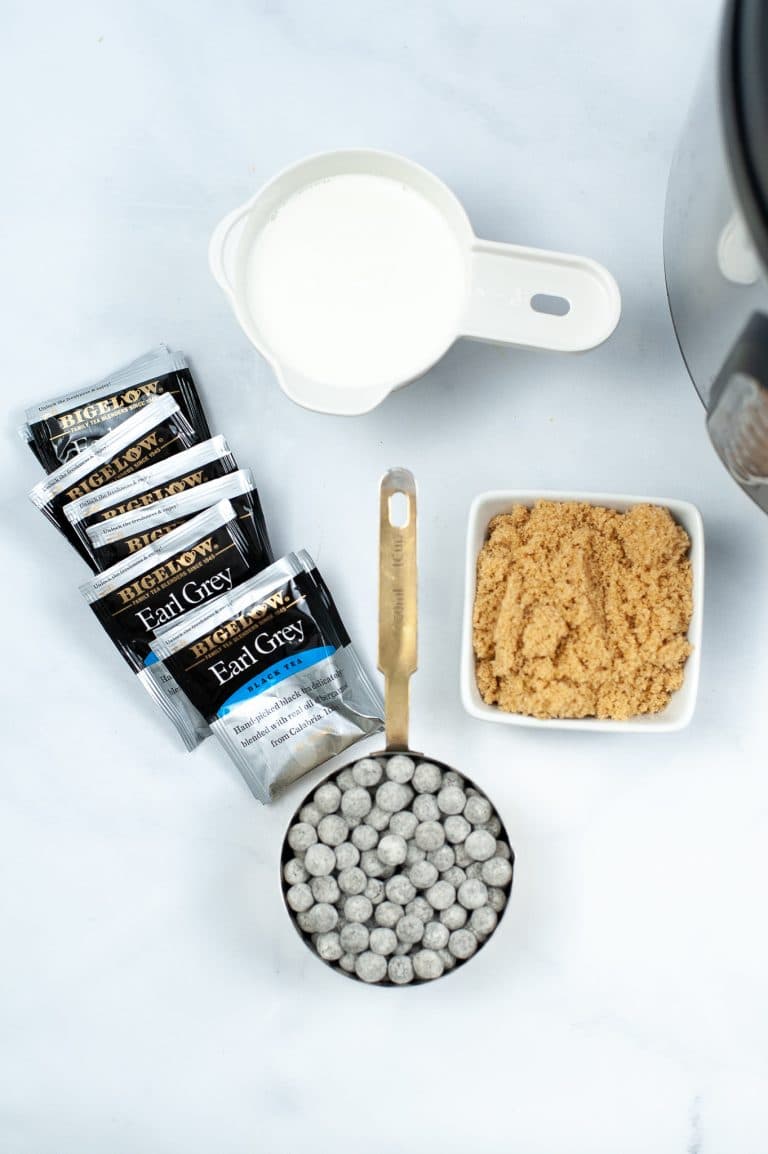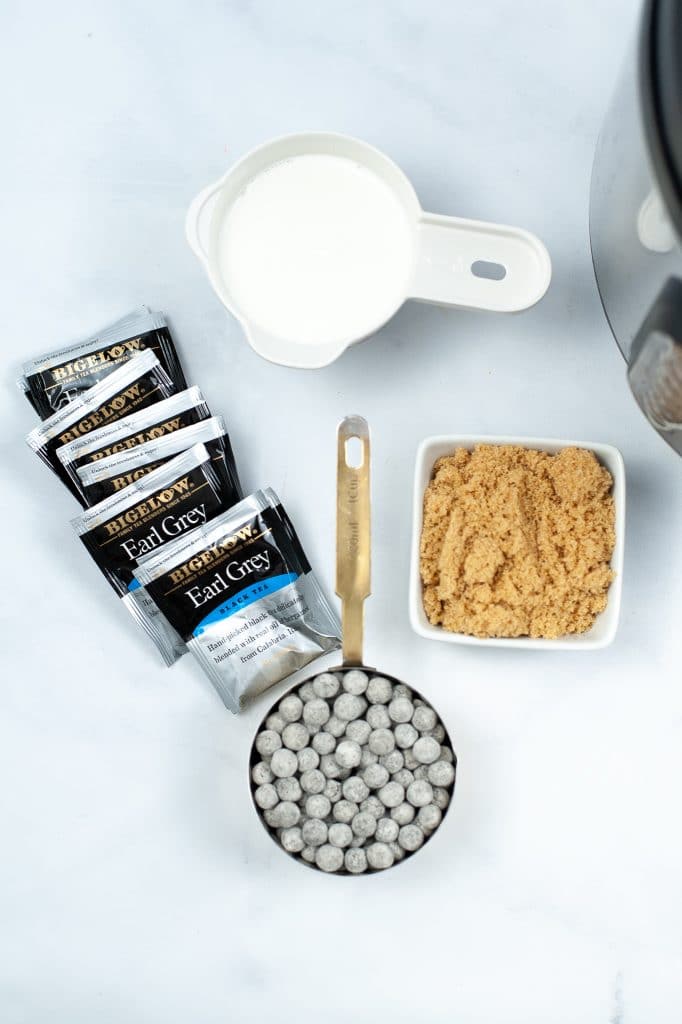 Boba Tea Ingredients
When preparing Instant Pot Boba, you'll need a few simple ingredients. Some of these ingredients may be unknown to you, but others you may have in your cabinet already.
Wufu yuan black tapioca pearls. You should be able to find these in the tea section of your grocery store, but if you can't, you can always find them online. Black boba pearls are sweeter than white.
Earl grey tea bags. To complete your tea, you will also need traditional tea bags.
Brown sugar. Add a little more sweetness to your boba with brown sugar.
Milk. Milk makes this delicious tea creamy and delicious.
How to Make Homemade Boba Tea
Follow these simple steps to prepare the Instant Pot Boba from scratch using your Instant Pot. Don't have a pressure cooker? I'll share stove top instructions for you as well!
Step 1: Add Your Tapioca Pearls to the Instant Pot
Put your boba pearls in the Instant Pot with two cups of water.
Step 2: Pressure Cook
Close the lid, close the pressure valve, and pressure cook for five minutes on high.
Step 3: Natural Release
Let the pressure release naturally after those five minutes.
Step 4: Start Draining
Drain your pearls and then add your brown sugar, stirring for several seconds.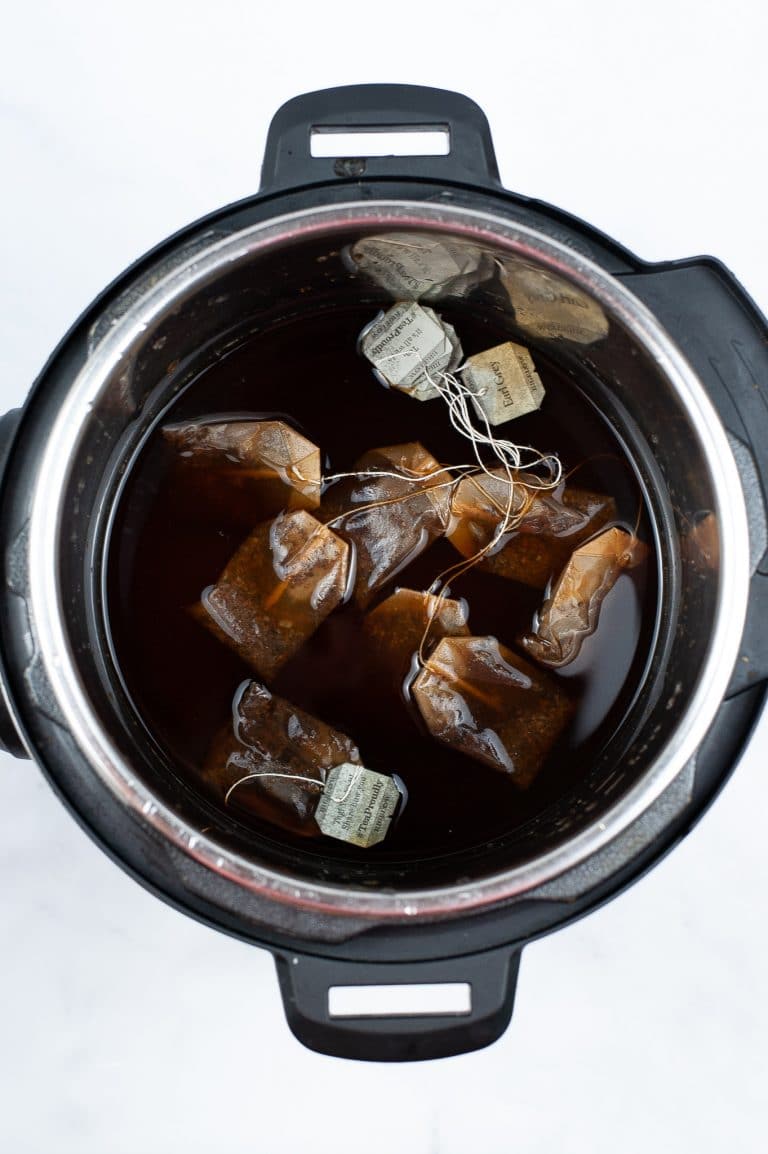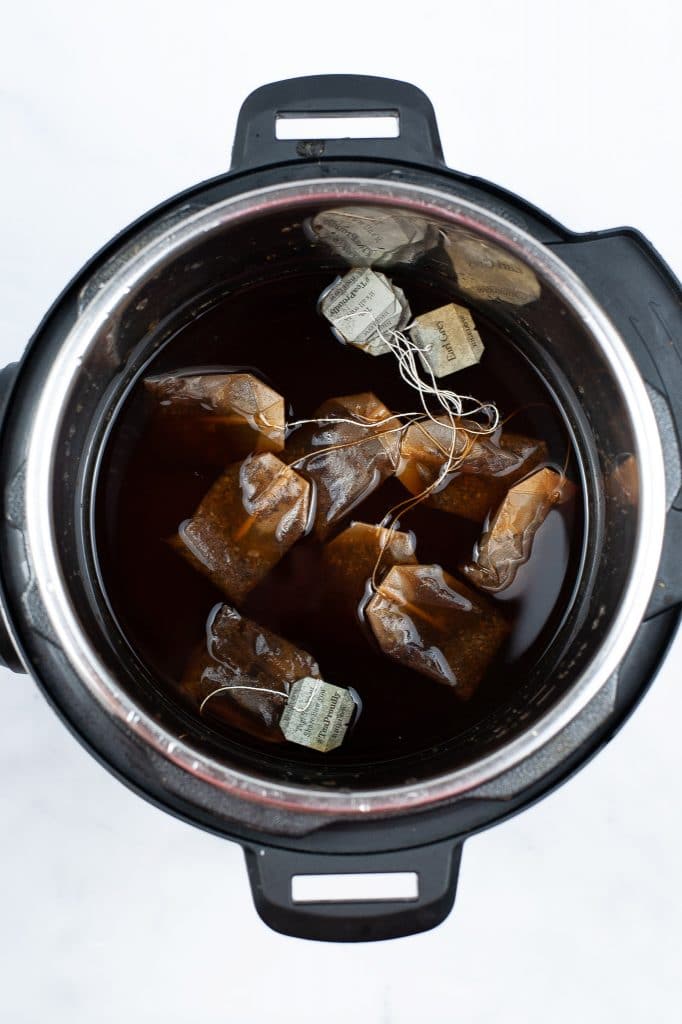 Step 5: Saute and Add Your Tea Bags
Set your Instant Pot to saute and then add four cups of water and your tea bags to the Instant Pot. Let the tea boil before removing the tea bags and then add your sugar and milk to the tea.
Step 6: Pour in a Glass
Add your pearl to a glass with ice and then pour your tea on top of it.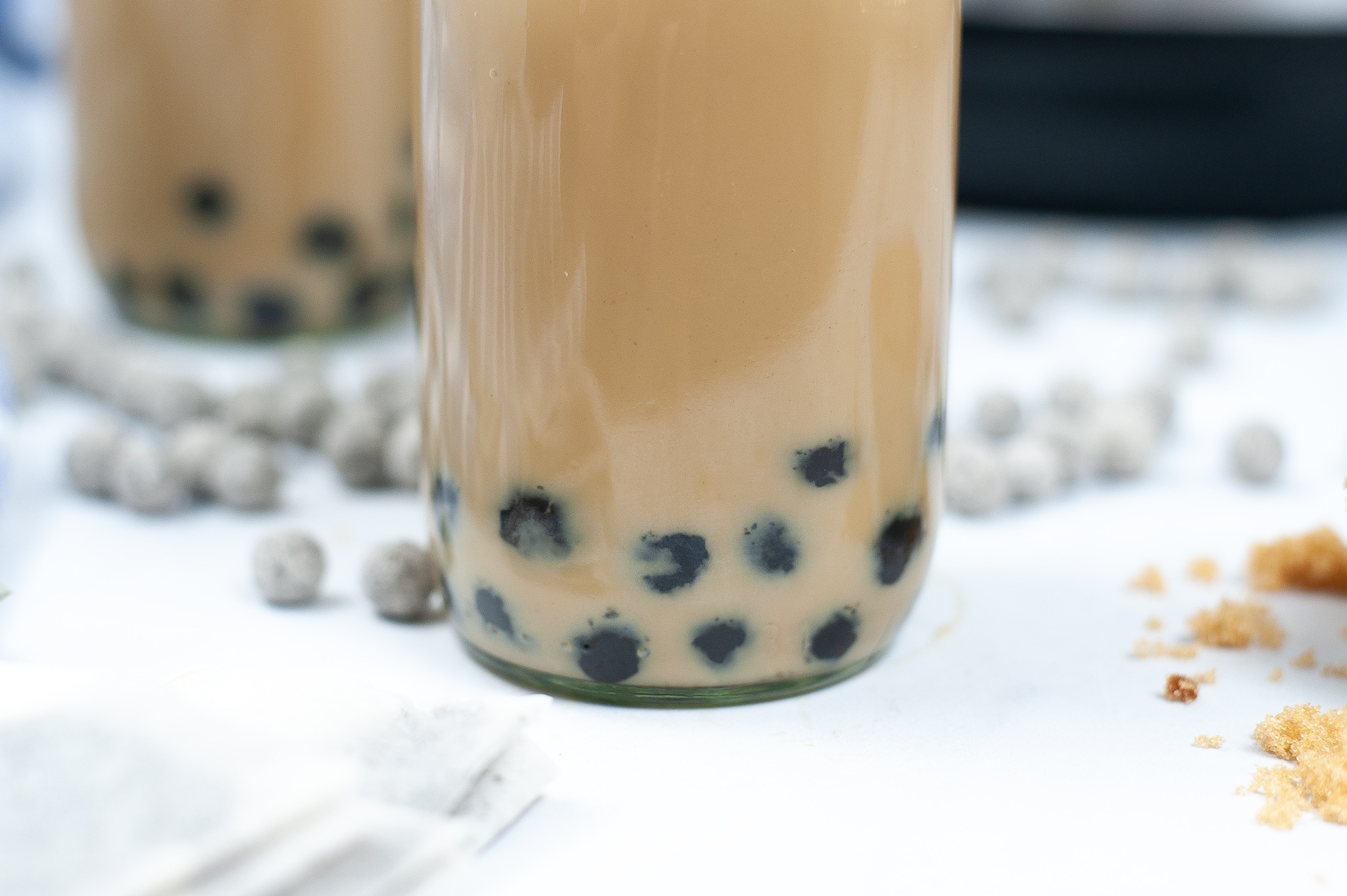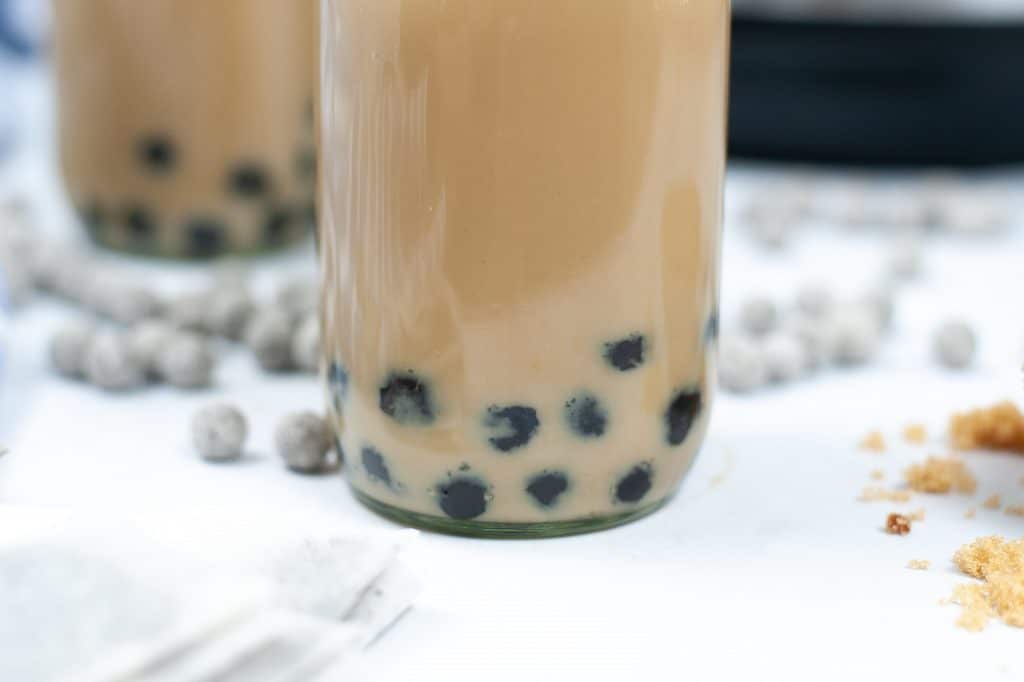 Where Can I Get the Tapioca Pearls?
If you're unable to find tapioca pearls at a local grocery store, you can order them from Amazon. You should be able to find them at most Asian grocery stores. They are pretty popular right now! Grab a pack and make your own homemade boba tea!
Can I Make This on The Stove Top?
If you don't have an Instant Pot, you can make it on the stove top. You'd simply need to watch over the stove to ensure that everything is cooking the way that it should, including the tea when it comes to a boil. I suggest adding the tapioca pearls to one pot and the tea bags to another.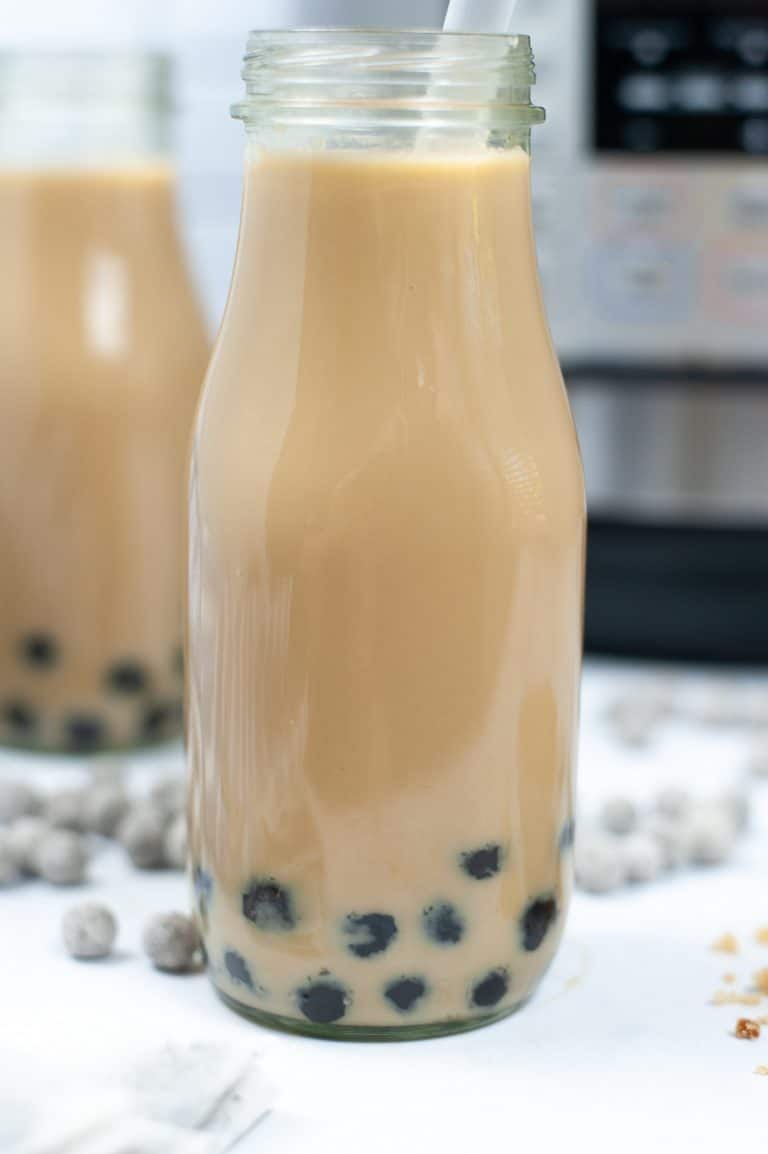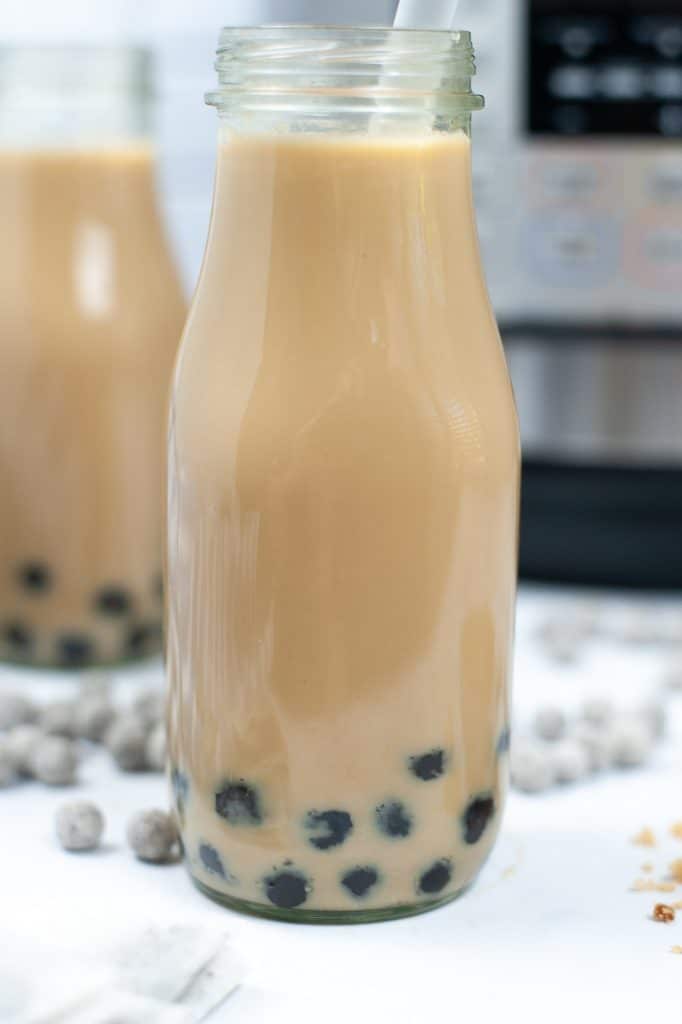 How Many Milk Teas Does This Make?
You should have enough liquid to make at least four milk teas with ice and tapioca pearls in the glass. If you're trying to make enough of the Instant Pot Boba for a small gathering, you can double the recipe. You can follow this Tapioca Pearl Boba recipe, here.
If you are a fan of tea already, you will definitely love this boba tea. It's a sweet and refreshing drink with chewy sweet balls of tapioca. If you liked how easy it was to make in the Instant Pot, please share your success stories in the comments, below!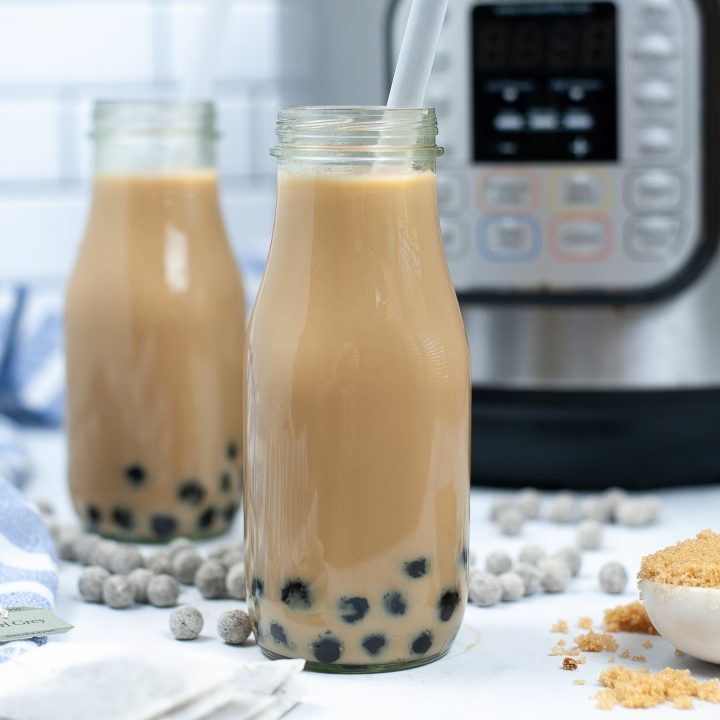 Homemade Boba Tea
Ingredients
· 1 cup of wufu yuan black tapioca pearls
· 1/2 cup of brown sugar
· 2 cups of water
Milk Tea:
· 8 earl grey tea bags
· 4 cups of water
· 3/4 cup of milk
Instructions
1. Place the boba pearls in the instant pot with 2 cups of water. Close lid and pressure valve. Pressure Cook on high for 5 minutes. Release pressure manually when finished.
2. Drain and rinse pearls and add 2 tablespoons of brown sugar. Stir.

3. Set instant pot to sauté and add 4 cups of water and tea bags. Bring tea to a boil and remove tea bags. Add the remaining brown sugar to tea and mix in milk.
4. In a glass, add 1/4-1/2 cups of pearls and mix the tea over ice.
Nutrition Information:
Yield:

4
Serving Size:

1
Amount Per Serving:
Calories:

281
Total Fat:

2g
Saturated Fat:

1g
Trans Fat:

0g
Unsaturated Fat:

1g
Cholesterol:

9mg
Sodium:

77mg
Carbohydrates:

62g
Fiber:

0g
Sugar:

23g
Protein:

4g
Other Tea Recipes to Try
If you enjoy this tea recipe, try some of these other flavorful recipes that are easy to make.
Love this homemade boba tea recipe? Pin it to your favorite tea board! Already tried the recipe? We would love for you to leave a review above to help others!