I have always had a love of squash. Growing up I remember my grandma making it often with meals, my mom made it a bunch for us too. The past two years I have planted squash and watched them grow from little seedlings to beautiful yellow vegetables. The plants are big and leafy and underneath the squash happily grow. Like my mom and grandma, I love cooking up squash. These hasselback squash are easy to whip and totally delicious. [Hello, bacon!]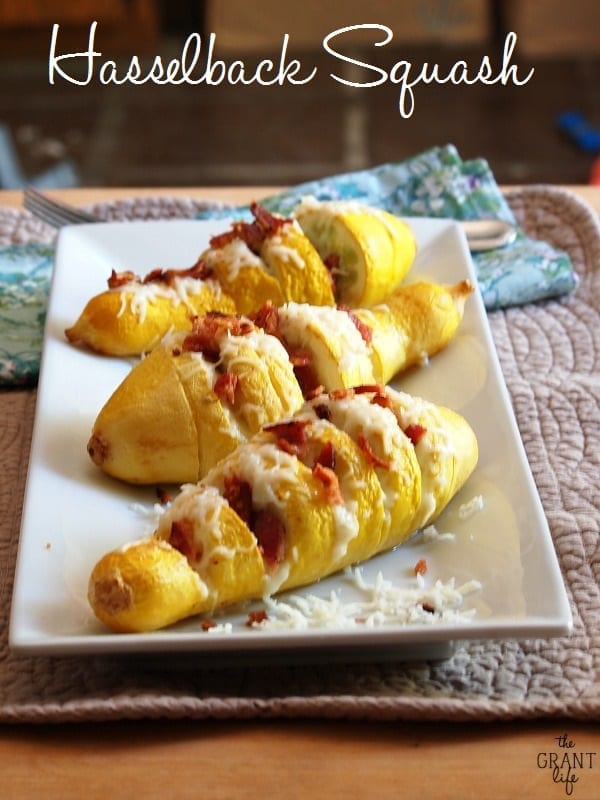 Last year the only thing that we were able to harvest from our garden was a few squash. It was our first time having a garden, so I was pretty pumped with that. We ended up eating squash for a few nights and I dreamed of a bigger garden with dozens of delicious fruits and vegetables.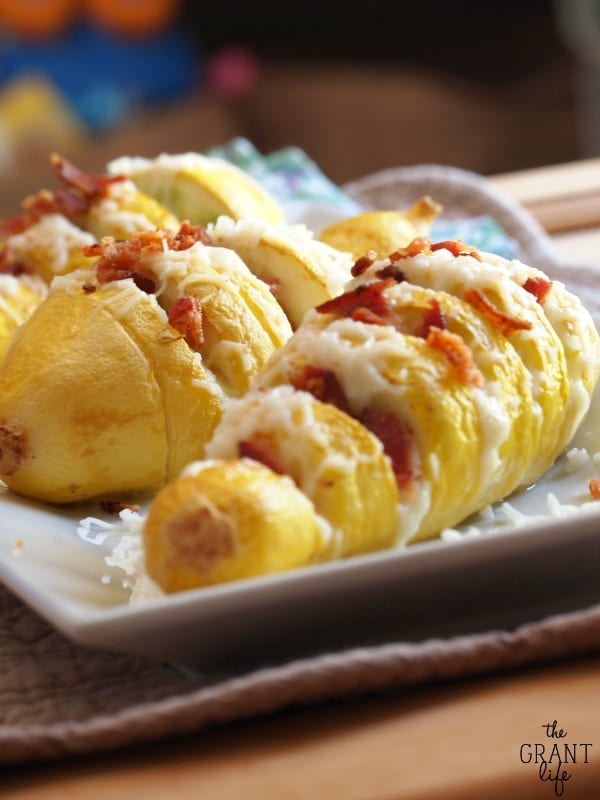 I planted radishes, peas, cucumbers, zucchini, tomatoes, potatoes, bell peppers and jalapenos. I started most of them in K-cups and then transplanted them to the raised beds in the backyard. Everything was growing nicely for a few days, and then one of the dogs [cough Brewster cough] decided to dig in the raised garden and bury his bones.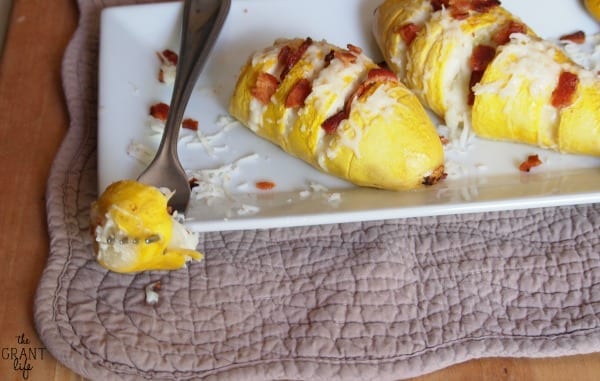 Everything in the garden went ka-put. I added more seeds and some chicken wire around the bed to keep him out, but I guess the damage was done. Nothing is flourishing like it should be. Except the squash. We have two or three large plants with a bunch of yellow flowers in the planter in the backyard. I bet in a few weeks we will have our first crop of squash. And Ill whip up these hasselback squash for the family and dream of next years garden.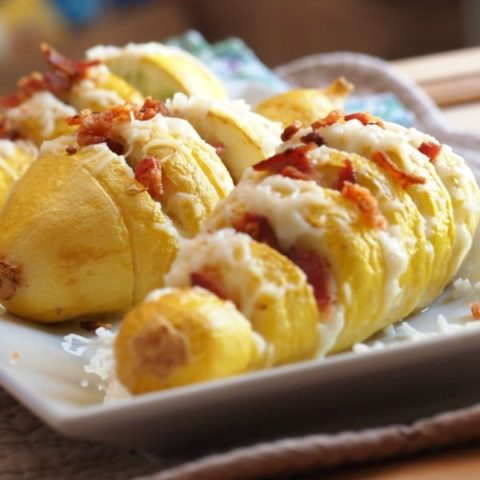 Hasselback Squash
Ingredients
3-5 medium squash
10-15 pats of butter [depends on how many notches you cut]
shredded cheese
4 slices of bacon
2 tablespoons olive oil
salt and pepper to taste
Instructions
Preheat the oven to 350.
Wash and dry the squash.
Cut about 5 notches into each squash. (see notes)
Place a pat of butter in to each notch, or every other notch in the squash.
Place the squash on a cookie sheet, drizzle with olive oil and sprinkle salt and pepper on top.
Bake for 15-20 minutes, or until your squash is soft.
While the squash are baking, fry and crumble your bacon.
Take the squash out of the oven and sprinkle with the cheese and bacon.
Let cool and enjoy!
Notes
To cut the notches, slice the squash like a piece of bread, without cutting all the way through. Then take your knife, put it back in the the slice and cut out a slight angle in the squash. This is where your pat of butter will go.
If you liked this hassleback squash recipe, you might also like:
Or sign up for our emails and have tasty treats delivered to your inbox!