Need a printable grocery list and menu planner? I've got just the thing!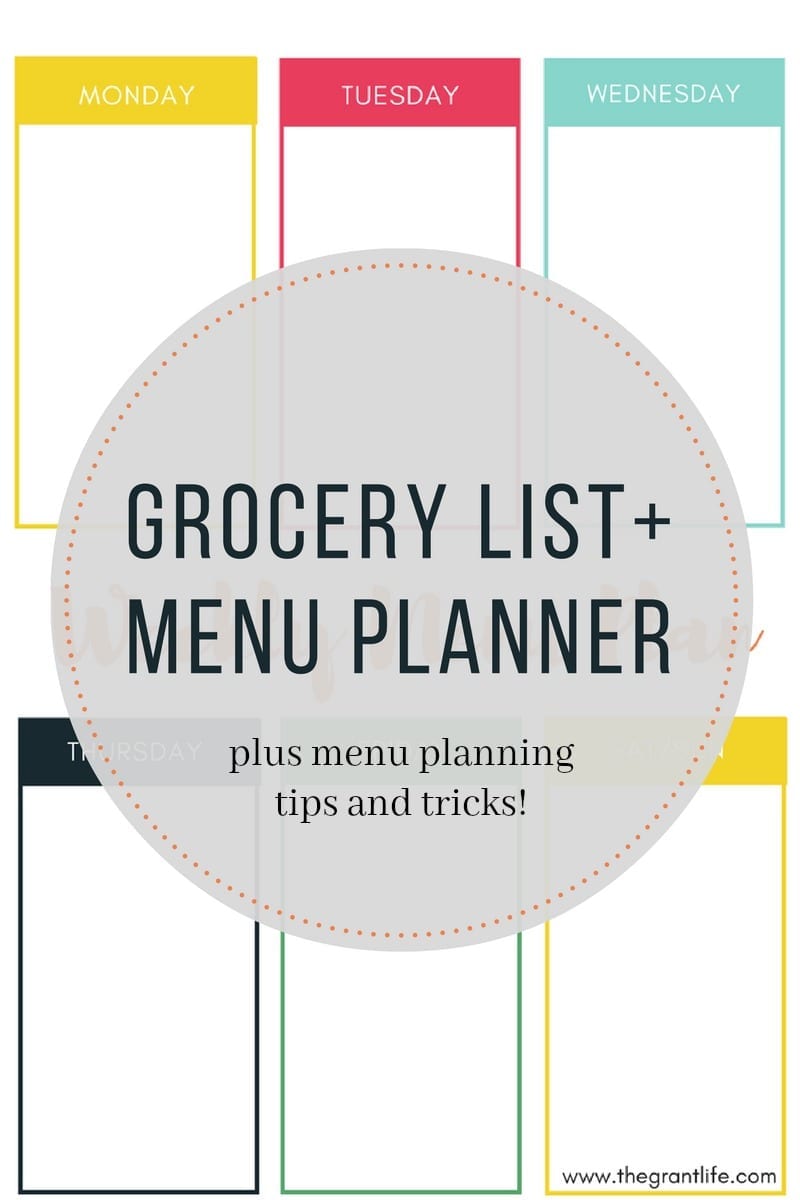 Hey yall! It's the New Year! Are you excited?! Did you make any new years resolutions? I don't make resolutions. I always feel like they put so much pressure on me. And then I worry that I'm not doing the things I need to do to fulfill my resolutions. Then I get just give up. (Sad, but true.)
What I do instead is create goals. I have business and personal goals written down in my brand new notebook. (Because new year means new notebook, right?!) Then I write out how I'm going to achieve those goals.
Here's an example – I want to read more to the kids and myself in the coming year. I wrote down read 6 books for myself and 3 chapter books for the kids. Now I have some sort of plan to help with our reading goal. And if I work backwards and use a little math we have 4 months to read one book. Totally do-able! So we will pick up our first book and then reward ourselves when we are finished with a new one.
It's kinda like a resolution but with a plan.
After checking out our bank account, I also realized that we need to stop eating out so much! I think the holidays threw us off and we just grabbed something quick to eat. But with the new year, I am setting a goal to eat at home 6 days a week. Which may seem totally crazy, but I love to cook! I just need to be organized enough and plan out our meals to actually stay on track.
Which leads me to the grocery list and menu planner! I love being able to sit down and write out our menu for the week. It makes me happy and keeps me motivated. I created some printables to help me and I'm sharing them with yall today!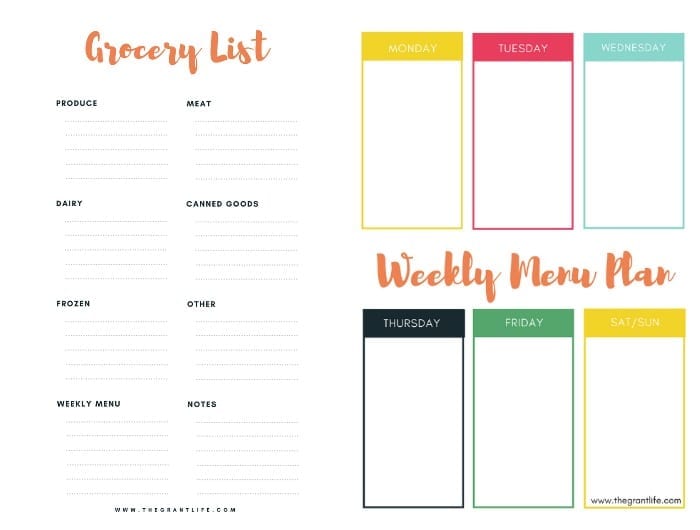 Here are some tips on how to use the free printables.
Start with what you have on hand – use those ingredients to make a meal

For example, I have bell peppers sitting in my vegetable tower. The first thing that comes to mind is southwest stuffed peppers. I add that to our weekly menu plan.

Add the ingredients that you need to finish on your grocery list

In my example I need rice so I add that to the "other" section.

Factor in a leftover night.

This takes the pressure off cooking EVERY night. Even if you have a night of all the leftovers in the fridge, it's one less night of cooking. (And helps clear the fridge for next week!)

Factor in date night, nights not at home and other special events.

Make sure to add these special nights to your menu plan so you know not to take out meat or set aside your ingredients.

Use Pinterest or our weekly menu plans for inspiration.
Have fun with it!

Don't stress or worry about dinner. Have the kids help whenever possible and make it fun for them as well. It's a family meal so get the family involved as much as possible.
Are you ready to tackle menu planning?! All you need now are the printables. If you enter your email I will send them right over to you so that you can get started today!
Grocery list + menu planner
Looking for a super cute grocery list and menu planner? I've got you covered! Enter your email to get both FREE!
Happy planning!