Hey yall! Welcome to another #blogfilmfood! The idea of this series is simple – we have a virtual movie night and potluck with our friends. This month I was in charge of the movie selection. I had a ton of ideas run through my head, but stuck with My Big Fat Greek Wedding! So this month we are all sharing delicious Greek recipes inspired by one of my favorite movies. And surprise! I brought a Greek pasta skillet to the potluck.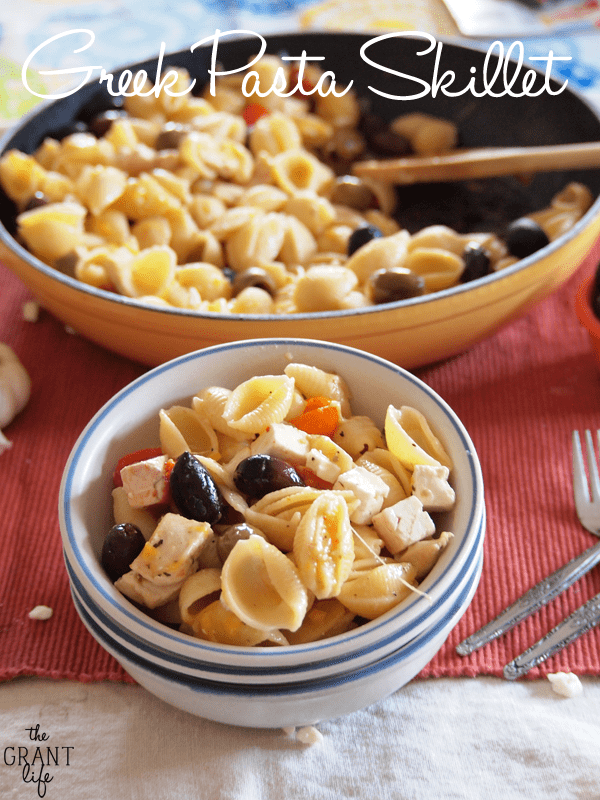 I'm not a huge movie person, but I do remember exactly where I was when I first heard about My Big Fat Greek Wedding. I was walking to class with a few of my friends during my junior year of high school. My friend John declared that he was going to see the movie the coming weekend and that we should all go. That memory is so vivid. I remember walking down the breezeway and staring at the red doors that led to the lockers. We stopped and he told us what the movie was about as we leaned against the metal rails right next to the doors.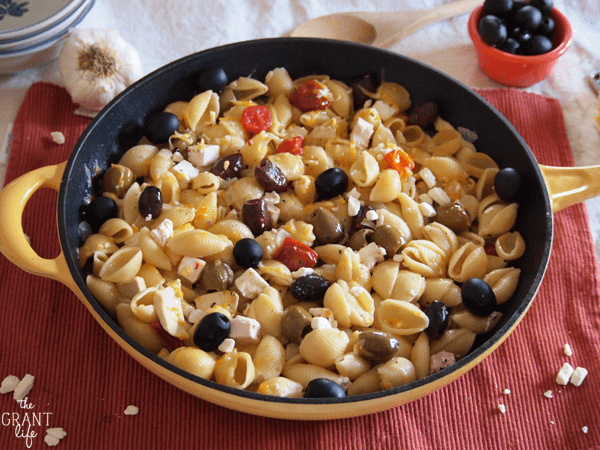 It such a strong memory. I even sometimes have dreams of it. Which I find funny because its not a very exciting memory. I don't even recall the first time actually watching the movie. We all might have gone to see it in the theater, but I'm not sure. Despite not remembering when I first saw it, I do remember watching it over and over during high school and college. Its one of those movies that you can't turn off once its on.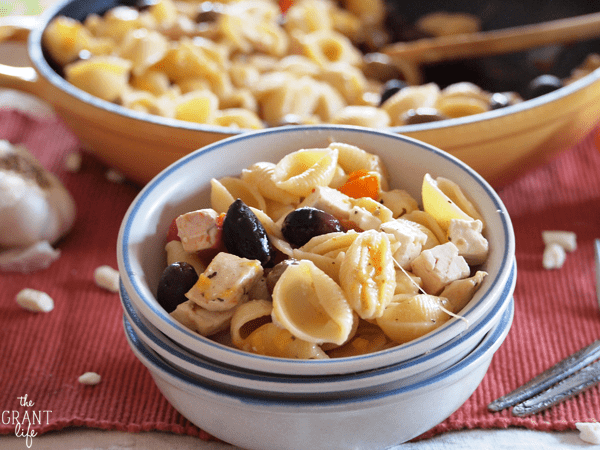 And despite watching and loving the movie, I had never had real Greek food until my bacherolette party. My party was at Greek Town casino and hotel in Detroit. We started eating at an authentic Greek restaurant downtown. The food was pretty darn amazing. And so was my party. I won't go into details but when Ryon say me the next day he said "You look like death". [It may have been a rough night.] And I get to carry that memory with my forever too. [Lucky girl, I know!]
Like this recipe? Be sure to check out my other one skillet meals: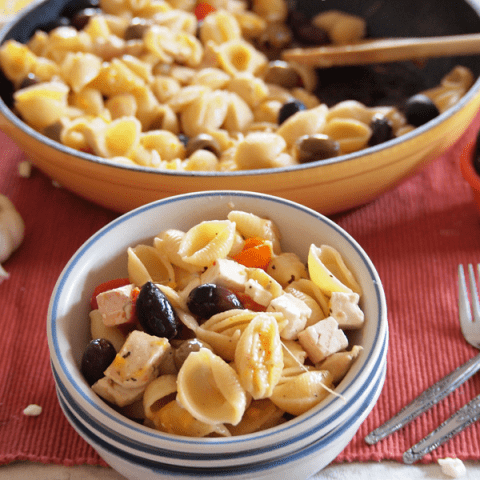 Greek Pasta Skillet
Ingredients
12 oz pasta of choice
2 small chicken breasts, cubed
1 medium sized onion, diced
1/2 cup of cherry tomatoes
1 tablespoon garlic powder
1/2 cup feta cheese
1/2 cup kalamata olives with juice (keep about 1/8 cup)
1/2 cup black olives
1/2 cup cheese of choice
2-3 cups of water
Instructions
Saute the onions and tomatoes.
Add the chicken and garlic powder and cook thoroughly.
Pour in the water and the add the pasta.
Push the pasta underneath the water and let simmer for about 15 minutes.
Drain excess water if necessary.
Toss the cheese over the warm pasta.
Add your feta and olives including the juice.
Let cool and enjoy!
Nutrition Information:
Amount Per Serving:
Calories:

2218
Cholesterol:

272mg
Sodium:

2362mg
Carbohydrates:

287g
Fiber:

19g
Sugar:

20g
Protein:

127g
And here is what the other girls brought to our movie night: