Its time for another confession yall. I am not a fan of quinoa. And I bet that statement is met with one of two reactions – either shock that I don't like it or confusion as to what the heck quinoa is. I was the in latter group. Then I found and recreated a quinoa recipe that changed my mind. And of course I made it in my skillet. I bet if you try this chipotle quinoa skillet it will change your mind too! [Pinky swear.]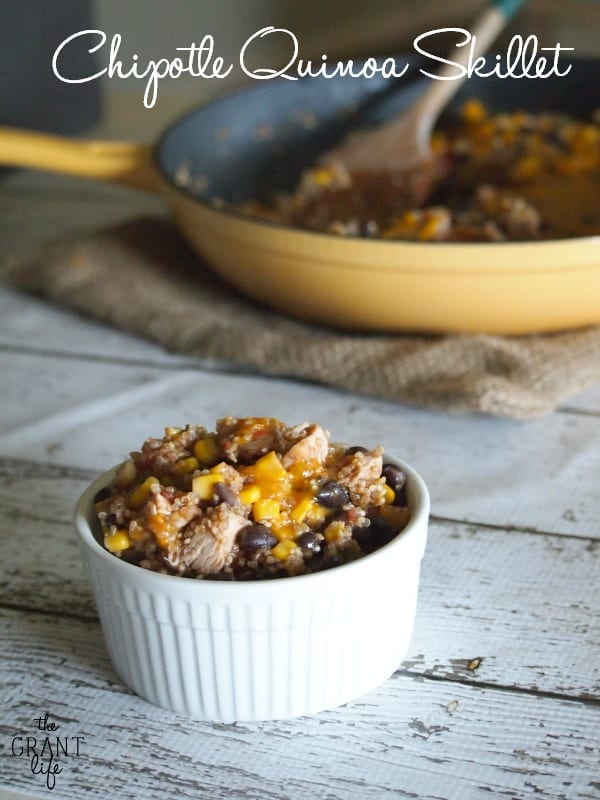 I can't even remember the first time I tried quinoa but I do remember not liking it. At all. It tasted like dirt. I quickly swore it off and scoffed at any quinoa recipe I saw on the interwebs. Then my friend Cathy from Lemon Tree Dwelling posted an amazing taco bowl quinoa recipe and I started to drool a little. What?! But it has quinoa! Why are you drooling mouth?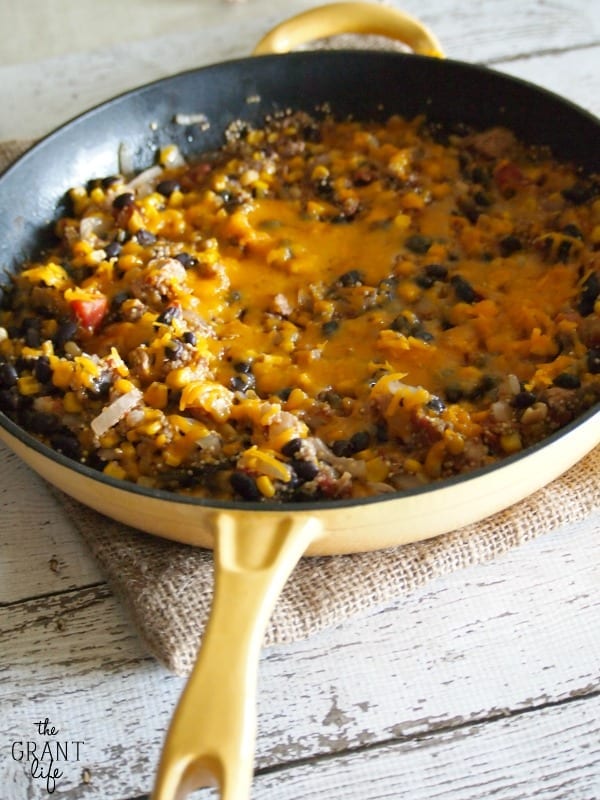 Cathy told me that quinoa picked up whatever flavors it is cooked with. I loved her quinoa taco bowls so much that I decided to create a similar recipe in my skillet. I'd done pasta and rice so quinoa was the next logical choice.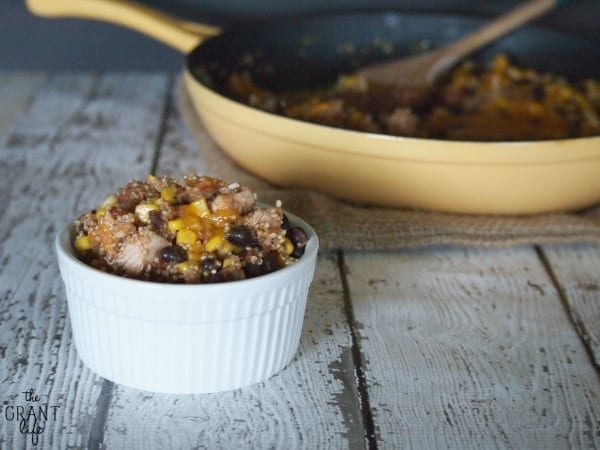 Now I bet your either thinking – yum! Or still wondering what quinoa is at this point. Well, it's a grain that is naturally gluten free and full of protein and fiber. It's very good for you and some people eat it as a meat substitute.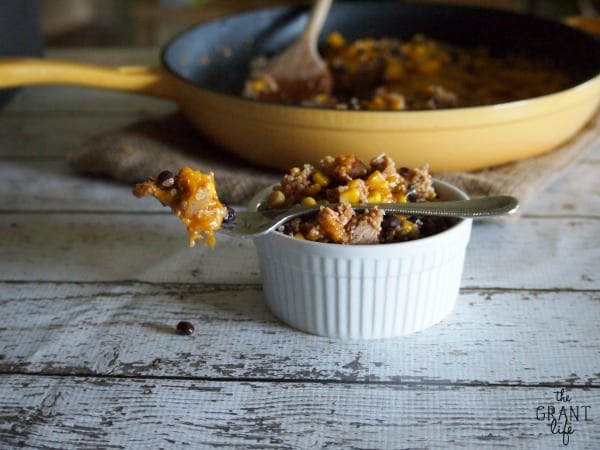 Or some people add meat anyways and then cover it in cheese. I'm the latter person. And if you're still on the fence about quinoa, give this quick and easy recipe a try. It's all cooked in one skillet and tastes nothing like dirt. [Pinky swear]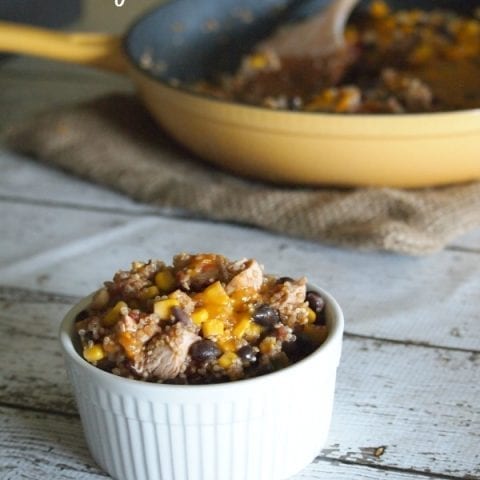 Chipotle Quinoa Skillet
Ingredients
1 medium onion, chopped
1 pound of chicken, cubed
1 15 oz can of chipotle corn
1 can of diced tomatoes
1 can of black beans
1 cup quinoa
2 cups of water
1 cup shredded cheese
spices to taste
Instructions
Saute the onion in the skillet until translucent.
Add the chicken and cook until no longer pink.
Pour in the corn and tomatoes with the water.
Drain the black beans and add them it.
Add the quinoa and the water.
Bring to a boil in the skillet.
Let cook for about 15 minutes, or until the quinoa turns a light gold color and the outer ring starts to fall off.
Remove from the burner and add cheese on top.
Let cool and enjoy!
Nutrition Information:
Amount Per Serving:
Calories:

2080
Cholesterol:

522mg
Sodium:

5840mg
Carbohydrates:

138g
Fiber:

22g
Sugar:

14g
Protein:

188g
Want more recipes like this one? Try: