French Onion pork chops are a delicious dinner recipe that is easy to make and full of flavor. It's great for busy weeknights and fancy enough for special occasions. Let me show you how to make your new favorite pork dinner – French onion pork chops!
We love pork chop night at our house. My kids gobble them up and most of the time we don't even have leftovers. I love them because they are easy to make and delicious. Plus, no one complains on pork chop night. I love pork chop night.
These French Onion pork chops are fun twist on traditional pork chops. They are cheesy and full of flavor. The kids love this version just as much as plain chops. You take a classic pan fried pork chop and smother it in caramelized onions and cheese. Seriously, what's not to love?!
Why you'll love French onion pork chops
Pork chops are always a great idea for dinner. Some of the reasons we love this French onion version is:
Easy to make: These chops look decadent, but are really simple to make. They are even great for busy weeknights
Full of flavor: The flavor from the caramelized onions take regular pork chops and set them a step above.
Side dish friendly: You can add almost any side dish to these pork chops to round out your meal.
French onion pork chop ingredients
To make these pork chops you will need some fairly common ingredients. You will need to grab:
Pork Chops
Butter (unsalted)
Garlic (minced)
Yellow Onions
Garlic Powder
All-Purpose White Flour
Beef Broth
Mozzarella Cheese
Salt and Pepper (to taste)
Fresh Parsley (garnish)
Ingredient FAQs and Substitutes
Pork chops – You will want boneless thick cut pork chops for this recipe. You can also use butterfly chops. I do not recommend using thin cut pork chops here.
Onions – I love using yellow onions, but you can use white, sweet or even Vidalia onions in this recipe.
Beef broth – Bone broth can be used or even chicken broth.
Mozzarella – Pre-shredded will work great in this pork chop recipe. You can also use fresh mozzarella or buy the brick and shred it yourself.
How to make French Onion pork chops
After you have gathered all of your ingredients, you will also need to grab:
Cutting board and knife
Large skillet
Spatula
Tongs or fork
Foil
Step 1 Saute the onions In your large skillet add the butter, onions and garlic. Allow to cook until caramelized, stirring occasionally so the onions don't stick to the pan.
Step 2 Sear the pork chops Season your pork chops while your onions are cooking. Remove the caramelized onions and sear your pork chops on each side, about 2 minutes per side. Set the pork chops on a plate.
Step 3 Create the sauce Add in your flour and beef broth, stirring, to create a paste. Continue to add the broth until a sauce forms. Add your onions and pork chops back into your skillet.
Step 4 Add mozzarella cheese After you add the pork chops back into the skillet, top with mozzarella cheese. You can cook on the stove top for a few more minutes or pop it in the oven. Allow the cheese to melt and serve.
Do I have to bake French onion pork chops?
You can! In order to get the mozzarella cheese to melt you need to cook the pork chops a bit longer. You can do that on the stove top by adding a lid to your skillet, or add the pork chops, onions and sauce to a baking dish. Pop in the oven for 4-5 minutes at 350 degrees to melt the cheese and cook the chops through. You can also place the skillet in the oven if it is oven safe.
Other cooking methods
This pork chop dinner is easy to make on the stove top, but you can also make it in your Instant Pot or even your Crock Pot. Follow the instructions below on how to make this using different cooking methods.
Instant Pot instructions
Using your Instant Pot will give you a tender and juicy pork chop! To make them you will need to:
Set your pressure cooker to saute and cook the onions, butter and garlic until tender.
Remove the onions.
Sear the pork chops and each side and remove.
Scrap the bottom of the pot to remove any stuck on bits.
Place the pork chops (you may have to stack them with a rack) and the onions back in the pot along with 1 cup of broth.
Cook on high pressure for 8 minutes.
Manually release the pressure.
Make a roux on the stove by combining a tablespoon of butter and flour.
Pour the roux into the pot and stir to combine.
Cover the pork chops with cheese and place the lid back on.
Allow the cheese to melt and then serve.
Crock Pot instructions
You can also make these in the Crock Pot!
Sear your pork chops in a skillet on the stove, about 2 minutes per side.
Add the seasoned pork chops, onions, garlic and broth to your slow cooker.
Cook on low for 6 hours.
Remove the pork chops and place them in a baking dish. Cover with mozzarella and bake for 4-5 minutes at 350 degrees to melt the cheese.
Create a roux or add cornstarch to the Crock Pot to thicken up the sauce.
Serve a pork chop with onions and sauce.
FAQs about French Onion Pork Chops
What kind of pork chops do I need?
You will need boneless thick cut pork chops for this recipe. If you have thin chops or bone-in, you will have to adjust your cook time.
Why do I have to pan sear the pork chops first?
Searing the pork chops helps lock in the juice and creates a great texture. You don't have to sear them first but then you would need to increase your cook time.
Side dish suggestions
These pork chops lend to many different sides. Some of our favorite side dishes to add are:
How to store leftovers
Place any leftover pork chops in a Ziplock bag or a Tupperware in the fridge. They will stay fresh for 2, maybe 3, days. Reheat them in the microwave.
Can I freeze these pork chops?
Yes, you can freeze these pork chops. Place them in a Ziplock bag, remove the air and put them in the freezer. They will keep for 3 months. Allow to thaw and then reheat in the microwave or oven.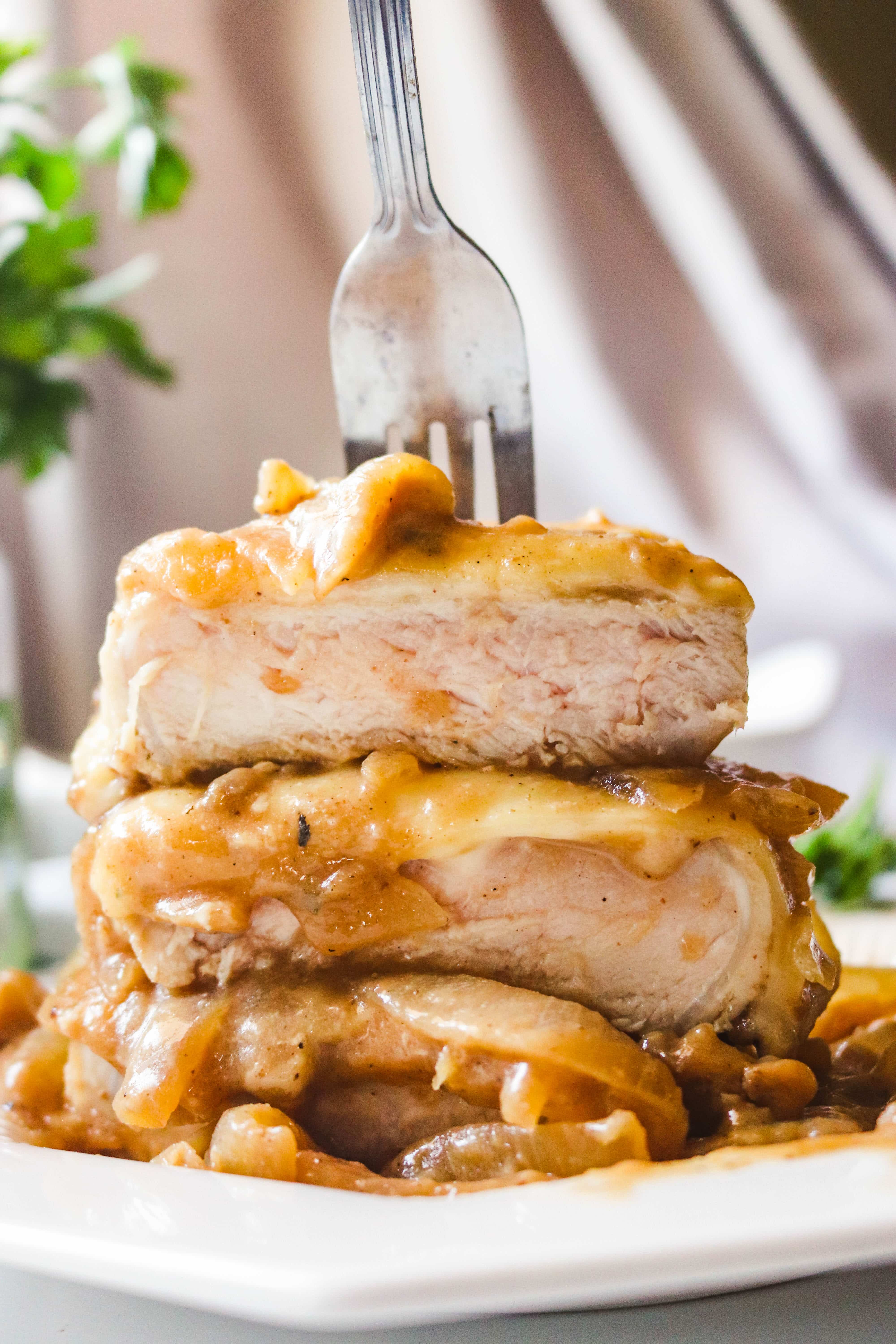 French Onion Pork Chops Recipe
Make these decadent pork chops for an easy dinner everyone will love!
Ingredients
6 Pork Chops (boneless)
2 tablespoons Butter (unsalted)
3 cloves Garlic (minced)
2 large Yellow Onions (sliced, see note)
½ teaspoons Garlic Powder
2 tablespoons All-Purpose White Flour
1 1/2 cups Beef Broth
1 cup Mozzarella Cheese
Salt and Pepper (to taste)
Fresh Parsley (garnish)
Instructions
1. In a large non-stick skillet, melt the butter over medium heat. Add the sliced onions and minced garlic to the pan and saute for 15 minutes to caramelize. Stir the onions periodically to avoid burning to the bottom of the pan.
2. While the onions are cooking, set your pork chops onto a plate in a single layer. Coat one side of the pork chops with the garlic powder, salt and pepper. Set aside.
3. Once onions have caramelized, move from the pan to a small bowl and set aside. Turn the heat to medium-high and sear each side of the pork chops (approximately 2 minutes per side). Once each side of the pork chops have been seared, move them back to the plate and turn the heat down to a medium-low temperature.
4. Add in the flour to the skillet and stir. Pour in approximately one tablespoon of the beef broth to the pan (this should form a paste with the flour). Slowly add in the rest of the broth and stir.
5. Add the onions back in and then return to a medium heat. Let the broth come to a simmer, stirring constantly to thicken the sauce.
6. Once the sauce has thickened, add the pork chops back into the pan and top with the mozzarella cheese. Cover and cook for another 4-5 minutes (3-4 minutes if you prefer a slightly pink center).

6. Remove from heat and serve immediately.
Other pork recipes to try
Did you make this recipe? I'd love for you to leave a review in the recipe card above or the comments below.
Want to make it later? Pin the image below to your favorite dinner board! THANK YOU for the support!