The perfect combination of fall flavors are mixed together in this delicious fall Moscow mule. You will want to make a pitcher to share with friends and family during the cool months together. Let me show you how to make this autumn inspired drink today.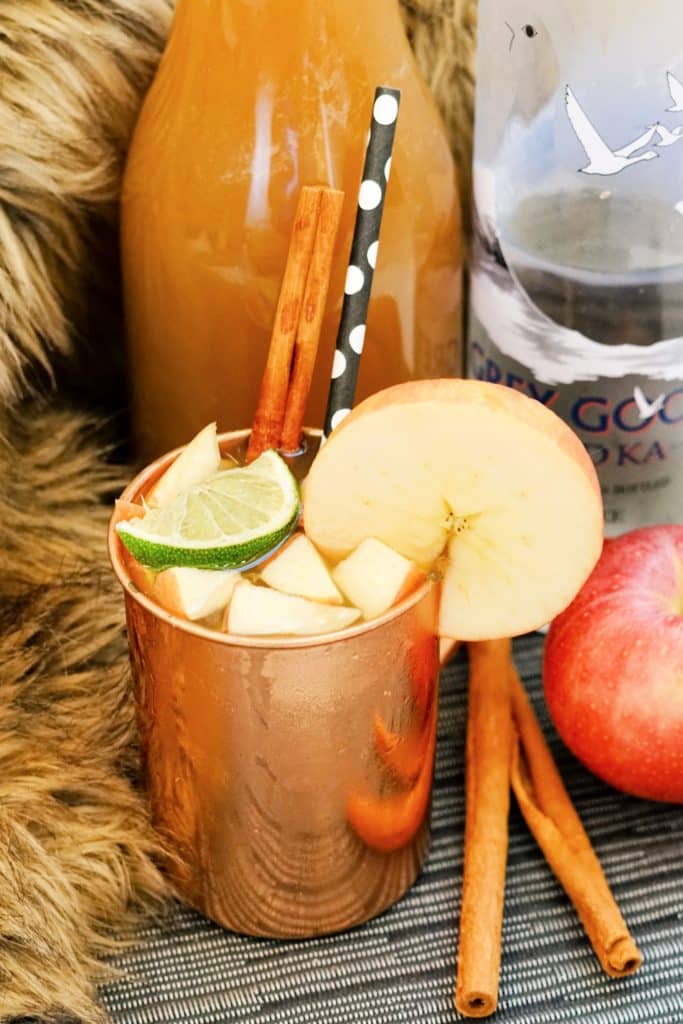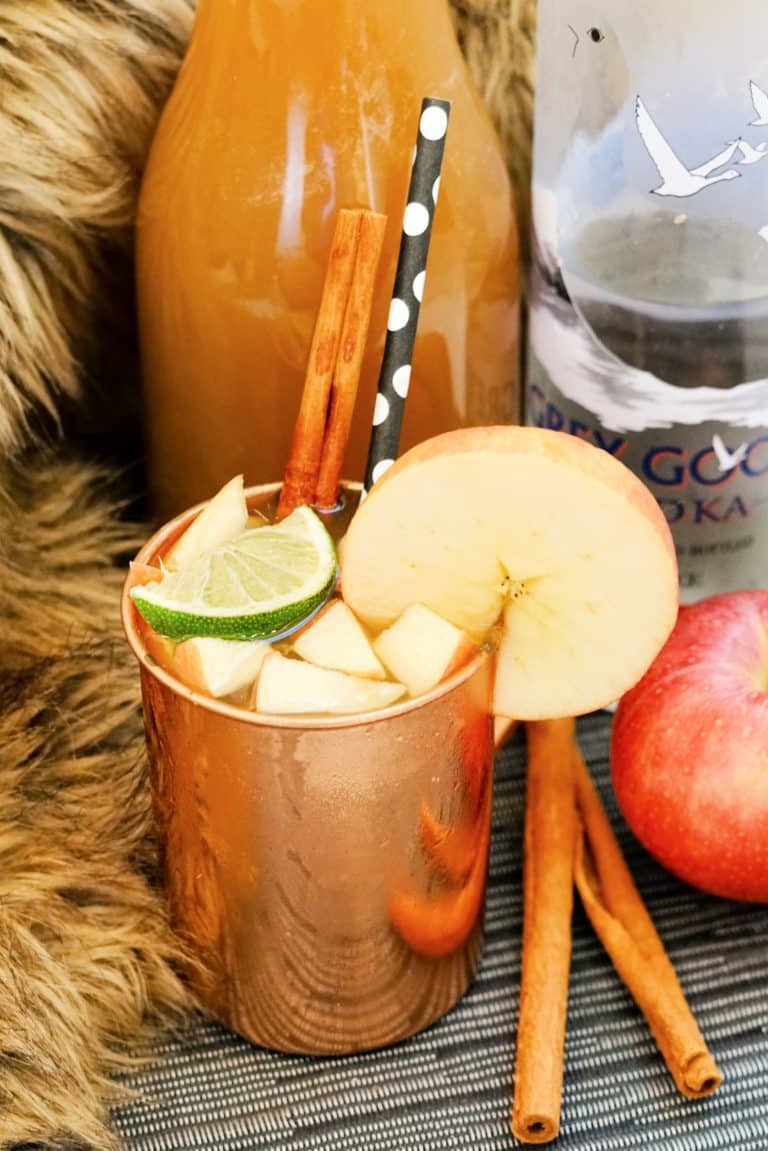 We love a good seasonal inspired drink in our house. It's always nice incorporate the flavors from the current season into our routine. This fall Moscow Mule is one of those drinks that once the weather starts to get cooler, becomes a staple in our rotation.
What is a fall Moscow Mule?
A classic Moscow Mule is one that combines vodka, ginger beer and lime juice. It is typically served in a copper mug. There are many different versions of a classic mule, my fall inspired drink being one of them. The fall Moscow mule combines the classic ingredients of vodka, ginger beer and lime juice with apple cider! It's super refreshing and perfect for any fall day.
Fall inspired Moscow Mule ingredients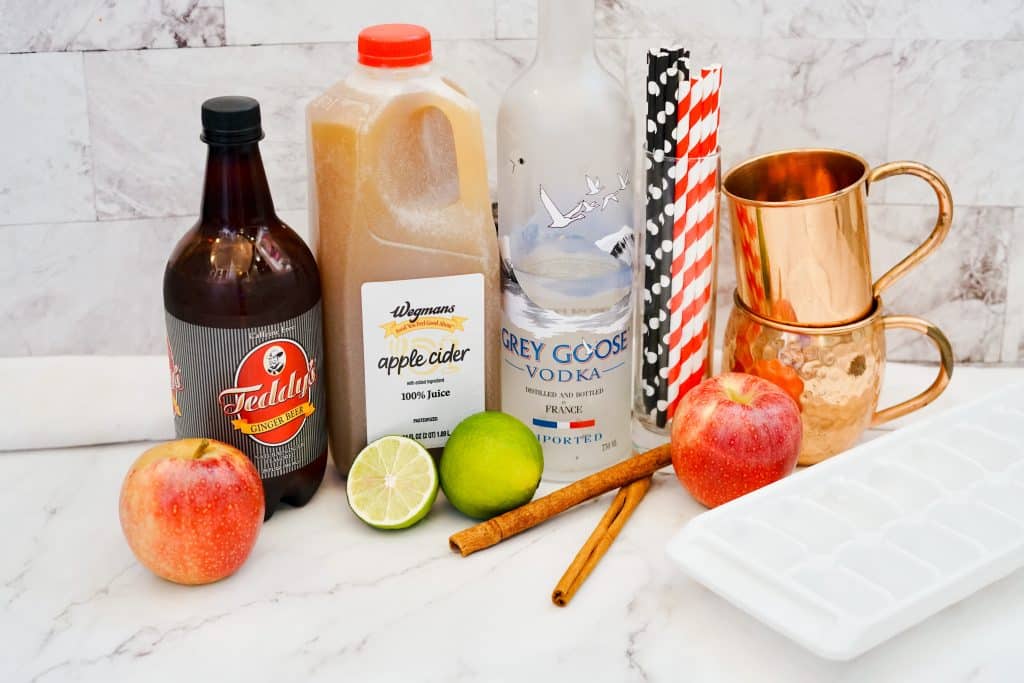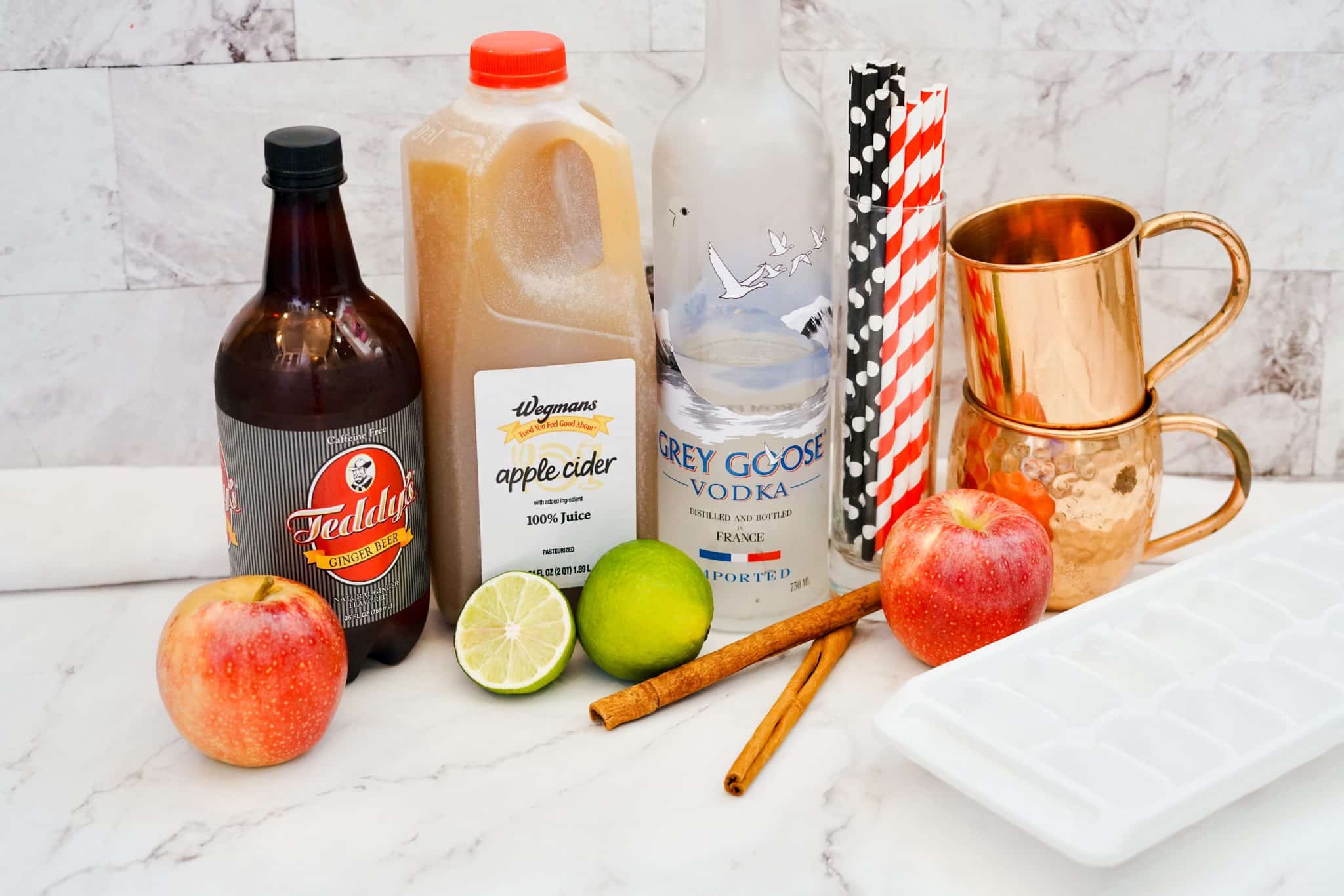 To make your own fall Moscow mule you will need the following ingredients:
Vodka
Lime juice
Apple cider
Ginger beer
Optional garnishes – lime wedges and apple slices
Vodka – You can use your favorite vodka in this recipe. Any vodka will work!
Lime juice – Juice from a fresh lime works best here. You can then slice the lime and use it for garnish!
Apple cider – Any apple cider will work. I do suggest cider and not apple juice in this recipe. We love using local apple cider whenever possible.
Ginger beer – You can find ginger beer in the beer aisle of most grocery stores. Feel free to use your favorite ginger beer for this mule!
How to make an autumn Moscow Mule
This recipe makes ONE drink, but you can easily double or even make a pitcher to share. After you have gathered all your ingredients you will also need some ice and a copper mug.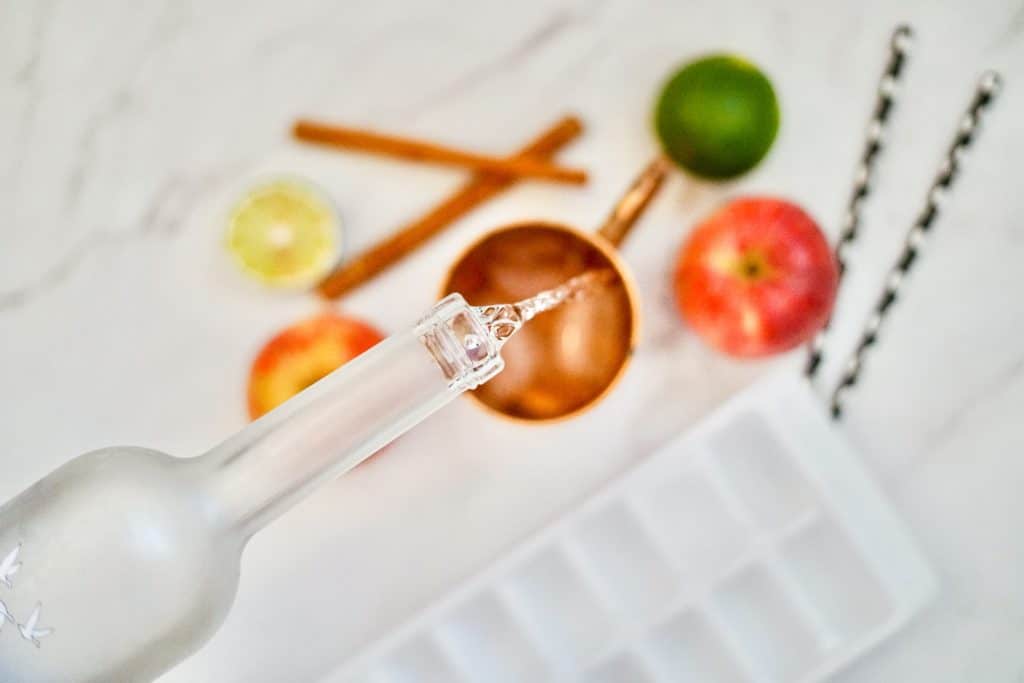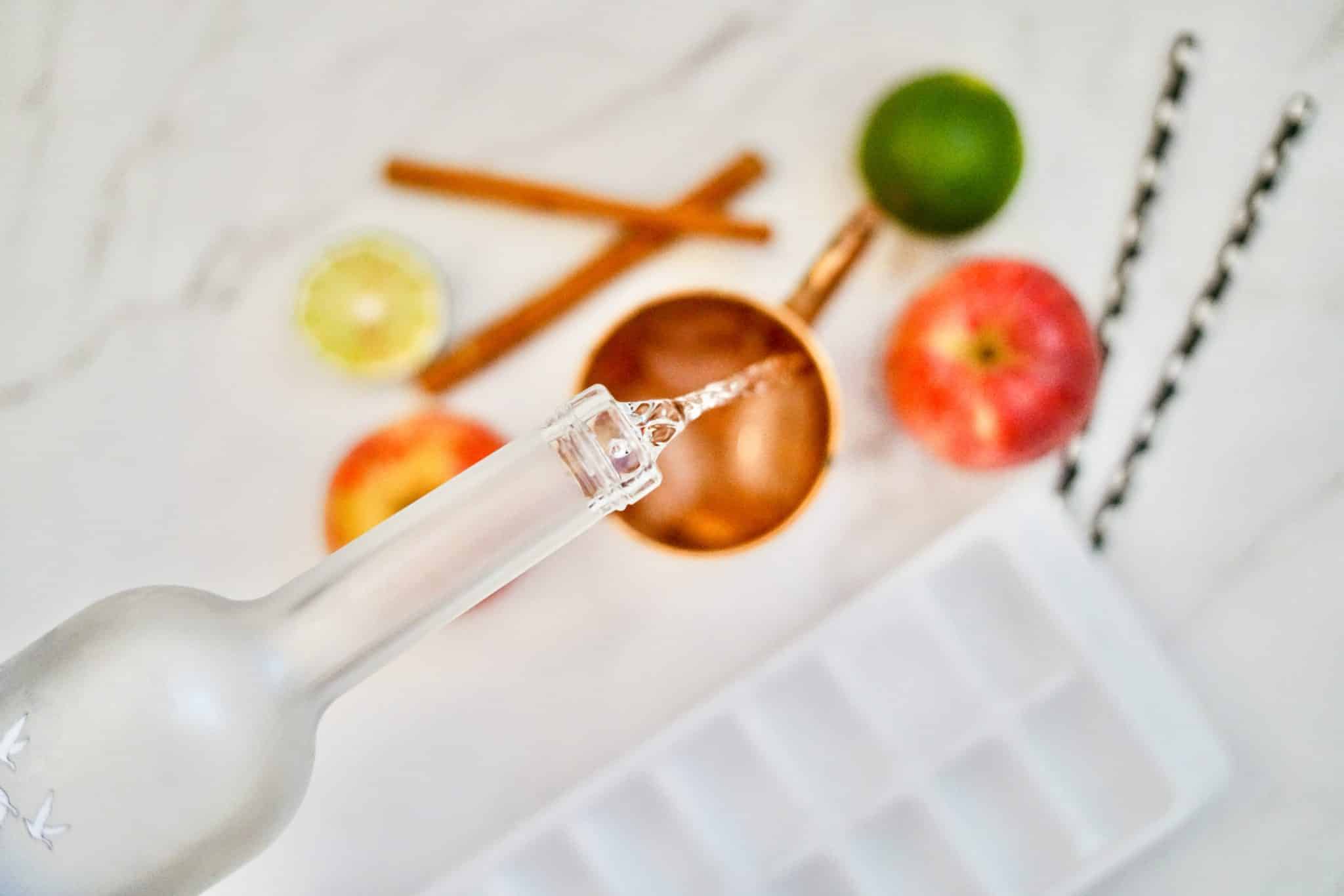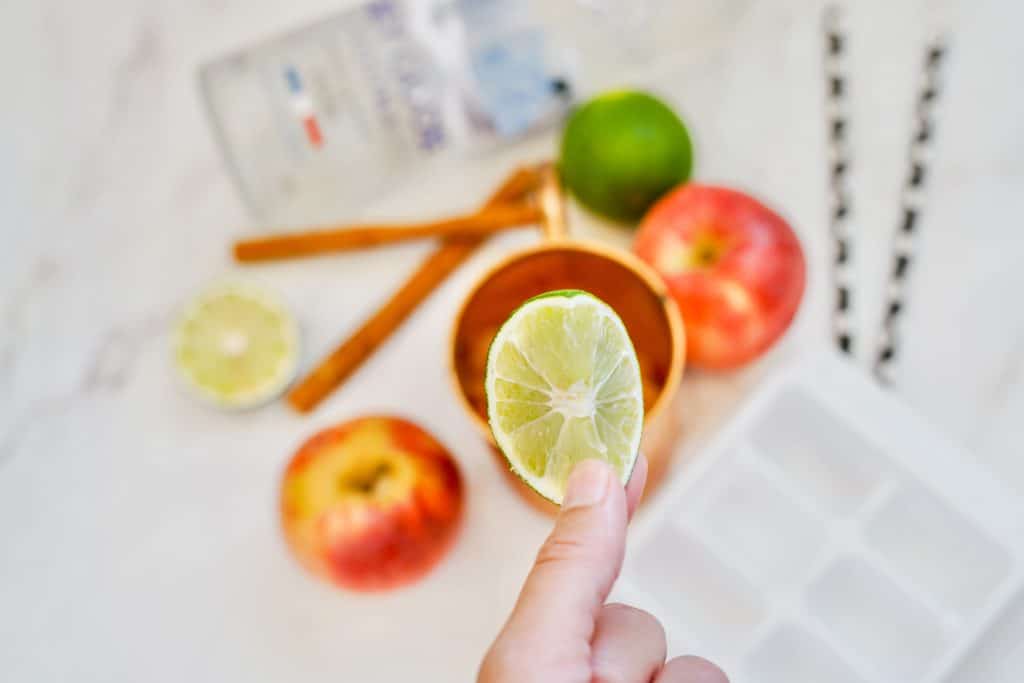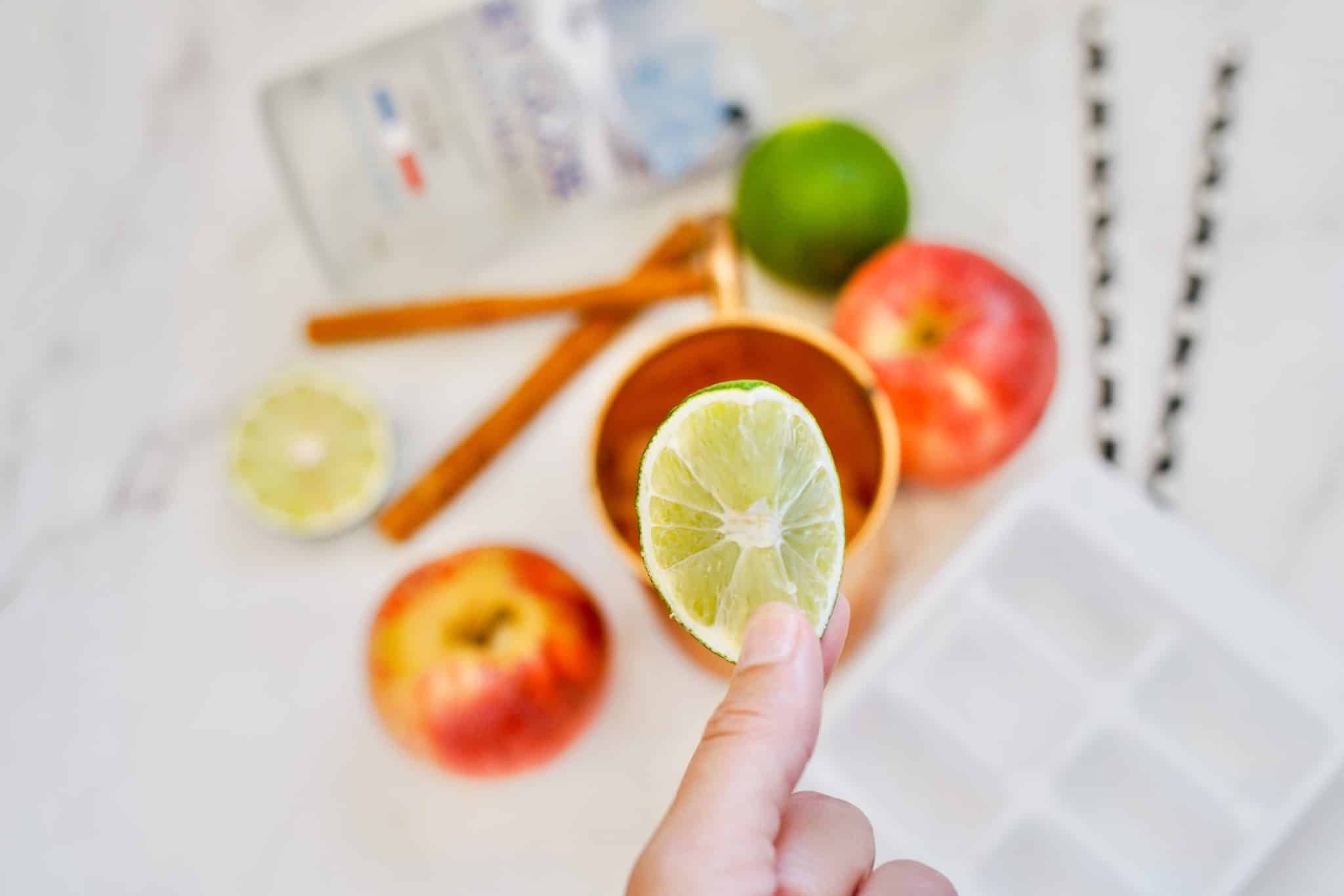 Add ice to your mug – Place your ice in your mug. If you want to get fancy, you can use frozen apple cider in place of ice cubes.
Add liquids – Pour in the vodka, apple cider and ginger beer. Squeeze in the lime juice.
Garnish – Add your apple slice and lime wedge to your mug and enjoy!
How to make a pitcher
This recipe is for one mule, but it's perfect for sharing! If you want to make a pitcher, simply multiple the amounts times 4. This will give you enough drinks to share!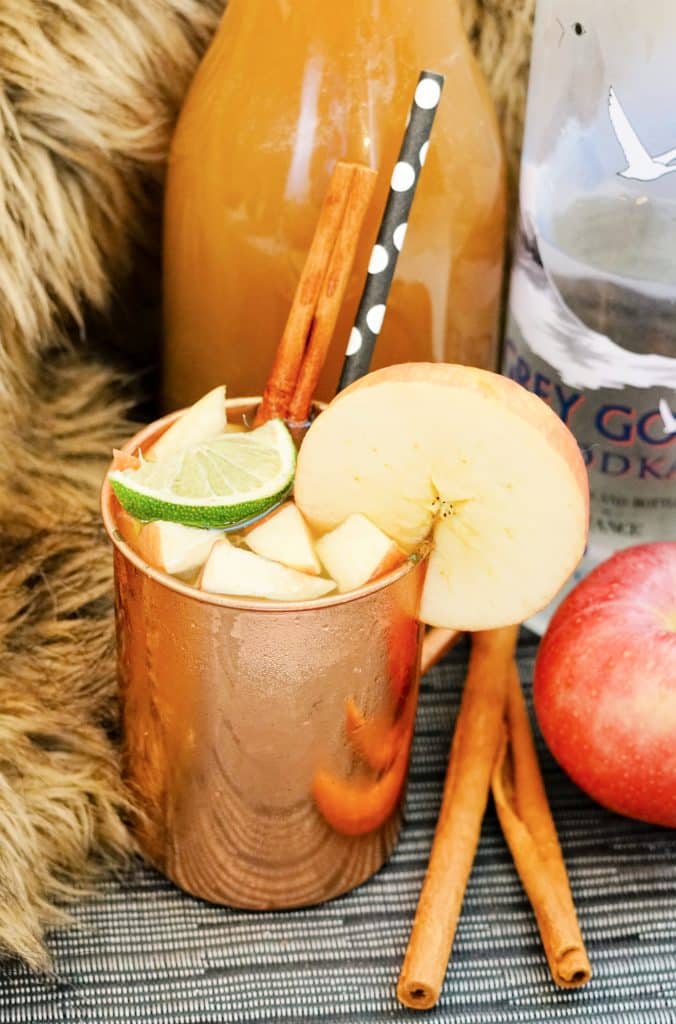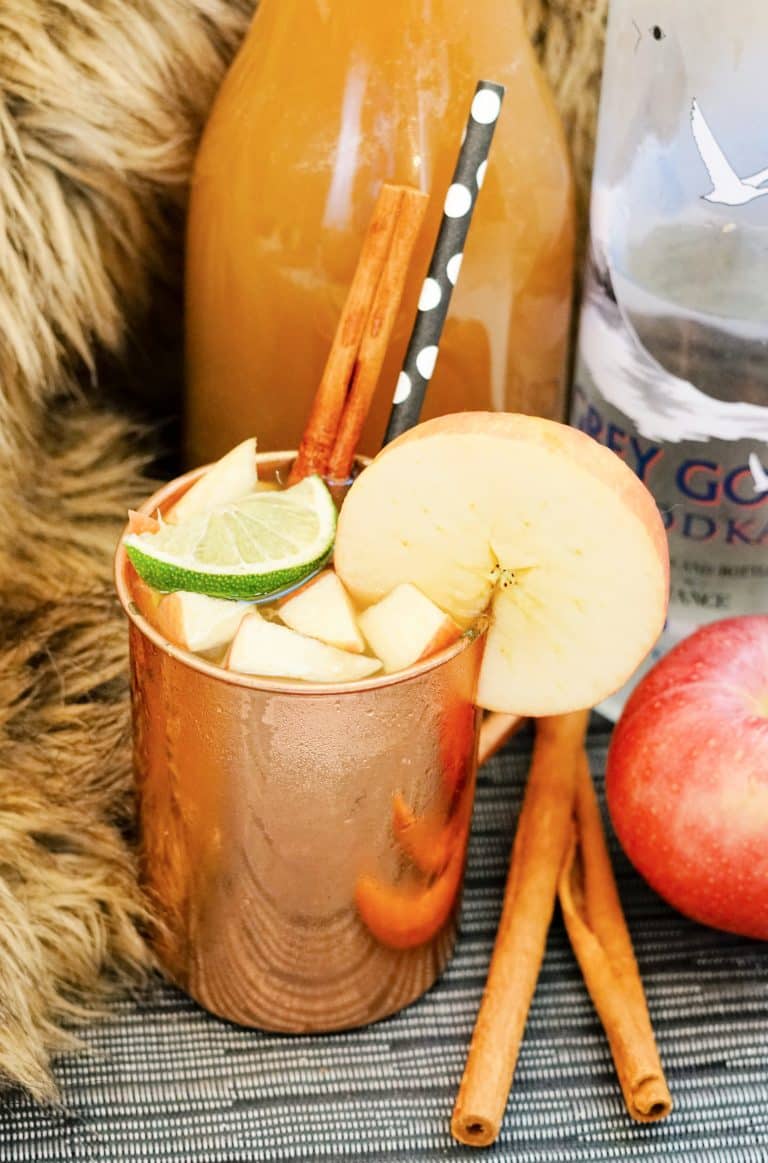 What makes this a fall drink?
This drink combines a traditional Moscow mule drink with apple cider – which gives it it's fall inspired flavor! The apple cider is a great addition to the vodka, ginger beer and lime of the classic. If you want to take this drink up a notch, freeze apple cider in an ice cube tray before making it. Then use the frozen apple cider cubes in place of regular ice!
What kind of vodka do I need?
You can use any type of vodka that you'd like! We like using Grey Goose, but any vodka will work. Grab your favorite vodka from the grocery store and whip up this fall Moscow mule recipe today!
Can I use apple juice instead of apple cider?
For this recipe, I do not suggest using apple juice in place of apple cider. The apple cider gives this drink a great depth of flavor and isn't as watered down as traditional apple juice. In a pinch, apple juice will work, but for the best quality drink – cider is recommended.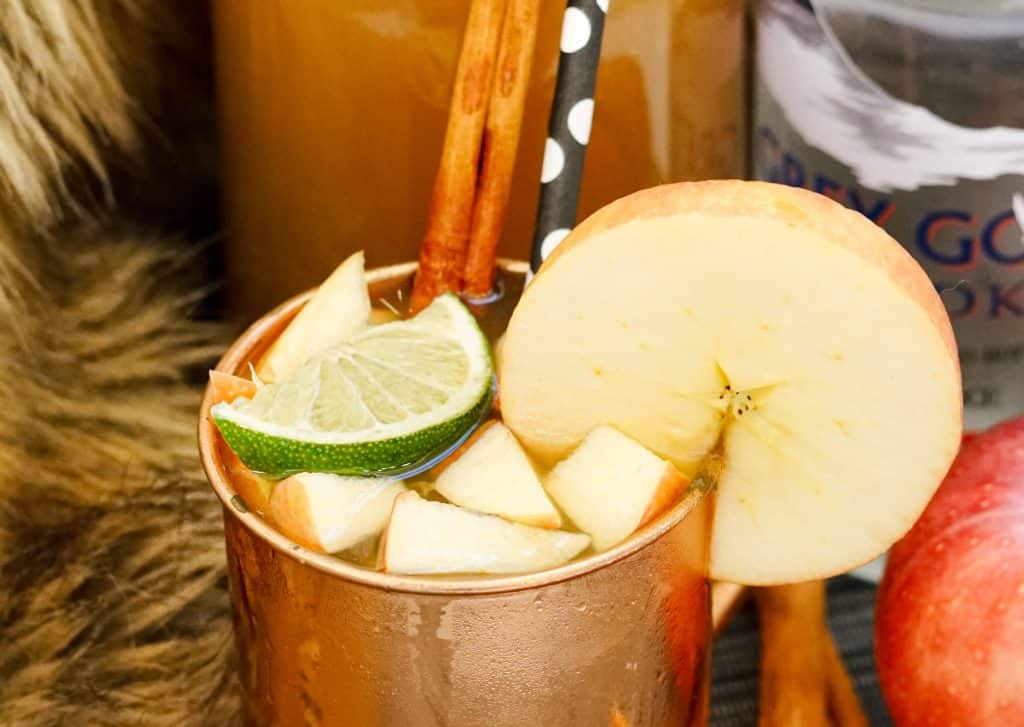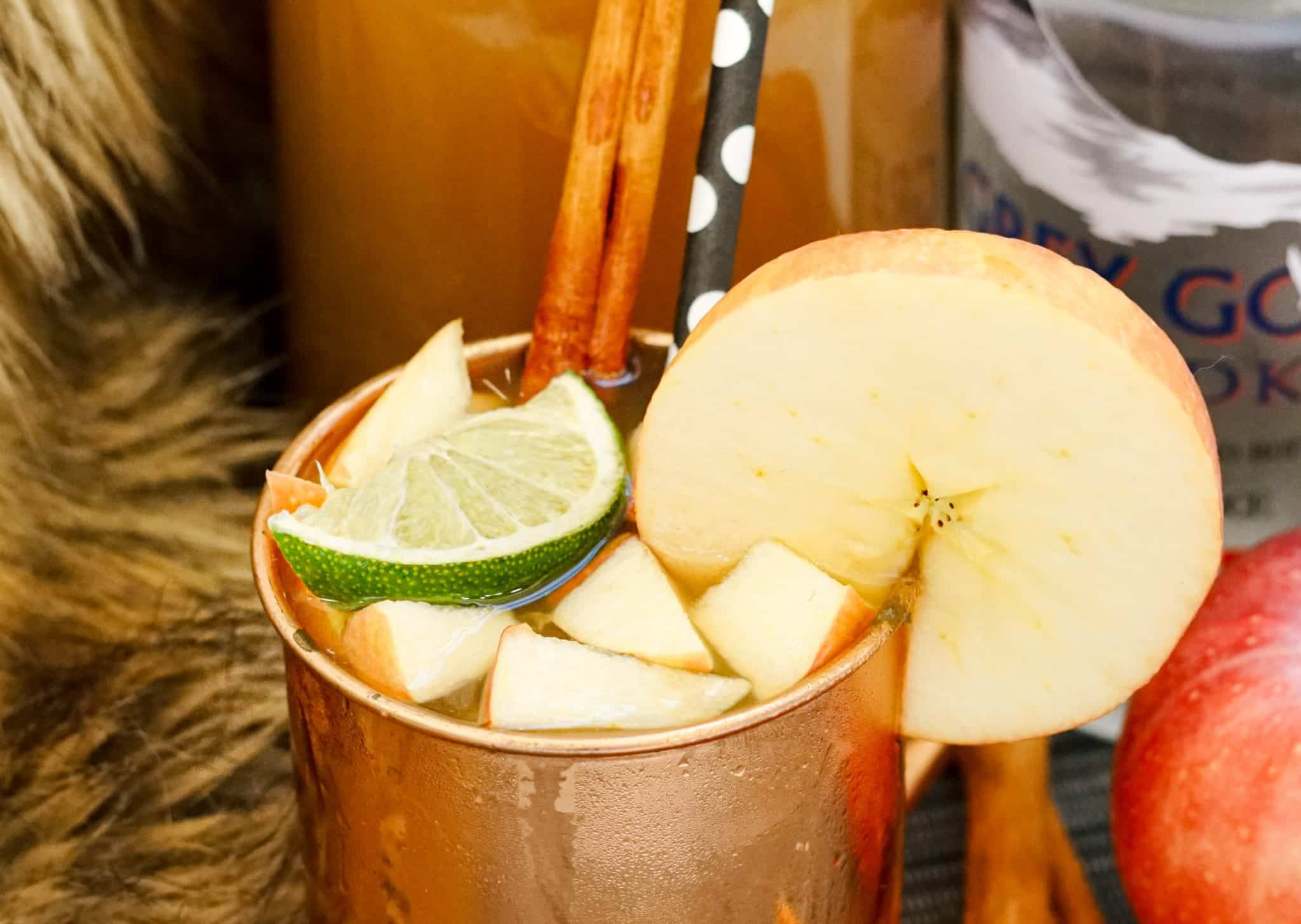 Other fall drinks to try
Looking for other great drinks to try? I suggest: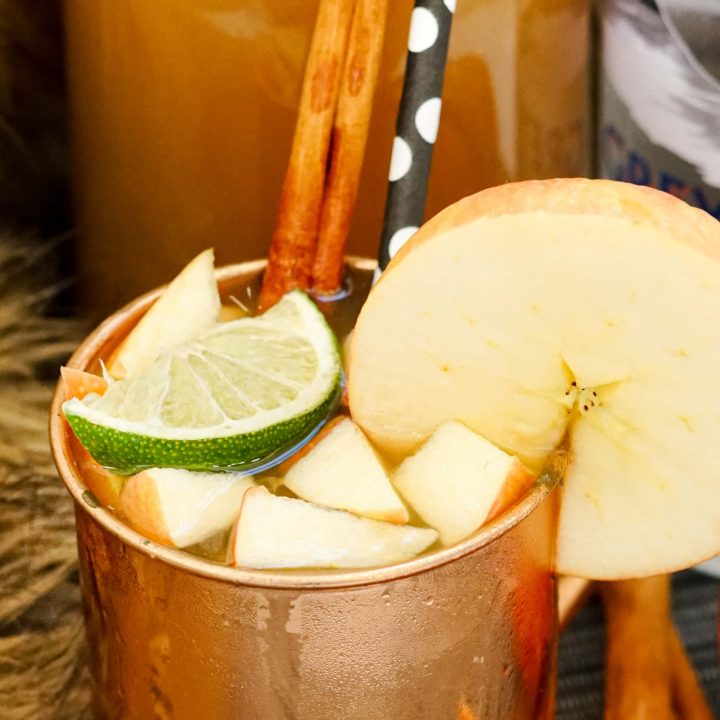 Fall Mosow Mule
Make a fall inspired Moscow mule for one or to share!
Ingredients
2oz Vodka
1oz Lime Juice (1/2 lime)
2oz Apple Cider
2oz Ginger Beer
1 Lime Wedge (garnish)
Apple Slice (garnish)
Apple Cubes (garnish)
Ice cubes
Instructions
Add ice to a copper mug.
Pour in Vodka, ginger beer, and apple cider.
Squeeze in the lime juice.
Add lime wedge, apple cubes and an apple slice for garnish.
Cheers!
Notes
To make a pitcher add -
1 cup Vodka
1/2 cup Lime Juice
1 cup Apple Cider
1 cup Ginger Beer