A lightening fast breakfast recipe that will make everyone happy. Promise.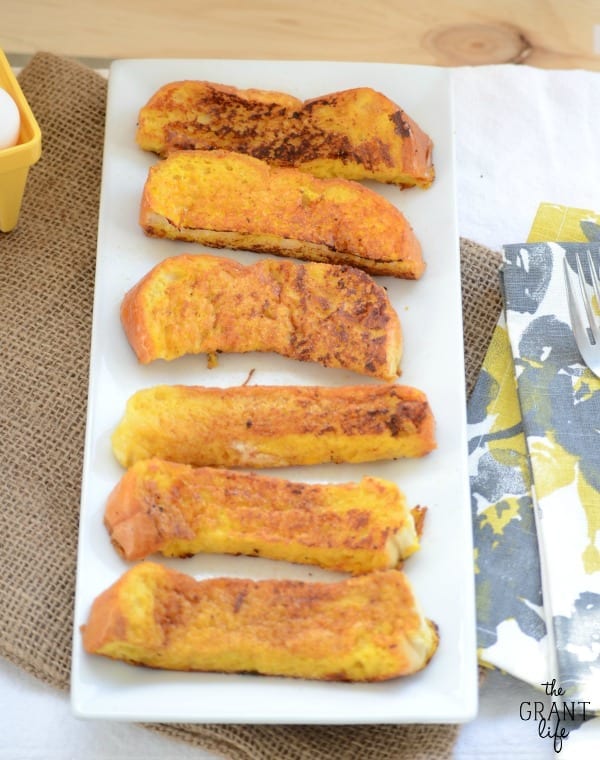 Every year around this time I think that it's far too early to be worrying about Christmas. I'm still focused on the bird and what sides we are going to have, but Christmas is everywhere. At the end of October Toys R Us delivered their big toy book. October! My kids have treated it like a sacred journal and check it almost daily. Ryley has circled the Shopkins in there about 50 times. Well played Toys R Us.. well played.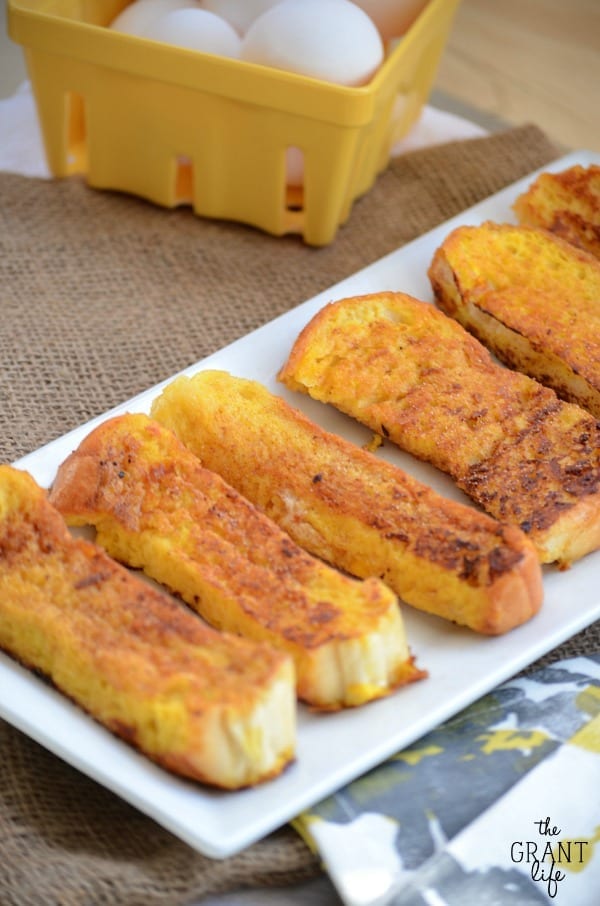 And people are already decorating! There are neighbors around us that have their lights up and I know some people have their trees up already. When I was growing up we waited until the weekend after Thanksgiving to look for a tree and start decorating. It had just become tradition. One holiday at a time here at the Grant house.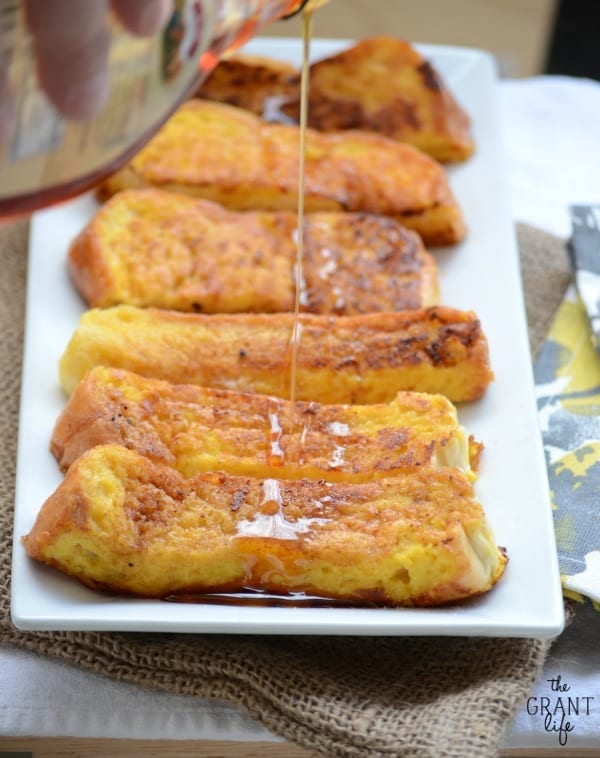 For a while, I didn't love Christmas. It was always a holiday that we celebrated with my family, and when my grandparents passed away it just wasn't the same. After getting married and having kids, I have fallen in love with Christmas again. [No matter how early it seems to come each year.] My kids get so excited when they see the decorations. I love talking with them about what we are going to do and why we celebrate.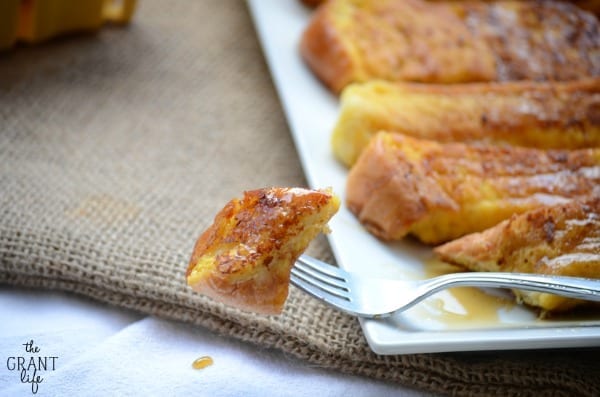 As much as I huff and puff that I'm not ready for Christmas-time, I am. My kids get so much joy from this time of year and I love to see them happy. We get to make new traditions together and with their grandparents here and in Michigan. Plus, as much as I complained, I was kinda excited to see the big book of toys too. [Some of the toys from my generation are making a come back!]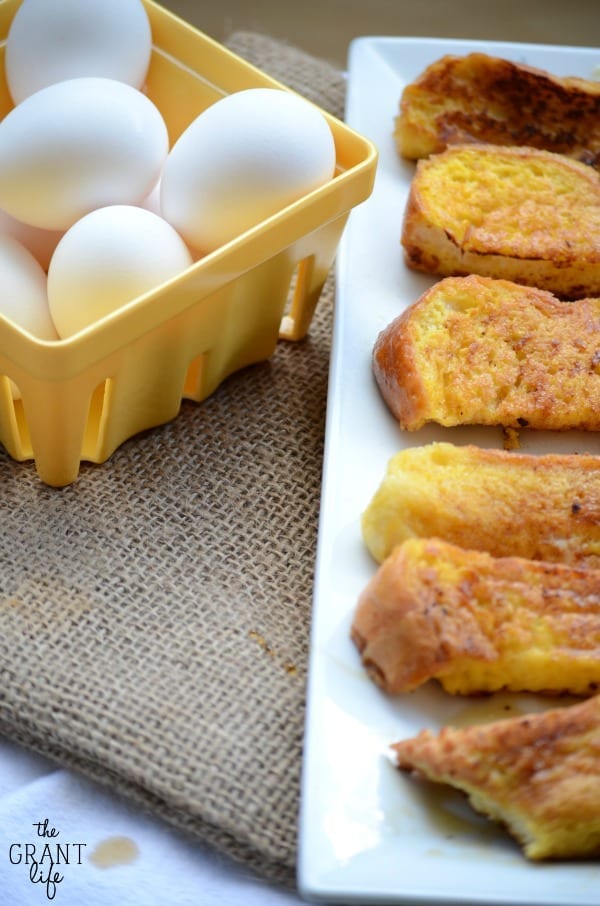 So this year, no complaining. I'm just going to take time to enjoy every second with my family and friends. And if Santa ends up with these eggnog French toast sticks instead of cookies, he [she] won't be complaining one bit. They were super easy to toss together [think until 15 minutes] and they disappeared fast. I don't think I've seen Avery eat that much bread so quick. Santa and little kid approved. Perfection.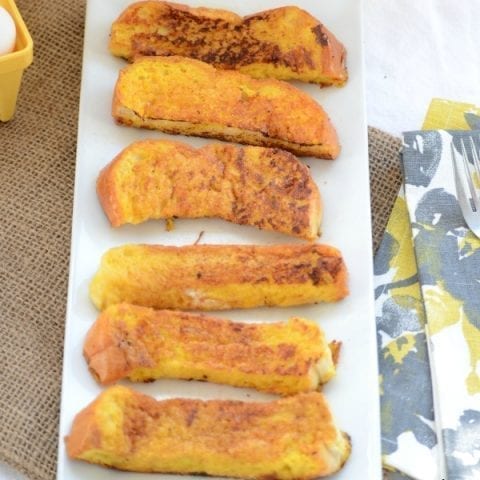 Eggnog French Toast Sticks
Ingredients
1/2 loaf of French bread
1 cup of eggnog
4 Goldrich egg yolks
cinnamon sugar
Instructions
Cut the French bread into slices, and then have them.
Mix together the eggnog and the yolks.
Quickly dip each bread stick into the batter.
Cook over medium heat until the bread is no longer wet.
Sprinkle with cinnamon sugar and enjoy!
Nutrition Information:
Amount Per Serving:
Calories:

984
Cholesterol:

888mg
Sodium:

1115mg
Carbohydrates:

129g
Fiber:

4g
Sugar:

28g
Protein:

44g
Like this recipe? Be sure to check out: