Easy baked meatballs are the perfect weeknight dinner. There is very little prep and they are ready in under 20 minutes. You can even boil your pasta while they are cooking! Let me show you how to make this quick and easy dinner recipe.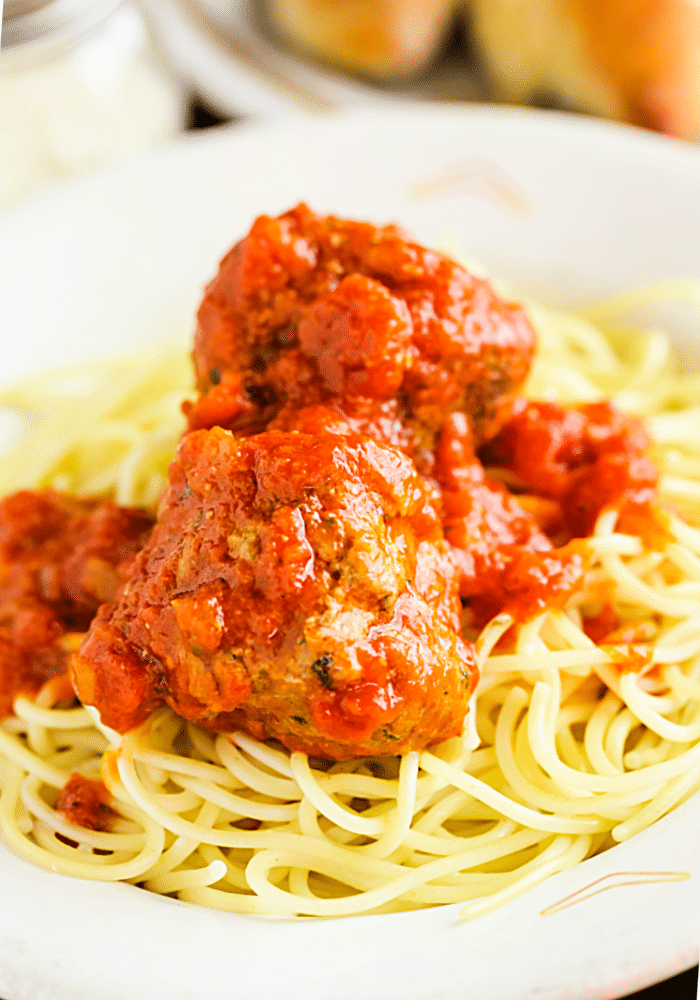 I'm pretty sure my kids could eat spaghetti all day, every day. My daughter loves it for breakfast. Both my boys are huge fans of buttered noodles. And me? Well, I'm always in the mood for pasta!
But I feel like adding homemade baked meatballs to the mix take regular pasta up a notch. And the best news is that it doesn't take long to make meatballs yourself!
What are baked meatballs?
While there are a few ways to make meatballs, baked meatballs are a bit healthier since they aren't fried in grease. These meatballs are place on a cookie sheet and baked to golden brown perfection. Baking even releases some of the grease, making these easy baked meatballs the way to go!
Baked meatballs ingredients
One of the great things about this recipe is that the ingredients are pretty basic. Some you probably already have on hand! To make these meatballs you will need:
ground beef
onion
breadcrumbs
eggs
garlic powder
onion powder
salt
pepper
ketchup
worcestershire sauce
Ground beef – You will need 2 pounds of defrosted ground beef. You can also sub in ground turkey or pork. Or you can even use a combination of ground meats!
Breadcrumbs – The breadcrumbs (along with the eggs) help bind the meatballs together. You can use a classic bread crumb of even something like a panko bread crumb.
What can you use instead of breadcrumbs in meatballs?
If you don't have any bread crumbs on hand you can used crushed crackers, crushed plain cornflakes, or even rolled oats.
Spices – I kept my spices basic with garlic and onion powder plus salt and pepper. Feel free to add in your favorite spices to these meatballs!
Ketchup – The ketchup helps keep these meatballs juicy. Use any kind that you have on hand.
How do you keep meatballs moist?
The ketchup helps in this recipe. You can also sub milk here as well.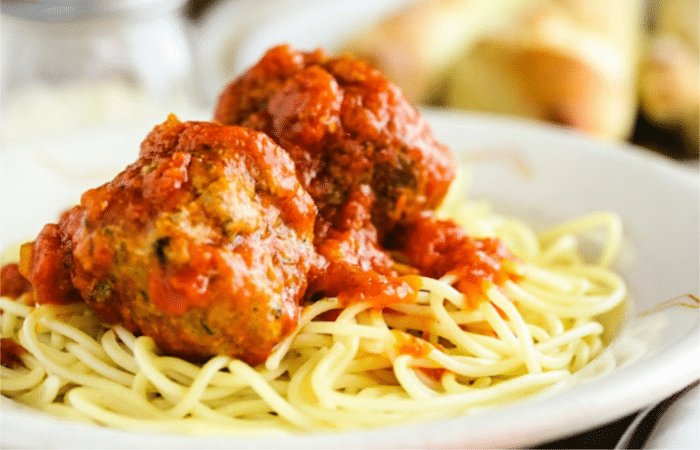 How to make baked meatballs
Once you have all your ingredients you will also need to grab:
a large mixing bowl
cutting board and knife
ice cream scoop
baking sheet
parchment paper
Step 1: Preheat your oven to 400 degrees and line a baking sheet with parchment paper.
Can you use parchment paper to bake meatballs?
You can, but make sure that the parchment paper doesn't fall over the edges of the baking sheet. They will easily burn at the higher temperature. You can also use cooking spray or a silicone baking sheet.
Step 2: In your large mixing bowl, place in your ground beef along with your diced onion, eggs, bread crumbs, spices, ketchup and worcestershire sauce.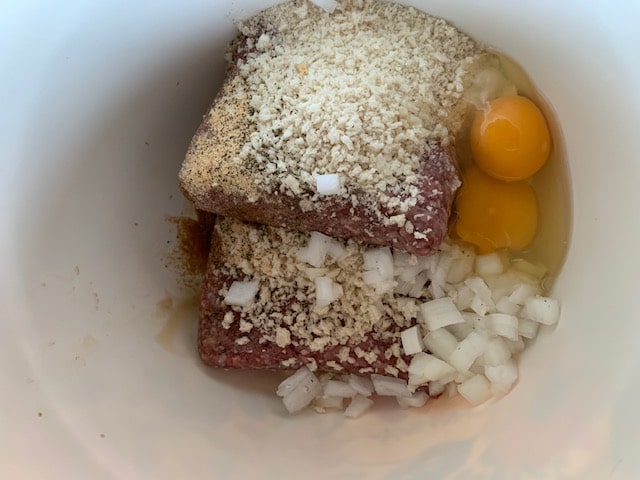 Step 3: Combine everything together in your bowl, making sure to combine the eggs as evenly as possible throughout.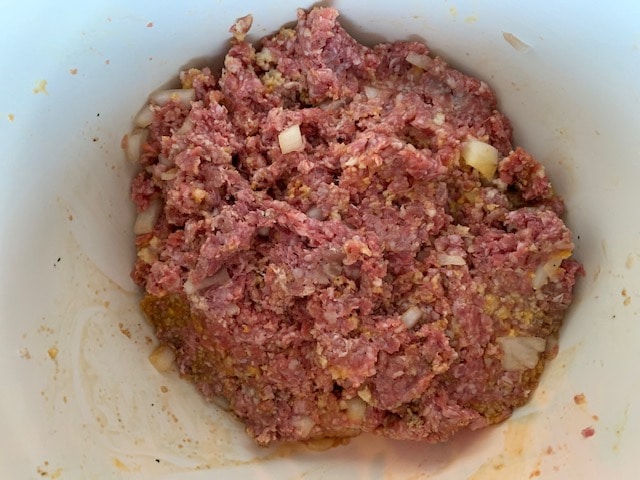 Step 4: Using an ice cream scoop, press the meatball mixture into the scoop by pressing it against the side of the bowl. Release the formed meatball onto your prepared baking sheet. Repeat until your baking sheet is filled.
You can also use your hands and roll the dough into balls.
Step 5: Bake your meatballs for 15-20 minutes or until the tops are brown and the internal temperature is 160 degrees and no pink remains.
Repeat for the rest of the meatball mixture.
Step 6: Place on top of spaghetti or in your favorite meatball recipe and enjoy!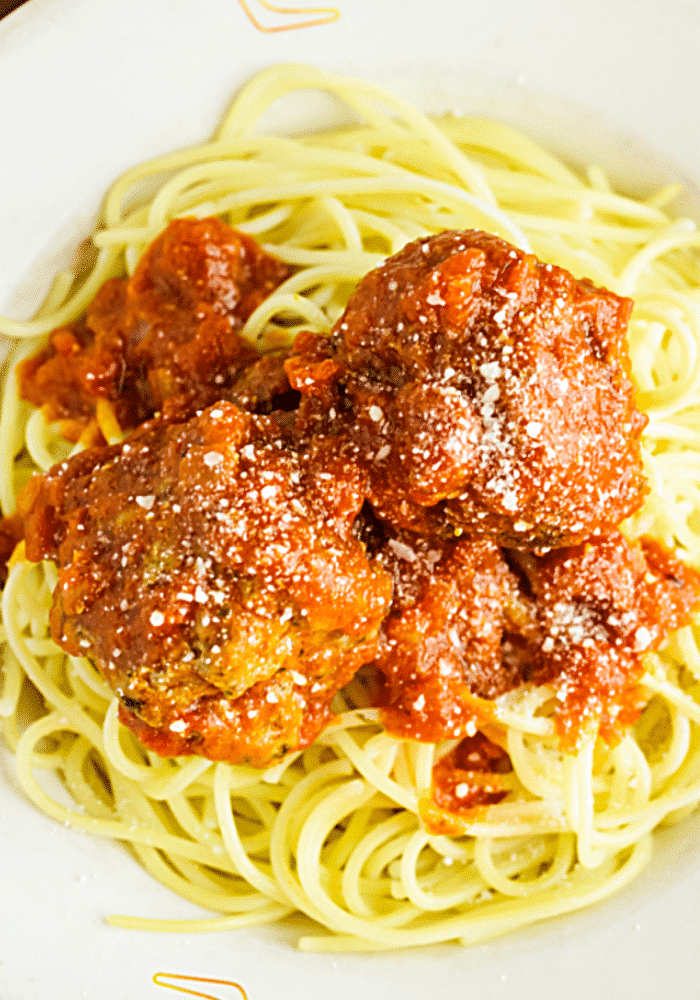 How to store leftovers
This recipe makes a lot of meatballs since I opted to use 2 pounds of ground beef. You can store the leftovers in an airtight container in the fridge. They will be good for a week this way.
Can I freeze my baked meatballs?
To freeze your meatballs, allow them to cool completely on the baking sheet. Transfer them to the fridge on the baking sheet and flash freeze them for 3 hours. Remove, place them in an airtight container or a ziplock bag and place back in the freezer.
To re-heat, place them in the fridge to thaw and then use them in your favorite meatball dish!
Meatball recipes to try: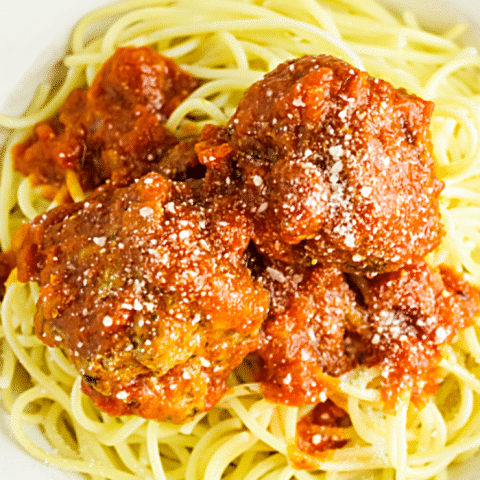 Easy Baked Meatballs
A quick and easy baked meatball will make spaghetti night even better!
Ingredients
2 pounds ground beef
1 cup onion, diced
1/2 cup bread crumbs
2 eggs
1 teaspoon garlic powder
1 teaspoon onion powder
1/2 teaspoon salt
1/4 teaspoon pepper
1/4 cup ketchup
1 tablespoon worcestershire sauce
Instructions
Pre-heat your oven to 400 degrees and line a baking sheet with parchment paper.
In a large bowl combine the ground beef, onion, bread crumbs, eggs, garlic and onion powder, salt, pepper, ketchup and worcestershire sauce.
Mix until everything is combined, making sure to evenly distribute the eggs.
Using an ice cream scoop, scoop out the meatball mixture, making sure to press against the side of the bowl as you go.
Place the meatballs on the prepared baking sheet.
Bake for 15-20 minutes or until the tops are browned and the internal temperature is 160 degrees.
Remove, allow to cool.
Enjoy allow or with your favorite pasta!
Nutrition Information:
Yield:

32
Serving Size:

1
Amount Per Serving:
Calories:

94
Total Fat:

5g
Saturated Fat:

2g
Trans Fat:

0g
Unsaturated Fat:

3g
Cholesterol:

37mg
Sodium:

98mg
Carbohydrates:

3g
Fiber:

0g
Sugar:

1g
Protein:

8g
Like this recipe? Be sure to PIN it for later!