Once you make a pot roast in your Dutch oven you may never cook it any other way!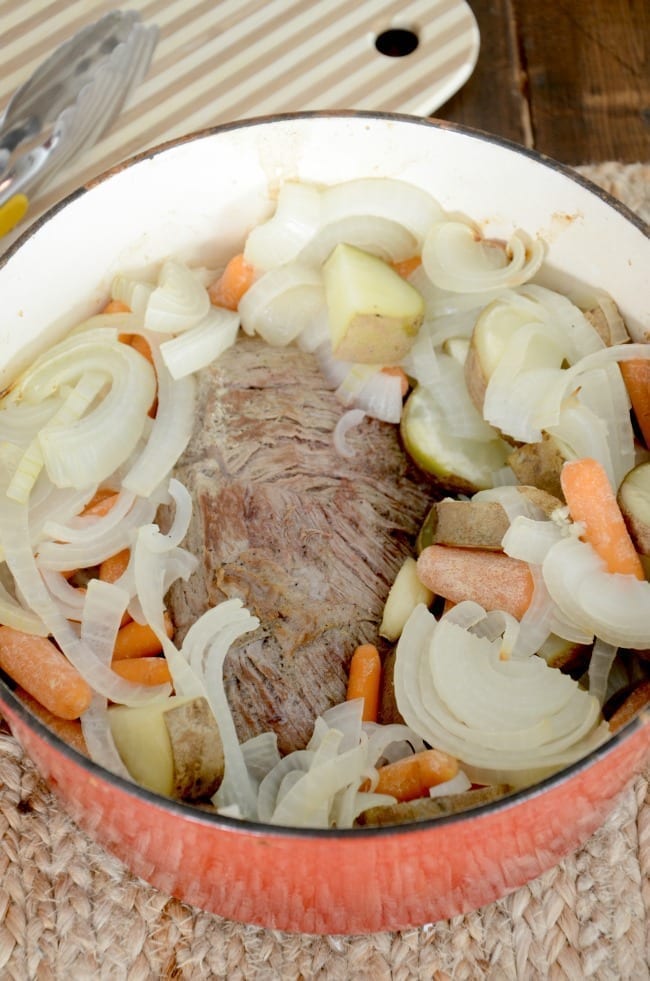 Do you ever get home and start to worry about what to make for dinner that night? Even though you menu planned? And even though you have meat thawed? You just kind of stare at the meat and think – who is going to cook this?
Yup. I've been there many a night. Just thinking about the prep work and the actual cooking makes me tired. I start to think about who delivers in the area and how can I sell it to the husband.
Pizza sounds good, right honey?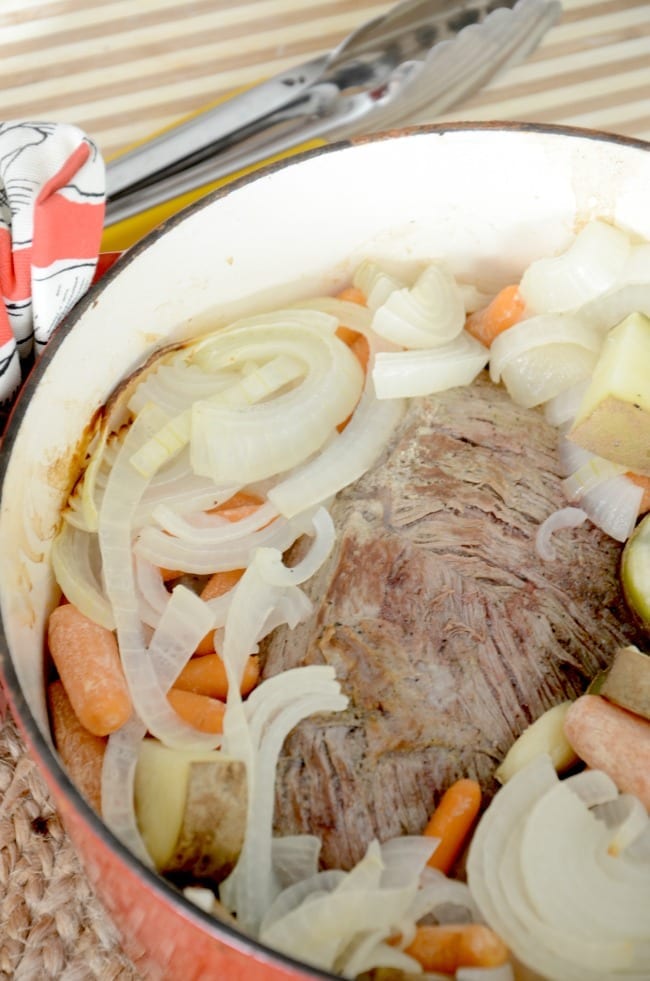 On those nights things can go a few ways –
we do indeed get pizza (but rarely)
I announce it a leftover night and switch the menu around
I realize that I have a roast and that it won't take much effort to make dinner
I actually get excited on Dutch oven pot roast nights. I know that the prep won't take long and that it's a meal everyone in my family will eat.
High five for a dinner with no complaints! Yessss.
Plus, there is always leftovers so we have lunch/dinner covered for the next few days.
Score!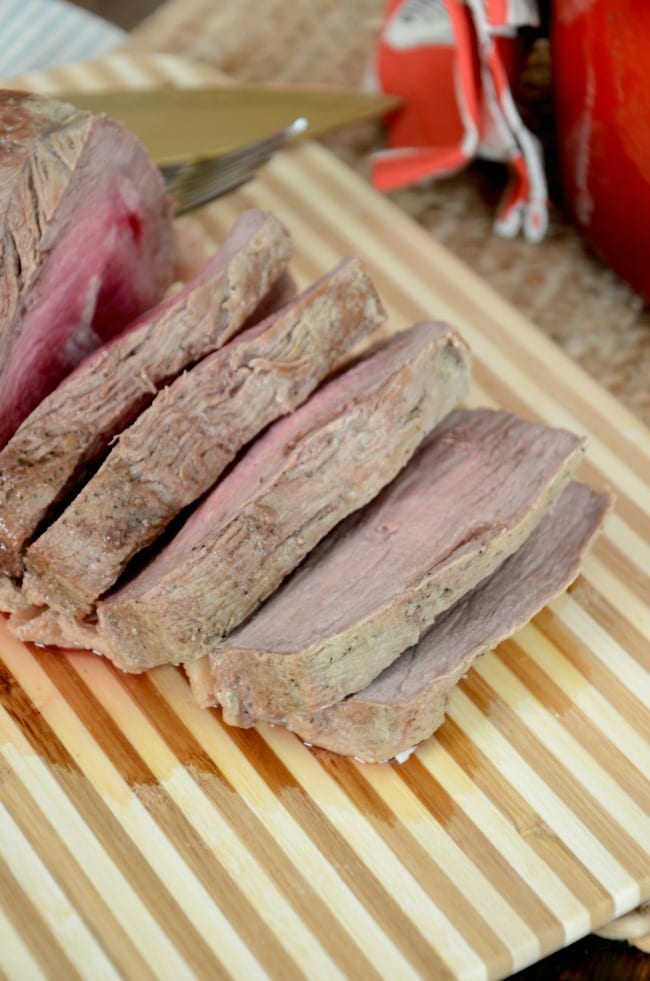 Here is why I love Dutch oven pot roast night so much:
Prep takes under 15 minutes. That includes dicing the veggies and searing the meat.
I can chop veggies while I sear the meat in the Dutch oven.
Everything goes into one pot.
The pot then goes into the oven to slow cook to perfection.
Once everything is removed from the pot, the drippings can be used for a gravy.
There are always leftovers (in our house) and it makes a great lunch the next day.
Things you will need to make this pot roast:
Dutch oven – The key to this pot roast is that you can sear it on the stove top and then use the same pot to slow cook it in the oven. A Dutch oven is a cast iron pot that is made to handle high heats and transitions perfectly from stove to oven.
Sharp knife – There is a bit of chopping involved in this meal. You are going to want a good knife that can handle potatoes, carrots, onions and then the roast when it's done.
Cutting board – A sturdy cutting board is a must for this one. You do a lot of chopping and you need a board that can take some whacks.
Slotted spoon – After the roast is done you can remove everything from the pot and place it on a serving tray. Using a slotted spoon helps reserve the juice so that you can make a gravy with the leftover.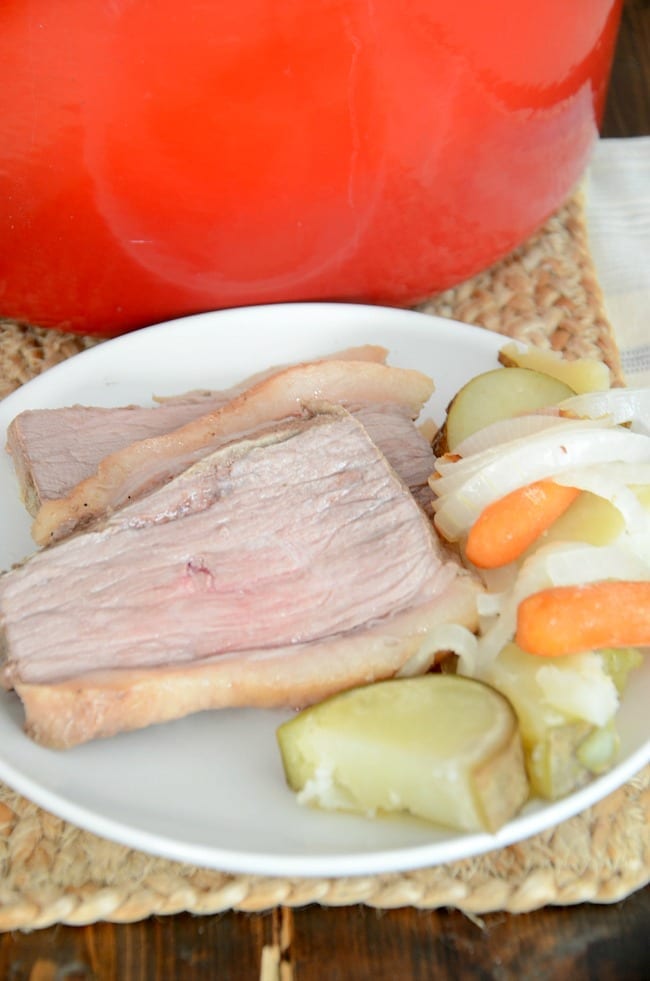 Now here's the best part of this pot roast meal, you don't have to make any extra sides! Everything from your main meat to your sides down to your gravy is cooked all in the same pot.
Insert mind blown emoji here.
It's perfect even on your busiest of nights. Just prep, sear, toss and slow cook.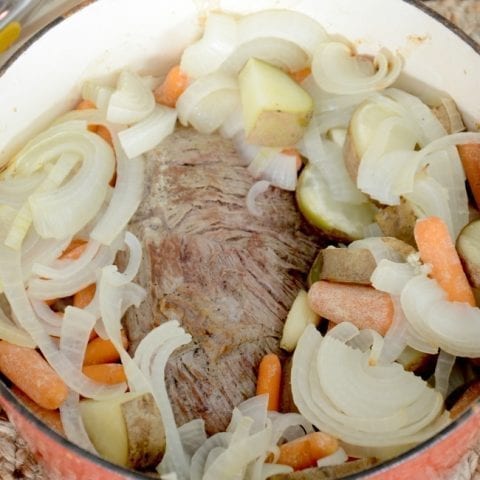 Dutch oven pot roast recipe
Ingredients
up to 5 pound chuck or pot roast
1 tablespoon butter
1 large onion, sliced
5 large potatoes, diced
1/2-1 cup of baby carrots
3 garlic cloves, whole
1 teaspoon onion powder
1 teaspoon garlic powder
1 teaspoon oregano
1 teaspoon salt
1 teaspoon pepper
1 1/2 cup beef broth
For a gravy -
1 tablespoon cornstarch + 1/4 cup cold water
Instructions
Preheat your oven to 375.
Heat your Dutch oven on the stove top. Melt the butter and sear the meat on all sides. Each side should sear for about 2 minutes.
Pour in about 1/2 cup of the beef broth and scrap the bottom of the pan. Place the roast back in the Dutch oven. Season it with spices.
Add in your potatoes, onion and carrots. Pour the remainder of the beef broth over the vegetables. Add your garlic in.
Place your Dutch oven in the oven. Cook for 1 hour.
Remove the Dutch oven, allow to cool and slice your meat.
To make a gravy - remove the meat and vegetables from the pot. Place the pot back on the stove top over medium high heat. Mix together the cornstarch and the cold water. Whisk it into the beef broth in the Dutch oven. Allow to come to a soft boil. Remove from heat, allow to thicken and cool.
Enjoy!
Want to have your pot roast ready when you get home? Try this
crock pot pot roast
version! Just pop the roast in the crock pot and allow it to slow cook to perfection all day.
And if you have leftover pot roast you can always try these pot roast enchiladas. They are our favorite way to use up leftover pot roast!