Skip take-out and make this incredibly easy Crock pot Enchilada Casserole right at home! Made with tender shredded chicken doused in enchilada sauce and plenty of cheese, this enchilada casserole is the easiest one-pot recipe you'll find.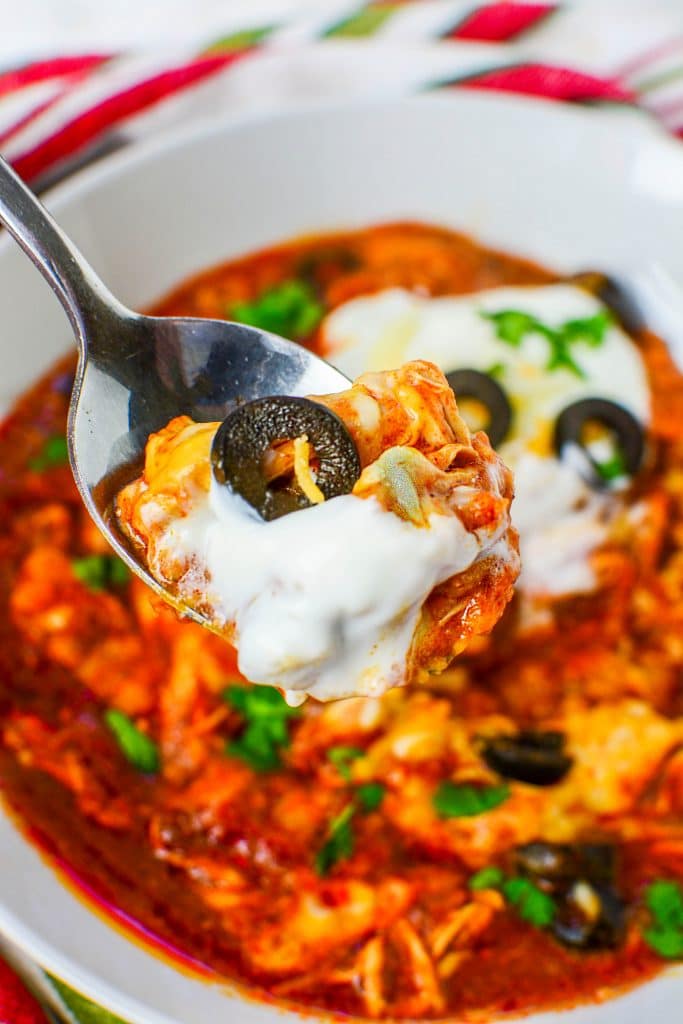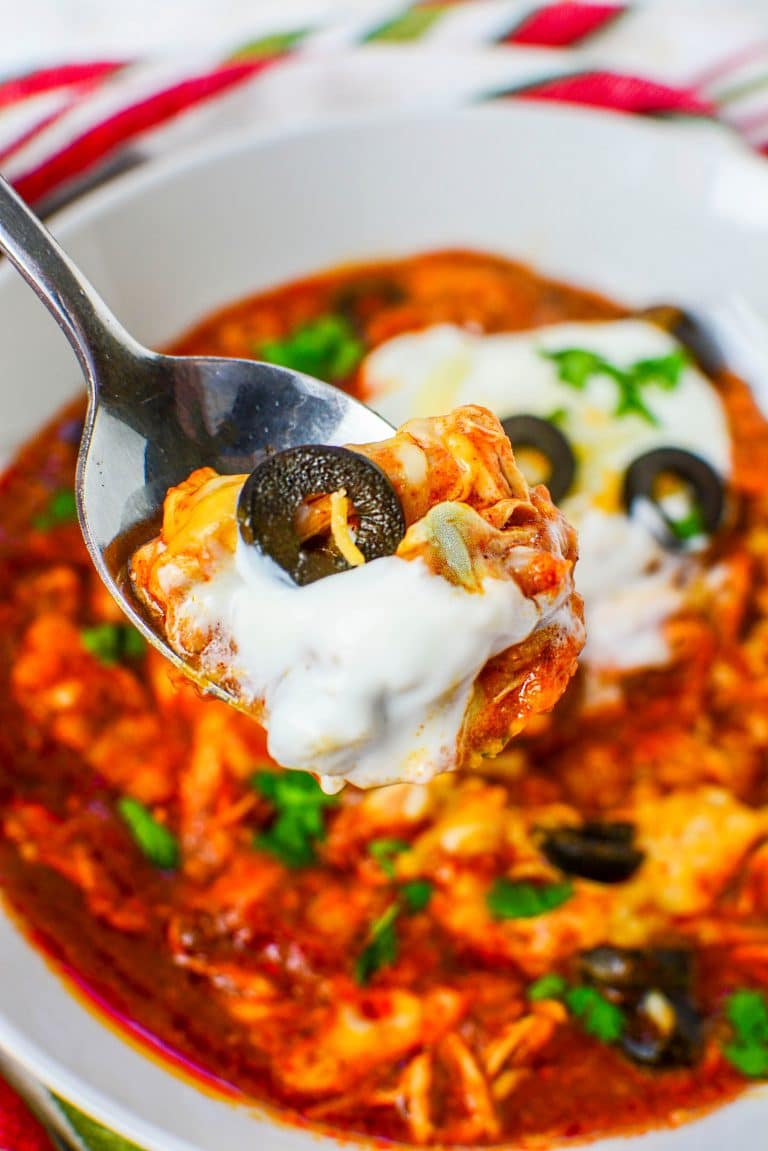 Mexican food is my jam. Growing up in South Texas I was surrounded by authentic Mexican food restaurants at almost every corner. I'm a fan of enchiladas, but I don't always have the time or energy to stuff tortillas then bake them to perfection. So, I decided to find an easier way to make my favorite Mexican cuisine. This quick and easy crock pot enchilada casserole makes Taco Tuesday a breeze.
What is Enchilada Casserole?
Enchilada casserole combines all the goodness of an enchilada such as chicken, enchilada sauce, tortillas and cheese, but takes out most of the prep work. Because it is cooked and served from the same dish, it is considered a casserole. In fact, making enchiladas is a casserole, too.
Casseroles consist of a protein, a starch, sauce, and cheese. In this crockpot chicken enchilada casserole, we have chicken, tortilla strips, enchilada sauce, and of course, cheesy goodness!
Crock pot Enchilada Casserole Ingredients
Most of the ingredients needed for this recipe will add delicious flavor to your casserole. You're going to love how simple your shopping list will be! Here's what you need:
Chicken: I use boneless, skinless chicken breasts. Make sure to weigh your chicken. If you have more than 1.5 pounds, the casserole will be dry.
Enchilada sauce: I used my own Homemade Red Enchilada Sauce. But, you can buy a can of red enchilada sauce at your local grocery store.
Seasoning: You will need garlic powder and cumin for seasoning.
Tortillas: You must use corn tortillas for this recipe.
Cheese: Shredded cheddar cheese melts the best in this casserole.
Sour cream and Cilantro: These are optional, but we like to top our casserole with cilantro and sour cream before serving.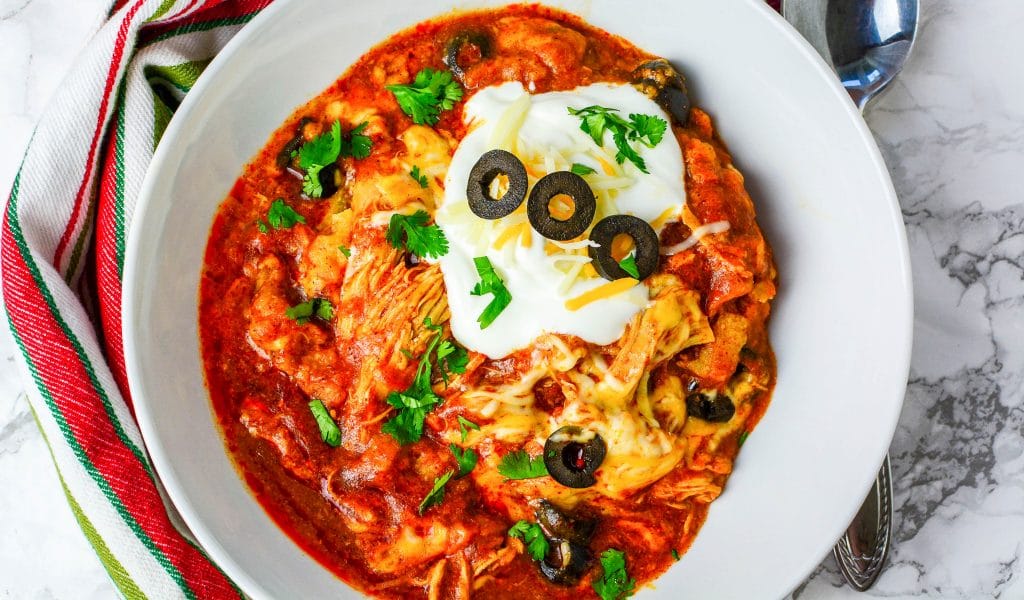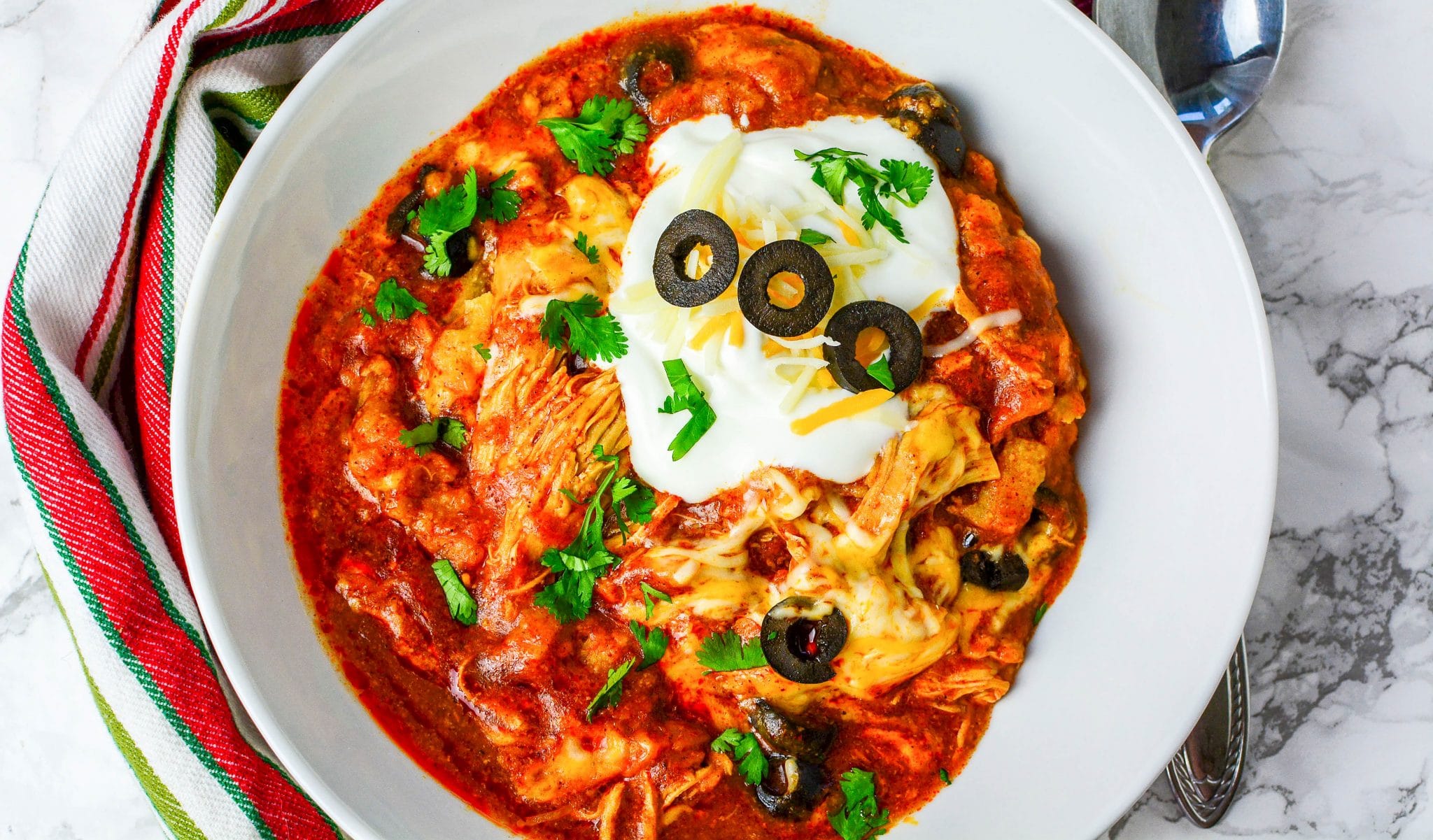 How to Make Crock pot Enchilada Casserole
Making anything in your slow cooker means a super simple recipe. And, this crockpot enchilada casserole is incredibly easy to make. Follow the simple steps below:
Step 1: Prep the Crockpot
First, spray your slow cooker with non-stick cooking spray, or use a slow cooker liner.
Step 2: Cook the Chicken with Sauce
Next, place your chicken breasts in the slow cooker and top with red enchilada sauce. Then, cook it on high for 4-hours or low for 6-8 hours.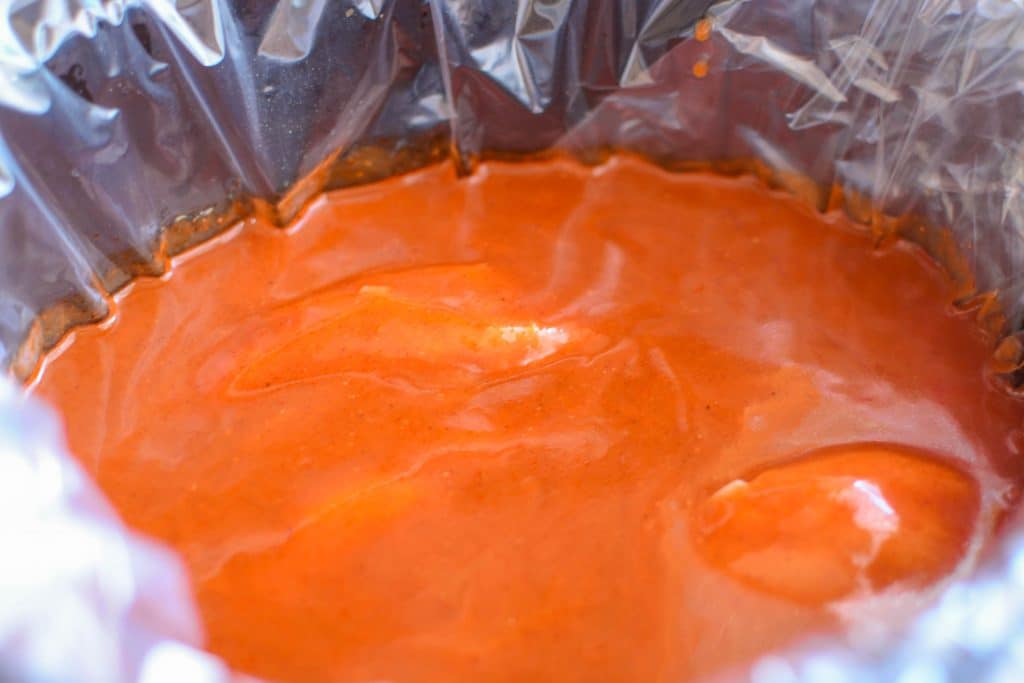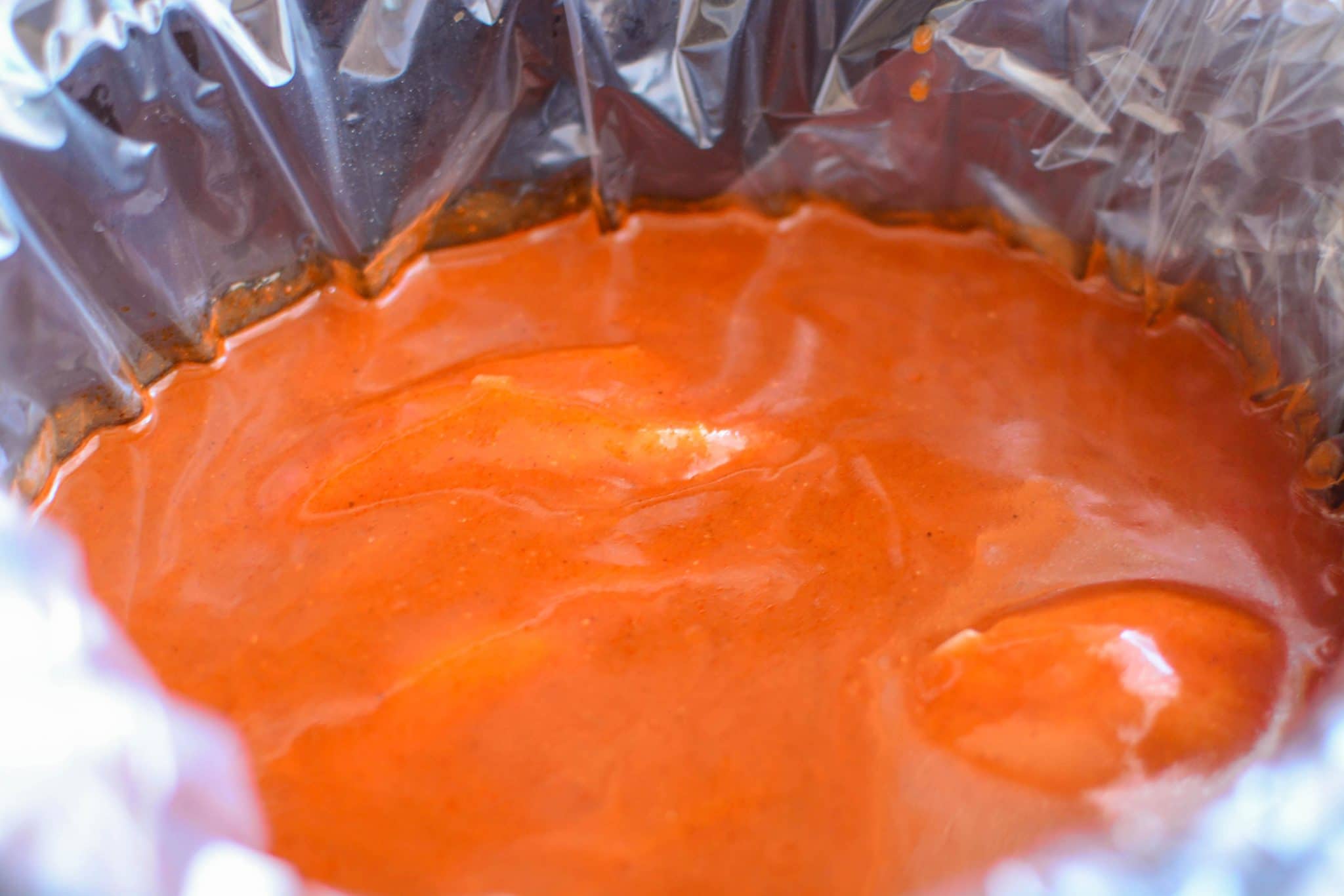 Step 3: Shred the Chicken and Add Tortilla Strips
When the chicken is done, shred it in the slow cooker. Then, cut the corn tortillas into strips and add them to the chicken and sauce.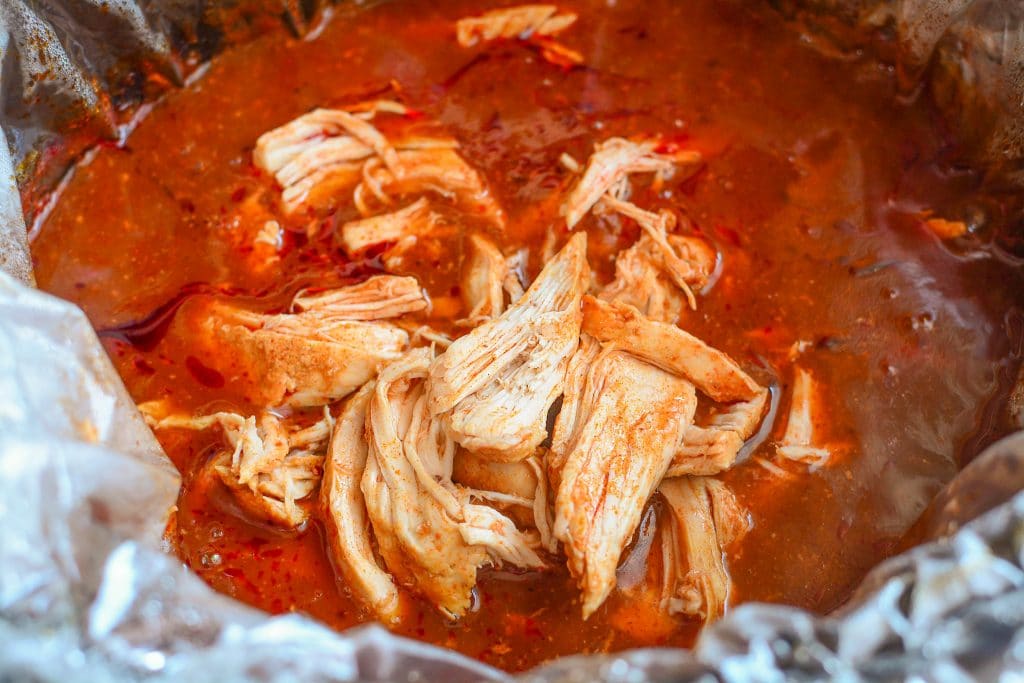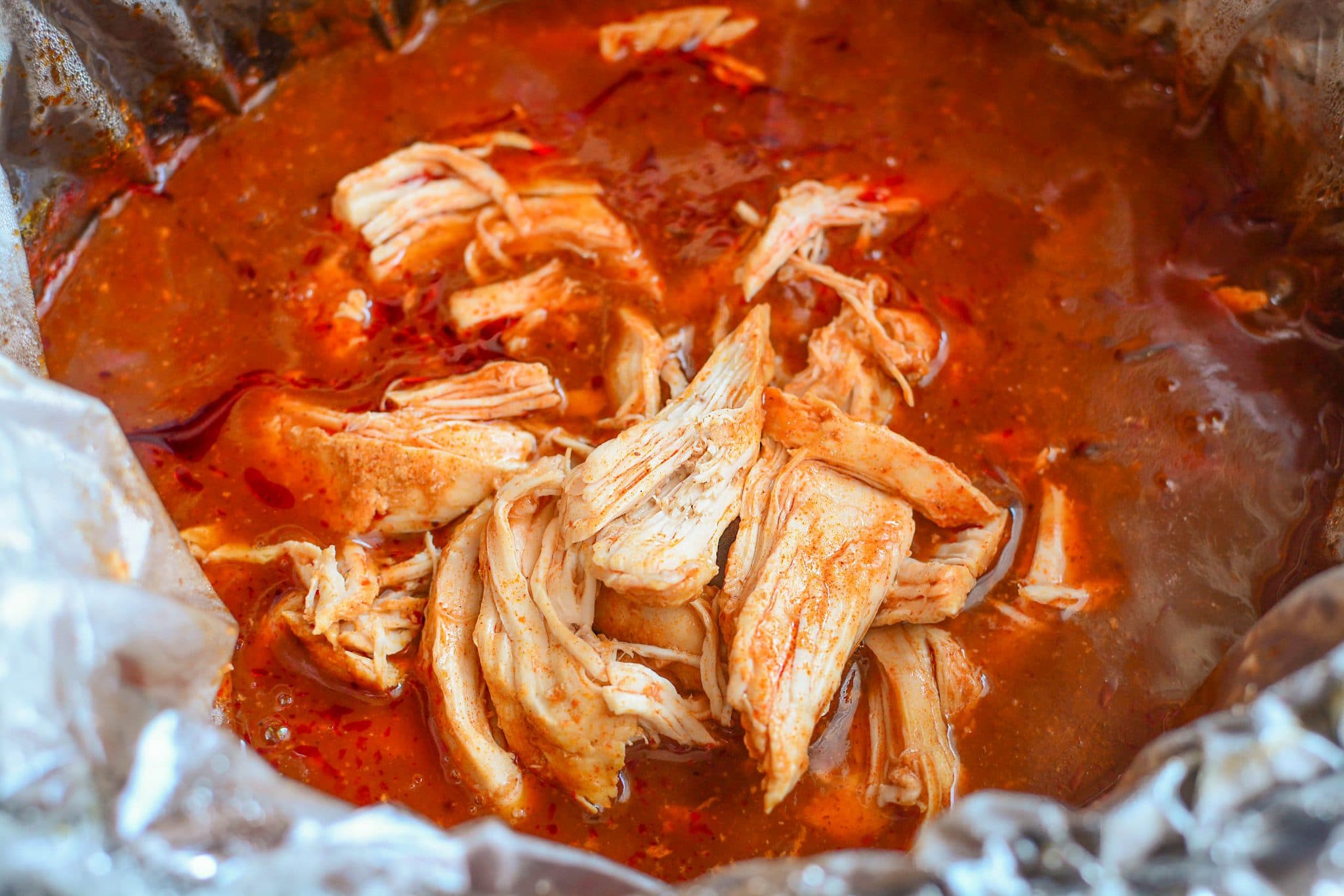 Step 4: Stir in Cheese and Olives
Add ½ cup of the shredded cheese and half the olives into your chicken and sauce. Stir it well. Then use the back of the spoon to flatten your mixture into a casserole.
Step 5: Top with Cheese and Cook
Top your casserole with the rest of the cheese and olives. Then, place the lid back on your crockpot and let it cook on low for an additional 45-minutes.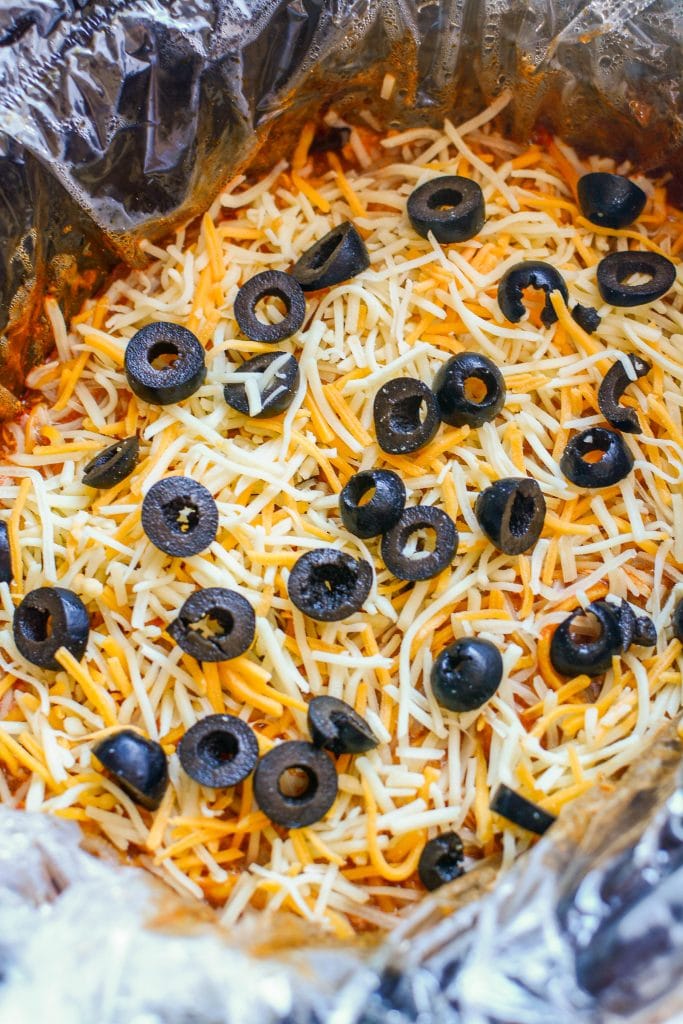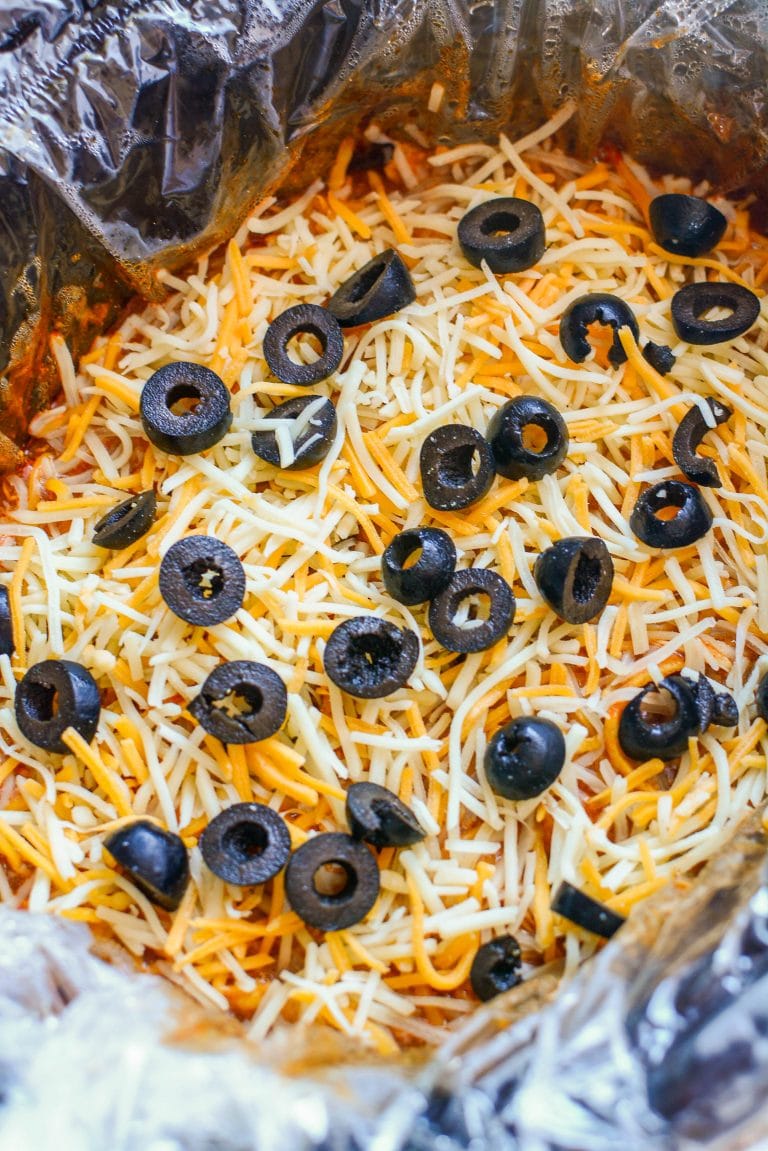 Top your casserole with sour cream and fresh cilantro and ENJOY!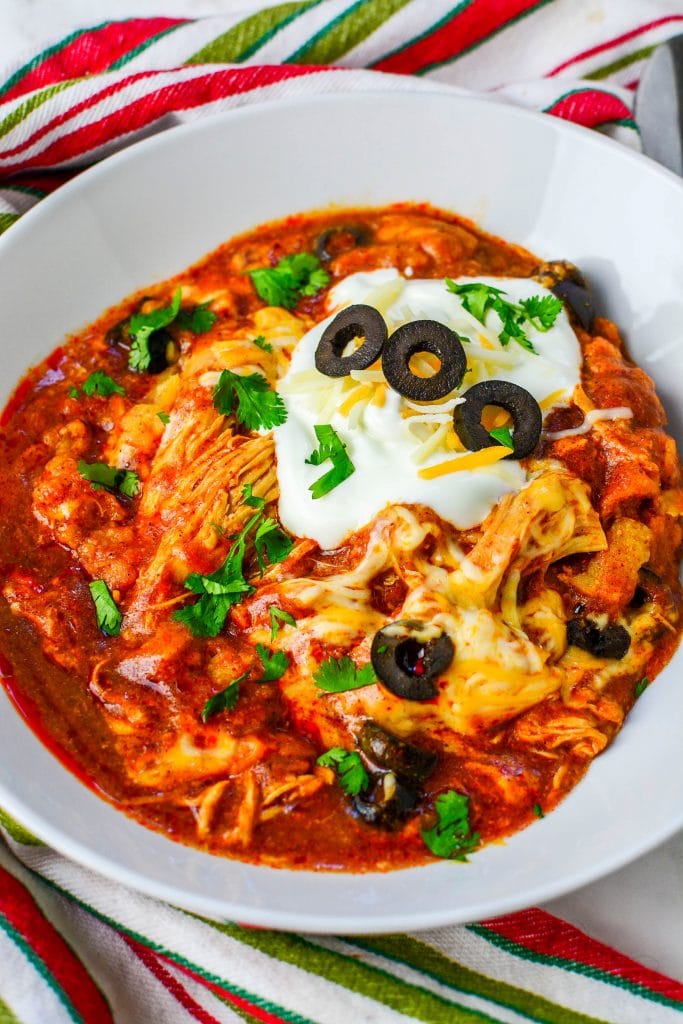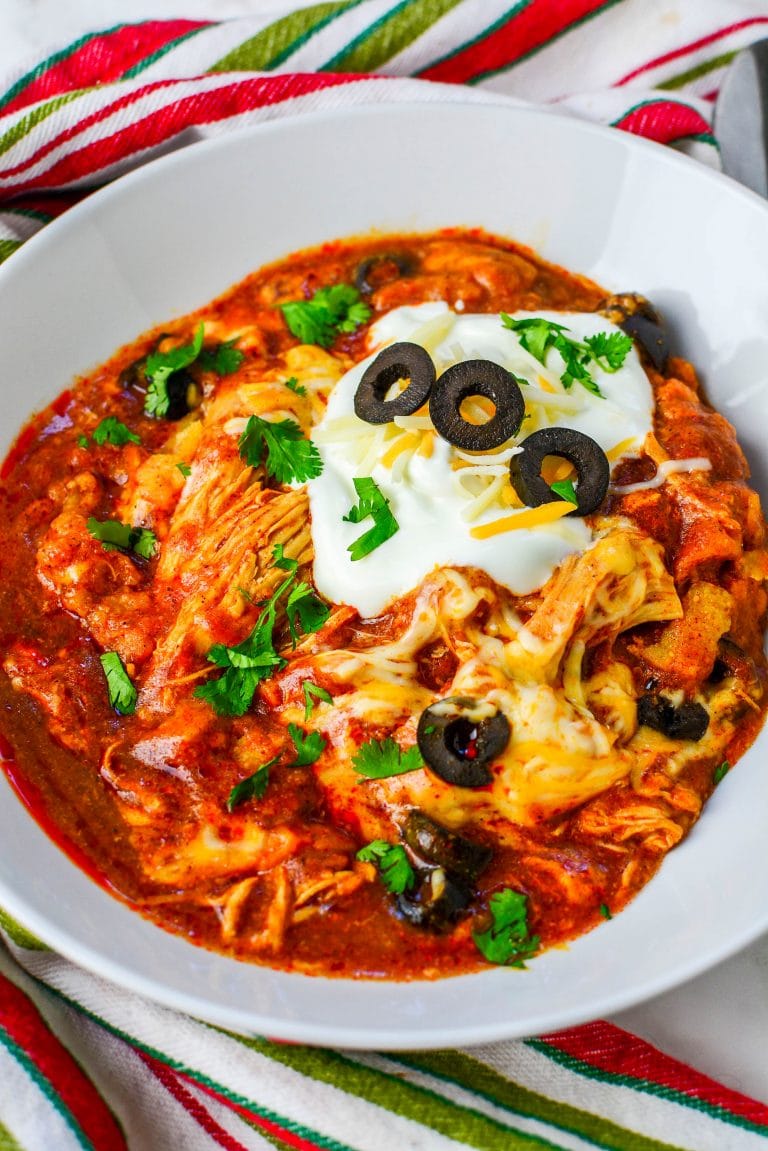 Can I Use Flour Tortillas?
No! Unfortunately, flour tortillas do not work for this recipe. Due to them being soaked in sauce and cooking in the crock pot, flour tortillas become soggy and unappetizing. Only use corn tortillas for this recipe.
Can I Use a Different Kind of Meat?
Absolutely! You can use different kinds of meat just like you would with regular enchiladas. Here are a few that we've tried:
Boneless, skinless chicken thighs
Ground beef- Cut time in half if cooked ground beef is used.
Cubed beef stew meat
Cooked chicken or turkey- You can cut the time in half if you have precooked chicken or turkey.
Can I Use Green Enchilada Sauce?
Yes, you can! However, it is important to keep in mind that the consistency will not be the same. Your enchilada casserole may be more liquidy than with red enchilada sauce.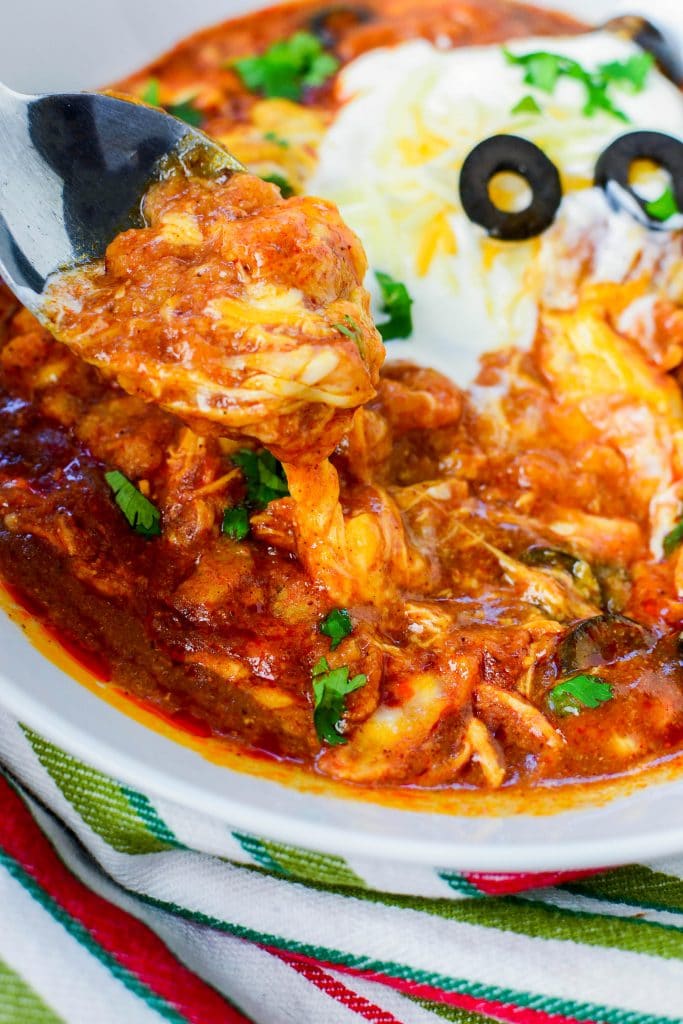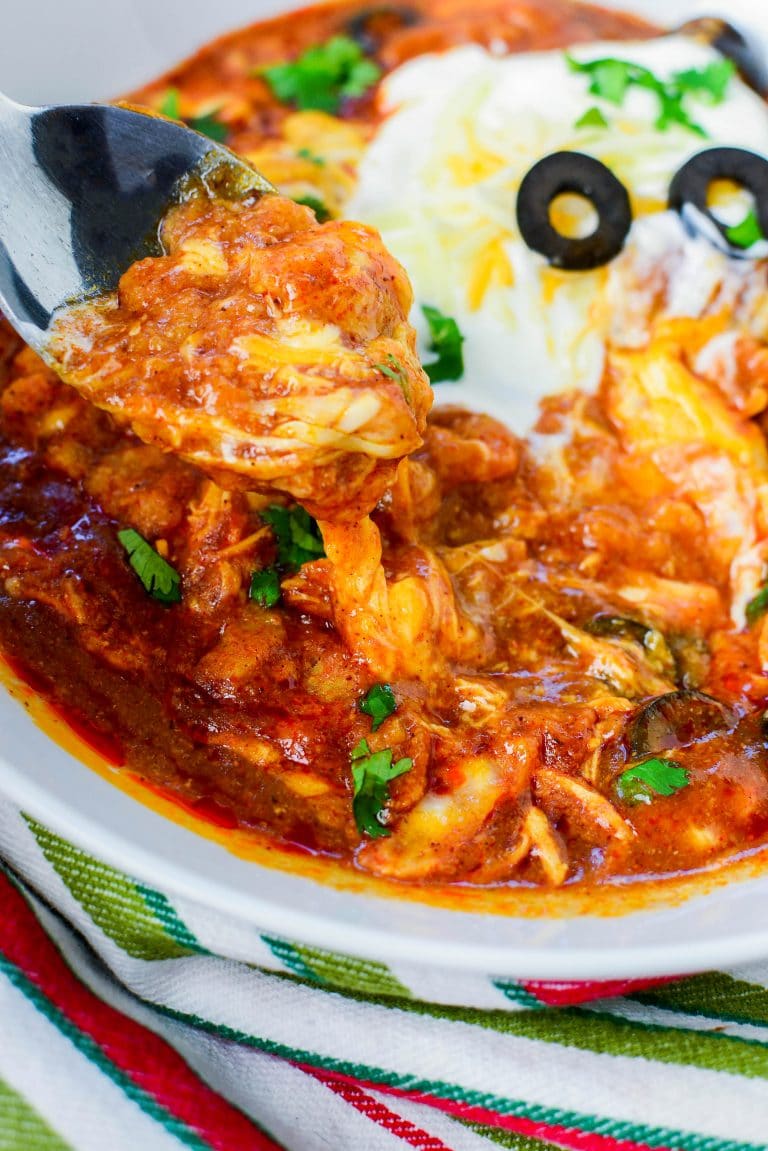 What to Serve with Crock Pot Enchilada Casserole
I make this meal with no sides most of the time, but enchilada casserole pairs well with other Mexican cuisines such as:
How to store leftovers
Place any leftovers in an airtight container, such as a Tupperware. You will need to keep this enchilada casserole in the fridge. It will stay fresh to eat as leftovers for 2 days. I suggest leaving the corn tortillas off until you plan to reheat it.
Can I freeze this enchilada casserole?
You sure can! This easy dinner recipe freezer beautifully! You can freeze it before you cook it or after. If you want to freeze it before, place your chicken, enchilada sauce and spices in a large Ziplock bag. Place it in the freezer until you are ready to cook it. (This makes a great meal for new moms!)
If you want to freeze it after you've cooked it, allow it to cool completely. Place any leftovers in a Ziplock bag and in the freezer. Try to lay it flat before it freezes to save space. Allow to the in the fridge before reheating.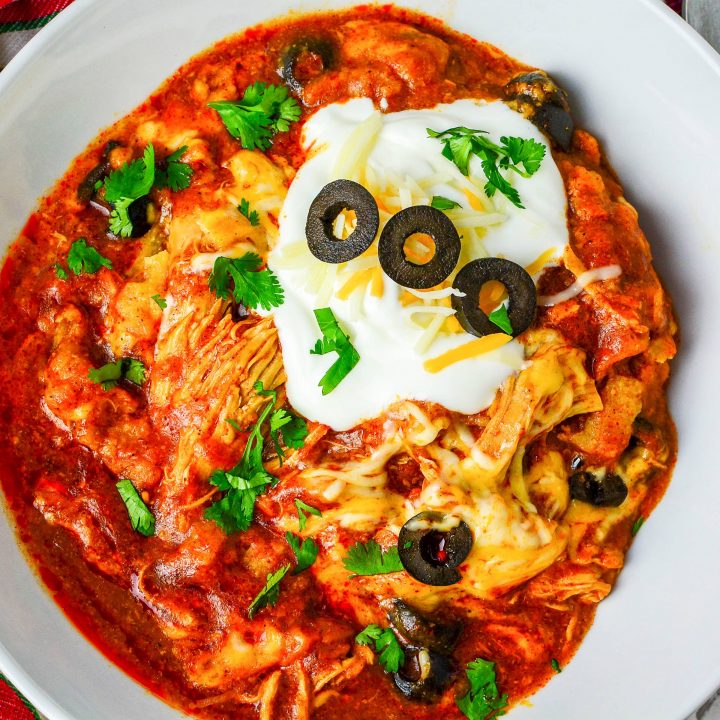 Crock Pot Enchilada Casserole
Cook Time:
8 hours
45 minutes
Total Time:
8 hours
50 minutes
Ingredients
1.5 lbs. boneless skinless chicken breasts, uncooked (Weigh your chicken. If you use more than 1.5 lbs casserole will be dry)
28 oz. can Red Enchilada Sauce
½ tsp garlic powder
½ tsp cumin
10 corn tortillas (flour tortillas do not work)
2 cups grated cheddar cheese, divided
4 oz. can sliced black olives, divided
Sour cream (optional)
Fresh cilantro (optional)
Instructions
Spray your slow cooker insert with nonstick spray or use a slow cooker liner.
Put the chicken breasts in the bottom of the slow cooker and top with enchilada sauce and spices. Stir to combine.
Cook on HIGH for 4 hours or LOW for 6-8 hours.
Shred the chicken in the slow cooker insert.
Cut the corn tortillas into strips and add them to chicken and sauce mixture.
Stir until well coated.
Add 1/2 cup of cheese and half the olives into the chicken and sauce mixture and stir until well coated.
Using the back of a spoon flatten the mixture.
Top with remaining cheese and the rest of the olives.
Cook on low for an additional 45 minutes.
Top with sour cream and chopped fresh cilantro before serving (optional)
Notes
Corn tortillas are a must for this recipe or you will end up with a gooey mess.
We like to top ours with sour cream and cilantro on the serving plates not in the slow cooker.
How to make in the Instant Pot
You can easily make this crock pot dinner in your Instant Pot! We go between using our slow cooker and using our pressure cooker for this meal. You can follow this easy recipe for making Instant Pot enchilada casserole. (This version uses beef but you can sub chicken if you'd like.)
Other Crockpot Recipes to Try
Looking for more quick and easy dinner ideas? Here are some of my favorite crockpot dinner recipes for you to try: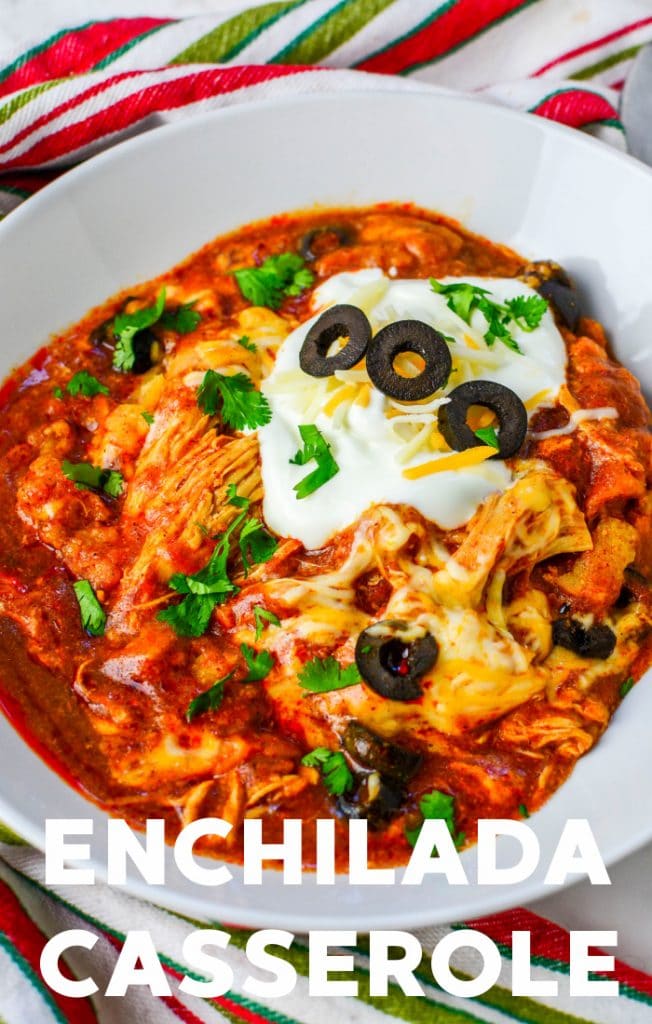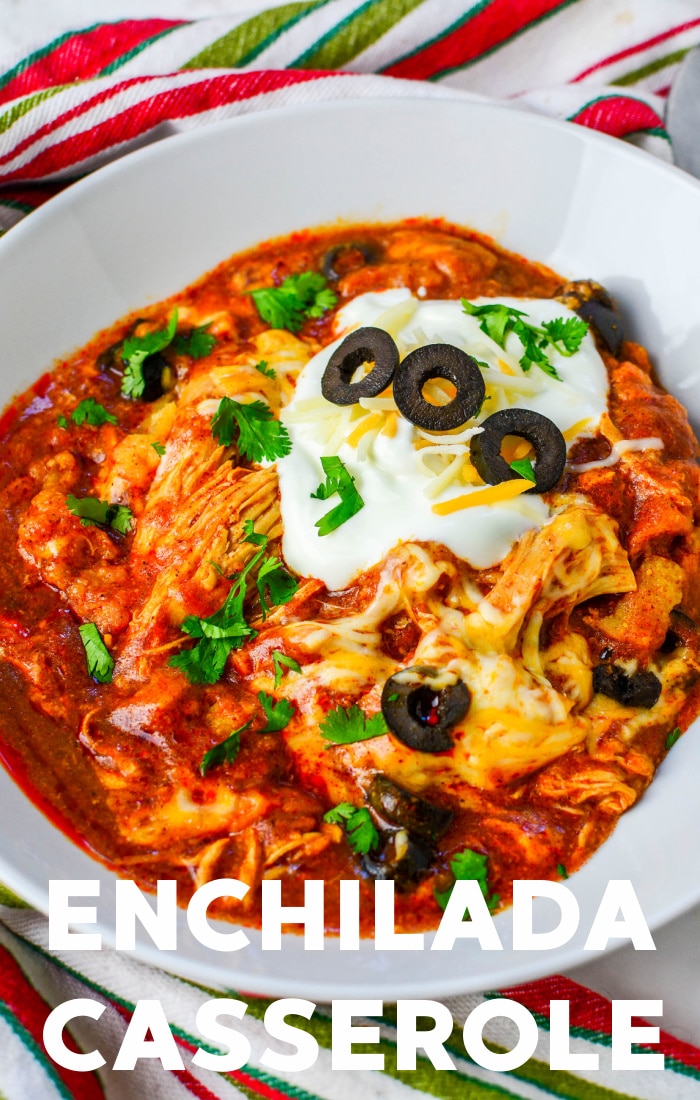 Hungry for more?
Check out more Cinco de Mayo inspired recipes here.