This crispy oven fried chicken is a quick and easy dinner recipe the family is sure to love. No kid ever turns down oven fried drumsticks for dinner. It's a mom favorite because its quick and it's a family favorite because it's delicious! It's a win-win-win recipe!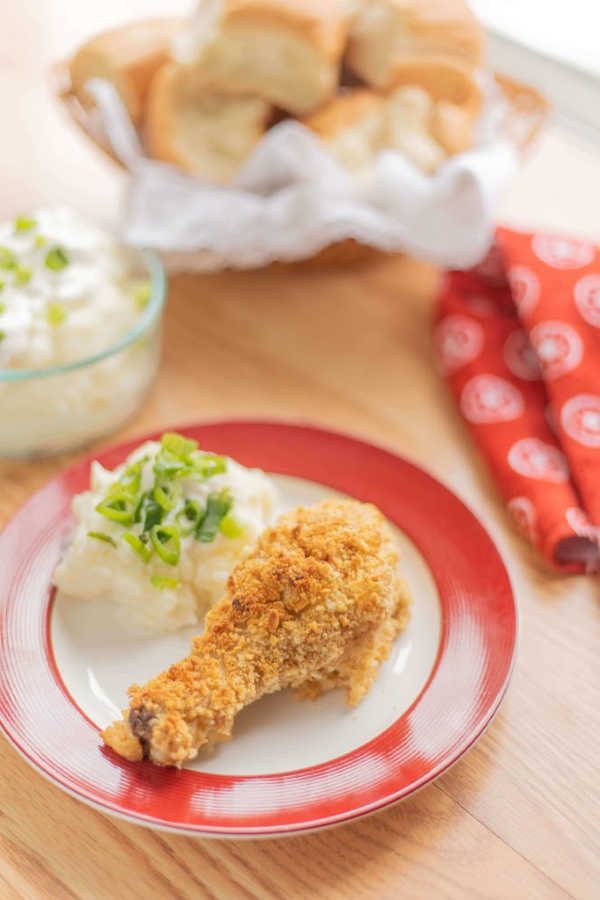 If your family is as busy as mine, you only have so much time each evening to put together a healthy meal. The best part is, even though "fried" is in the name, there is nothing fried about this chicken. It is baked in the oven. All you need is a few common ingredients, a bowl, and a cookie sheet and you are in business! Dinner is served.
If there's two things that my children love in life, it is sports and chicken. My daughter has been in basketball all winter long, my son will be in baseball soon, and, I'm sure, they will both want to play soccer this summer. We are constantly on the go and there is little time in the evenings to fuss over what we want to eat. That's why this easy oven fried chicken recipe is ideal for our family.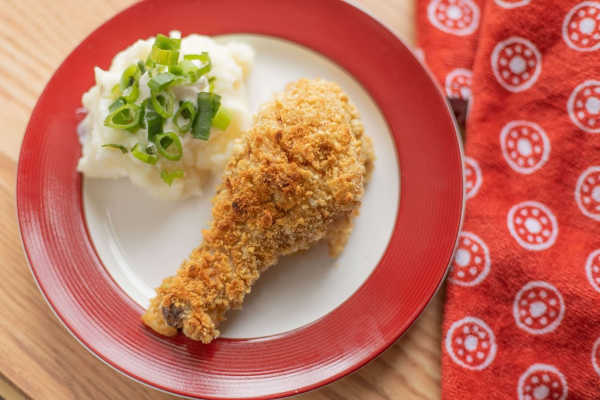 What is crispy oven fried chicken?
Chicken is inexpensive. I buy it every week I go to the grocery store, so I always have it around. The kids constantly need cookies or brownies made for this or that event at school, so I always have plenty of flour in the cupboard. It's just a matter of putting the two together and—Voila!—kids get fed and everyone is happy.
Just fifteen minutes of prep time and 40 minutes to bake. This chicken is ready for your family to enjoy in about an hour. During that time, kids can be getting ready for practice or finishing up some homework. Mysteries like, "Mom, where are my shoes?" or "I can't find my duffle bag!" can be solved during this time too.
What do I need to make crispy fried chicken?
Again, it's a simple recipe. All you need is:
drumsticks some
buttermilk
flour
panko or bread crumbs
herbs
Drumsticks are easy to find in the meat section at the grocery store or at your local butcher. I usually pick up a couple packages from the store when ever I find them on sale. You can also use breasts, thighs or wings!
As far as the buttermilk, I usually have some around. But if you don't, worry not. Plain milk will work just fine too. The milk helps the flour and bread crumbs stick to the chicken to give it that "fried" look. You can also make buttermilk by combining one cup of milk and 1 tablespoon of vinegar or lemon.
You can use any kind of flour in this recipe. If you are gluten free, grab a gluten free flour blend to use here. The flour helps the buttermilk bind together with the panko. I love using King Arthur gluten free flour blend.
I prefer to use Panko as it makes the chicken extra crispy. But bread crumbs or even crushed up crackers will work well too. Aleias has a great gluten free panko blend.
The spices that I am sharing keep the chicken pretty basic. For extra flavor, I like to add some red pepper, oregano, and thyme. You can add what ever spices please your family. Something like Italian seasoning would be great on this chicken.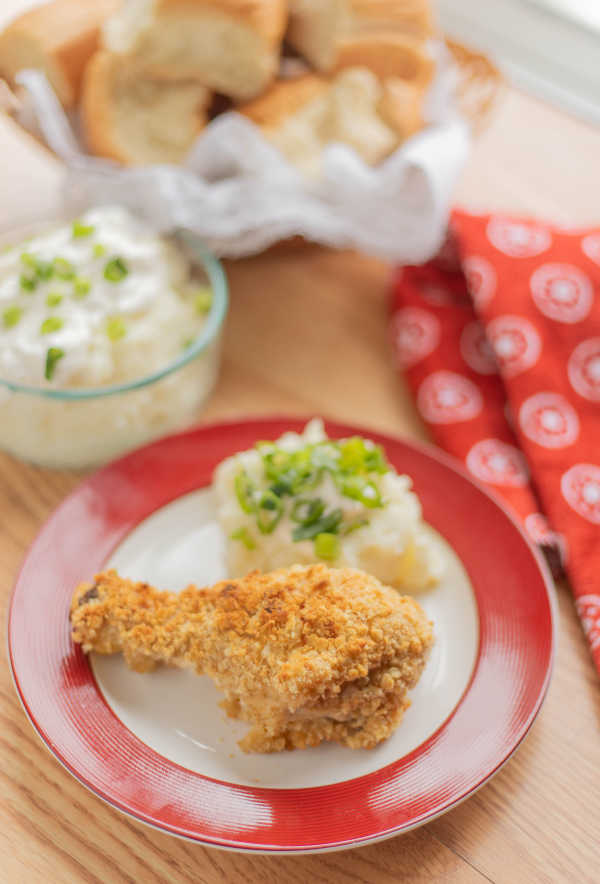 How to make crispy oven fried chicken
Once you gather all your ingredients you will also need:
3 shallow dishes for your flour, buttermilk and panko
a baking dish for baking the chicken
fork or tongs for coating the chicken
Before you put all of that together, be sure to take a stick of butter and melt in on the pan. This will keep the chicken from sticking to the pan and also enhance that "fried" flavor. You will also want to preheat your oven now as well.
Place your flour and spices together in one dish, place your buttermilk in another and your panko or bread crumbs in a third.
Using either tongs, a fork or your hands, take one drumstick and roll it in the flour mixture. Then coat it in the buttermilk by rolling it around again. Finally, cover it with panko by rolling it a third time.
Place your drumsticks in your baking dish and bake, uncovered for 40 minutes or until the internal temperature of the chicken reaches 165 degrees.
Sides for your crispy oven baked chicken
Now that you have your oven fried chicken going, you may also want an easy side dish to go with your meal. Here are some great suggestions: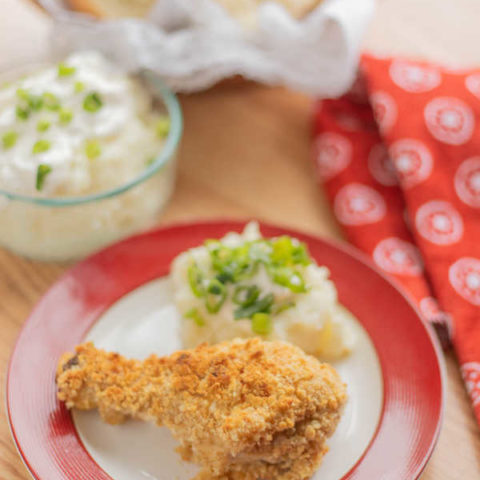 Crispy oven fried chicken
Ingredients
4 pounds drumsticks
1 cup buttermilk
½ cup flour
8 ounces panko or bread crumbs
½ cup butter, melted
1 teaspoon garlic powder
1 teaspoon onion powder
1 teaspoon salt
1 teaspoon pepper
Instructions
1. Preheat oven to 400 degrees F.
2. Prepare a 9x13 inch baking dish, by coating in melted butter.
3. Add buttermilk to one dish, flour to another and panko in the third. Mix the spices into the flour dish.
4. Dip drumsticks, one at a time, into flour.
5.. Once coated in flour, roll in buttermilk until covered.
8. Roll in panko bread crumbs until coated, then place in baking dish.
9. Bake for 40 minutes or until cooked through and the internal temperature reaches 165 degrees F.
Nutrition Information:
Yield:

12
Serving Size:

1 drumstick
Amount Per Serving:
Calories:

459
Total Fat:

23g
Saturated Fat:

9g
Trans Fat:

0g
Unsaturated Fat:

11g
Cholesterol:

213mg
Sodium:

580mg
Carbohydrates:

21g
Fiber:

1g
Sugar:

2g
Protein:

41g
If you like this crispy oven fried chicken, you may also want to check out these other quick and easy dinner recipes: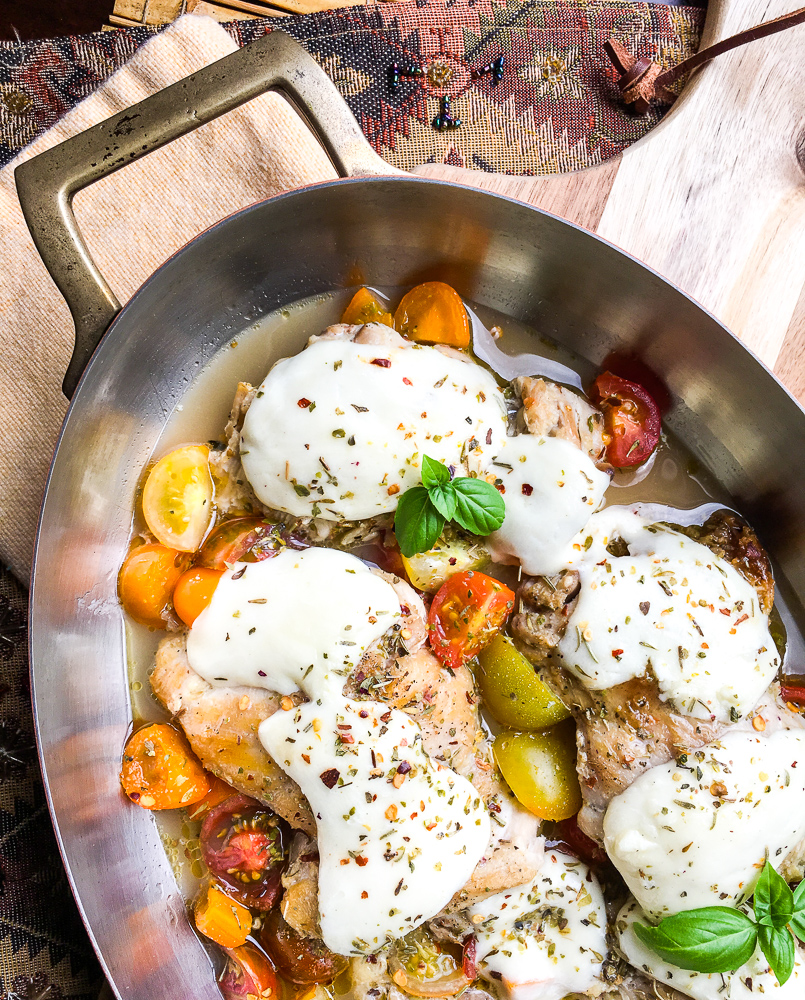 Crock pot shredded Mexican chicken