Looking for the perfect sweet treat? I've got you covered! (In chocolate!)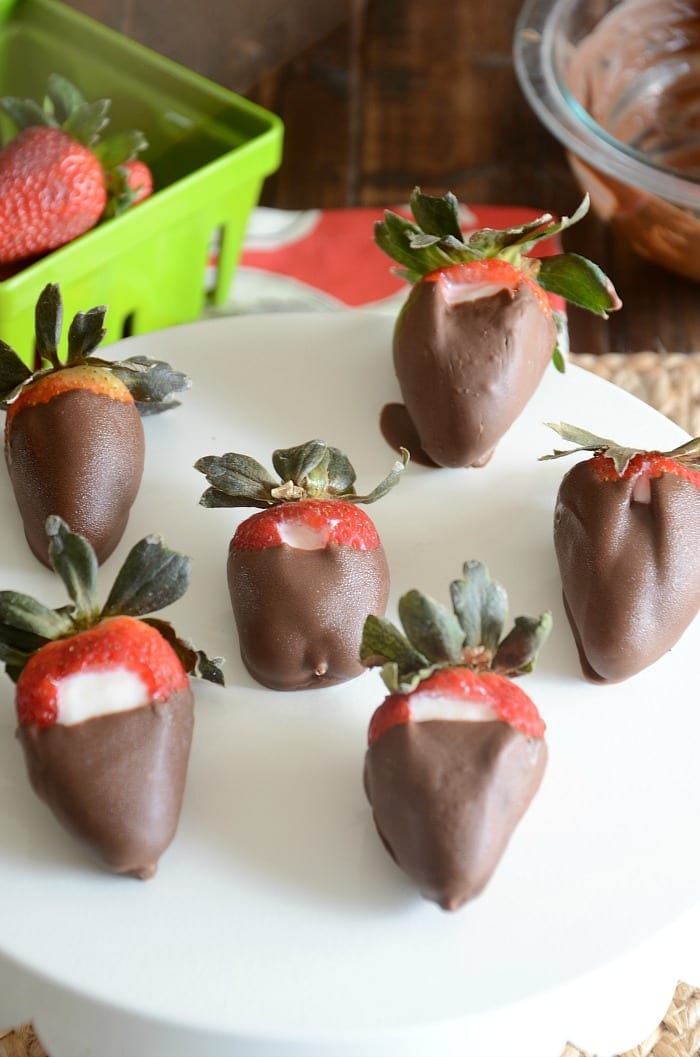 Yall. Seriously. Chocolate covered cheesecake stuffed strawberries. Yes! So much yes. I didn't even think this much goodness could fit in one strawberry. But let me tell you – it can! And you NEED to make these bad boys ASAP.
As soon as possible may not be fast enough. But that's just my chocolate cheesecake stuffed strawberry belly talking.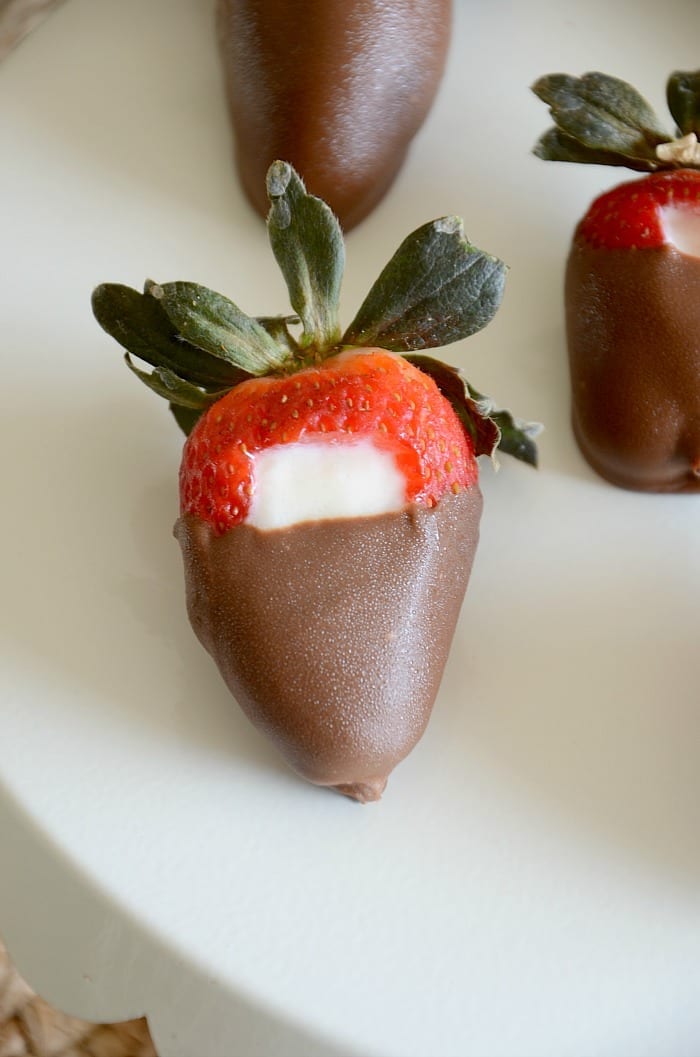 You need to know two things about these strawberries. First. They are ridiculously easy to make. No lie. They took about 30 minutes to make two dozen. And that included letting them set in the freezer for a few minutes to harden. THAT EASY.
Second. They will disappear. Seriously. You will have a cookie sheet full of two dozen strawberries and if you look away they will be gone. I mean – it's easy to figure out where they went because you will see chocolate smeared smiles all around you. But still. They will be gone LIKE THAT.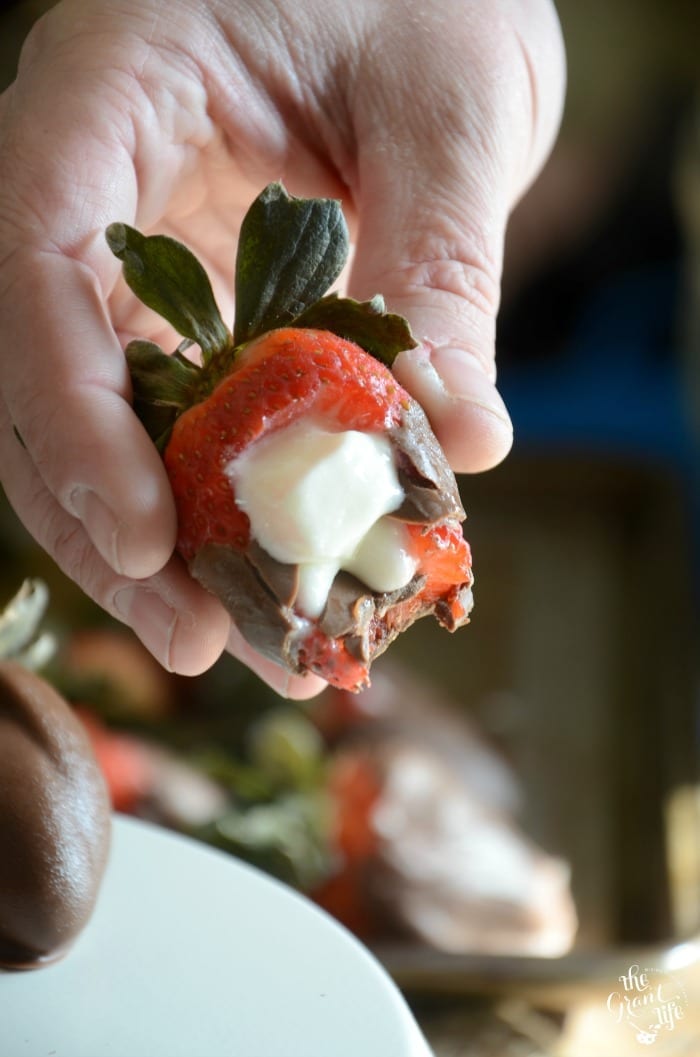 I should put a third disclaimer here too. They are SO much cheaper to make at home then to buy. I know this time of year everyone is pushing store bought chocolate covered strawberries. And they look good! I know. I get tempted to buy them too.
But walk away. Walk straight to the baking aisle and grab some powdered sugar and chocolate bark. Then grab a stick of cream cheese and at least 2 dozen strawberries. They strawberries will be the most expensive thing – but don't you worry. It's all worth it!
And just so you can see how easy they are to make a did a quick (super quick) video tutorial. With some super cheesy Valentine's music. Because what are chocolate cheesecake stuffed strawberries without a little cheesy music??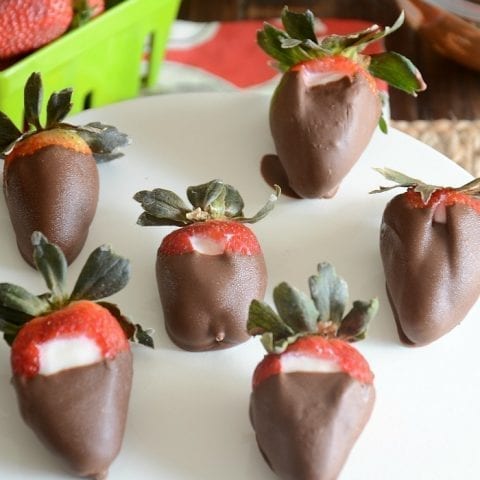 Chocolate cheesecake stuffed strawberries + video
Ingredients
8 oz package of cream cheese, softened
2 cups of powdered sugar
1 teaspoon of vanilla extract
24 strawberries, washed and dried
about 8 ounces of chocolate bark, melted
Instructions
In a stand mixer or using a handheld, whip the cream cheese until light and fluffy. Slowly add in the powdered sugar. Mix in the vanilla extract. If your cheesecake mixture is too runny- add a bit more powdered sugar. You want it to be able to hold a peak for a few seconds.
Cut a triangle in the strawberry, with the point facing toward the bottom of the berry. (See video for tips)
Pipe in the cheesecake mixture. (I added mine to a plastic baggy and cut the tip.)
Place on a baking and put in the freezer for 5 minutes to allow the cheesecake mix to harden.
Remove from the freezer, dip the strawberry in the melted chocolate bark and return back to the cookie sheet. Allow to harden completely before eating. Keep in fridge or freezer if not eating right away.
Enjoy!
Like this post? Be sure to check out:
Like it? PIN IT!