What I love about my crockpot is that I can put my food in it in the morning and forget about it. When dinner time rolls around, it's all ready for me. This Italian beef recipe will make about 6-sandwiches which is perfect for a family of 4. Crock pot directions along with Instant Pot and stove top directions are included on how to make the Best Italian Beef Recipe!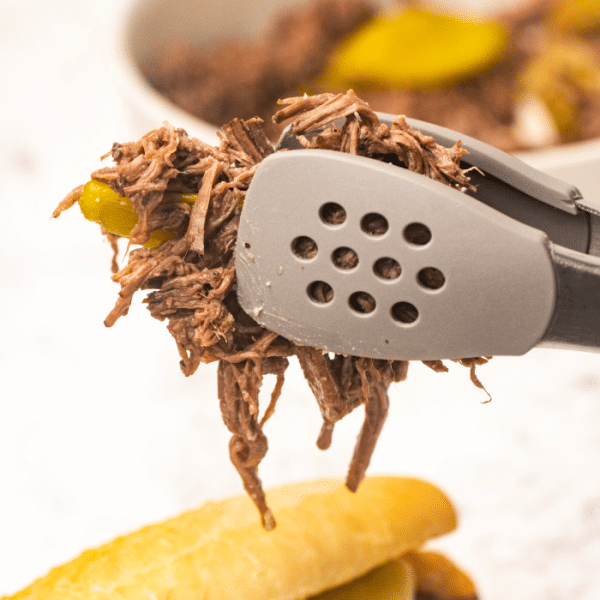 I love a good crock pot recipe. My all time favorite is my original Mississippi roast. It's so good and comes out perfect every time. Plus my house smells amazing when I have the beef simmering in the crock pot all day long.
Trying a variation on my favorite crock pot recipe was bound to happen. I'm not saying this Italian beef is better than the Mississippi roast – I'm just saying it's delicious and you need to try it ASAP!
What is Italian Beef?
Italian beef is a thinly sliced or shredded beef that is used to make sandwiches. It's seasoned with savory Italian seasonings and can be dipped in au jus sauce if you like. This sandwich meat became popular in Chicago, but the exact origin is unknown.
Italian Beef Ingredients
To get a savory sandwich meat, you will need certain ingredients you may not have used before. Here's what you need:
Dry Italian dressing mix. You can find dry seasoning mixes in the seasoning section of your local grocery store. Good Seasons and Wishbone are two brands that make dry Italian dressing mix.
Chopped pepperoncini. Pepperoncini is an Italian pepper. If you can't find them or don't know what it is, a good substitute is the banana pepper.
Pepperoncini juice. You can simply use the liquid your pepperoncini is packed in. Or, if you chose banana peppers, you can use the juice they were canned in as well.
Seasonings. This recipe is packed with a variety of seasonings to really bring out the flavor of your meat. You will need salt, pepper, italian seasoning, garlic powder, and dried onion to name a few.
Chuck roast. You want to make sure to get this type of meat as it is easier to shred for sandwich meat. It may go under other names such as pot roast, shoulder roast, or chuck eye.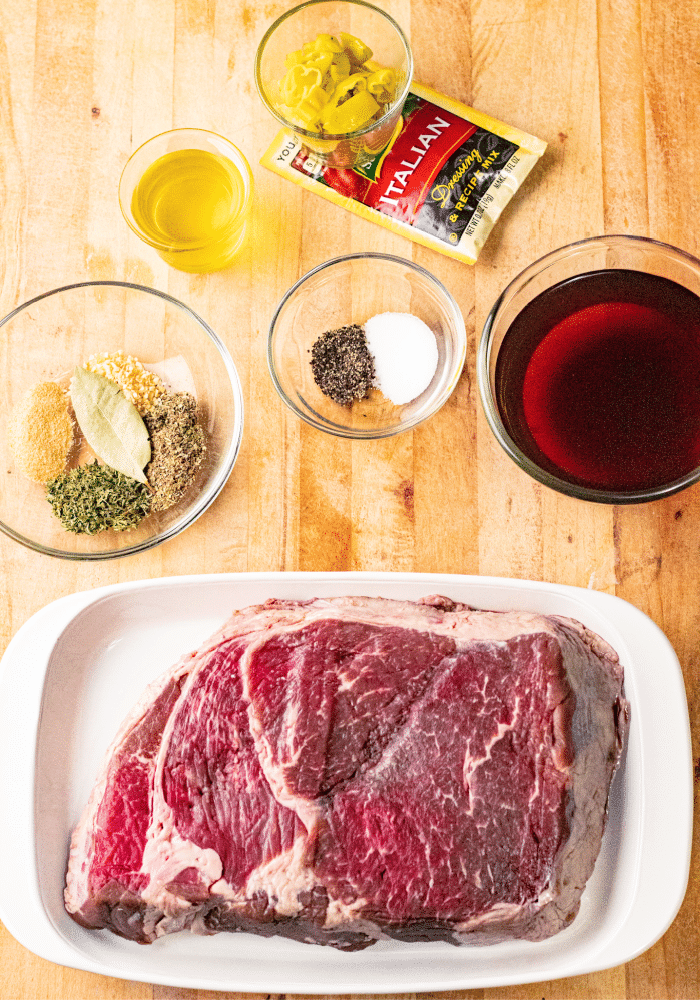 Exact Ingredients Needed
Here are the exact ingredients you will need to make Italian beef:
3C beef broth
1 tsp salt
1 tsp ground pepper
2 tsp italian seasoning
1 tsp dried onion
1 tsp dried parsley
A bay leaf
1 tsp garlic powder
A package of dry Italian Dressing Mix
3-4 pounds of chuck roast
½C chopped pepperoncini
1/4C pepperoncini juice
How to Make Italian Beef in the Crock Pot
Like I said above, this recipe is a crock pot recipe! That means that all you need to do is plop it into your crockpot and enjoy it in the evening! Follow the steps below to make it just right:
Step 1: Combine seasonings with Broth
In a bowl, combine your beef broth with salt, pepper, italian seasoning, diced onion, parsley, garlic powder, a bay leaf, and the Italian salad dressing mix.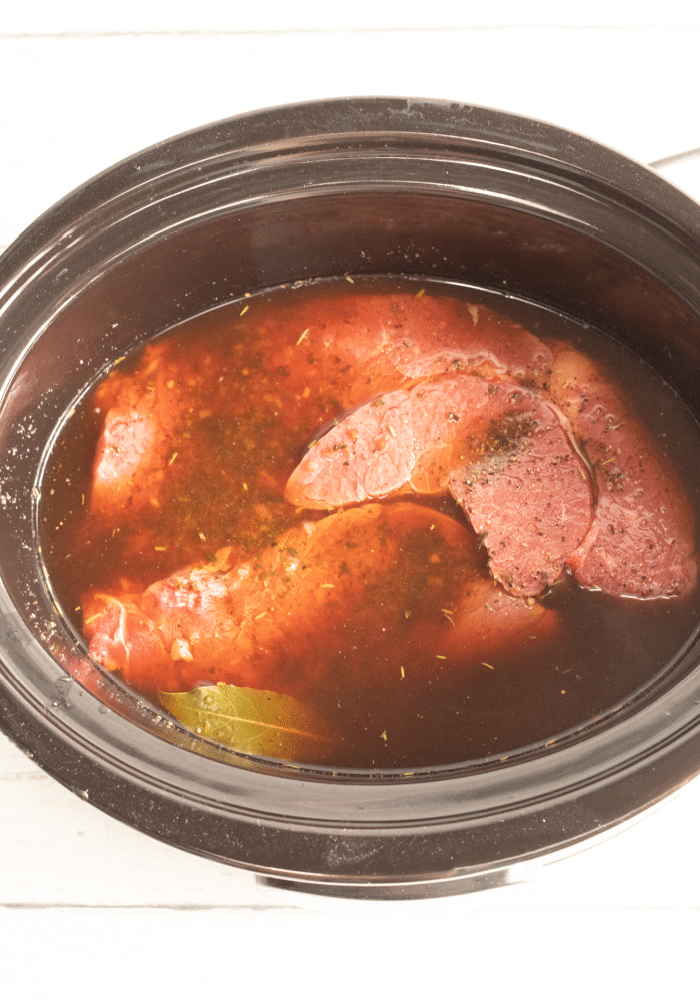 Step 2: Put Roast in the Crock Pot
Next, place your chuck roast into your crockpot. Then, pour the seasoning and broth mixture over the top of your roast.
Step 3: Add the Peppers
After pouring your liquid seasonings in, add the chopped pepperoncini and pepperoncini juice on top of the roast.
Step 4: Slow Cook
Place your lid on your slow cooker and cook on low for about 10 hours. When it is finished, take out the bay leaf.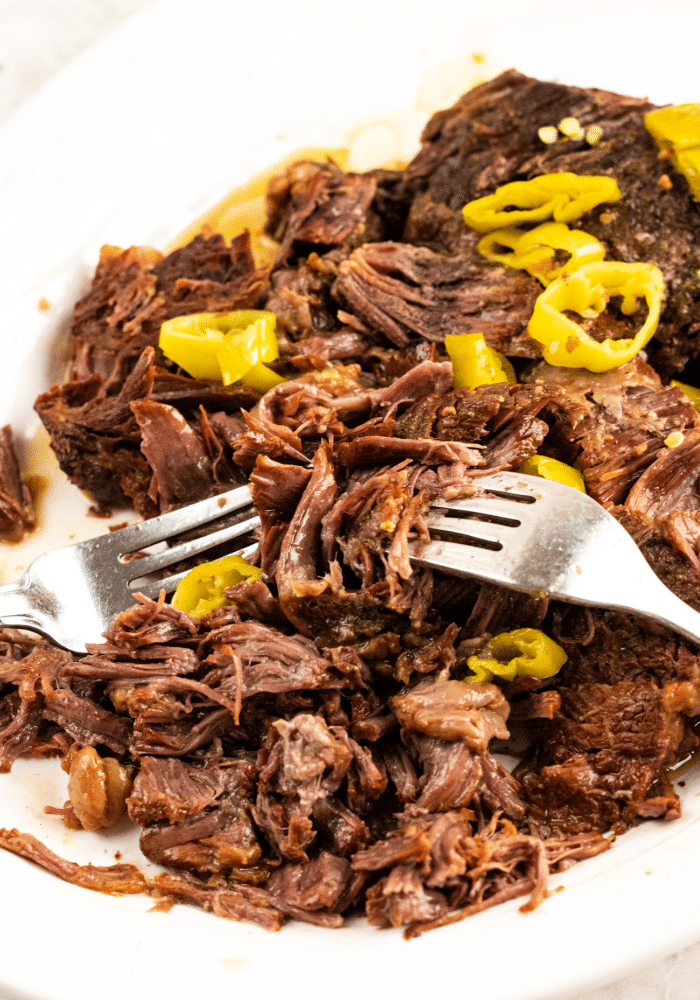 Step 5: Shred the Meat
Using two forks, shred the meat. Remember, it is being used for sandwiches so shred it as much as you can.
Step 6: Serve
Finally, serve your meat on homemade hoagie rolls topped with mozzarella cheese and peppers if you choose.
How to Make it in the Instant Pot
How many times have you taken out a roast and forgotten to throw it into the crockpot before you left for work? It totally messes up your whole dinner plans, but if you have an Instant Pot, you can make Italian beef in less than half the time! In fact, you only need to pressure cook it for 50-minutes!
Turn your Instant Pot to saute and sear your roast on all sides. This is optional but helps lock in flavor.
Place the remaining ingredients in your Instant Pot and lock the lid.
Cook on manual high pressure for 50 minutes.
Allow the Instant Pot to come to natural pressure. Related: Natural pressure vs manual pressure release.
Remove the bay leaves.
Shred the beef with two forks.
Serve on a hoagie roll and enjoy.
Italian Beef in the Oven
If you don't have a crockpot or an Instant Pot, you can easily make this recipe in your oven as well. Check out this Italian Beef Sandwich for directions on how to make it in the oven.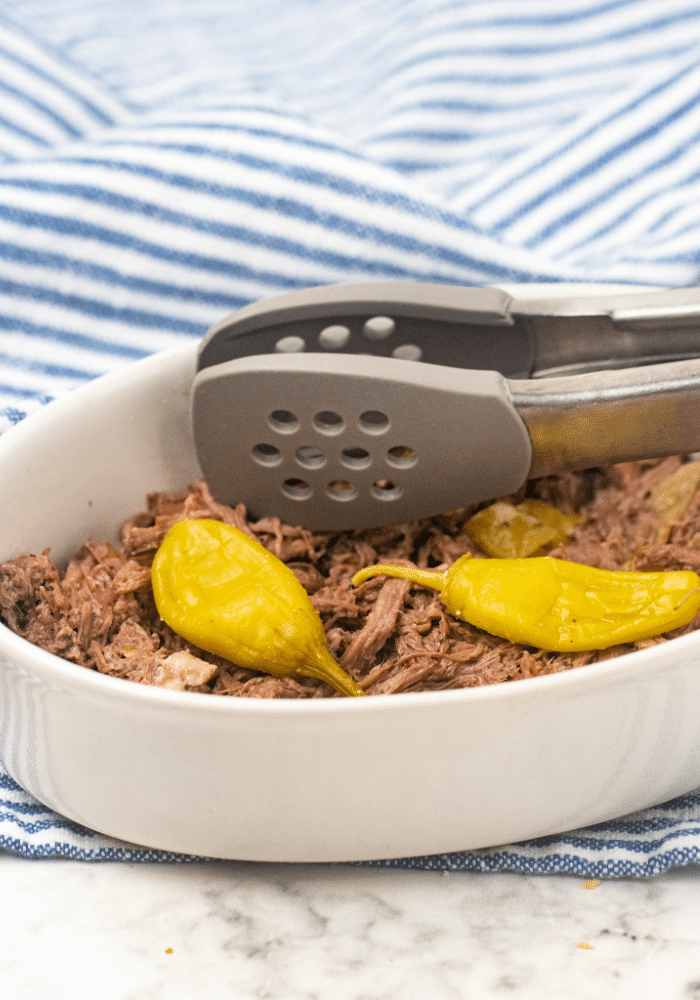 Side Dish Suggestions
These sandwiches go great with almost any side you choose! I personally like to have a hearty meal, so these are some of my favorite sides:
How to Store Leftovers
Leftover Italian beef can easily be stored in your refrigerator for 2-5 days. You will store the cooked meat separately from the bread. Place the meat in a tupperware bowl with a lid and store it in your fridge.
Can I Freeze Italian Beef
Absolutely! Cooked Italian beef can be stored in the freezer for up to 3-months. Simply place your leftover beef into ziplock freezer bags. Then, place them in the freezer.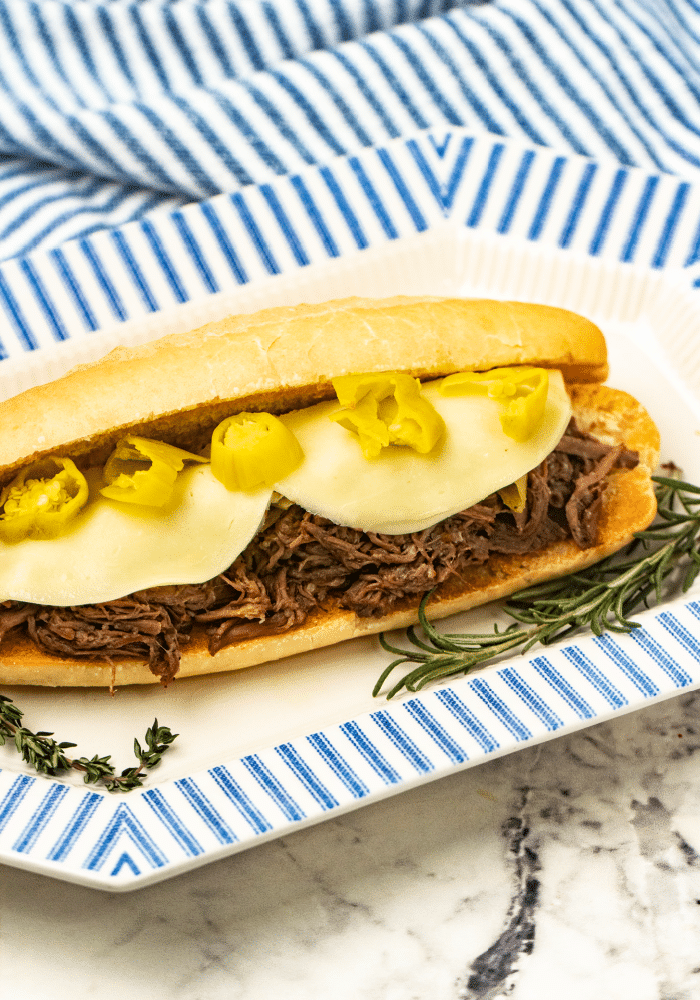 Other crock pot recipes to try
If you love easy crock pot recipes, I suggest you also try: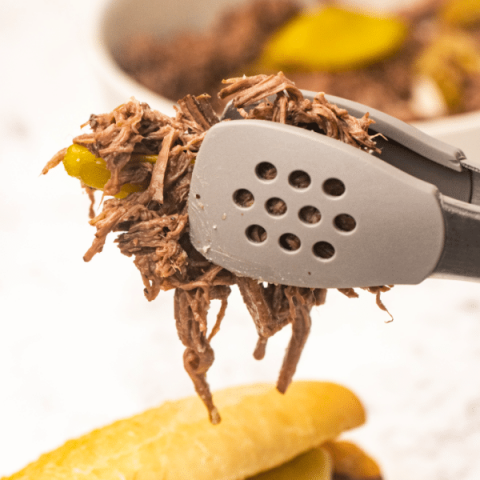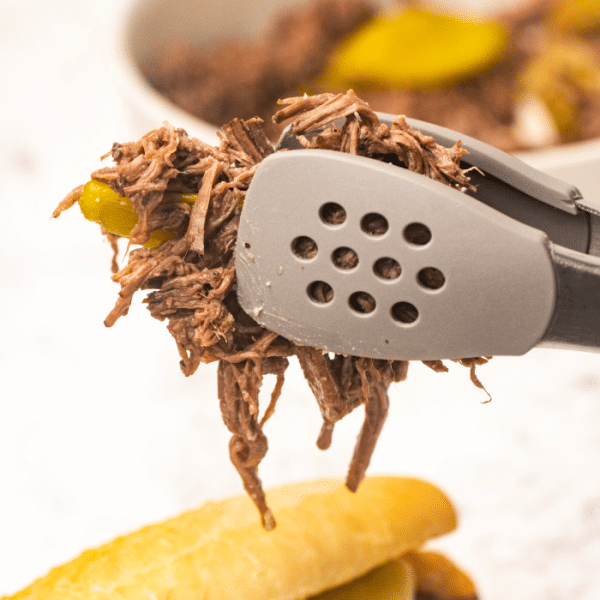 The best Italian beef recipe
Tender beef in a savory broth that makes the perfect sandwich!
Ingredients
3 c Beef broth
1 Tsp Salt
1 Tsp Ground pepper
2 Tsp Italian seasoning
1 Tsp Dried onion
1 Tsp Dried parsley
1 Tsp Garlic powder
1 Bay leaf
1 pkg dry Italian dressing mix (package of dried salad dressing mix. Such as good seasons)
3-4 lbs chuck roast
½ cup chopped pepperoncini
¼ cup pepperoncini juice
Instructions
Combine beef broth, salt, pepper, Italian seasoning, diced onion, parsley, garlic powder, Bay leaf, and Italian salad dressing mix.
Put the roast in the slow cooker.
Pour mixture over top of the roast.
Add chopped pepperoncini and liquid over roast
Cover and cook on low for approximately 10 hours or until pull=apart tender. You can also cook it on high for 6 hours.
When done take out the Bay leaf.
Shred meat with two forks
Serve topped with mozzarella cheese and extra peppers if desired.
Nutrition Information:
Yield:

12
Serving Size:

1
Amount Per Serving:
Calories:

1092
Total Fat:

70g
Saturated Fat:

29g
Trans Fat:

4g
Unsaturated Fat:

36g
Cholesterol:

376mg
Sodium:

886mg
Carbohydrates:

4g
Fiber:

0g
Sugar:

3g
Protein:

113g
If you found this recipe helpful, please pin it to Pinterest for others to enjoy. Remember, sharing is caring!