Ever since I made the homemade French bread I have been craving more. I loved being able to make my own bread. And it was pretty tasty too. So for about a week I have been dreaming of making more. Then I had this idea to add fresh rosemary.. and sea salt! And I did, and everything is right in the world.
I made this bread the same way I made the homemade French bread, except I didn't use my mixer this time. [Say whaa?] Yup. This is truly a handmade bread. I mixed it, punched it, rolled it and shaped it all by hand. [Maybe that's why it was extra tasty.] I used:
2 packages active dry year [I used Fleischmann's]
2 1/2 cups warm water
1 tbs salt
1 tbs butter
7 cups flour
2 sprigs of fresh Rosemary
1 tbs sea salt
This recipes makes two loaves of bread; which can be a good and a bad thing. Its good if you have a big family or you need to send some off with a friend. Its bad because if you don't, you get to eat it all by yourself. Which might not be the end of the world. I was lucky and sent one loaf to church and kept the second one for Sunday dinner with my family. [We always have a big Italian Sunday dinner at my parents house. My mom cooks and I clean. Its tradition.]
This bread actually reminded me of the appetizer bread they serve at Macaroni Grill. It had the same smell and flavor as their bread. [And yes, I smell my bread. Who doesn't?] I should have dipped in it some olive oil and spices but we ate ours with lasagna and salad instead. [I'm gunna share my momma's lasagna soon. Its out of this world yall!] But for now I'll leave you with this easy rosemary and sea salt french bread recipe and share the lasagna recipe soon.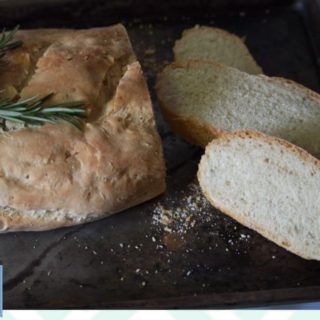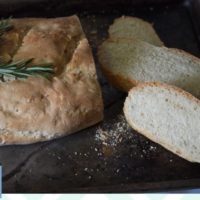 Rosemary and Sea Salt French Bread
Ingredients
2 packages active dry year [I used Fleischmann's]
2 1/2 cups warm water
1 tbs salt
1 tbs butter
7 cups flour
2 sprigs of fresh Rosemary
1 tbs sea salt
Instructions
Run your mixing bowl under warm water.
Add the 2.5 cups of warm water to it along with the yeast.
Dissolve it in the bowl.
Add the (regular) salt, melted butter and flour in a separate bowl.
Peel the leaves off the rosemary sprigs and chop them up.
Add them to the bowl with the flour mixture.
Add the yeast in and mix it together for about 3 minutes kneading it with your hands.
Put the dough in a greased bowl and turn it over so that the top gets greased too.
Cover with a towel and let it rise for an hour. [Or until it doubles in size.]
Once its risen, take it out of the bowl and punch it down on a lightly floured surface.
Divide the dough in half and then roll them flat.
Make two rectangles with the dough and add them to a greased or covered in cornmeal baking sheet.
Cover and let it rise again for one hour.
Add a small amount of water to the top of the loaves and sprinkle with sea salt.
After it has risen again, cut the top with a sharp knife and bake each loaf for 25 minutes at 450.
Let cool, and enjoy!

Be sure to check out these other easy homemade recipes:
And sign up for our emails yall!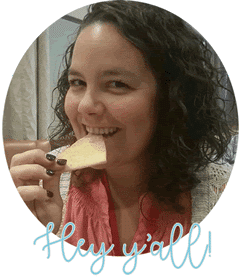 Hey y'all!I'm Kelley. I'm a recipe making, picture taking, coffee drinking momma to 3 crazy kiddos. Join me as I share our family favorite dinners and my copycat coffee drinks too!