Looking for a fun dessert? This arroz con leche, or Mexican sweet rice, is the perfect recipe. It's easy to make on the stove top, in your Instant Pot or even in the crock pot! It's a versatile dessert that some people even enjoy for breakfast. Dessert for breakfast? Yes, please!
When we lived in Michigan one of the things I missed most was HEB, our local grocery store. I literally grew up going there and they have some of the best products. From the pre-seasoned fajitas to the Texas shaped corn chips or cheese. There was so much that I missed when we lived up north!
I missed the craziest things while we lived in Michigan. Homemade tortillas smothered in butter. Quesadillas with extra grilled onions. Big fat avocados. Homemade arroz con leche. All the best comfort food that I grew up enjoying.
What is arroz con leche?
Arroz con leche means rice with milk when translated from Spanish to English. Some people call it Mexican sweet rice and that's essentially what it is – rice pudding drenched in sweetened condensed milk and cinnamon. It's absolutely delicious! The best part of this sweet treat is that it is really easy to make. Toss all the right ingredients together and then let it simmer to perfection. You can also add in some raisins and have it for breakfast!
Where is arroz con leche from?
It is though to have originated from Spain around the time of the 1800s. It has also been a popular treat in many Spanish speaking countries for decades now.
Arroz con leche ingredients
To make this Mexican rice pudding on the stove top you will need:
cinnamon sticks
water
rice
milk
vanilla extract
sweetened condensed milk
ground cinnamon
Cinnamon sticks – These help flavor the rice pudding. You will allow them to simmer with the rice and water and then discard them after.
Rice – You will need white long grain rice for this recipe. Instant rice will not work.
Milk – The key to making this arroz con leche creamy, is the milk. You will need 4 cups of whole milk here.
Vanilla extract – You can use store bought vanilla extract, or try your hand at homemade! It's really easy and great for all kinds of baking.
Sweetened condensed milk – This is what sweetens your arroz con leche. You can find it in the baking aisle at most grocery stores. Scroll down for substitutions.
How to make arroz con leche on the stove top
Once you have gathered all your ingredients, you will also need to grab:
Measuring cups and spoons
Large pot
Wooden spoon or spatula
Step 1 Cook the rice Place the cinnamon sticks, water and rice in a large pot over medium heat. Allow the water to come to a boil.
Step 2 Add the milk Once the rice has come to a boil, add in half the milk, until the rice starts to thicken. Stir constantly and add in the other half of the milk, the vanilla extract and the sweetened and condensed milk.
Step 3 Simmer and serve Allow the rice to simmer until most of the liquid has been absorbed and the rice is tender. Scoop into bowls and top with ground cinnamon.
Can I make arroz con leche ahead of time?
You sure can! In fact, it stores beautifully! Make it as the directions are written and then place it in an airtight container in the fridge. You can reheat it on the stove or in the microwave. Make sure to add some extra milk as the rice will have absorbed some in storage.
How to make Mexican sweet rice in the Instant Pot
I love this recipe because you can easily make it even faster in your Instant Pot! You even use almost the same ingredients! You can get the full Instant Pot arroz con leche recipe HERE, but a quick rundown of how to make it is –
Place everything in the Instant Pot.
Cook for 20 minutes on the "Porridge" setting.
Naturally release the pressure.
Stir and serve.
How to make it in the crock pot
It's also super simple to make in your crock pot or slow cooker! Here is how –
Place everything in your crock pot. Stir to combine.
Cook on low for 3 hours or high for 1 hour. It is done when all of the water has been absorbed and the rice is tender.
Remove your cinnamon sticks.
Serve into bowls and top with cinnamon.
FAQs about arroz con leche
Can you make arroz con leche with almond milk?
Yes! You can. Just replace the whole milk with almond milk in this recipe. If you are going dairy free, I would also suggest not using the sweetened condensed milk and replacing it with regular sugar.
Can you make arroz con leche without sweetened condensed milk?
Yup! You can make this without the sweetened condensed milk. It won't be as creamy, but it will work. Add in 3/4 cup more milk and 3/4 cup of sugar to replace it. Sweetened condensed milk is just milk and sugar. It's easy to substitute.
Do you remove the cinnamon sticks?
Yes! You do! Once the rice has thickened, you remove and toss the cinnamon sticks. You can add ground cinnamon or raisins on top of the cooked rice dessert.
What toppings work for arroz con leche?
This sweet rice is great plain but you can also add a few easy toppings to it. Some of our favorites are:
dash of cinnamon
raisins
brown sugar
ground nutmeg
touch of ground cloves
Tips and tricks
This recipe is pretty straightforward but some ways to make it even easier is:
You will want to stir the rice constantly once it starts to thicken. It can go from just thick enough to needing more liquid really quickly.
Substitute 3/4 to 1 cup of sugar in place of the sweetened condensed milk in this recipe.
Spoon it into individual bowls before adding them to the fridge for easy breakfasts in the morning.
How to store leftovers
Allow the arroz con leche to cool and place any leftovers in an airtight container. The container will stay fresh in the fridge for up to 4 days. I do not recommend freezing this dish as the texture will not be the same once it's thawed.
Can you eat arroz con leche cold?
Yes! You absolutely can! I love eating cold arroz con leche the for breakfast. Scoop out some rice pudding and add a bit of milk to your bowl. Stir to together and enjoy your cold arroz con leche. Some people like to add raisins as well.
Sign up for more recipes and a free e-book!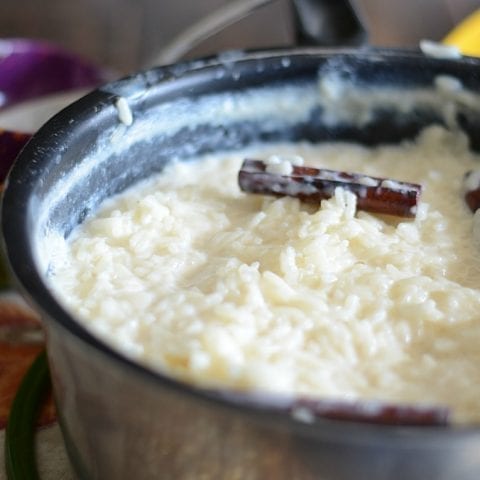 Arroz con leche
Arroz con leche or "sweet rice" is a Mexican inspired dessert of breakfast that everyone will love.
Ingredients
4 cinnamon sticks
2 cups of water
1 cup white rice
4 cups of milk
1 tablespoon vanilla extract
1 can (14 oz) sweetened condensed milk
ground cinnamon for topping
Instructions
In a large saucepan, bring the water and cinnamon sticks to a boil. Add the rice, reduce heat and bring to a boil again.
Stir in 2 cups of the milk until the rice starts to thicken. Add in the other two cups of milk, vanilla extract and the sweetened and condensed milk. Allow to simmer until til thick or your desired consistency.
Remove the cinnamon sticks, allow to cool, sprinkle with cinnamon and enjoy!
Nutrition Information:
Yield:

6
Serving Size:

1
Amount Per Serving:
Calories:

147
Total Fat:

4g
Saturated Fat:

2g
Trans Fat:

0g
Unsaturated Fat:

1g
Cholesterol:

15mg
Sodium:

97mg
Carbohydrates:

20g
Fiber:

1g
Sugar:

4g
Protein:

7g
More Mexican inspired recipes to try:
Have you make this recipe? I would love for you to leave a review in the recipe card above or in the comments below. Want to make it later? You can pin the image below. Thank you so much for the support!