Our next guest poster is the fabulous Kelli from 
The Inspired Collection
.  If you need a dose of crafty, foody goodness then shes your gal!  Her site is full of great projects and yummy recipes.  And on top of that shes so stinkin sweet!  Make sure you leave a comment saying hello and that the Kelley (with an extra e) from the  Grant Life sent ya!  Take it away Kelli.. 
I am so excited that I get to feature this awesome holiday gift at The Grant Life, special thanks to Kelley for letting me share this with all of you! My name is also Kelli, and I am the creator of
The Inspired Collection
. My blog features all my inspired DIY projects, recipes, crafts, and home decor! I just started blogging in July and it has quickly become so much more than just a hobby to me, I absolutely LOVE it and LOVE meeting all of the wonderful bloggy peeps out there, everyone has been so nice! It is so great to share projects with my readers and fellow bloggers, and now with The Grant Life readers and followers! 🙂
I made these awesome
Wine Cork Magnets
a couple weeks ago and I am so in LOVE with them! Here's how I made them…
Wine Corks (if you do not have any, Michaels sells bags of them, and they are right next to the magnets!)
Mini Magnets (@ Michaels $2.78 for a set of 6)
Glue Gun
Glue Stick
I put a dollop of glue on the magnet and press it onto the cork, make sure you put enough glue but not too much. You do not want to be able to see all the hot glue on the back. Hold it until glue is dry. I used 2 magnets per wine cork. Once glue is dry, all you have to do is test them out on your fridge. Now, after that the hard part is parting with your new creation, but this is a gift remember!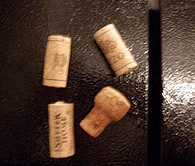 Dress the magnets up in a cute decorative holiday bag, like this…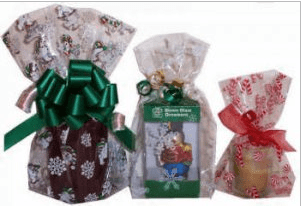 source
This is the perfect gift for any wine drinker, and would make an awesome stocking stuffer! It would also be the perfect gift for any hostess! Are you attending any holiday parties this year?! Show up with a gift for your hostess, they put in a lot of effort to make sure you will enjoy yourself (trust me I know, I am always throwing parties). How cute would these magnets be with a bottle of wine for your party hostess! I know that they would LOVE it! Tie the bag to a bottle of wine, or throw a wine bottle opener or cute wine stop in the bag, and it will still be under $10!
if you already own the corks, glue gun and glue stick is $2.78 plus holiday gift wrapping
if you buy the corks, $6.00 plus holiday gift wrapping
-Kelli
How awesome are those magnets??  (Pretty awesome!)  Thank you Kelli for sharing such a great gift that anyone will love.  Plus now I know what to do for all with all my wine corks!  (I love a good glass of Moscato!)  Check back Wednesday for another gift idea that wont break your bank.