I've got a stunning red, white, and blue dessert that is perfect for your 4th of July celebrations. Cake with cheesecake will wow with a stunning presentation and creamy taste. The cake layers give you a bright red and blue to go with the white cheesecake layer. Everyone will rave over this fourth of July cheesecake cake!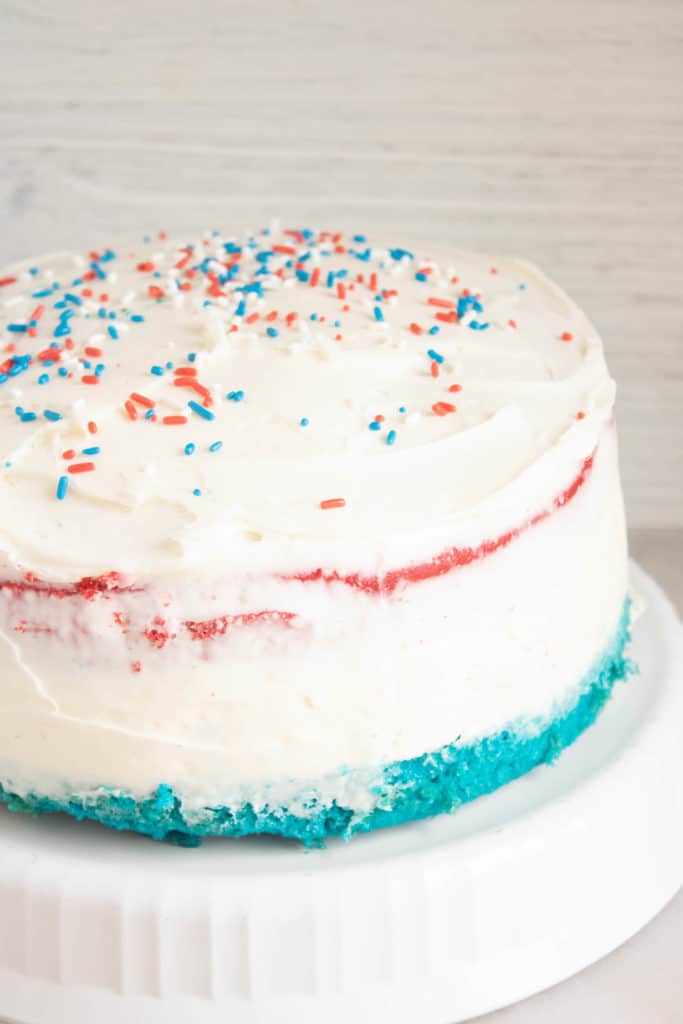 I love celebrating the holidays! Fourth of July is one of my favorites because we have a big family get together. It turns into a giant potluck and everyone brings their best dish. Of course I had to bring out the fourth of July cheesecake to the party! It's such a fun dessert that everyone loved.
While this one is easy to make, you will have to start a day before you serve. The cheesecake layer will need time to set-up. Don't let the timing scare you away. It is really easy to assemble!
What is cheesecake cake?
Cheesecake cake combine two desserts in one. Sandwiched between two layers of cake is a creaming layer of cheesecake. One layer of cake is red and the other is blue. Or any other colors you like! This version is patriotic and is the perfect 4th of July dessert for a crowd.
The cheesecake layer is simply cream cheese, sugar and whipping cream. The layer a creamy addition to make for a decadent patriotic dessert. The layered confection if covered with a classic vanilla cream cheese frosting.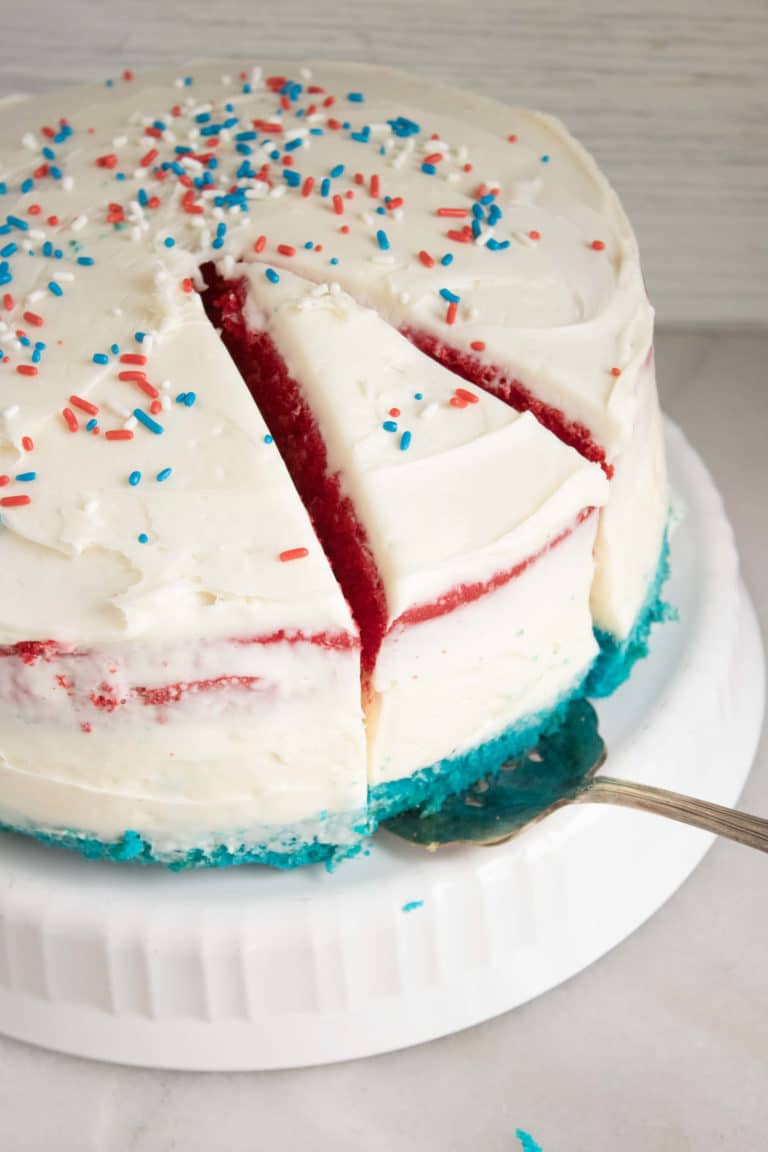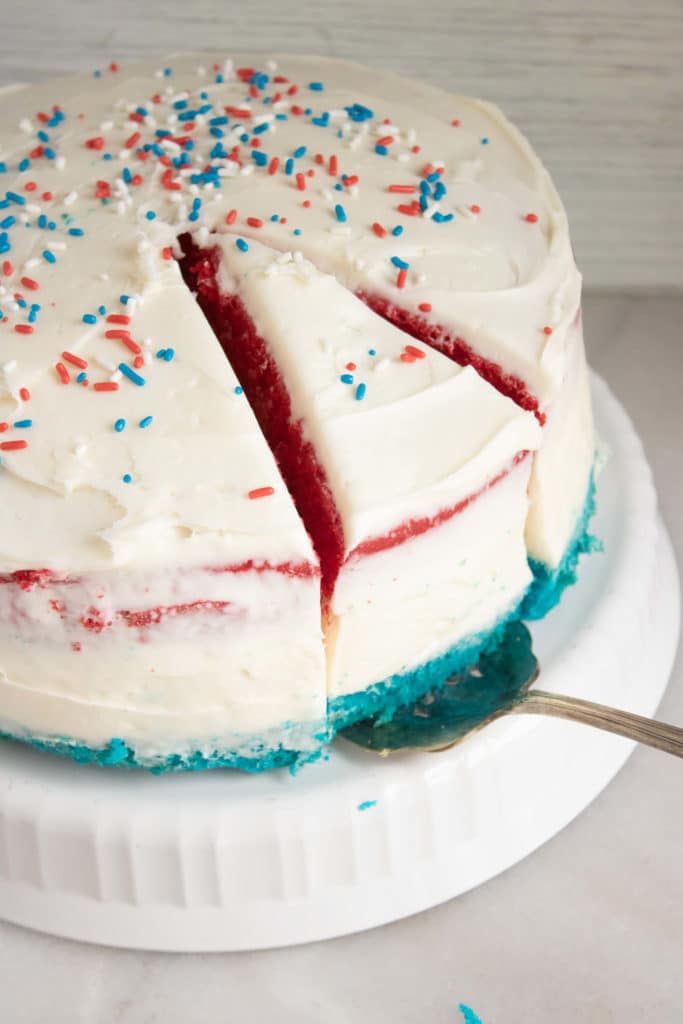 Cheesecake cake ingredients
Cheesecake Layer
Cream Cheese
Sugar
Vanilla
Whipping Cream
The cheesecake layer is a simple combination of cream cheese, sugar and whipping cream. Adding whipping cream to the classic cheesecake cream cheese gives it a smooth consistency.
Cake Layer
Radiant Red cake mix
Aqua Blue cake mix
Oil
Eggs
Water
The red and blue cake layers are built with a box mix. The Radiant Red cake mix gives a bright true red cake layer. The Aqua Blue mix add the blue to this dessert.
If you can't find the colored cake mix, you can use a white cake mix and food coloring. Add a few drops at a time to the mixed white cake batter. Make sure that you get two boxes of white cake mix. While using food coloring adds an extra step, it is still easy to get the colors you need.
Not a fan of dyes? Try these natural food dyes instead!
Frosting
Cream Cheese
Butter
Powder Sugar
Vanilla
The cream cheese and butter combination is what makes the classic cream cheese frosting so good. Be sure to start with softened cream cheese and butter that is what makes this frosting come together quickly and easily. The vanilla adds a nice depth of flavor without a lot of effort.
Gluten-free Cake with Cheesecake
To make this dessert gluten-free, you will need to make one simple swap. use two boxes of gluten-free white or butter cake mix. Add food coloring and you have gluten-free red and blue cake layers. Both Betty Crocker and Duncan Hines make good gluten-free cake mixes. Your guests will never know that it is a gluten-free cake.
You can find both types of these mixes at your local grocery store. The gluten-free cake mixes are in the same section as the other cake mixes. Sometimes you can find other gluten-free cake mixes in the specialty section of your grocery store.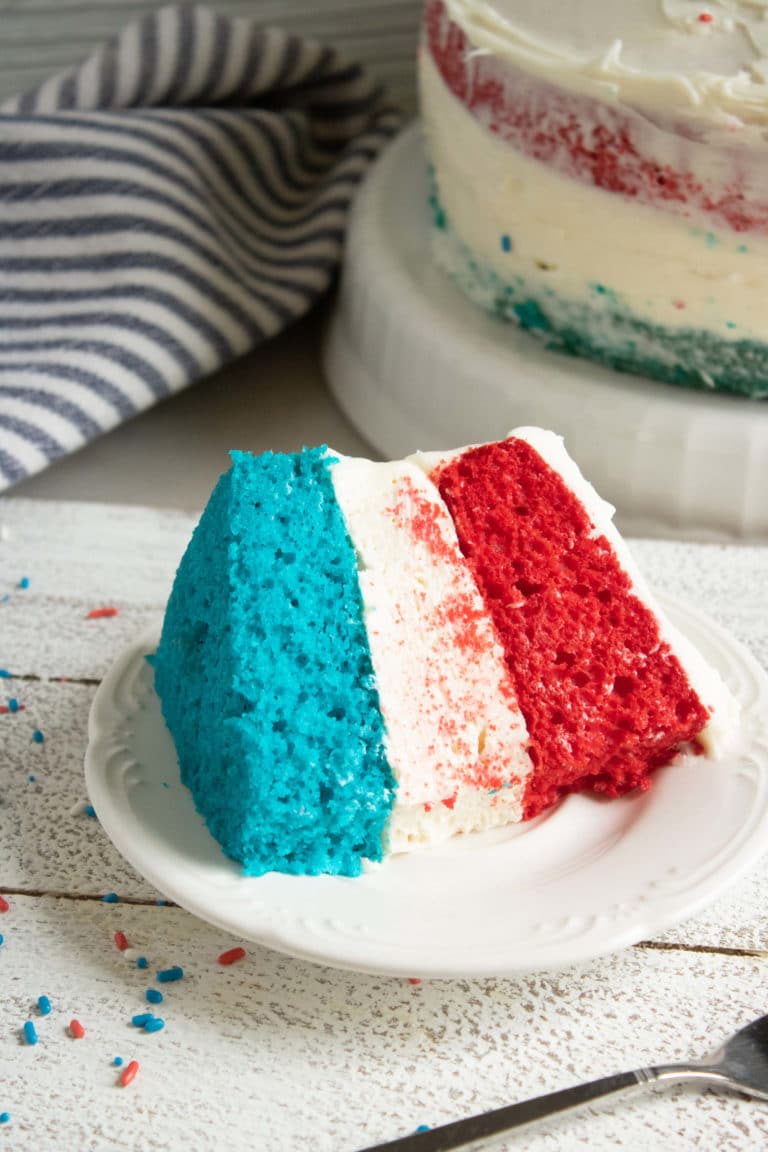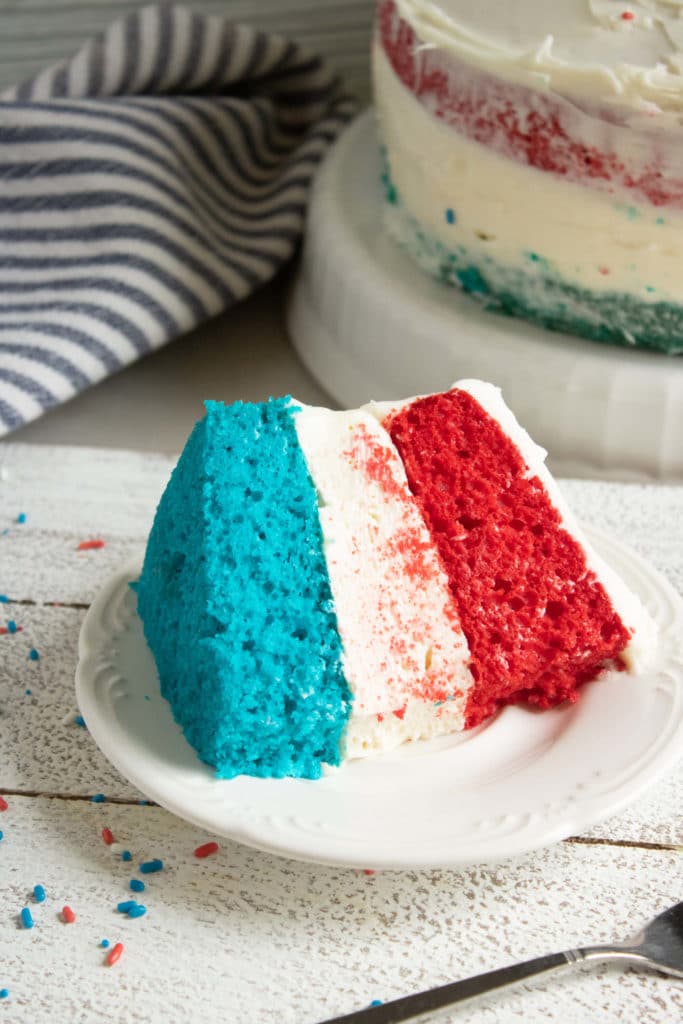 How to make Cake with Cheesecake
To make this two-in-one dessert, you need eight-inch cake pans, parchment paper, and a hand mixer. The day before you wish to serve, make the cheesecake layer.
The cheesecake layer starts by creaming the cream cheese and sugar together until smooth in a mixing bowl. In a separate bowl or in your stand mixer, whip the heavy cream until thick. It should be soft and fluffy. Don't take it too far or you will have butter.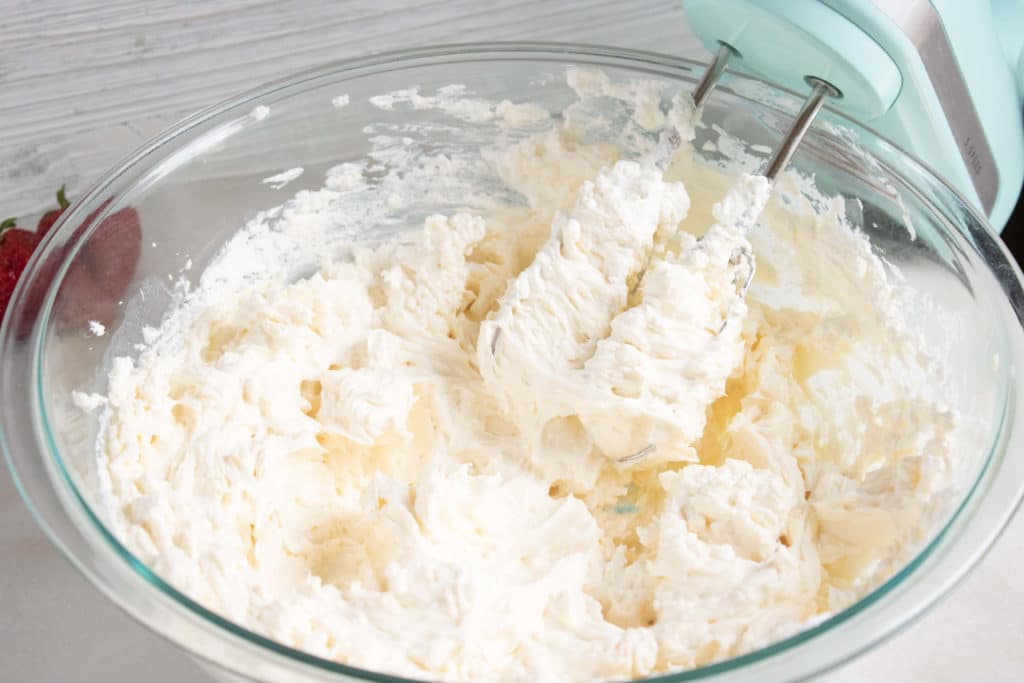 Stir in the whipped cream and vanilla to the cream cheese sugar mixture until smooth. Add the finished cheesecake mixture to an eight-inch spring form or cake pan. Smooth the top of the mixture. Cover with plastic wrap and refrigerate for at least 12 hours. Chilling overnight would make for the best results.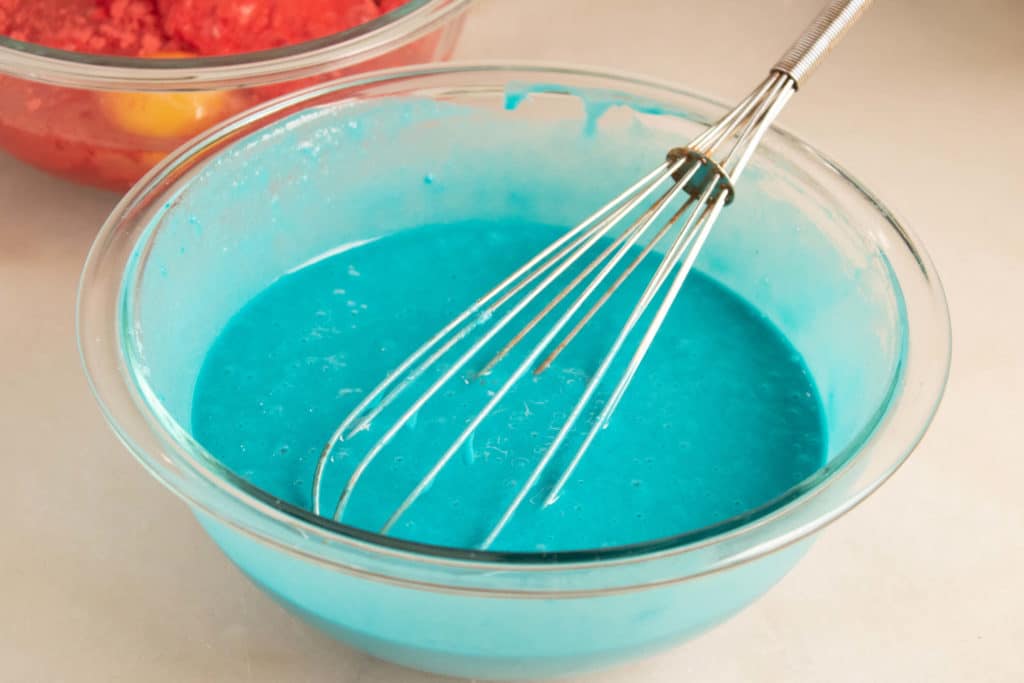 The next day, prepare the cake mixes. Follow the package instructions. If you are starting with white cake mix, add the food coloring and stir before baking according to the package instructions.
Once the red and blue cake layers are finished baking, cool completely. While the cakes are cooling, prepare the cream cheese frosting.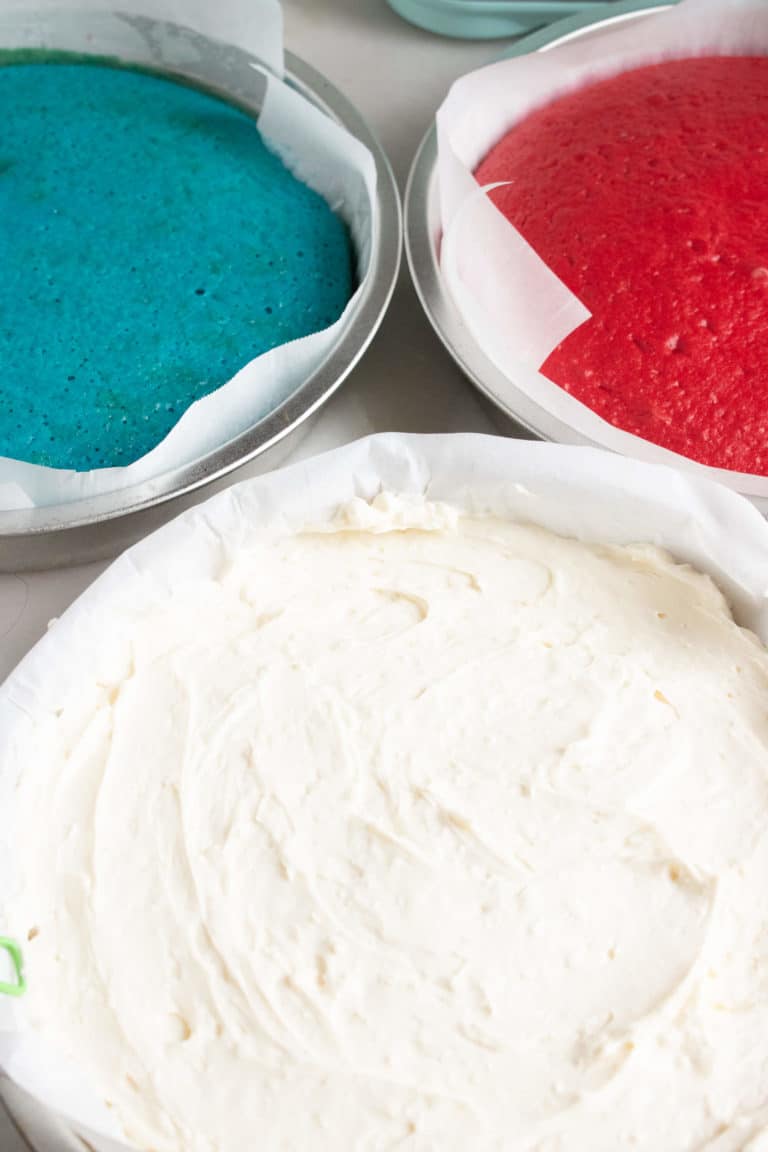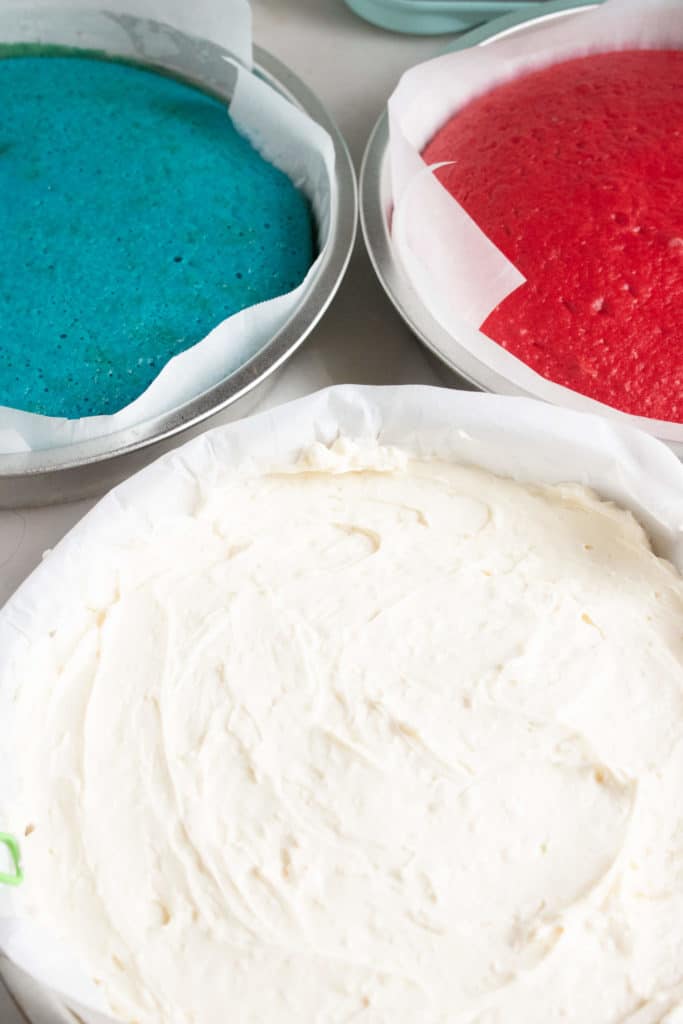 Start by creaming the cream cheese with the butter. Make sure both are softened to make this frosting come together quickly. Add in the vanilla and powdered sugar. Using your electric mixer, mix until smooth.
Remove the cake layer from the baking pans. And release the cheesecake from the spring form pan. Place the red cake layer on the bottom of your cake plate or serving dish. Place the cheesecake layer on next and top with the blue cake layer.
Cover all three layers with your cream cheese frosting. The top of the cake should be liberally covered. The sides should have a light layer of frosting. If you are not serving immediately, refrigerate until ready to serve.
Cake with cheesecake is a great addition to your Fourth of July picnic. It has the classic red, white, and blue that everyone loves to see on this patriotic holiday.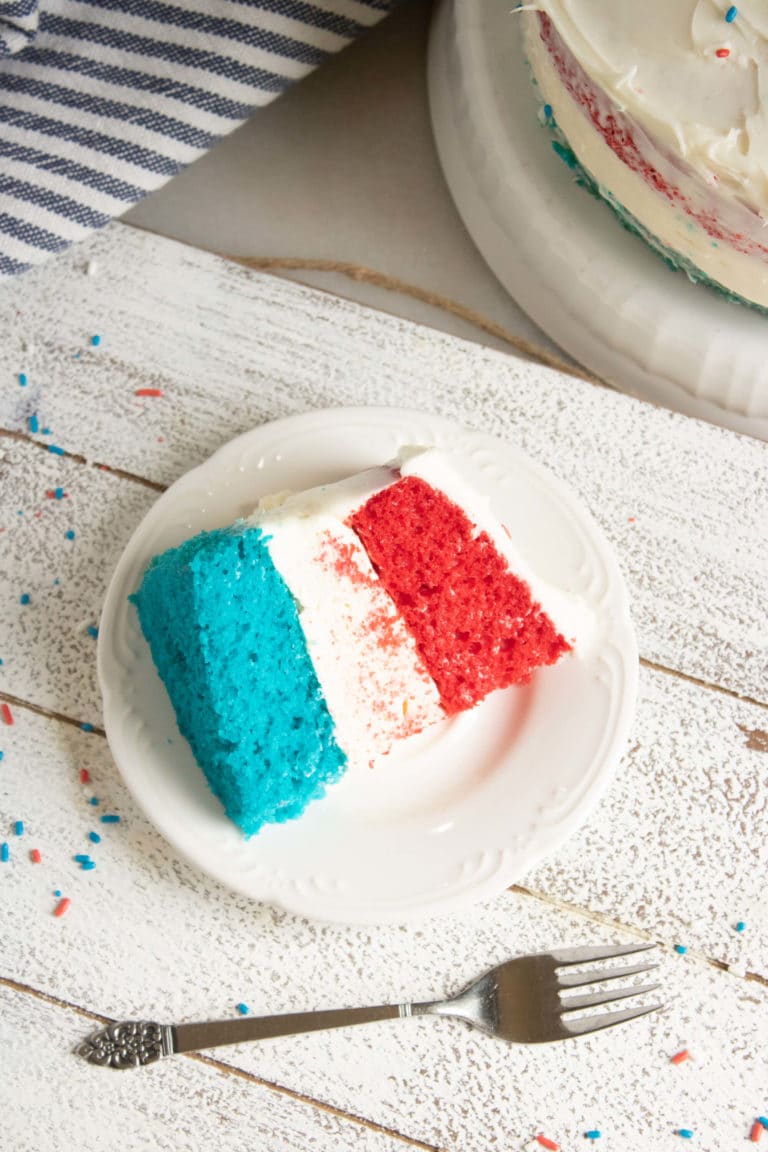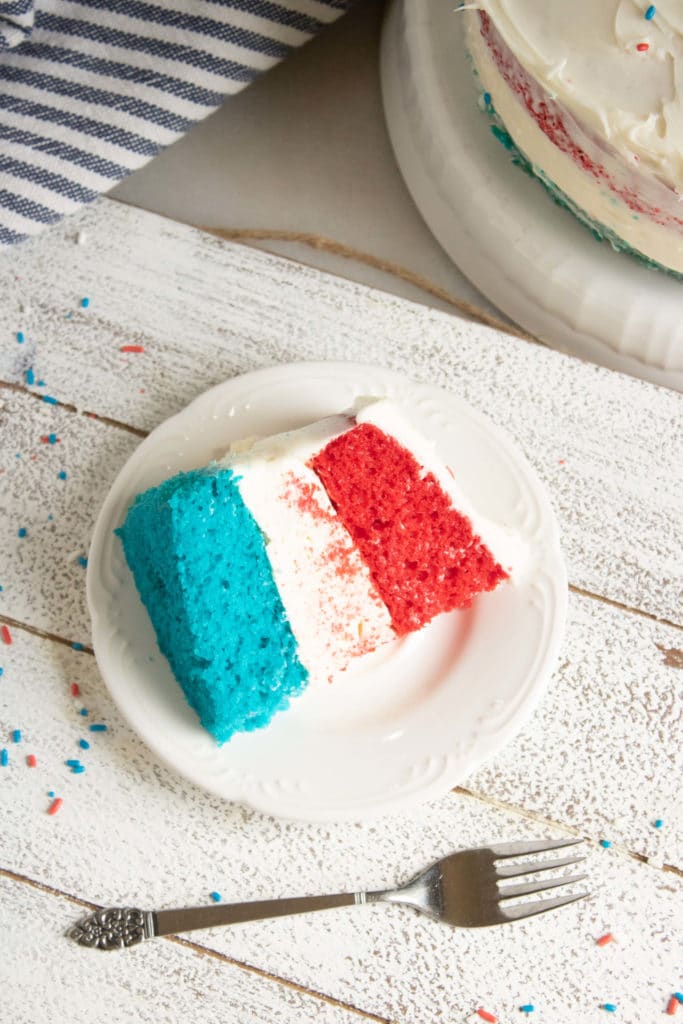 How to store leftovers
Store any leftovers in an airtight container in the fridge or on the counter. You may need to slice the cake into pieces to be able to store it properly.
Can I freeze this cake?
You can! The best way to do this is to prepare the cake as directed. Slice the cake into individual pieces and wrap in parchment paper. Place the slices in a ziplock baggy and place in the freezer. They will stay fresh for up to 3 months.
To thaw, remove from the freezer and allow to come to room temperature on the counter.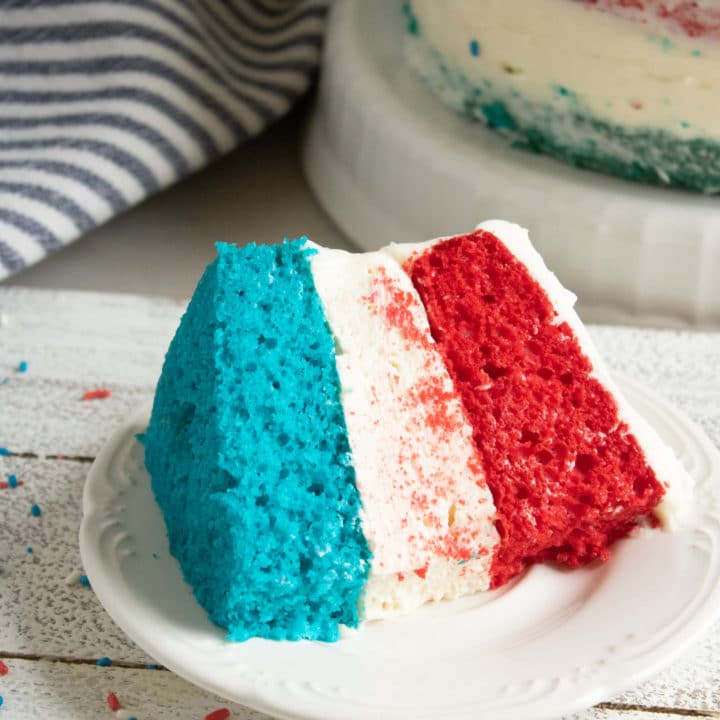 Fourth of July Cheesecake Cake
A festive cake with a cheesecake layer that is perfect for Fourth of July, memorial day or any BBQ cookout!
Ingredients
Cheesecake Layer
3 (8 ounce) packages cream cheese, softened
½ cup granulated sugar
2 teaspoons vanilla
1 cup heavy whipping cream
Cake Layers
1 (6.25 ounce) package Radiant Red cake mix
2 eggs, oil, and water
1 (6.25 ounce) package Aqua Blue cake mix
2 eggs, oil, and water
Frosting
8-ounce packages cream cheese softened
½ cup butter softened
4 cups powdered sugar
2 teaspoons vanilla
Instructions
Line an eight inch round cake pan with parchment paper (bottom and sides), or an eight-inch springform pan.
Cream together cream cheese and sugar until smooth, with a hand-held mixer.
In a standing mixer, whip heavy cream until thick.
Stir whipped cream and vanilla into the cream cheese and sugar mixture until smooth.
Pour the cheesecake filling into the pan, and smooth out the top.
Refrigerate for 12 hours (or overnight).
Prepare both cake mixes as directed by the package instructions, to make 8-inch cakes, one red, and one blue.
Let cakes cool completely (or overnight), before layering.
Layer cakes with cheesecake layer in the middle, the blue on the bottom and the red layer on top.
Frost the entire cake.
Other cheesecake recipes to try
We love cheesecake around here! Some of my other favorite cheesecake recipes are –