These tropical granola bars are simple to whip up and perfect for snacking!
Good news! I haven't killed my new lime tree yet. I went out and I watered it on Monday. I am determined to keep that sucker alive. So I hauled the hose across the yard and gave it a nice long drink of water. I figured it had just been planted, it needed a good dose of water.
I felt great. I was totally nailing this gardening thing. And then Monday night.. and Tuesday night.. it started to rain. Like flood our drive way and half the city rain.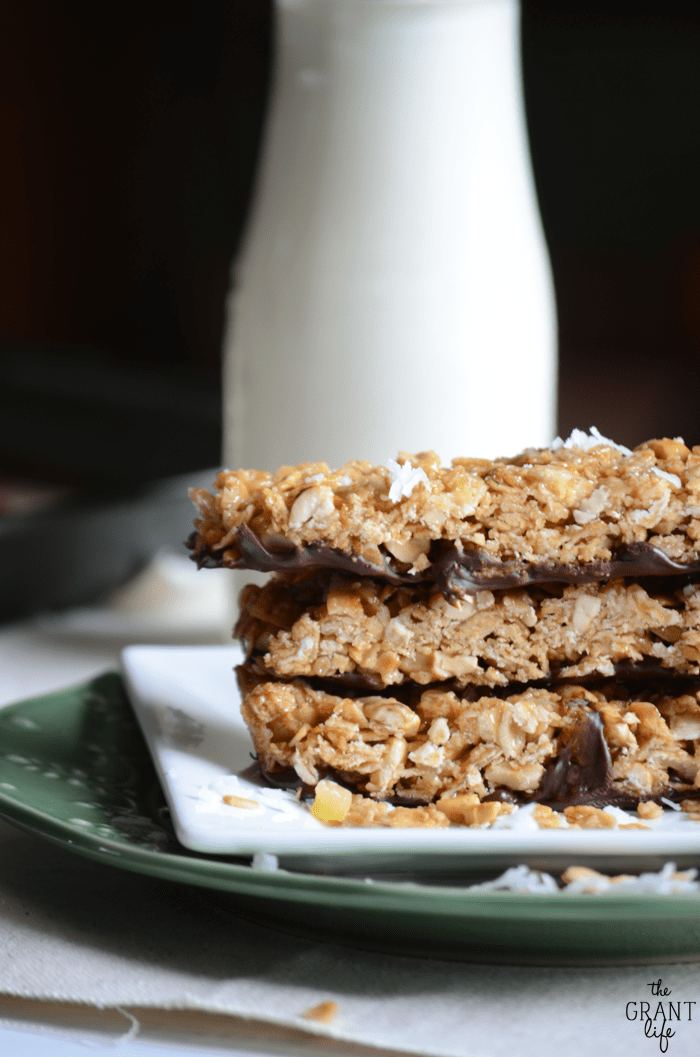 I looked out the window to our front yard and could see a huge puddle around the lime tree. It looked like it was swimming with all the water around it. I hope that all the water doesn't kill my little lime tree. I mean, plants need water, right?! It's not a bad thing?!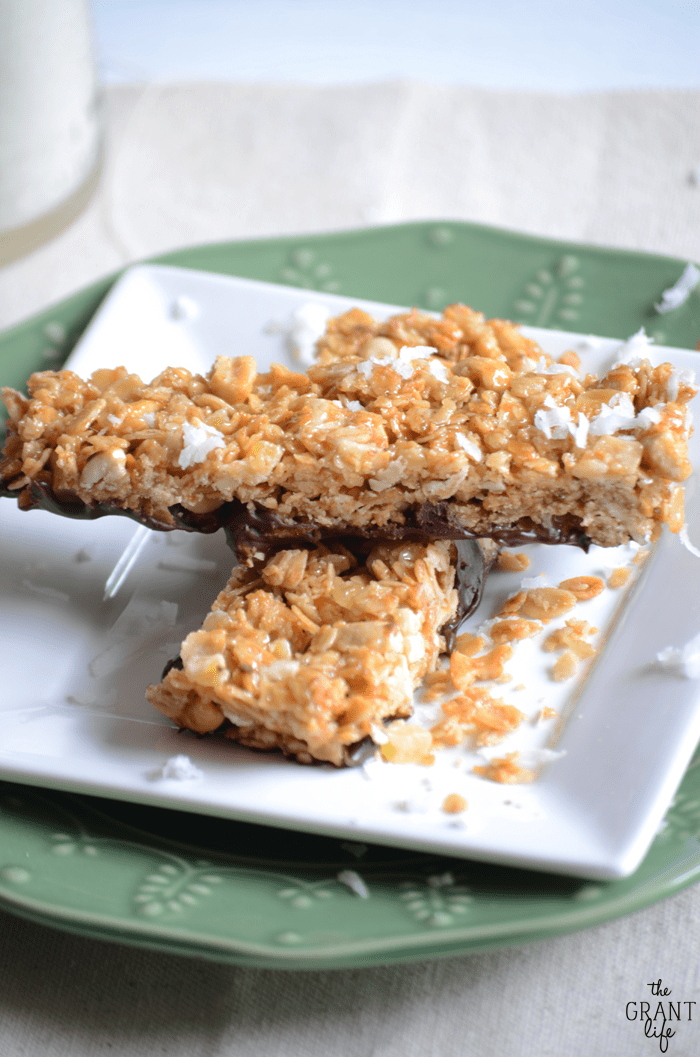 All the rain has kept us in the past few days too. School was delayed Tuesday because of the rain, but we decided to have a movie day instead. We stayed in our jammies most of the day and at one point Avery came running around the corner with a sweater on. I asked him if he was cold.
Avery – "No."
Me – "Then why are you wearing a sweater bubs?"
Avery – "Cause I am."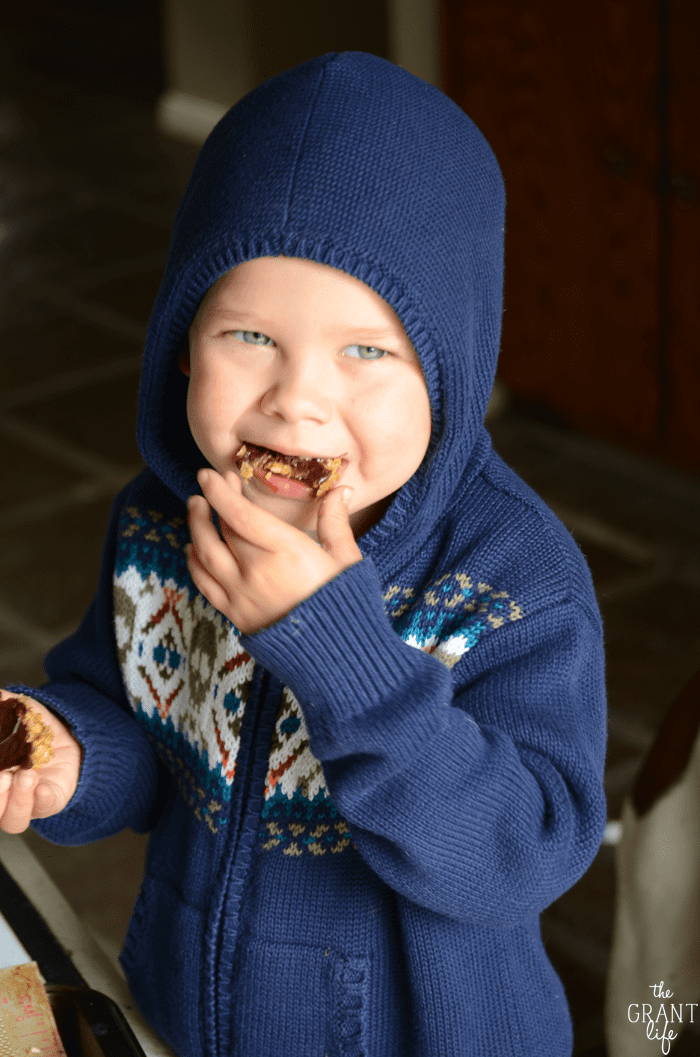 Well, ok then buddy. He wanted to help me take pictures of these tropical granola bars too. And when I say he wanted to help me take pictures, I mean he wanted to eat all my tropical granola bars. And not that I blame him one bit.
I was sent a bag of the Truly Tropical granola to use in a recipe this week and I was so excited. I had a bunch of recipes float through my head before I settled on the granola bars. And then I thought "Well helloooo Kelley. You should probably TRY the granola first before you use it in a recipe."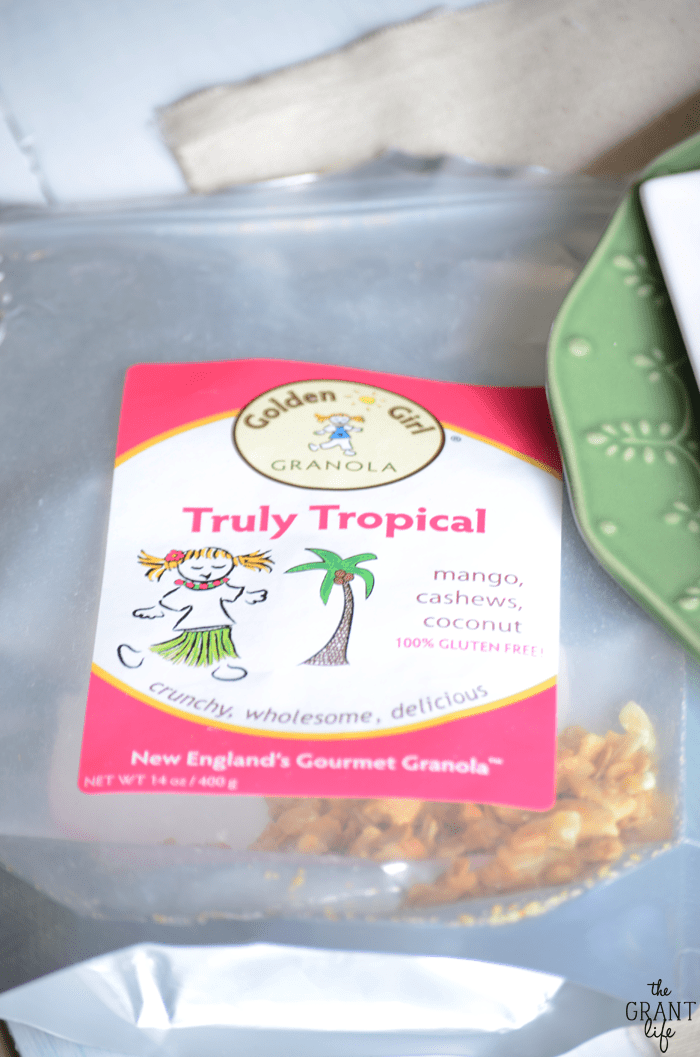 I poured myself a bowl with some milk to taste test. And oh my gah. Literally I wanted to stop right there. I wanted to eat the whole bag with milk and be done. And I thought "I'll just tell them to try this granola cereal. Just add milk." And that would be my recipe. Because it's seriously so good on its own.
And yes, that's why the bag is empty.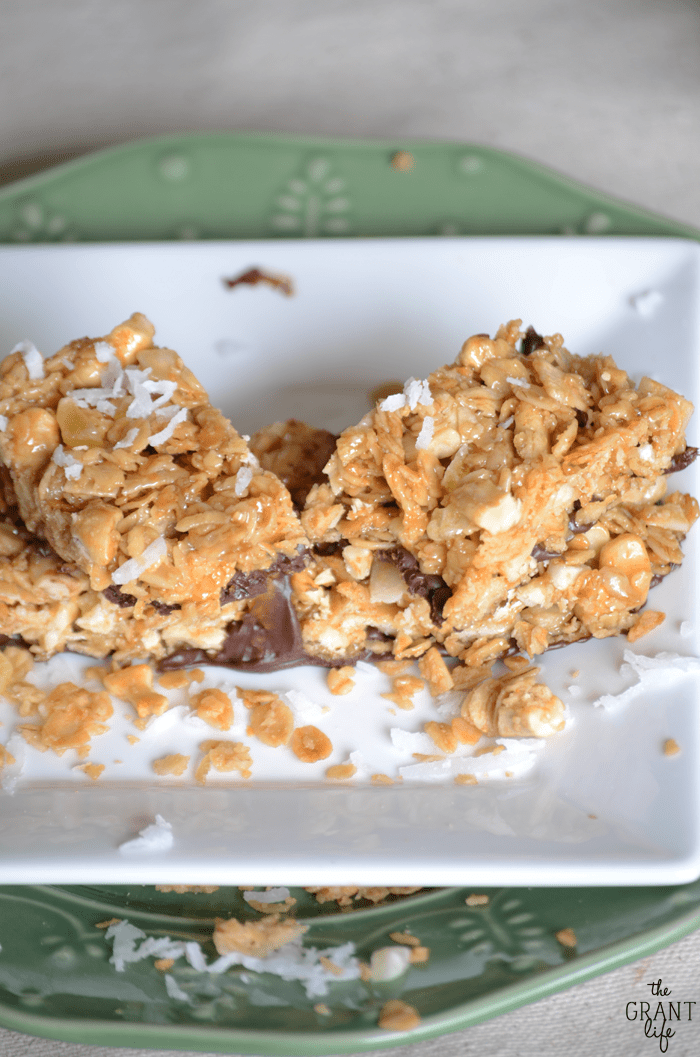 I'm saying this as a warning. If you go to make these tropical granola bars, and all the granola disappears, I totally understand. It's that good people!
Anyways, there are two ways to make these granola bars. The easiest is to use the Truly Tropical granola from Golden Girl Granola. The second would be to add in everything they have in the granola separate. Totally doable, just takes a little more time.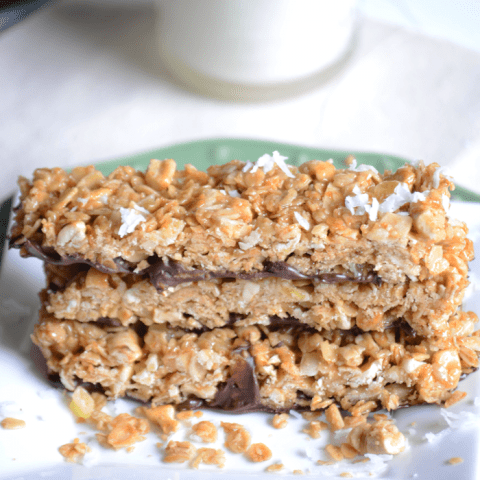 Tropical Granola Bars
Ingredients
2 cups Truly Tropical Granola
1/4 cup honey
2 tablespoons brown sugar
1 tablespoon maple syrup
1/4 cup chocolate chips
1/4 cup heavy whipping cream
Without the granola -
1 1/2 cups rolled oats
1/2 cup total of dried mango, toasted coconut and cashews
Instructions
Put the honey, brown sugar and maple syrup in a small pan on top of the stove.
Bring to a boil, allow the sugar to dissolve and cook for 2 minutes. Stir constantly.
Remove from heat, add the granola to the pan and coat.
Press the granola onto a lined cookie sheet. Press firmly to make sure the bars stick together.
Place in the fridge while you make the ganache.
Put the heavy cream in the microwave for two 20 second intervals, just enough to warm it but not boil the cream.
Add in the chocolate chips and stir until smooth. Allow to cool for a few minutes.
Using a pizza cutter, cut the granola bars into long rectangles.
Spread the chocolate on one side and place back in the fridge to harden.
Keep in a ziploc bag in the fridge for best results.
Enjoy!
Like this easy recipe? Be sure to check out:
And be sure to sign up for our recipe updates! I'll send new recipes right to your inbox!