Avery turned two in April and has been a little ball of energy ever since.  Well, he was full of energy before he turned two and he seems to have even more now.  So when we first started talking about moving him from his crib into a real bed, I was terrified.  I would talk to Ryon about it and I would almost bring myself to tears because I was scared he would pull the dresser over on himself, stick his finger in a light socket or run out the front door.  [All of which was secured to the wall, covered and locked mind you.]  I tried to forget about it and thought to myself "Its ok if hes in his crib til high school!  He likes it in there."  And then he started climbing out in the middle of the night.  We had to start thinking of transitioning him to a big boy bed soon.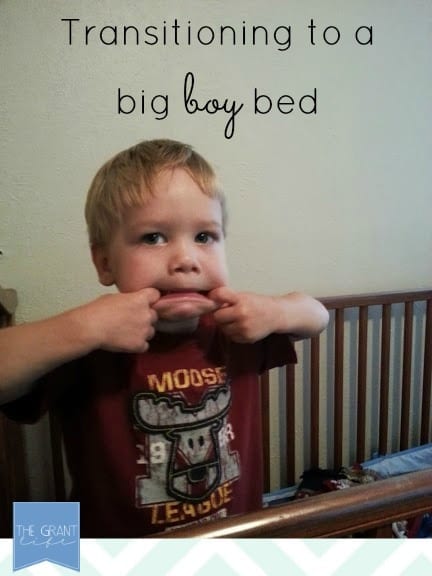 To say I was a wreck was an understatement.  I didn't know what to do but I was positive he wouldn't sleep in a regular bed.  I tried put it off for a few more weeks.  But my mom bought a bed rail one night and we set it up.  We had a twin bed in the playroom that we moved into his room and moved the crib out.  He wanted to play in the crib in the hallway and had no interest in the new bed we were setting up for him.  When we bought the crib rail we also bought a sleepy time Elmo toy for him to cuddle at night.  We kept trying to make a big deal out of the new bed that night.  I can't tell you how many times I said 'This is Avery's big boy bed!"  He didn't seem interested.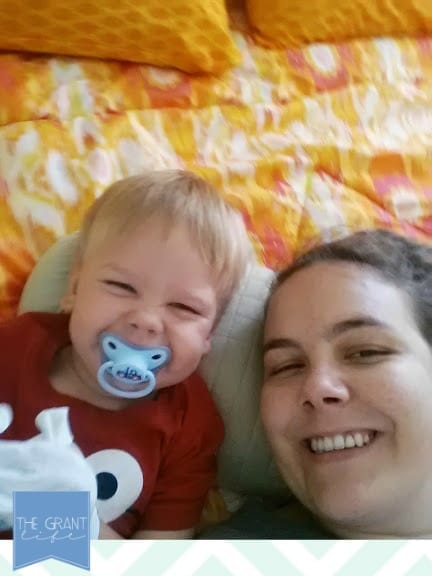 I thought that we would be able to keep the crib in the playroom just in case he wouldn't sleep in the bed, I was happy to have that safety net.  But when Ryon moved it out of hallway something on the rail broke that we couldn't fix.  And just like that, my safety net was gone.  We put Avery in his bed that night and told him it was his bed and what a big boy he was.  I braced myself for a sleepless night of toys going off from his room and having to constantly put him back in his bed.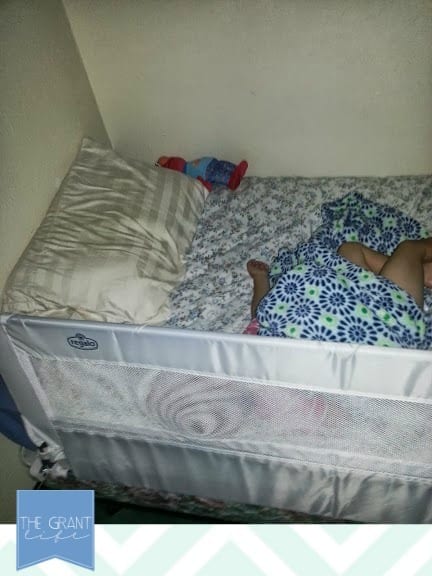 And then this happened.  We put him in his bed, gave him Elmo and told him night night.  I stood by the door for a few minutes and didn't hear a sound.  I went in later and found him like this, all curled up in his big boy bed.  I still thought he would climb out in the middle of the night and get into something.  I stayed up later then normal so I would be awake if he got out of bed.  He didn't.  He slept the whole night in his big boy bed.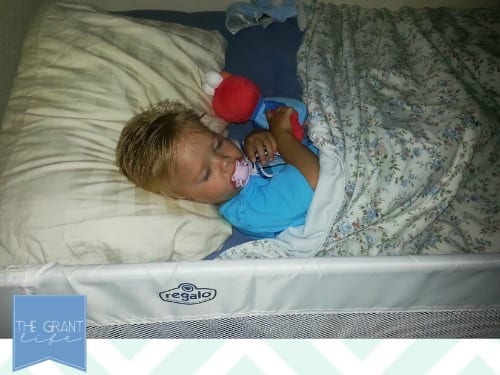 He has slept the past 3 weeks in his own bed, for nap time and bedtime.  Once he is in bed he rolls over and goes to sleep.  Sometimes I hear him playing in his room but he eventually makes his way back to bed and falls asleep pretty quickly.  I'm not sure what we did that made him want to stay in his bed, Im just so excited he does!  Its one less thing that this momma has to worry about every day.
What did you do to help transition to a big boy/girl bed?