Ryder was born August7, 2016 at 11:34 am weighing 8 pounds and 2 ounces. I should have known that it would take me at least 2 months to get Ryder's birth story written. But nonetheless, here is how our third blessing came into this world.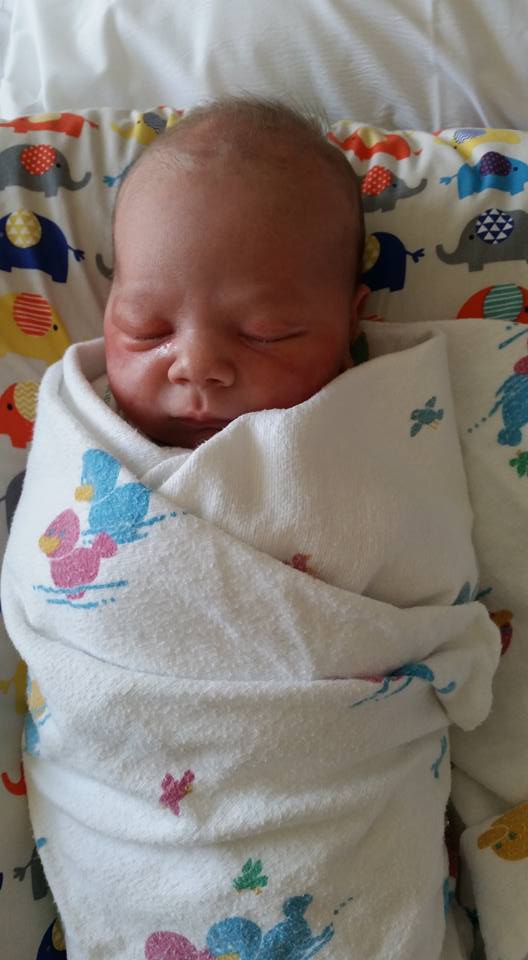 I think I should start Ryder's birth story with a disclaimer. When anyone says you are pregnant for 9 months, they are lying to you. You are actually pregnant for 10 months. 40 weeks. That's 10 months. That's a long time. And it's even longer when the baby is late. Which was the case with Ryder.
I went into my 40 week appointment hopeful. I had been dilated to 3 cm since my last two doctors visits and I was hoping she would tell me I was 8 cm and ready to deliver. One can dream, right? That was clearly not the case and we decided to just wait it out and let little man come on his own time. I made sure to stay very active that week and did a lot of walking. I even tried some simple squats because my friends mentioned that those might help.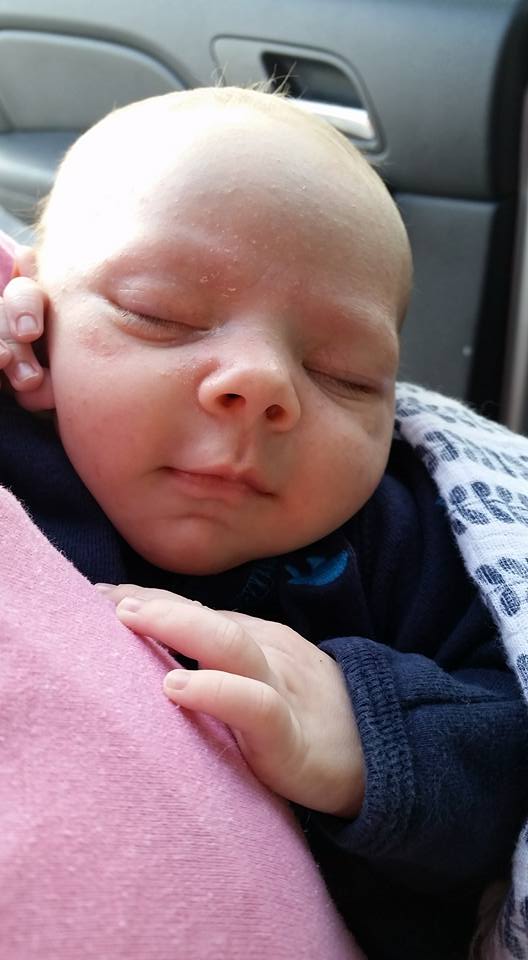 And they didn't. I went into my 41 week appointment tired. I was exhausted. I was ready. I wanted to meet our guy! (Although at this point we still didn't have a name picked out!) My appointment was on a Friday and my doctor said she wanted to induce me Sunday morning because she was on call and would be able to deliver the baby. Yesss! We had an official due date! I called Ryon and let him know and then made plans for the older kids to stay with my brother while we were in the hospital.
Saturday night we packed out bags and headed to my friends house for dinner first. They were having a back to school night dinner and we went over since they said I didn't need to be at the hospital til 11. It was fun to chat with everyone. They all asked "when are you having that baby?" and I joyful said "TOMORROW!"
After dinner we dropped the kids off at my parents house and headed up to the hospital. I wasn't being induced until 7 AM the next morning but they wanted me there the night before to monitor me. I checked in at the front desk and headed up to my room. I chatted with the nurse and she started my IV line. I didn't think I would be able to get any sleep at all since I was so excited but I was able to get at least 4 hours.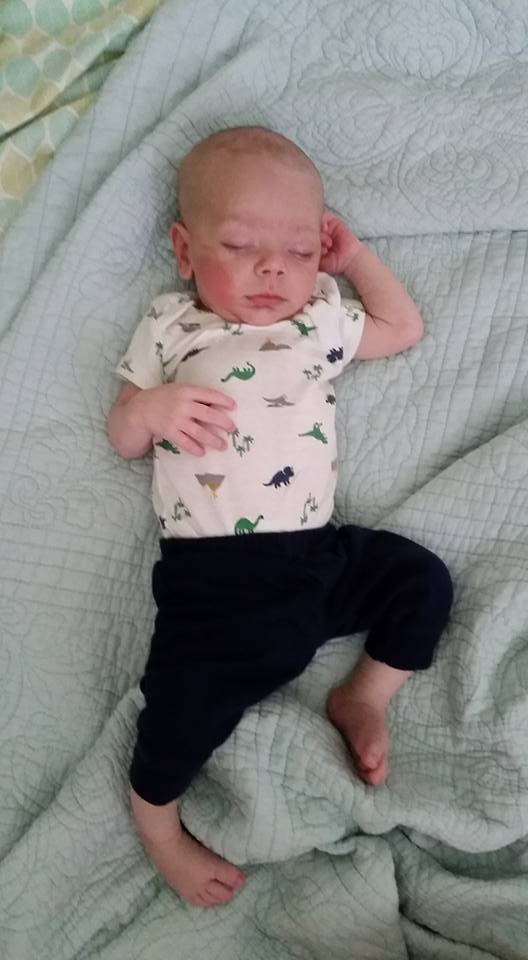 At 7 AM the next morning they started my pitocin and IV fluids. I had been drinking a ton of water the past few days and kept having to get out of bed to run to the bathroom. I stayed in bed for about an hour just chatting with Ryon until the contractions started. I downloaded a contraction timer on my phone and was able to keep track of how far apart they were. Things didn't start picking up until around 9 in the morning. I walked around the room with my IV pole and would stop and breath through a contraction. Ryon was right by my side the whole time and I would lean into him when it was really painful. At 10 my doctor came in and broke my water. My contractions were steady for a solid hour but around 11 they really started to pick up.
I was trying to avoid having an epidural because I was still pretty traumatized about what happened when I had one with Ryley. I kept trying to breath through the contractions but they were getting really intense. I told Ryon "I can't do this. I can't, I can't, I can't." I must have repeated it every time I had a contraction. In my head though I was telling myself "Just one more. You can make it through one more contraction." After one contraction I looked down and thought I had peed because my legs were wet but it was probably my mucus plug falling out. Or something. I'm still not quite sure.
The nurse came in and told me she wanted me in bed at this point because she thought I was trying to push standing up. I didn't think I could handle the pain much longer so I asked her to check me. I measured a 5! I just looked at Ryon and said "I need drugs!" The pain was so intense and my contractions were coming so close together I could not get a break to breath. They said the anesthesiologist was doing an epidural but I would be next. I wasn't sure I could wait that long!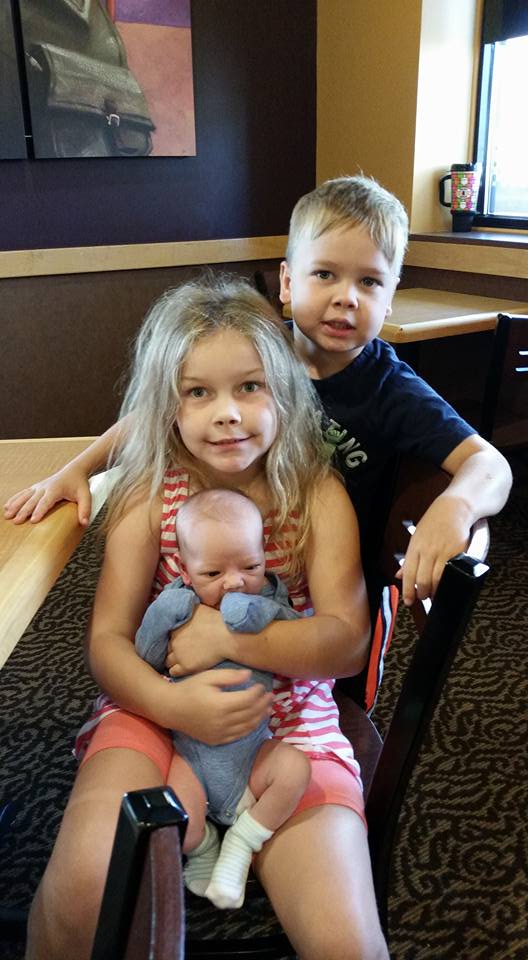 I tried to find some comfortable position in the bed during contractions but I ended up just flopping around screaming. I had one insane contraction and then I just beared down and HAD to push. My nurse wasn't even in the room so Ryon had to call her to come in and help. She ran in and I was yelling "GET HIM! Someone GET HIM!" because he was crowning after my first push. The nurse pushed my legs together and told them to call my doctor that the baby was coming.
On my last contraction my doctor ran into the room to catch the baby. They didn't even have time to put my legs in stirrups or change the bed to the birthing position. Two pushes and he was out. The nurses took him to be weighed and checked out. He was crying and I just wanted to hold him so bad! They gave the baby to Ryon and he handed him to me and said "Here's Ryder." And I cried and kissed him and cried some more.
The anesthesiologist poked his head in and the nurses told him we didn't need him now. That's how quick he came! I went from a 5 to pushing in less then 30 minutes. It was intense and fast. After waiting 41 weeks and 2 days Ryder was just as eager to meet us as we were to meet him!
We called my mom first to let her know that he was here. "ALREADY?! I was on my way up now!' She had taken the kids overnight and was dropping them at my brothers house. She wanted to be there for the labor and delivery but little man wasn't waiting.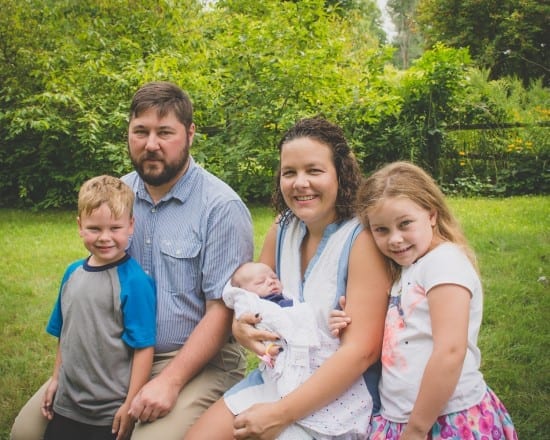 Welcome to the family Ryder Grant! We don't know how we lived this long without you.
Read Ryley's birth story and Avery's birth story as well!