Things to do in Corpus Christi with Kids
Like most parents, we are always looking for things to do around town to entertain the kids.  We are lucky because there are quite a few things to do in Corpus Christi.  You can call this our bucket list for summer or just 15 fun things to do in Corpus Christi with Kids.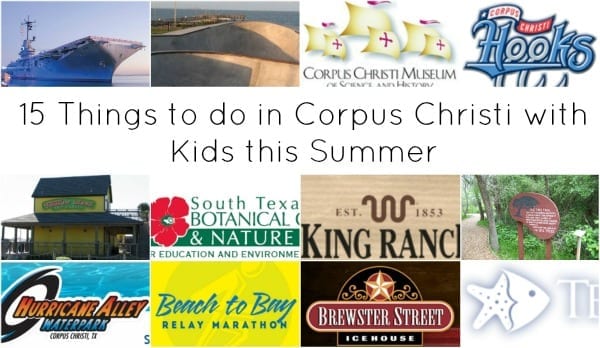 We take the kids at least once every 6 months and they love it!  Its nice because its mostly indoors and the portion that is outside is right on the water, so there is always a nice breeze.  There is so much to do and its a whole new adventure each time we go!  Plus there is a Splash Park!
Take a tour of the King Ranch
This is on our bucket list for the summer!  We can't wait to tour a part of our South Texas history!
Such a beautiful place, inside and out!  There are exhibits inside and a fun gift shop to visit.  There is also a great restaurant in the Art Center.
A huge playground set near the edge of Corpus Christi bay.  Tons of room for kids to run around, hike and bike, picnic and even a pier to do some fishing.  Cole Park also hosts Bay Jammin' Entertainment Series, where free music and other entertainment is offered to the public.  Close by are the Water Gardens which is a large water fountain downtown that is sure to entertain!  There is also large grassy area perfect for a picnic.
The Corpus Christi Museum is filled with exhibits that will entertain kids as well as adults.  They have interactive play areas, treasure hunts and much more!
One of the largest races in South Texas, Beach to Bay covers the whole city.  The observers have just as much fun as the runners!
Take a tour of the infamous Blue Ghost naval ship!  There is as much history as there is fun on this retired air craft carrier.
Our local baseball team is an affiliate of the Houston Astros and a great way to spend an evening!  Friday nights there are fireworks and Sundays kids get to run the bases.
Hurricane Alley is small water park located right next to Whataburger Field!  There are rides, a lazy river and a little kids play area that will keep everyone cool this summer.
Corpus Christi has ranked as "birdiest" city by Texas Parks and Wildlife for 10 straight years.  There are plenty of places to spot over 600 species of our feathered friends around town.
Take a ferry ride
Brewster Street is as much fun for mom and dad as it is for the kids.  There is a large deck with a playground attached.  There is also live music every Thursday and some the best food around!
Head over the JFK bridge to 'the Island' for a round of mini golf!  Treasure Island is located right over the bridge next to one of the coolest surf shops.  Make it a night and stop by Padre Island Burger Company.
Do you have someone who loves to skateboard?  Take them to the skate park downtown!  Located near Cole Park, everyone is sure to have a blast watching the boards fly high.
Fresh air, beautiful gardens and wildlife can be found at the botanical gardens!  Make sure you bring your camera to capture all that nature has to offer.
and last but not least…
GO TO THE BEACH!
There are beaches all around the city, some better then others.  No matter where we go the kids are bound to have a good time.
What is your favorite thing to do in your hometown?