This strawberry sauce is so easy and delicious you will want to put it on everything.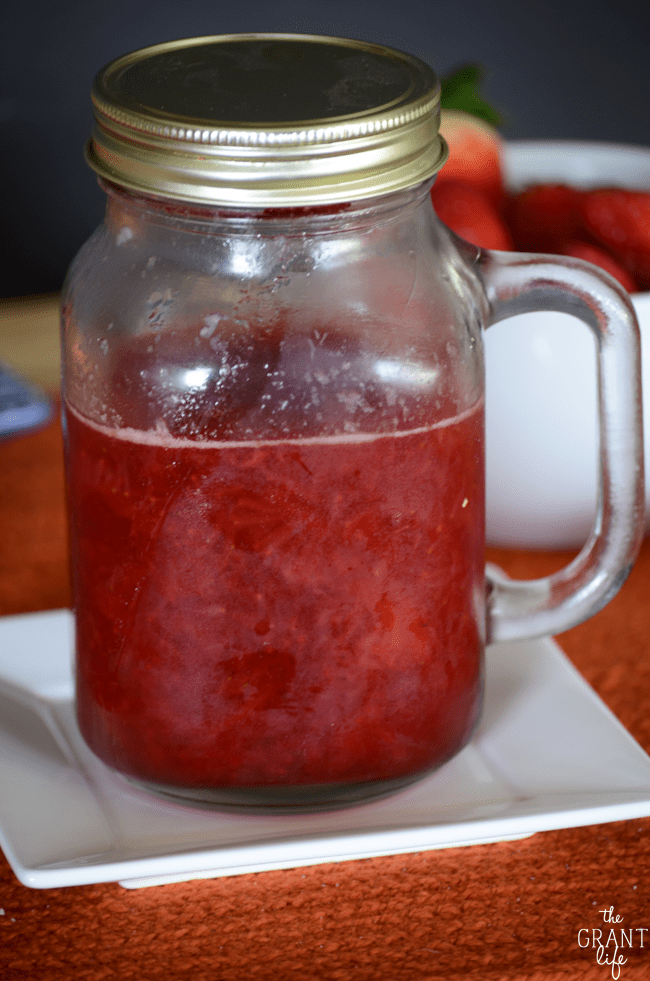 In May I will have been blogging for 4 years. That makes me both happy and sad at the same time. Happy because I absolutely love blogging. I love creating recipes and talking about our lives. I have learned so much about social media and web design through blogging. I have met some amazing people that I call friends. I have unbelievably opportunities all the time because I decided to start a blog. When I get frustrated with how things are going I stop and think – I get paid to do this.
It doesn't get much better then that.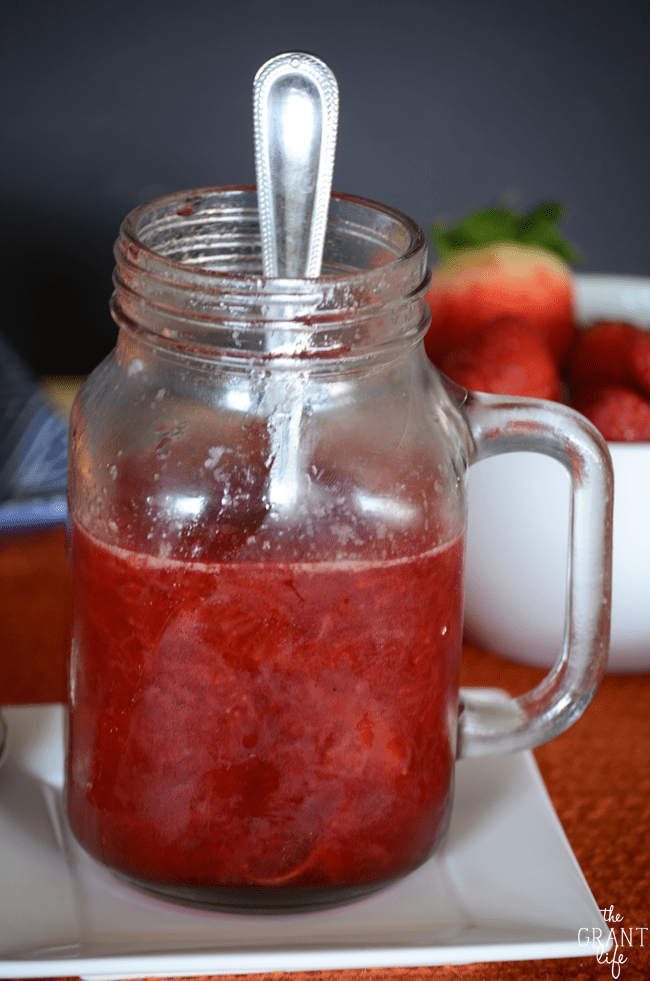 On the other hand, it makes me slightly sad because – how the heck has four years past so fast? I started this blog right after Avery was born. He was a teeny tiny baby when I wrote my first post. Now? He's an almost 4 year old BOY that plays with cars and Rescue bots and runs around the house and torments his sister because he can. He's not a baby anymore. I miss the kids being little, but I am so very thankful that I have (somewhat) chronicled their lives through my blog.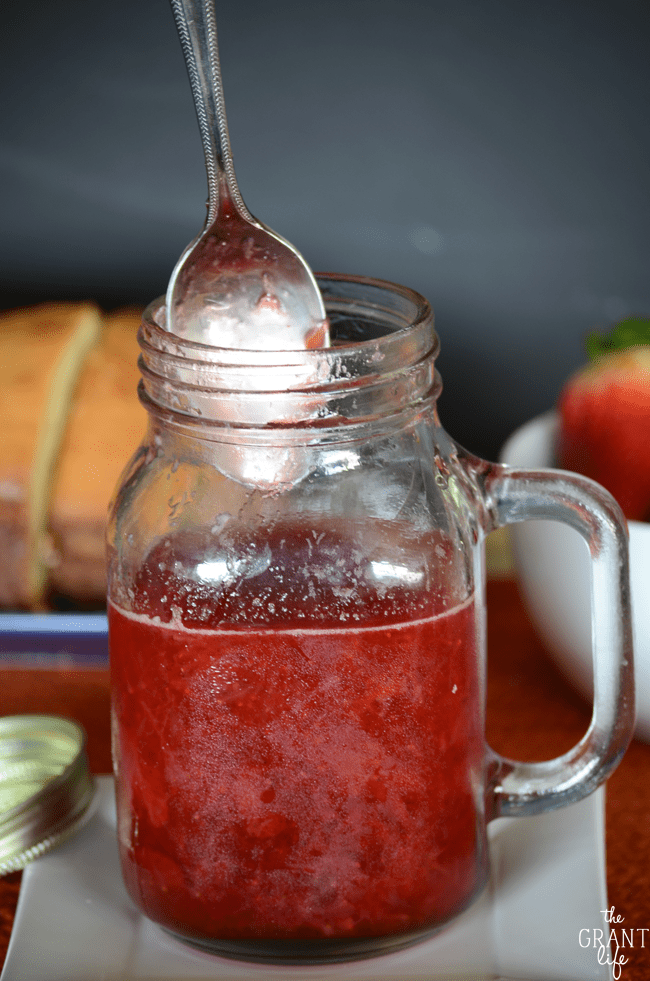 My mom has been my most loyal reader from the beginning. She comments all the time, she shares my posts, she's my little blogging cheerleader. She told me the other night that she wished my blog was more about my kids, the way it use to be. (Mind you, she sees them almost daily.) We talked about how my site has morphed from a family site, to a catch all site and now to a food blog. I have a food blog.
And it will still morph and grow and hopefully become something huge. I'm not saying I'm the next Pioneer Woman, but I could find my own niche one day.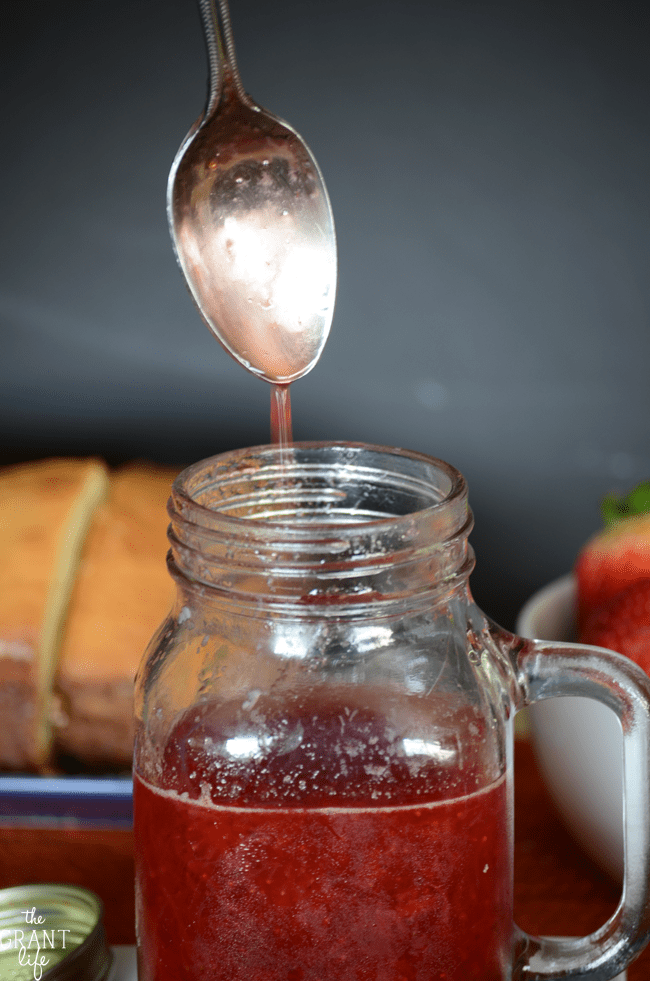 And honestly, I'm not that interesting. That's one of the main reasons I switched to food I think. Our family life? Pretty dang boring. (Except the our sometimes ER visits.) I don't think I could have a blog that focused on parenting – because what the heck do I know about that? My kids stay up way to late, throw too many fits and eat the wrong things. I could never tell another parent the "right way" to do things.
So after 4 years I have landed on food. And honestly, I don't know why I didn't see that from the beginning. It's what I love to do, share and it's what people know me for.
Oh and I might only be blogging about breakfast food and desserts now. Well, breads, breakfast and dessert. That's what I want to focus on creating and sharing. I'm even thinking of changing my blog name from the Grant life. Which is crazy. But I have been tossing names around and trying to figure out if that's what I want to do. I might just like naming things.
Thanks for following along and hanging out with me while I figure out life friends. Here's to 4 more years! (Maybe?! We will see!)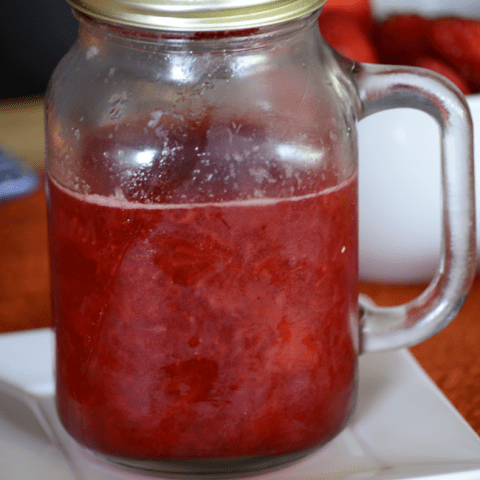 Strawberry Sauce
Ingredients
1 cup of sugar
1/2 cup of water
2 cups of strawberries, washed, dried and cut
Instructions
Put the sugar and the water in a small saucepan on the stove top.
Bring to a boil and add the strawberries.
Allow to boil for about 5 minutes then start to mash the strawberries into the sugar water mixture.
Continue to mash until you have reached your desired consistency.
Remove from heat and allow to cool.
Enjoy!
You can store in an airtight container for up to 2 weeks in the fridge.
Like this easy recipe? Be sure to check out:
Ps.. Have yall found Yummly yet? It's sorta kinda maybe like Pinterest but only for food. So um, yea. I totally love it. All my recipes can be found in my Yummly recipe box here – https://www.yummly.com/page/thegrantlifecom.